Forget the grill, sliders seared in a skillet are the way to go! When cooked right, they turn out with the most perfect crust and juicy center every single time.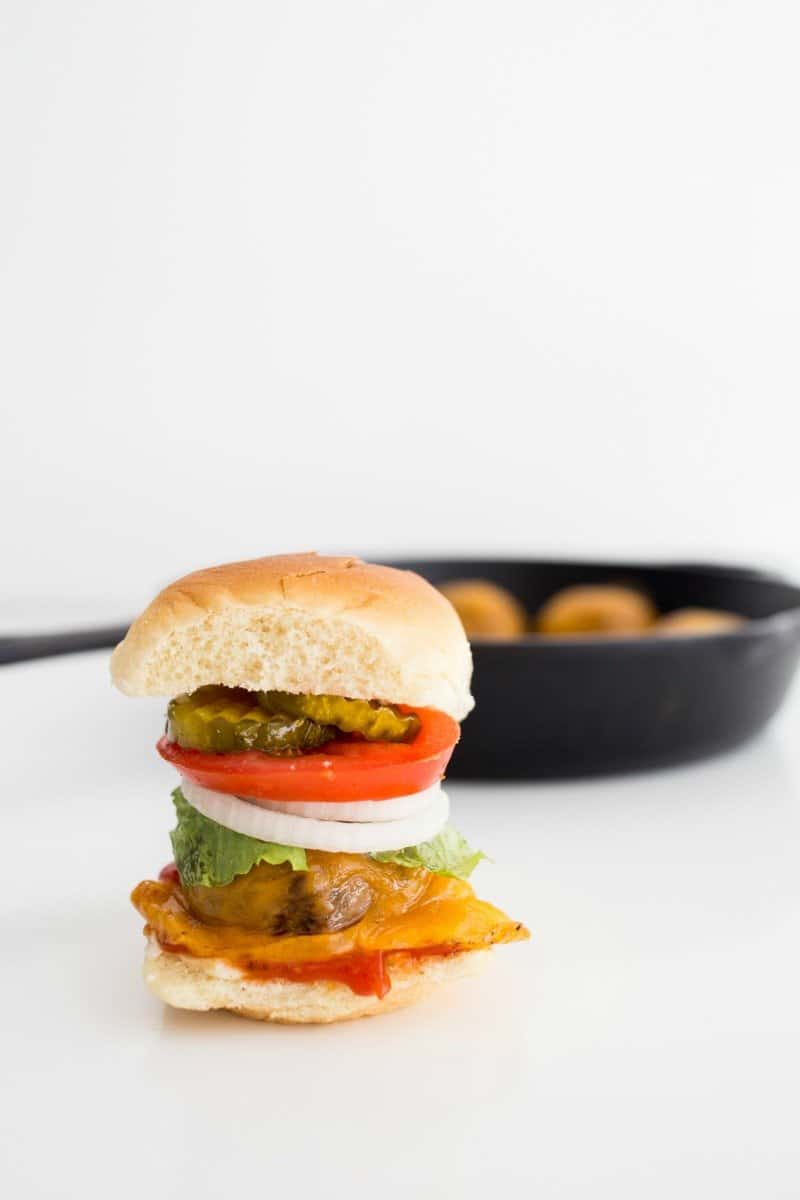 Skillet sliders are one of my favorite ways to feed a crowd. They cook in a matter of minutes and you can cook several of them in the skillet at a time. And when it comes to sliders, it's totally acceptable to eat more than one. Oh my yum!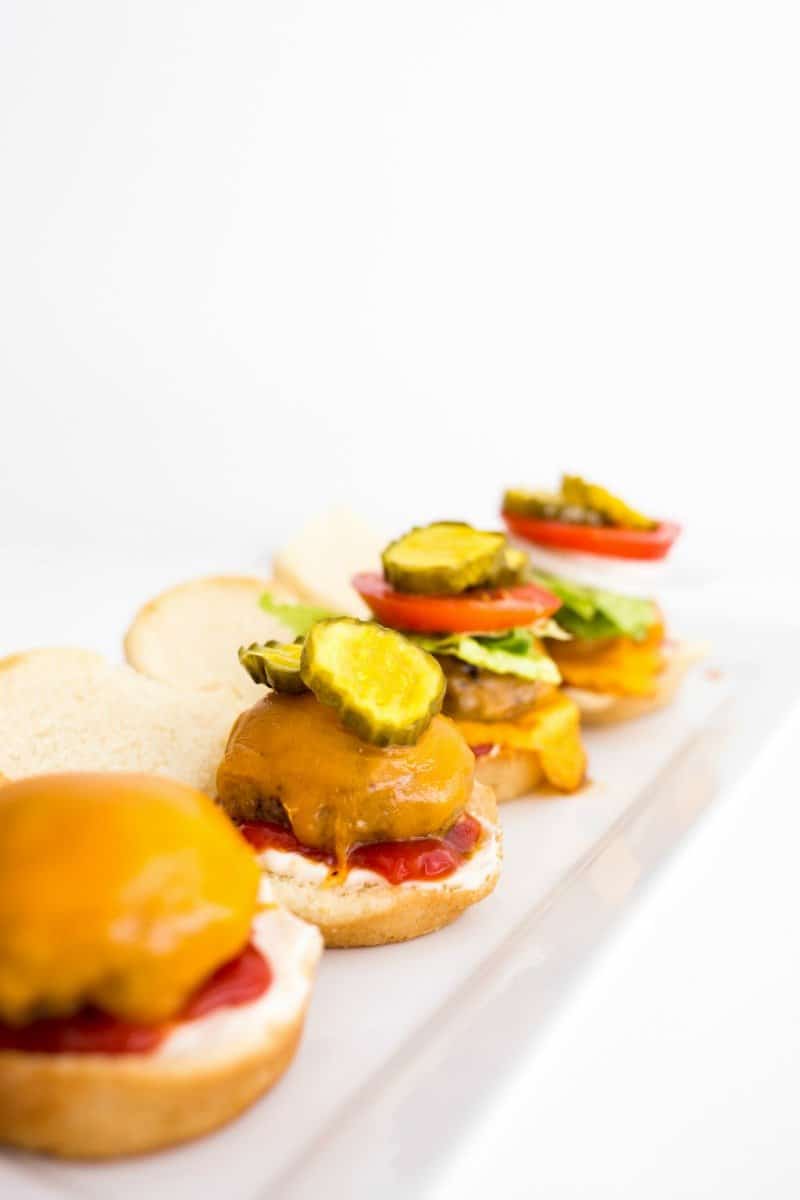 We used to cook all our burgers on the grill and then we tried searing them in the cast-iron skillet and there was no going back. The skillet is quick and easy and gives the beef the most perfect crust. Just a few minutes on each side and you've got juicy cheesy little sliders ready to serve up.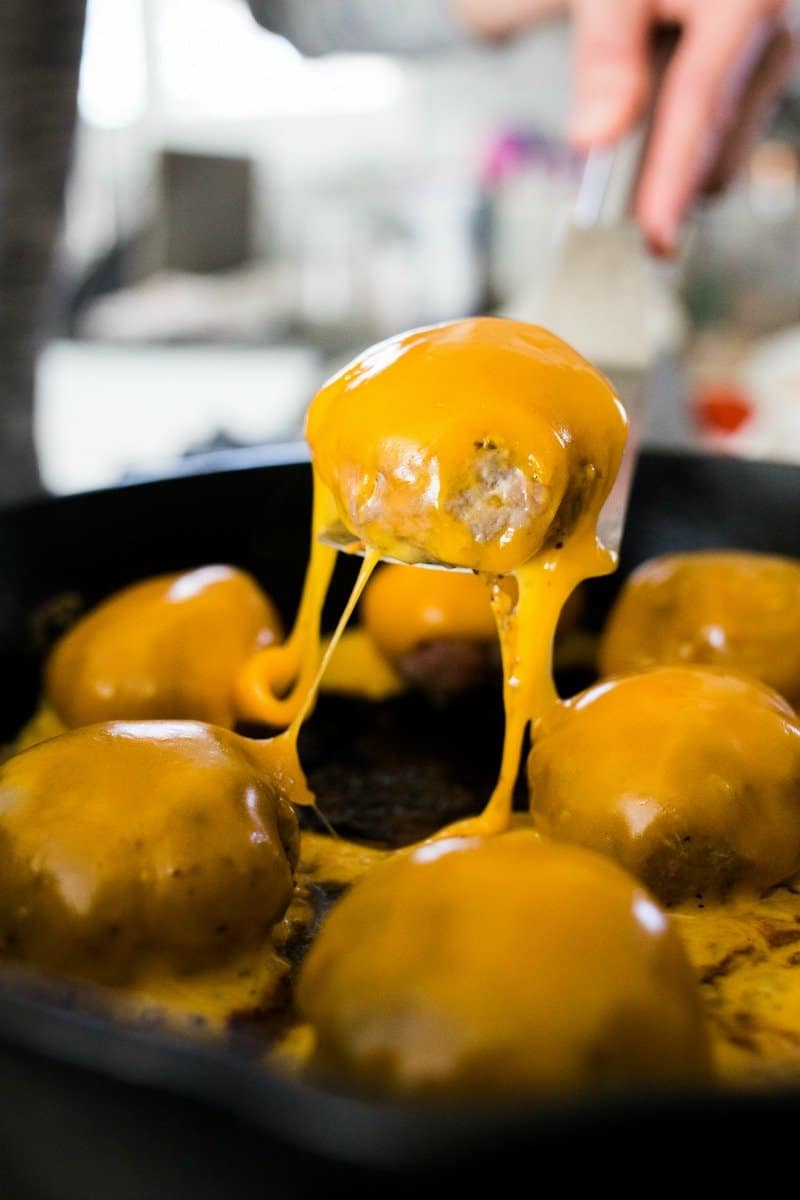 I used 90/10 all-natural Nolan Ryan Beef, found exclusively at Kroger. Of course, my fellow Texans appreciate the quality of this locally raised and harvested beef.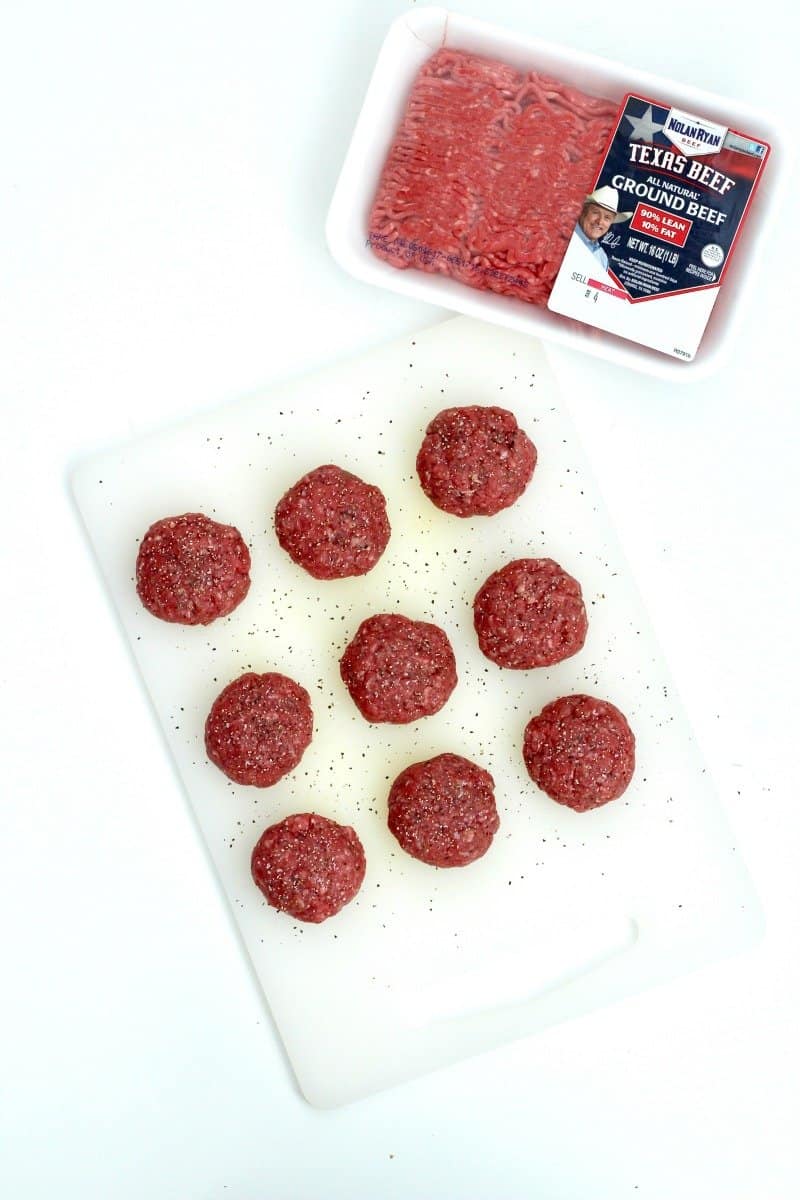 The key to a perfectly cooked skillet slider is getting the skillet really hot before placing the beef patties in it. You'll preheat the skillet over medium heat for 5 minutes and then add a few tablespoons of oil and continue heating the pan for another 2 minutes before adding the beef patties. The beef immediately starts to sizzle and sear which creates the incredible crust that a juicy burger tastes best with.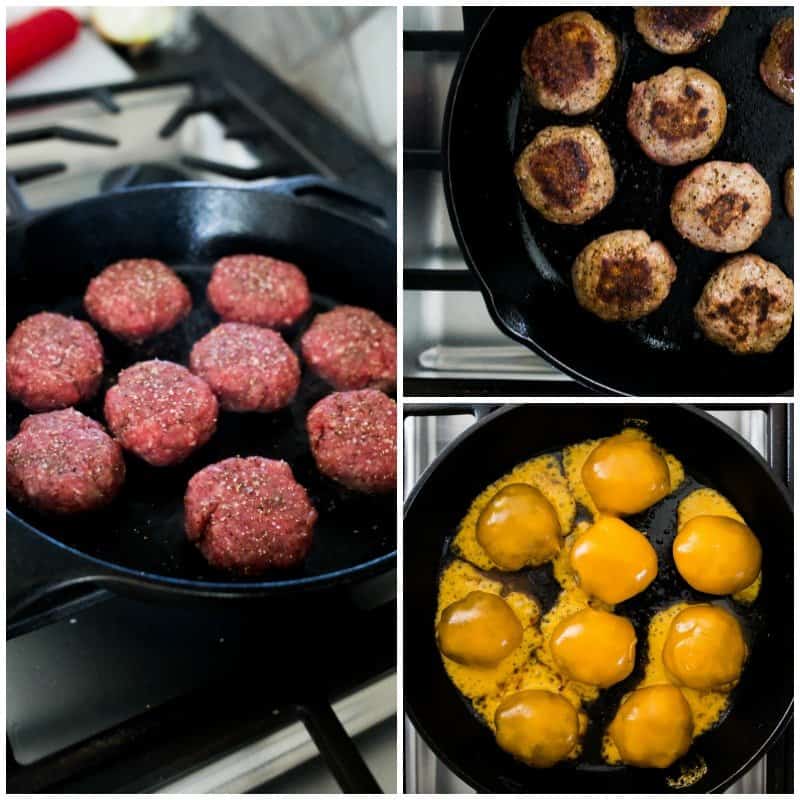 The sliders just sear on the first side for about 2-3 minutes and then another 2-3 minutes on the other side for medium-rare (3-4 minutes for medium or 4-5 minutes for well done). Using an internal thermometer is helpful to gauge when each slider gets to your desired doneness. When making sliders for a crowd, I like cooking them to 135°F for a good medium where there's plenty of pink in the center, but no red which might scare some.
After turning the beef, immediately cover it in a good melting thick slice of cheddar cheese and turn the heat down to low as the beef continues to cook and the cheese melts. The beef keep its crust while the cheese wraps around it.
Set out a selection of fresh toppings and soft slider buns so each person can build their own slider. Burger night, done right!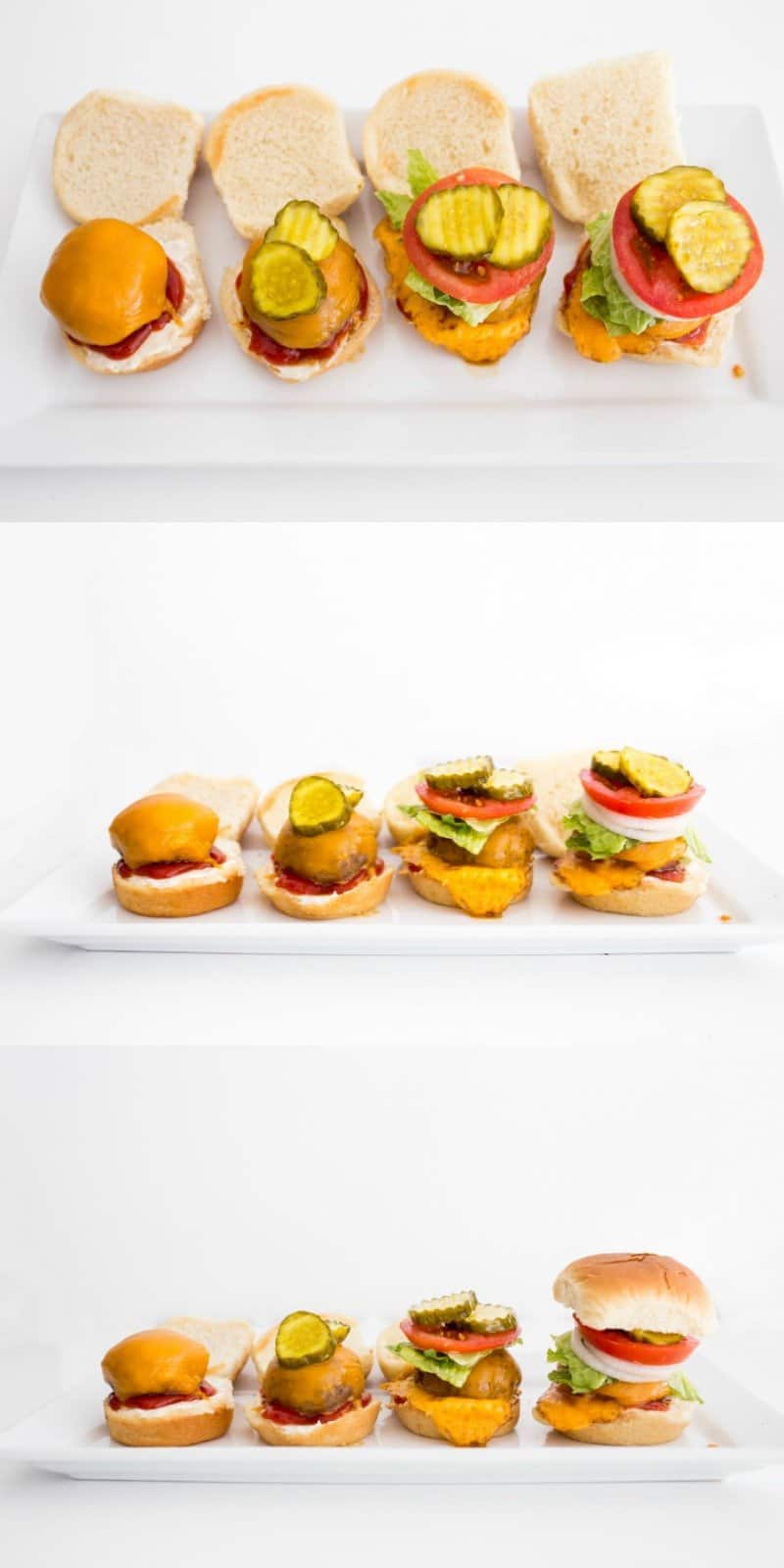 These skillet sliders recently starred in a Burger Night, Done Right! menu I created for a casual Friday night at our house with family and friends. Find the full menu HERE.
Enjoy!
xoxo,
Maegan
This post was created as part of my partnership with Nolan Ryan Beef and Kroger however thoughts and opinions are certainly my own. Thank you for supporting the brands that make The BakerMama possible.
Skillet Sliders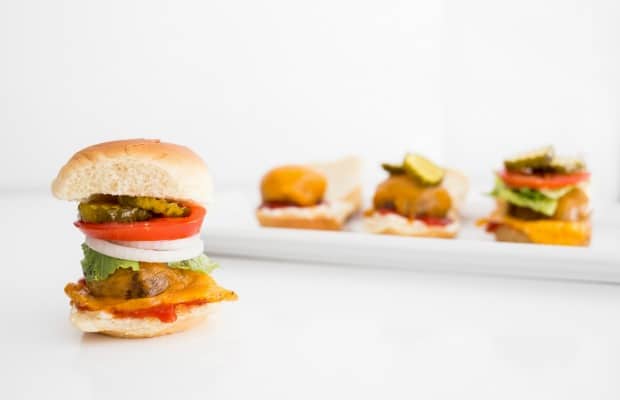 Author: Maegan – The BakerMama
Recipe type: Main
1 pound Nolan Ryan ground beef
2 teaspoons kosher salt
1 teaspoon ground pepper
1 teaspoon garlic powder
1 teaspoon onion powder
salt & pepper, for coating patties
canola oil for skillet
9 rounds of thick cheddar cheese, cut to fit over sliders
9 slider buns
Lettuce
Tomato
Onion
Pickles
Ketchup
Mayo
Mustard
In a large mixing bowl, combine the ground beef, 2 teaspoons salt, 1 teaspoon ground pepper, 1 teaspoon garlic powder and 1 teaspoon onion powder with your hands or a fork until well combined.
Form beef into 3 tablespoon-sized balls and flatten each one with the palm of your hand to the size of your slider buns. Season the outside of each patty generously with more salt and pepper.
Heat a cast-iron skillet over medium heat for 5 minutes. Add a few tablespoons of canola oil to coat the bottom of the skillet. Let skillet heat for another 2 minutes before adding the beef patties.
Sear the patties for 2-3 minutes before flipping to the other side. Add the cheese right after you flip the patties and then turn the heat to low and cover with a lid or pan while the sliders continue to cook for another 2-3 minutes (or until of desired doneness) and the cheese melts.
Use an internal thermometer to check the temperature of your sliders for doneness. A medium-rare slider (red in the middle) should register 125°F-135°F and take about 6 minutes of total skillet time. A medium slider (pink in the middle) should register 135°F-145°F and take about 7-8 minutes of total skillet time. A medium-well slider (a little pink in the middle) should register 145°F-155°F and take about 9 minutes of total skillet time. And a well-done slider (no pink) should register 155°F-165°F and take about 10 minutes.
Remove patties from skillet and serve on slider buns with desired accompaniments.
3.5.3226
Recipe by Maegan Brown/Photography by Madison Mentesana