These insanely delicious s'mores cookies are summer's best cookie! Soft and chewy, the classic flavors of an already delicious chocolate chip cookie are emboldened with the delectable taste of graham crackers and marshmallows.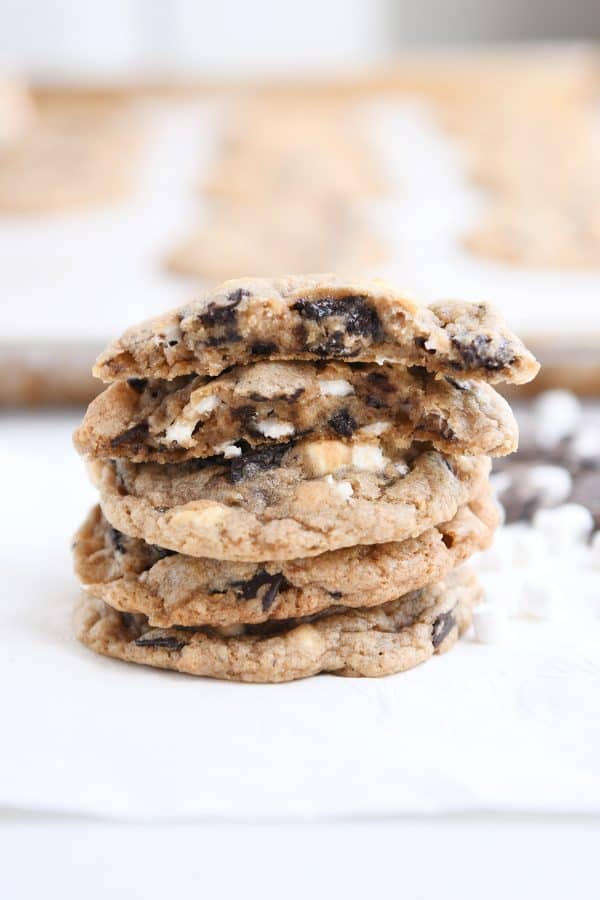 Wow, if I ever wondered how you felt about cookies vs. pie, you certainly cleared that up! Haha.
I promised you I'd post that lifechanging cookie recipe Monday (today!). And even though it's almost midnight, it still counts, right?
Sorry it's taken me all day long! I know many of you hoped to see it published, like, yesterday, but it was just one of those weekends and subsequent Mondays that conspired against me, and family matters took precedence.
But I promise, these s'mores chocolate chip cookies are well worth the wait.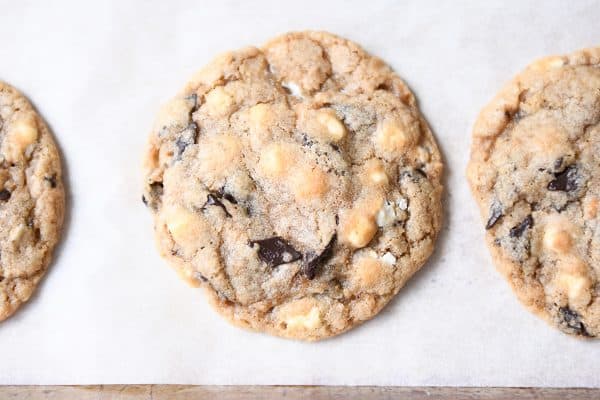 I wasn't kidding when I told you on Friday how amazing these cookies are.
I cannot stop making them! Which is not necessarily a bad thing, because they freeze amazingly well and stay soft for days (very dangerous knowledge on both counts).
Over the last month, these little s'mores chocolate chip cookies have been the highlight of a family reunion, church potluck, several take-in meals, and a few other events (including stealthy excursions to the freezer in the dark of night and forcing a few friends to try them and give me their honest opinions).
The texture is equal parts soft and chewy while the classic flavors of an already delicious chocolate chip cookie are emboldened with the delectable taste of graham crackers and marshmallows.
Oh my stars, they are so good. I honestly feel like they are one of those cookies that could easily become a signature recipe for someone. Like, THE recipe that people know you for (and hope you bring wherever you go). They are that good.
Let's talk about those marshmallows for a second.
I know it's a little bit annoying to realize a recipe that you want to make rightthisveryminute calls for an ingredient that may not be a pantry staple. But in this case, it's worth it to get the right kind of marshmallows!
Your average mini marshmallows will not work! They'll melt into huge craters and become a puddly, burned mess ruining one of summer's most perfect cookies. Trust me, I tried it.
Instead, you need marshmallow bits. In other words, dehydrated marshmallows. And lucky for you and me, they are pretty easy to find.
They are often located right by the other marshmallows in the grocery store or by the hot chocolate (another great way to use them, btw).
I've also ordered them on Amazon (this brand and this brand – aff. links) and found them in bulk at my local Cash and Carry (because after making these cookies, you're going to want to keep them on hand all.the.time).
If you've never tasted the marshmallow bits, they channel the texture of lucky charms marshmallows. Just smaller.
They are crunchy and sweet, and when baked into a graham cracker, chocolate chip-studded cookie dough, they become soft, chewy little bits of heaven.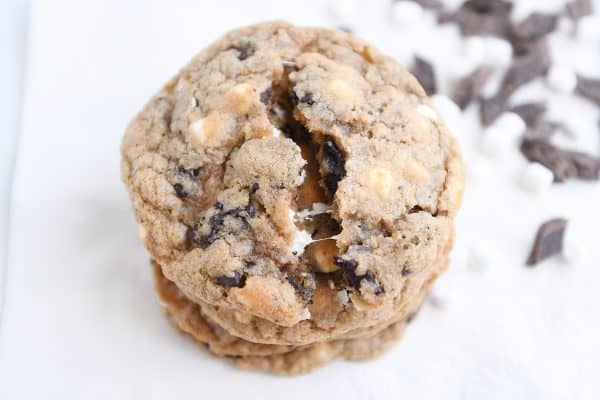 If you absolutely positively have to have these cookies in your life before you can get your hands on real, live marshmallow bits, you could maybe try subbing in white chocolate chips?
I haven't done that personally because I only use white chocolate chips for a very few recipes and they are pretty low on my list of ingredients I ever want to sub in for a cookie (just not the hugest fan of white chocolate over here).
And of course the cookies would totally lose the s'mores vibe without those lovely little chewy bites of marshmallow, but you would still get the graham cracker/chocolate vibe with creamy hints of vanilla chips, and so you'd be able to end the day with a little happiness still.
I'm pretty choosy with my s'mores desserts. I only have a couple others that have made the cut over the years (cute and tasty s'mores blossom cookies and these terribly easy and crazy delicious s'mores bars).
But these s'mores chocolate chip cookies are not only one of the best s'mores desserts I've had, but honestly, they have cemented themselves as one of my favorite cookies of all time. I really, really hope you love them.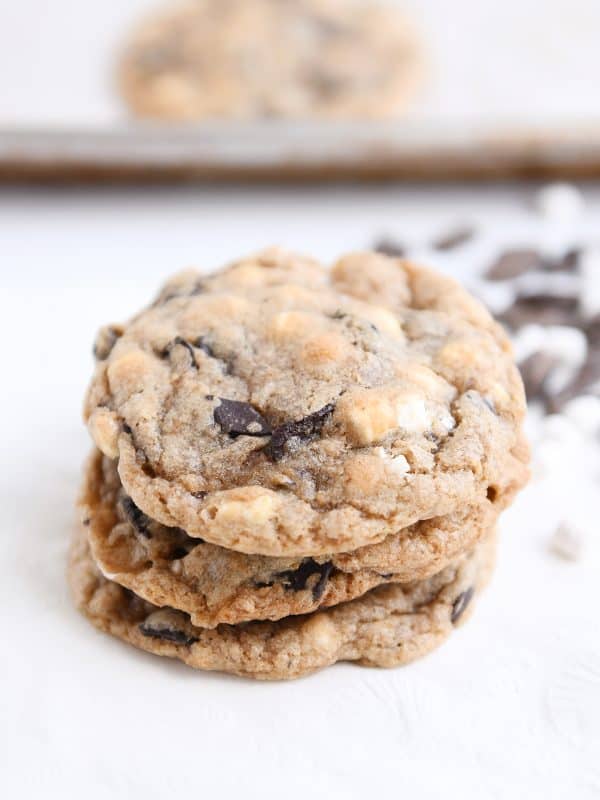 One Year Ago: The Best Zucchini Muffins {Whole Grain}
Two Years Ago: BBQ Chicken Salad Cilantro Lime Rice Bowls
Three Years Ago: Skillet Turkey Meatballs with Lemon Rice
Four Years Ago: Brookies {Brownie + Chocolate Chip Cookies}
Five Years Ago: Chopped Taco Salad with Homemade Catalina Dressing
Recipe Source: adapted from Bake From Scratch magazine July/August 2018 (altered mixing method, used less salt and salted butter in place of unsalted butter, decreased flour amount slightly and added weights and specifics to graham crackers and other ingredients)