This "lazy" Slow Cooker Pork Loin Chile Verde recipe tastes like you worked on it all day! Tender pork loin is slow-cooked in a vibrant blend of green salsas until perfectly tender, then served up with rice, tortillas, sour cream—whatever you like! It's sure to become your new favorite pork recipe!
Looking for more pork loin recipes? Try this Instant Pot Pork Loin or this Juicy Pork Loin Roast!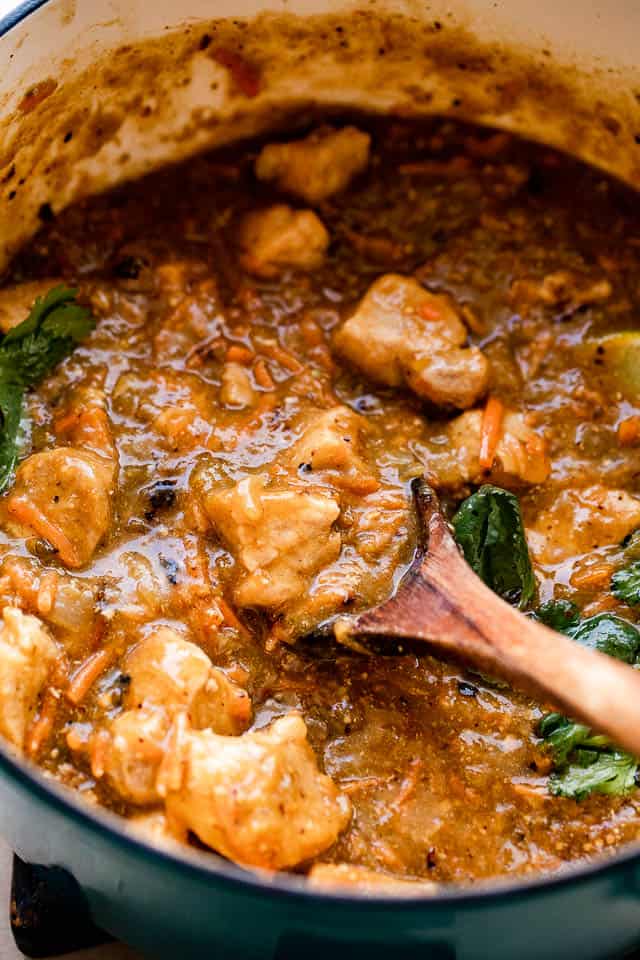 EASY SLOW COOKER PORK LOIN CHILE VERDE
Chile Verde is one of those amazing dishes that is very simple to cook, but pays off majorly in terms of taste, texture, and satisfaction!
The subtle and savory pork flavors are perfectly complemented and accented by piquant green salsa, garlic, onions, and chiles. My particular version of this classic Mexican dish is super easy and full of flavor, thanks to prepared salsa and enchilada sauce. Read: store-bought. ? 
I also use easy-to-cook lean pork loin, rather than butt or shoulder, for the ultimate quick-prep, slow-cook entree!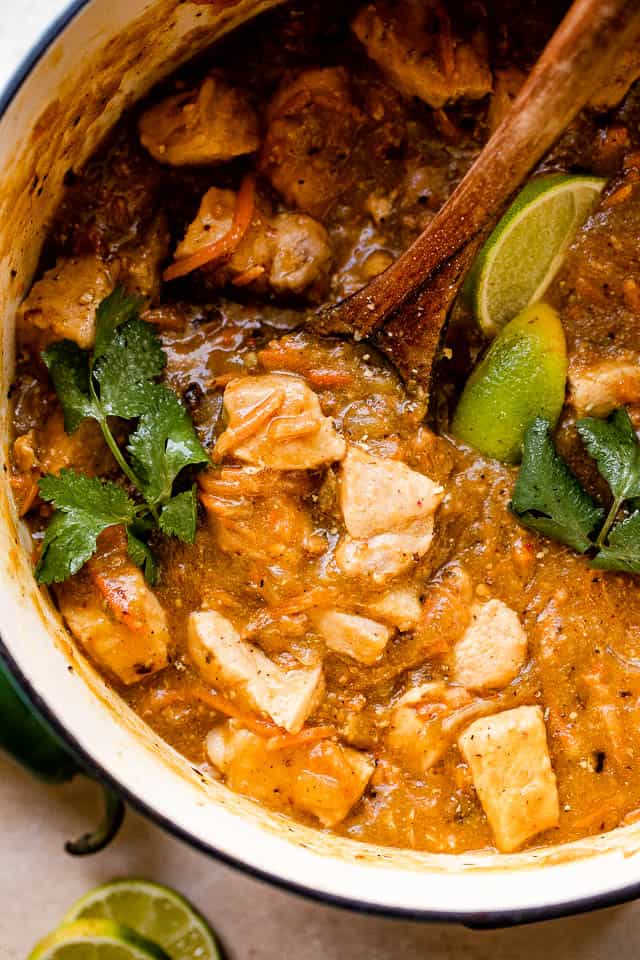 RECIPE INGREDIENTS
For the Pork:
Oil: You'll need 3 tablespoons of vegetable oil, for sauteing.
Boneless Pork Loin Roast: 3 pounds, cut into cubes.
Carrots, Onion, and Garlic: Slice the carrots and onion, and mince the garlic.
Enchilada Sauce: You'll need a large can or jar (28 ounces) of prepared green enchilada sauce.
Salsa Verde: This recipe uses one cup of salsa verde. There are lots of brands available, but I prefer Herdez.
Chopped Green Chiles: These usually come in a 4-oz can.
Salt
To Serve:
Prepared Rice: I like long-grain white rice with this dish, but you can use any rice you like, including yellow rice or rice with black beans! Or, check out my Fiesta Rice.
Flour Tortillas: Warm the tortillas gently before serving.
Jalapenos: Seeded and thinly sliced, these spicy little peppers make a nice garnish.
Chopped Fresh Cilantro: Another great garnish.
Sour Cream: You can use low-fat, full-fat, or substitute your favorite plain yogurt!
Lime Wedges
IS CHILE VERDE SPICY?
Depending on the salsa and the green chiles you add, this recipe can range from mild to very spicy. If you select a mild salsa and mild chiles, you can expect a dish with just a little spicy kick.
If you go with hotter chiles and/or salsa, you can amp up the heat! Some chiles are not marked with a level of spiciness, so you can try adding just a portion of the can to the other ingredients, and add more to taste.
HOW TO MAKE SLOW COOKER PORK LOIN CHILE VERDE
Saute the Pork and Veggies and Place in Slow Cooker. Heat the oil in a large skillet. Then add the pork, carrots, onions, and garlic; saute until pork is browned on all sides. Remove skillet from heat and transfer pork mixture to a 6-quart, or larger, slow cooker.
Add the Remaining Ingredients. Stir in the enchilada sauce, salsa verde, green chiles, and salt.
Slow-Cook. Cover the slow cooker and cook on LOW for 6 hours, or until meat is cooked through and tender.
Serve. This dish is best served over prepared rice, or warm tortillas. Garnish each serving with jalapenos, cilantro, and/or sour cream. Serve with lime wedges.
Enjoy!
SIMPLE TIPS FOR THE BEST SLOW COOKER PORK LOIN
Don't Overcook: Even with a moist, slow cooking process, pork loin can overcook and become dry, grainy, and un-fun to eat. To avoid this, test the pork with a meat thermometer a couple of hours into the cooking time, and at least once per hour afterwards. Pork is done at 145°F, but because the pork will continue to cook even after you turn off the heat, you'll want to turn off the slow-cooker just before it hits that temperature.
Pink is Not Necessarily Bad: We all want to make sure our proteins are properly cooked, to avoid any food poisoning! But if you test the pork and find that the temperature is right, but the meat itself is still a rosy color, don't worry! The low and slow cooking method doesn't blanch the meat quite as much as a high-heat method, so some or all of the pieces may still be pinkish even when they're done.
Thicken (or Thin) the Sauce: The green sauce in this dish should have a gravy-like consistency when done. If you'd like to thicken the sauce, make a slurry: mix two tablespoons of cornstarch with a little water and whisk in one tablespoon of the slurry at a time into the hot sauce until it thickens. If yours seems thicker than you'd like, feel free to add water or broth to thin it out a little. Taste for seasonings afterwards. 
SERVING SUGGESTIONS
A Refreshing Drink: This dish is really a meal in itself, so it doesn't really need much! If you want to create a really special start to the menu, though, you can always whip up some delicious Strawberry Pomegranate Mojitos! So festive!
On the Side: My Air-Fryer Zucchini Corn Fritters also make a wonderful appetizer or side to accompany this yummy Chile Verde. Serve with a red salsa for a fun contrast! Creamy Mashed Cauliflower would also be amazing with this recipe.
Chocolate, of Course: There's nothing like a silky and satisfying mousse for an indulgent dessert. My Creamy Low-Carb Chocolate Mousse, topped with whipped cream and raspberries, will leave your tastebuds singing! Feeling a bit more seasonally inclined? Great! Try my Low Carb Pumpkin Mousse instead. All the indulgence with an autumn-inspired twist!
HOW TO STORE AND REHEAT LEFTOVERS
To refrigerate: cover leftovers tightly, or store in airtight containers. Place in the refrigerator. This dish will keep for up to 3 days.
To reheat: place the desired portion in a covered skillet or saucepan over medium heat. Cook until just heated through. Do not overcook.
CAN YOU FREEZE HOMEMADE CHILE VERDE?
This dish freezes well! Place leftovers in freezer bags, pushing out as much air as possible before sealing. This dish keeps in the freezer for up to 3 months. Thaw in the refrigerator before reheating.
More Mexican Inspired Recipes
ENJOY!
Tools Used in this Recipe
Slow Cooker Pork Chile Verde
A deliciously easy, Mexican-inspired slow cooker recipe for pork loin smothered in a bold and flavorful chile verde sauce.
Instructions 
Heat oil in a large skillet.

To the hot oil, add pork, carrots, onions, and garlic; saute until pork is browned on all sides.

Remove skillet from heat and transfer pork mixture to a 6-quart, or larger, slow cooker.

Stir in the enchilada sauce, salsa verde, green chiles, salt, and pepper; cover the slow cooker and cook on LOW for 6 hours, or until meat is tender and internal temperature registers at 145˚F. Using an instant read thermometer, start checking for doneness around the 4-hour mark.

Remove cover, stir, taste for salt and pepper, and adjust.

Let stand 8 to 10 minutes.

Garnish with jalapenos and cilantro.

Serve over prepared rice or tortillas with sour cream and lime wedges.
Nutrition Facts
Slow Cooker Pork Chile Verde
Amount Per Serving
Calories 275
Calories from Fat 90
% Daily Value*
Fat 10g15%
Saturated Fat 5g25%
Cholesterol 86mg29%
Sodium 1092mg46%
Potassium 649mg19%
Carbohydrates 12g4%
Fiber 2g8%
Sugar 8g9%
Protein 32g64%
Vitamin A 3742IU75%
Vitamin C 9mg11%
Calcium 23mg2%
Iron 1mg6%
* Percent Daily Values are based on a 2000 calorie diet.
Keywords: crock pot pork, easy pork recipe, slow cooker pork loin, pork chili verde
Want To Save This Recipe?