This "SMOKED" SKILLET TANDOORI CHICKEN is loaded with so much flavor you'll swear you used a smoker. Such a fun hack for a delicious and unique dinner at home.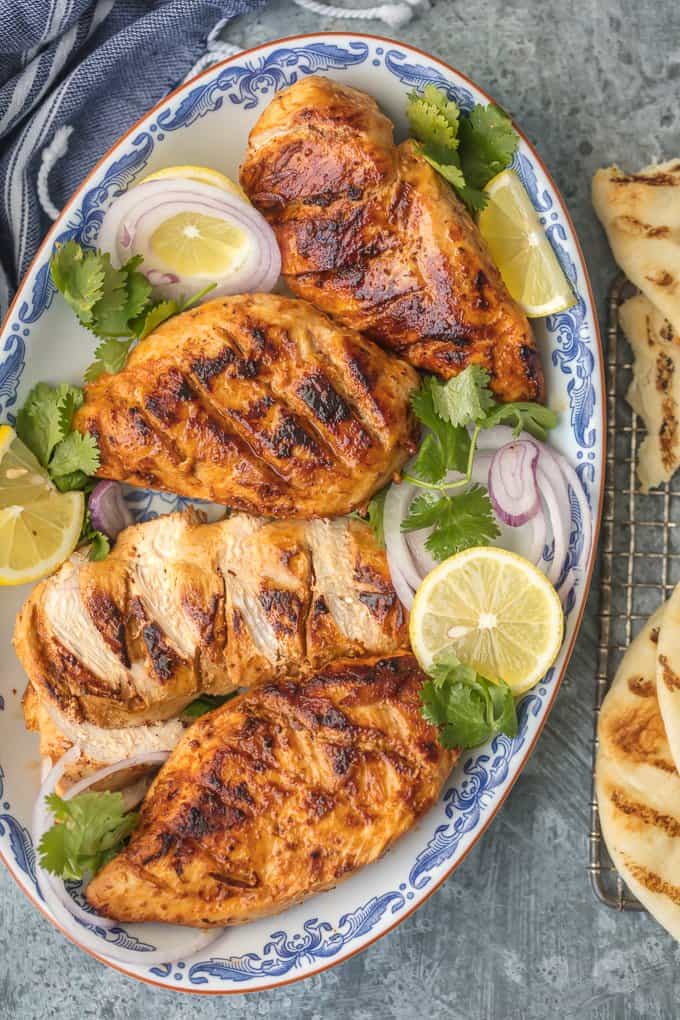 I absolutely love Tandoori Chicken. I love the flavors of tandoori masala mixed with the creamy yogurt to produce such a tender, flavorful, and delicious meal. It's traditionally only grilled or cooked in a tandoori pot…but odds are you don't have one of those sitting around. It's also traditionally made with bone in thighs or chicken legs, but I'm a big fan of boneless chicken breasts so we figured out a hack to make it just as juicy, with what you already have at home, and just the way I like it. The trick for the smokey flavor is SO fun and easy, I know you're sure to love it!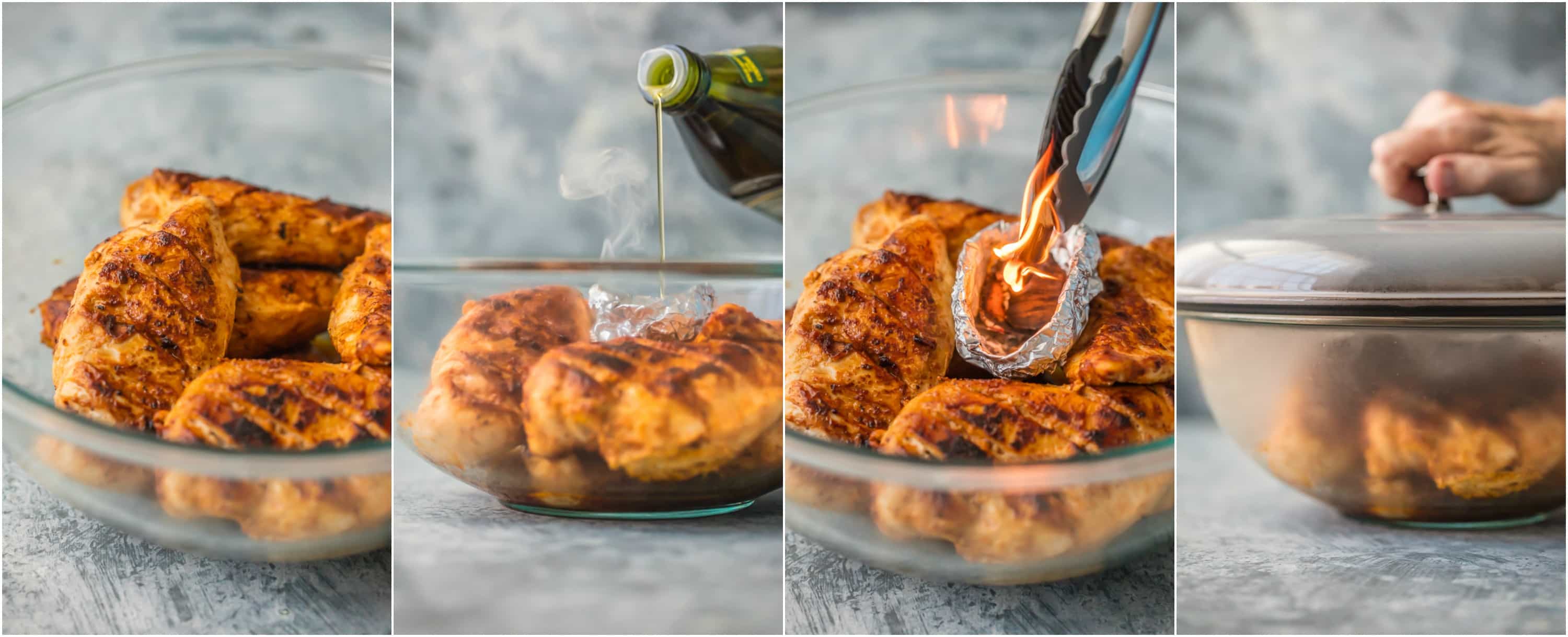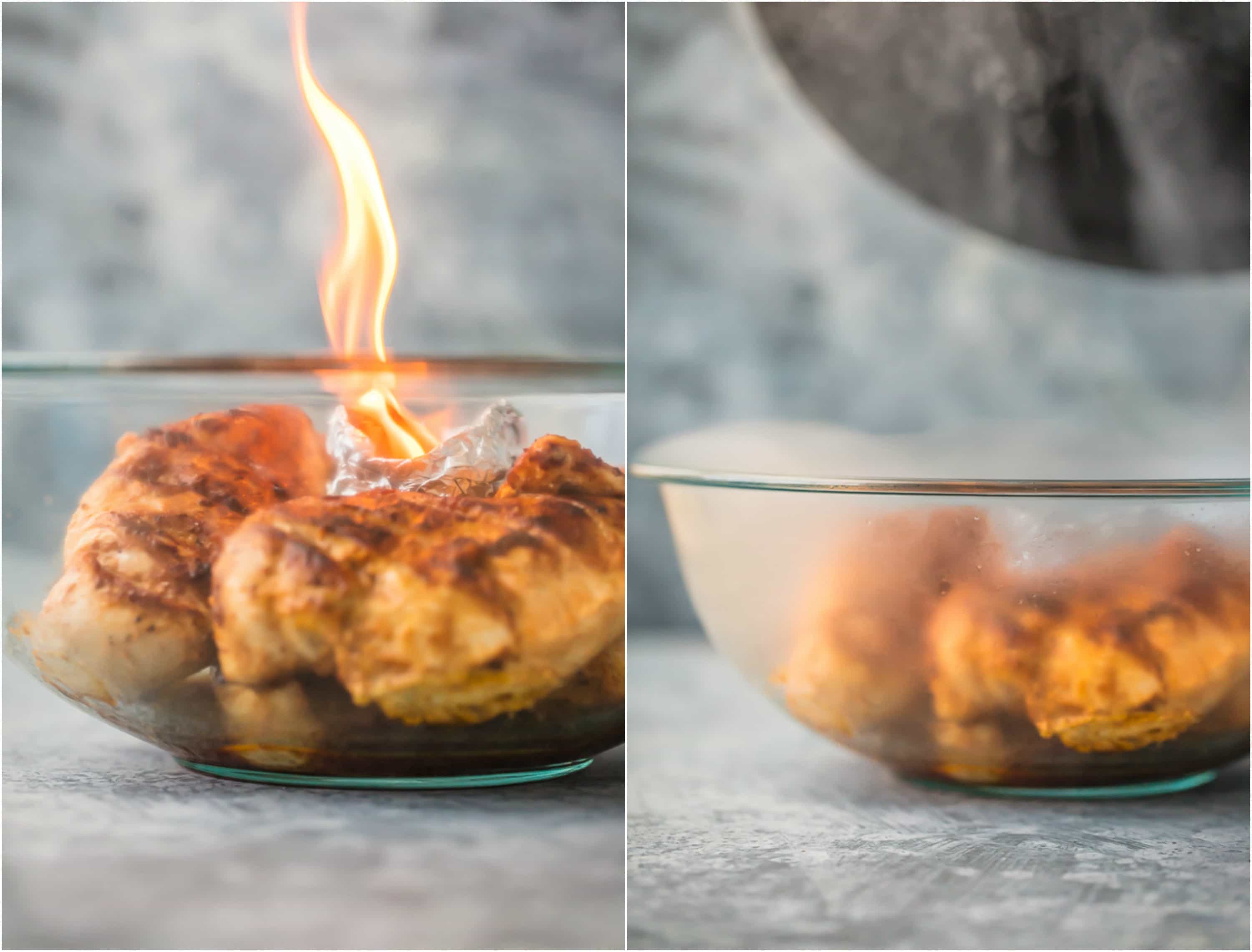 All you need to make this chicken smokey and AMAZING is a smoking chip or piece of charcoal, some tin foil, and a bowl that you can cover to allow the smoke to permeate. We have SO MUCH FUN trying this at home (be careful) and the taste was out of this world. If you're having a dinner party and want to impress your friends, this is the recipe for you. Not only does it have flavor for dayyyyyyys, it's fun and cool to boot. Look at all that smoke! We don't need smokers around here!!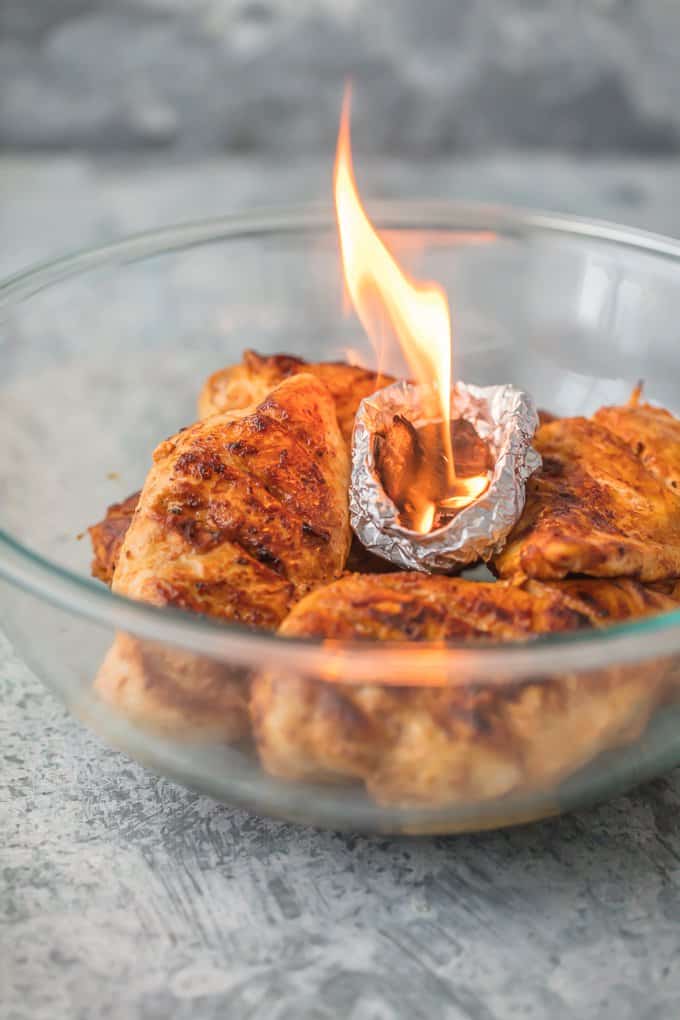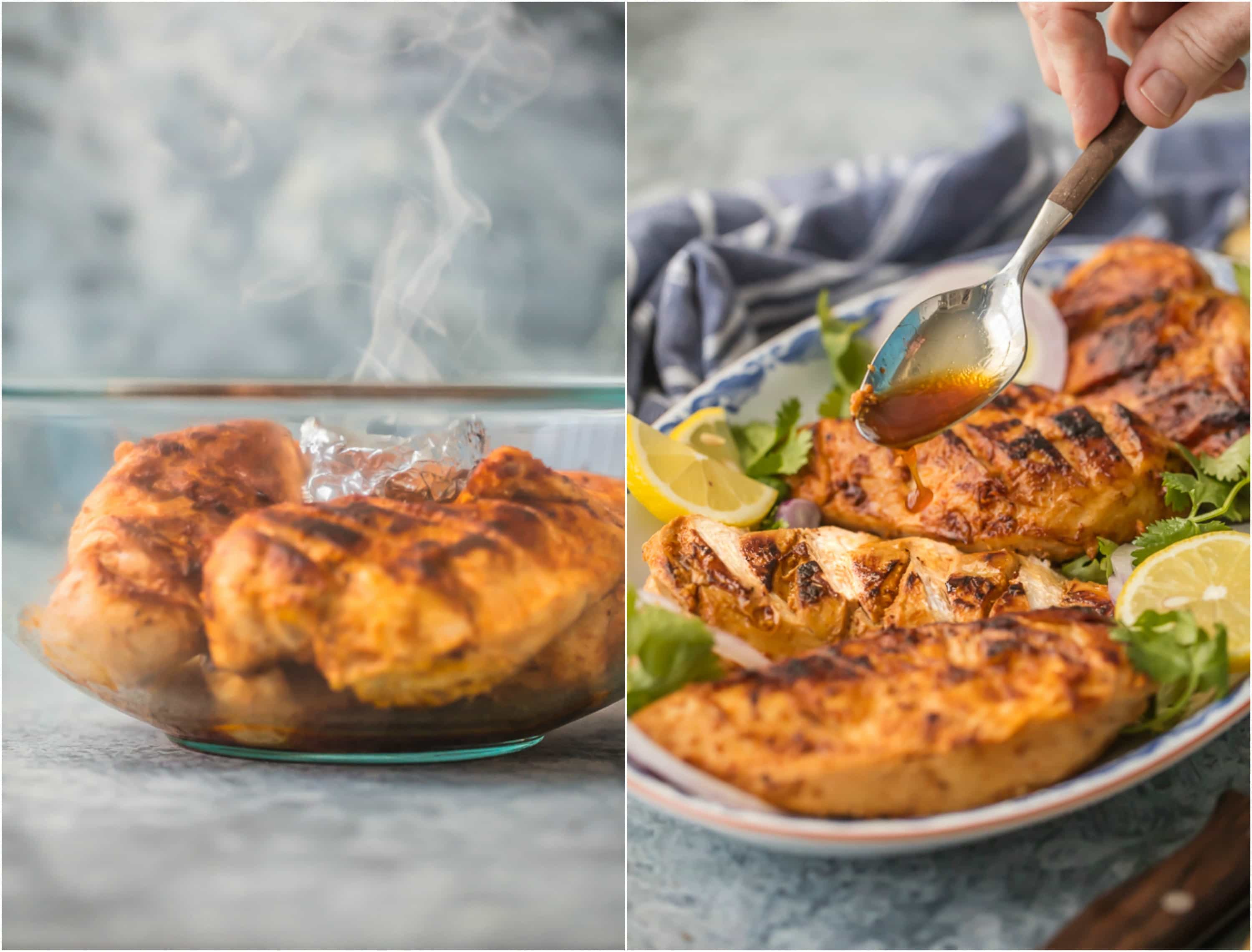 When we say flavorful, this "Smoked" Skillet Tandoori Chicken is FLAVORFUL. FLLLLLLLAVORFUL. You can serve it on its own, but we like to have it with lots of lemon, cilantro, and red onion. Be sure to get a little of all the flavors all in one bite. YOU GUYS. I can't. You have to experience it for yourselves. Mom and I just kept saying "mmmmmmm" like dorks over and over again. Then she said her overused phrase that I constantly make fun of her for…"This really is one of my very favorite recipes!". She says this time she really meant it though.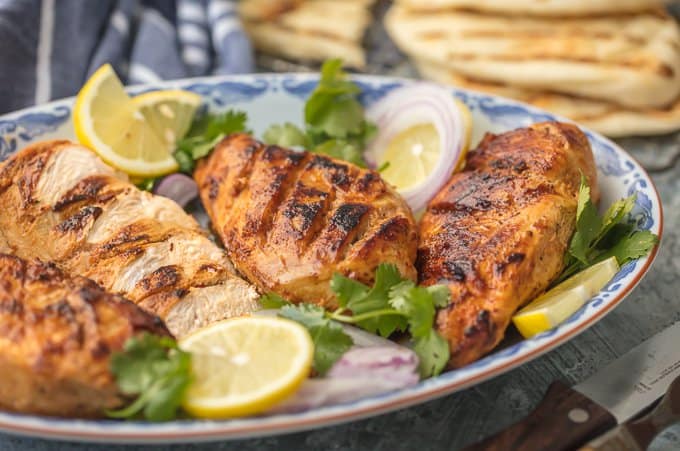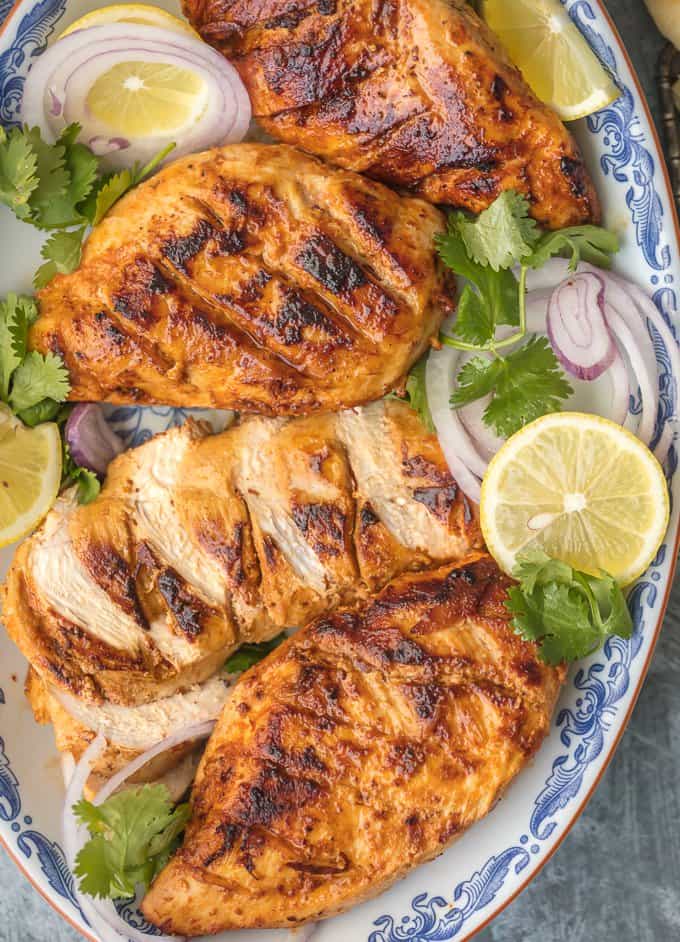 Please give this a try and let me know how you like it. I have a good feeling that you're going to be as obsessed as we are.
Enjoy!
Ingredients
2 cups plain yogurt
Juice of 1 lemon
½ teaspoon red chili powder or cayenne pepper
½ teaspoon red pepper flakes
1 tablespoon garlic paste or 3 cloves garlic, minced
2 teaspoons ginger paste or 1 teaspoon ground ginger
1 teaspoon kosher salt
1½ teaspoon smoked paprika
2 tablespoons tandoori seasoning, (If tandoori spice isn't available, use equal amounts of the following spices that you have; paprika, turmeric, coriander, cardamom and cumin to equal 2 tablespoons.)
6 skinless, bone-in chicken pieces
2-4 tablespoons salted butter
2-4 tablespoons olive oil

For the smoke trick:

3, 1"-2" smoking chips or one chunk of untreated charcoal
Oil, for drizzle
For serving:
Thin red onion slices
Lemon wedges
Cilantro, rough chopped
Instructions
Place the yogurt, lemon juice, red chili powder, garlic paste, ginger paste, salt and tandoori seasoning in a large mixing bowl. Mix well.
With a paper towel, gently pat the chicken dry. Cut slits across the tops of each chicken piece, 1" apart and ½" deep. Add the chicken to the bowl and rub the seasoned yogurt all over the chicken pieces, being sure to rub it into the slits. Set the chicken aside to marinate, on the countertop, for 30 minutes.
In a large cast iron skillet, heat the butter and oil over medium-hot heat.
Add the chicken pieces, one-at-a-time, to the hot pan. Don't crowd the chicken. Cook 1½-2 minutes, or until the skillet side is golden brown. Flip the chicken over, cook 2 minutes, and repeat this process approximately 10-12 minutes or until the chicken is cooked through. A meat thermometer should register 160°F for white meat and 165°F for dark meat, when tested in the thickest part of each piece. The different chicken pieces will take different times to cook. (White meat cooks more quickly than dark meat.)
As each chicken piece finishes cooking, transfer it to a large, heatproof bowl.

Now, here is the fun, and slightly dangerous, trick to give the chicken the smoky "tandoori" flavoring without heating up the grill.

If you have a gas stovetop, you are in luck. If you don't, get out a grill lighter.
First, make a 4" bowl out of a folded piece of aluminum foil (or use a heatproof 4" bowl). Nestle the bowl between the top chicken pieces.
For safety purposes, place a heatproof dish close by the stove just in case the coal/wood chip get too hot or the flame gets too large.
With heatproof tongs, hold the chunk of coal or the wood smoking chip over a lighter gas burner until the coal (wood chip) lights and begins to smoke. Place the smoking coal, or chip, in the prepared heatproof bowl on top of the chicken. Drizzle a few drops of oil over the burning coal (or wood chip) and place a large lid over the entire thing. The smoke needs to be trapped in the bowl with the chicken. Leave the bowl covered for 3 minutes. After 3 minutes, remove the coal/wood chip and the small, heatproof bowl. Serve the chicken immediately. **See note.
Enjoy!

**Note

Tandoori chicken should always be served with the traditional garnishes of thinly sliced red onion, a lemon wedge, and chopped fresh cilantro. The four flavors meld perfectly together and complete the dish.
Notes
Tandoori Chicken is traditionally cooked on the grill or with a tandoori pot, and made only with bone-in thighs and chicken legs. Chicken breasts are usually not recommended since they dry out too quickly when cooked on the grill. Because this dish is cooked stovetop, the temperature is easily regulated, so I chose to use chicken breasts. Using this method, dark or white meat can be used. Be sure to use a meat thermometer to check the internal temperature of the chicken. Chicken breasts are done when the thermometer registers 158-160°F in the thickest part of the breast. Dark meat should read 163-165°F.
I didn't use bone-in chicken breasts – that is only because I already had the boneless, skinless in the fridge.
7.6.4
2449
https://www.thecookierookie.com/smoked-skillet-tandoori-chicken/

JOIN OUR MAILING LIST
TO GET COOKING!
Subscibe to recieve all the latest, greatest, and EASIEST recipes sent straight to your email inbox. If we post something yummy, you'll be the first to know.