Coated in a caramel-like glaze, these Southern candied yams are packed with hints of orange juice and bourbon. Baked until fork-tender and topped with pecans, they'll go from a holiday side to dessert in a second.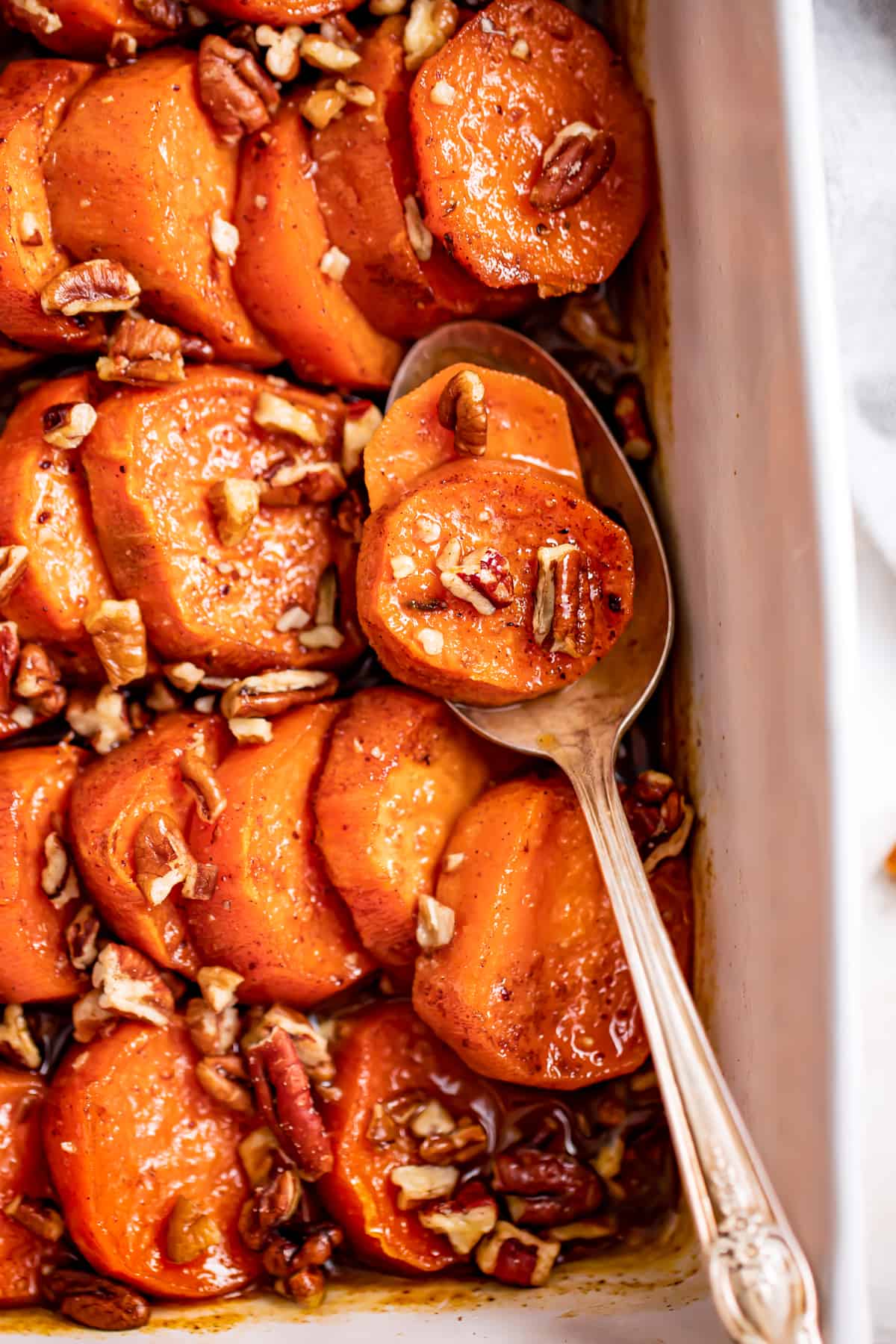 Easy Southern Candied Yams
These Southern candied yams are a national treasure, so wait until they're out of your oven! With a lovely golden and toasty glazed look, your house will smell like Thanksgiving or Christmas all year. Even if it's not the holiday season, this recipe is ready to go from side dish to dessert in a second.
Seasoned with my favorite festive spice combo, every bite screams cozy fall and winter vibes. Between the cinnamon's spicy earthiness and the nutmeg's bitterness, a bit of bourbon balances out the sweetness and gives these yams a boozy kick.
Topped with pecans, these easy and baked Southern candied yams will win everyone over. Best of all, you barely have to do a thing because the oven does most of the work for you. I won't judge you if you keep this a secret, though. Served warm, get ready to have everyone rave over how good they are.
Are Candied Yams and Sweet Potatoes The Same?
No. Candied yams, in the USA, are a dish, whereas sweet potatoes are an ingredient. While yams and sweet potatoes are root vegetables, they're not the same.
Sweet potatoes have smoother, orange, or yellowish skin. The inside is usually a vibrant orange. On the other hand, yams have brown or black skin. Their interior is beige, reddish, and even purple. They're also creamier, unlike sweet potatoes, which tend to be starchier like regular potatoes.
But if you love sweet potatoes, you are going to really, really like this recipe. ❤️
Recipe Ingredients
With a bit of sugar, bourbon, and cinnamon, you're practically ready to get started. Check the recipe card for full ingredient amounts.
Sweet potatoes
Orange juice – Try to use fresh juice.
Light brown sugar – Dark brown sugar works too.
Granulated sugar
Butter – Unsalted.
Salt and pepper
Bourbon – Honey whiskey is great too.
Ground cinnamon
Ground ginger
Ground nutmeg – You can substitute all the dried spices for the same amount of allspice.
Pecans
How to Make Candied Yams
We have to prepare the glaze, slice the sweet potatoes, and throw them into the oven. That's it.
Prepare the baking dish. Preheat oven to 400˚F. Grease a 9×13″ baking dish.
Add the sweet potatoes. Arrange the sweet potatoes in the baking dish. Set it aside.
Mix the sugars. Combine the orange juice, brown sugar, granulated sugar, butter, salt, and pepper in a small pot over medium heat. Cook the mixture for 5 minutes or until the butter has melted.
Add the bourbon. Stir in the bourbon, cinnamon, ginger, and nutmeg. Remove from heat.
Bake. Carefully pour the sugar-juice mixture over the potatoes. Cover the baking dish with foil and bake the sweet potatoes for 40 minutes.
Baste them. Remove the foil and bake for another 20 minutes. Baste the sweet potatoes with the mixture every 15 minutes or so.
Serve. Remove them from the oven. Let them rest for 5 minutes. Top with chopped pecans and enjoy.
Tips for Success
These are world-class tips, so please go through them before you get started.
Poke some holes. Use a fork to poke holes in the sweet potatoes to help them bake faster and more evenly.
Use a slurry. Mix 1-1/2 teaspoons water and 1-1/2 teaspoons cornstarch until well combined. Add this to the sugar-juice mixture to help the glaze thicken more.
Pick small ones. The longer, narrower sweet potatoes are, the more chances they have of being stringy. Smaller, plump sweet potatoes are younger and are rarely stringy. However, for this recipe, I suggest using long, narrow sweet potatoes because they are smaller and easier to cut into evenly sized slices.
What to Serve with Candied Sweet Potatoes
Candied yams are great with festive dinner menus, so think of dishes you'd serve for Thanksgiving and Christmas.
As main dishes, my Lobster Ravioli with Cream Sauce, Easy Roast Turkey, and Tender and Juicy Pork Loin Roast are great options because their flavor isn't overpowering and doesn't clash with the yams' sweetness.
For sides, I prefer to stay away from starchy vegetables. That means no mashed potatoes or corn. While you may be wondering what options are left, turn to these recipes for inspiration:
How to Store & Reheat Leftovers
Refrigerate any cooled leftovers in an airtight container for up to 1 week.
Reheat them by sprinkling 1 to 2 teaspoons of water over them and microwaving them for up to 2 minutes or until warm.
More Easy Side Dishes
Preheat oven to 400˚F.

Butter a 9×13 baking dish.

Arrange the sliced potatoes in the baking dish and set aside.

In a saucepan, combine orange juice, brown sugar, granulated sugar, butter, salt, and pepper.

Set saucepan over medium heat and cook for about 5 minutes, or until butter is melted and everything is well combined.

Stir in the bourbon, cinnamon, ginger, and nutmeg. Remove from heat.

Pour the orange juice mixture over the potatoes.

Cover the baking dish with aluminum foil and bake for 40 minutes.

Uncover and continue to bake for 20 more minutes, basting the potatoes a couple times during cooking.

Remove from oven.

Top with chopped pecans.

Let stand for about 5 minutes and serve.
Sweet Potatoes: I suggest using long, thinner sweet potatoes to make candied yams. They are smaller, and almost all slices will be similar in size. FYI: Yams in USA grocery stores are called sweet potatoes. For this recipe, you want to use sweet potatoes and not yams. Yams are root vegetables from Africa and Asia with dark brown skin.
Glaze: If you do not want to use bourbon, you can always use whisky or don't add any alcohol at all. 
Make Ahead: Arrange the sliced sweet potatoes in the baking dish, coat them with the glaze, then store them covered in the refrigerator for up to 8 hours. Take them out of the fridge about 20 minutes before you bake them.
Serving: 8 people | Calories: 363 kcal | Carbohydrates: 65 g | Protein: 4 g | Fat: 11 g | Saturated Fat: 4 g | Polyunsaturated Fat: 2 g | Monounsaturated Fat: 4 g | Trans Fat: 0.2 g | Cholesterol: 15 mg | Sodium: 288 mg | Potassium: 686 mg | Fiber: 6 g | Sugar: 36 g | Vitamin A: 24374 IU | Vitamin C: 20 mg | Calcium: 75 mg | Iron: 1 mg | Net Carbs: 59 g
Nutritional info is an estimate and provided as courtesy. Values may vary according to the ingredients and tools used. Please use your preferred nutritional calculator for more detailed info.