This scrumptious Spooky Snack Mix is sure to be a Halloween hit!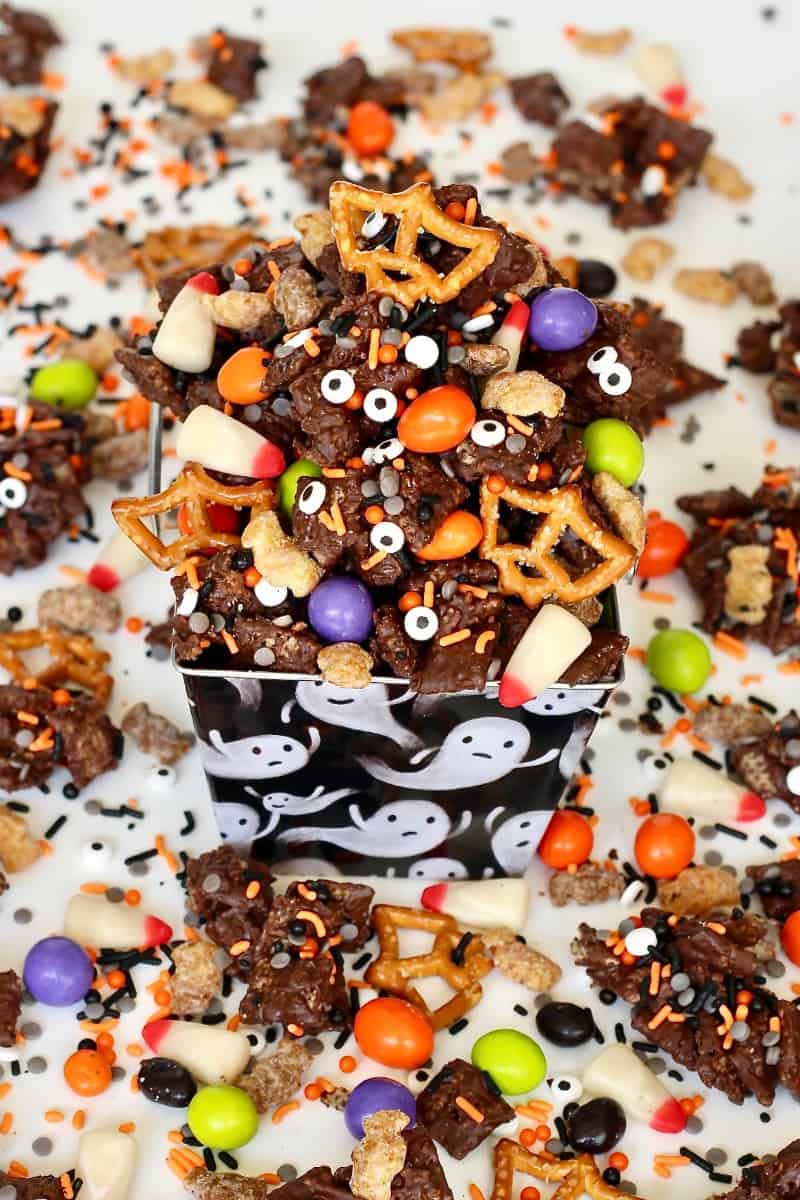 Here I go again! I'm on a mission to make sure I have a festive snack mix for every occasion and this spooky snack mix is so fun and so yummy. My crew went crazy for it the first time I made it and has been begging for it ever since.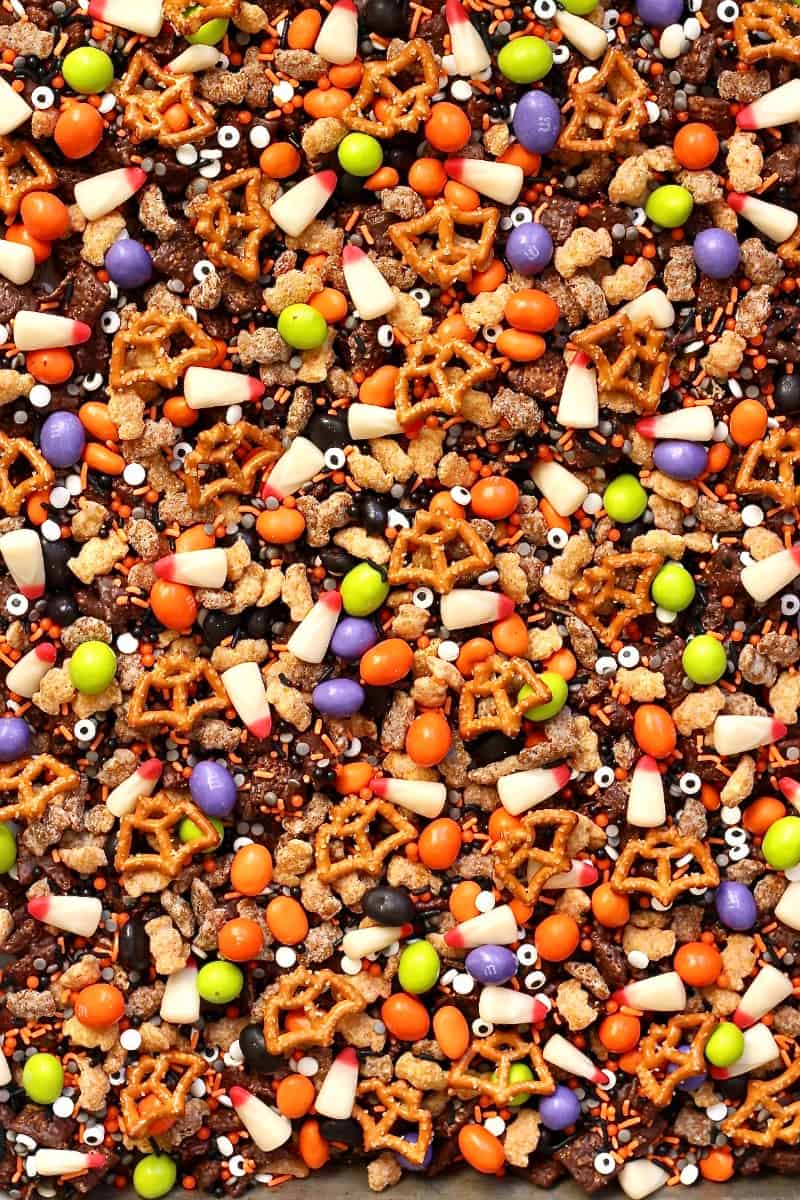 With chocolate candy coated cereal, chocolate peanut butter bat shaped cereal, spooky fun sprinkles, bat shaped pretzels, bright colored peanut M&M's, festive vampire teeth candy corn, and Halloween themed yogurt covered raisins, it's a party to both the eyes and the mouth. The sweet and salty flavors with the crunchy and chewy textures is dangerously delicious!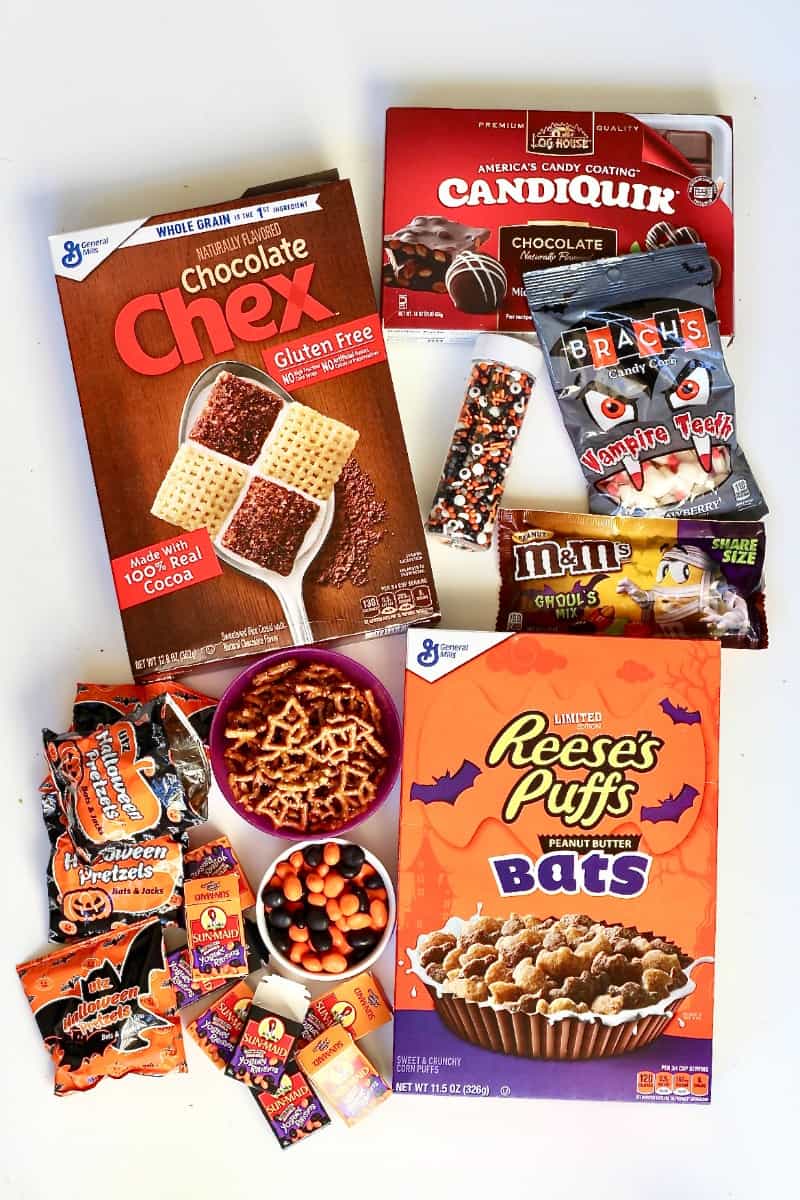 You just coat the Chex cereal in the chocolate candy coating and lay it out flat before immediately sprinkling with the sprinkles followed by all the other goodies.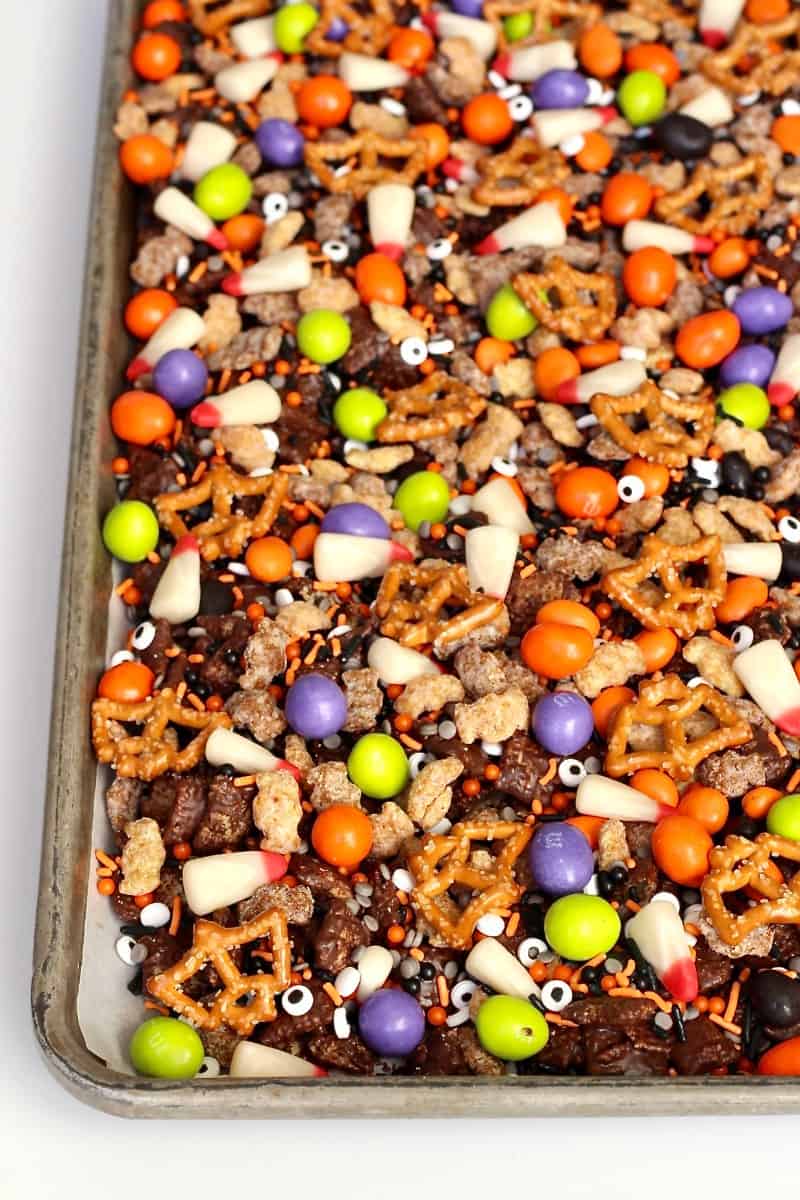 Let it set until completely cooled and then break it into pieces and enjoy!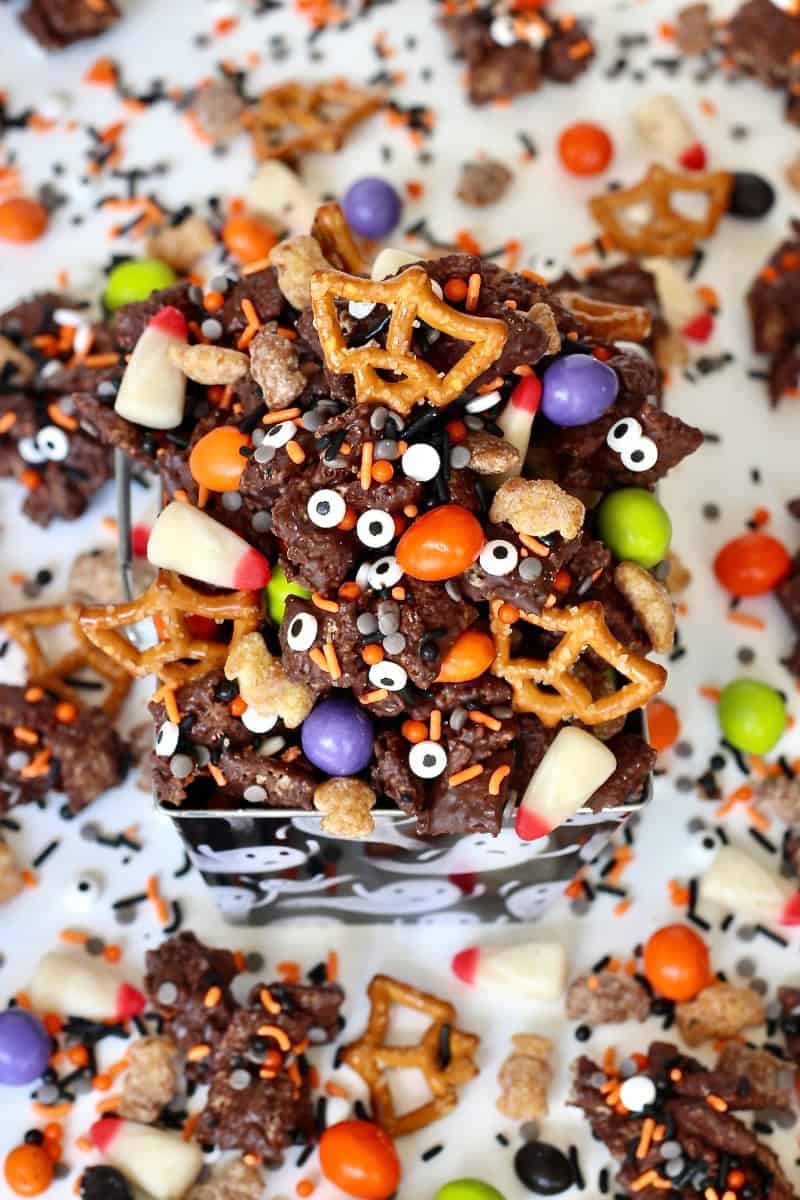 So great for a Halloween party or just to have in a jar on the kitchen counter leading up to Halloween. It's spooky scrumptious!
Have a sweet Halloween!
xoxo,

Spooky Snack Mix for Halloween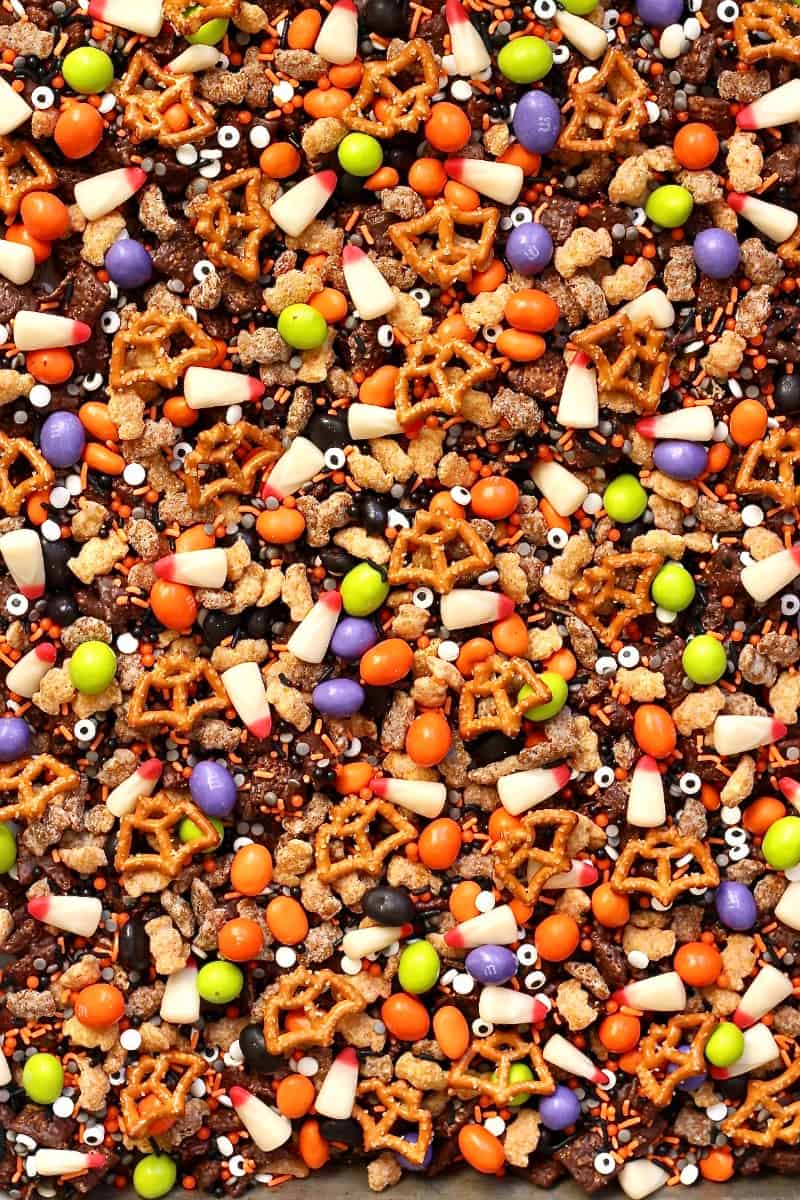 This scrumptious Spooky Snack Mix is sure to be a Halloween hit!
Author: Maegan – The BakerMama
Recipe type: Dessert
Ingredients
1 (16 ounce) package CandiQuik chocolate candy coating or 1 (20 ounce) package chocolate almond bark
6 cups (12.8 ounce box) Chex chocolate cereal
1 (4 ounce) container Wilton spooky eyeball sprinkle mix
1 cup peanut M&M's Ghoul's Mix (2 share size bags)
½ cup Sun-Maid orange and black yogurt covered raisins (they come in mini boxes on the Halloween aisle or near the raisins)
2 cups Reese's Puffs Peanut Butter Bats cereal
1 (4.2 ounce) package Brach's Vampire Teeth candy corn
2 cups Utz bat shaped pretzels (picked out from the mini bags with bats and pumpkins mixed)
Instructions
In a large bowl, add the Chex cereal.
In a microwave safe bowl, melt the chocolate candy coating according to package directions, usually 2 minutes, stirring every 30 seconds until melted and smooth. Be sure not to over melt the candy coating as it will burn and become too thick to stir and coat the mix evenly.
Pour the melted candy coating over the Chex cereal in the large bowl and toss to coat with a large spoon. Cereal should be evenly coated in the candy coating.
Spread the coated cereal in an even layer on parchment paper. Immediately sprinkle with the sprinkles and then the remaining ingredients.
Allow mixture to cool completely. Break apart to serve. Store in an airtight container or baggie.
3.5.3239