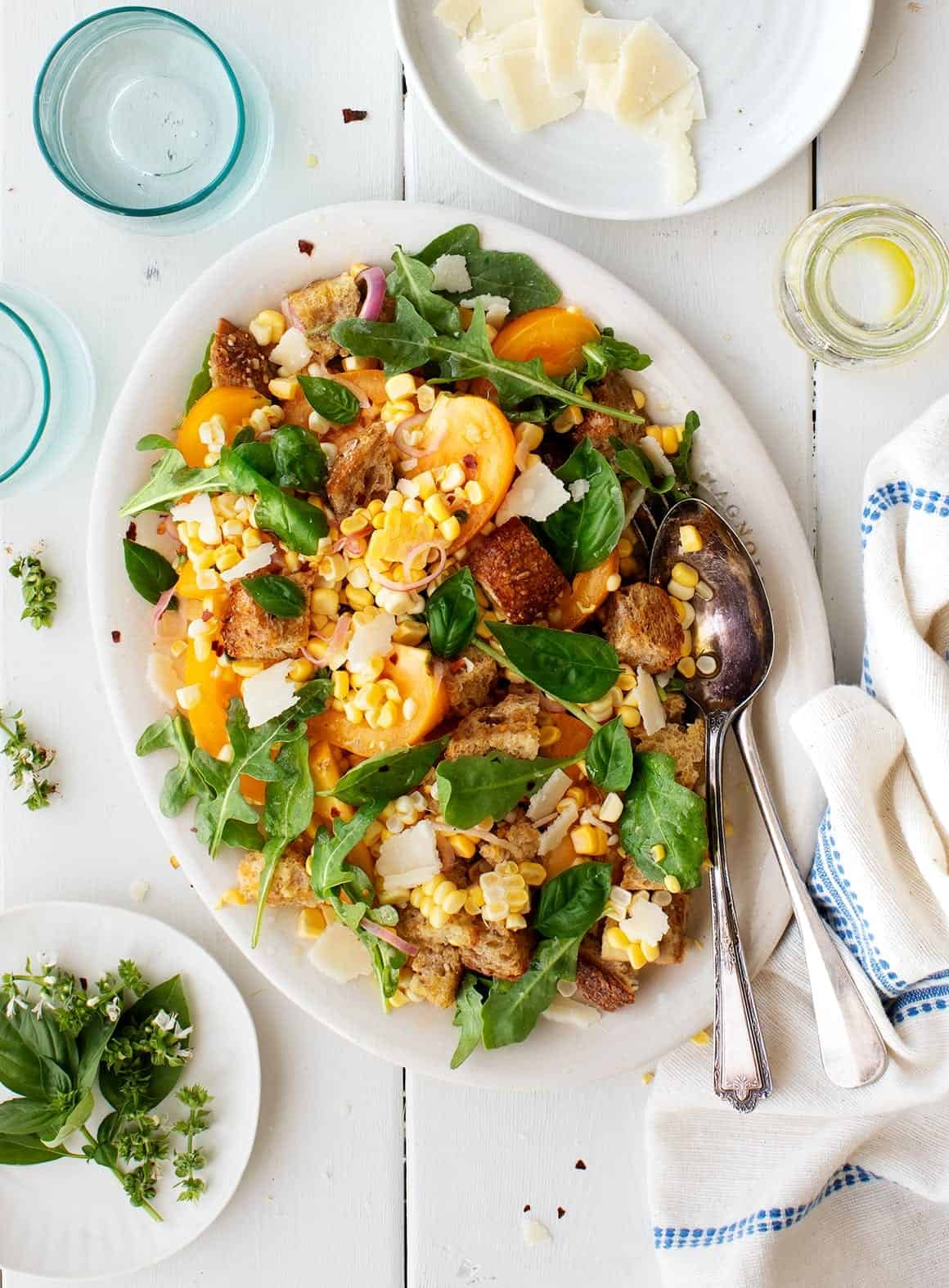 Tell me, what's your favorite summer salad?
If you said panzanella, you're at the right place. If you didn't say panzanella, that's ok too, because I think you'll be converted after you try this one! ? It's the ultimate summer salad to make with a bounty of fresh tomatoes. Or in this case, if you have a few tomatoes and a bounty of fresh sweet corn.
Panzanella may be an Italian bread salad, but the special part about this panzanella is that it's not entirely about the bread. I think bread salads can often get a bit too bread-y, which is where the corn comes in. It's fresh, crisp, and it soaks up the tangy vinaigrette and tomato juices so well. Plus, corn is my favorite summer vegetable and it's just now coming into season, so I'll be eating it pretty much every day from now until the end of September.

I would usually choose a lighter bread like ciabatta bread for panzanella, but I like this particular salad with cubes of hearty & seedy whole grain bread like this one:

Did I mention that this salad comes together in just one bowl? It's great to make ahead and it's the perfect side dish to go with whatever you're grilling. If you have a bit left over, it makes a great lunch the next day by adding some chickpeas and another handful of arugula.

Sweet Corn & Arugula Panzanella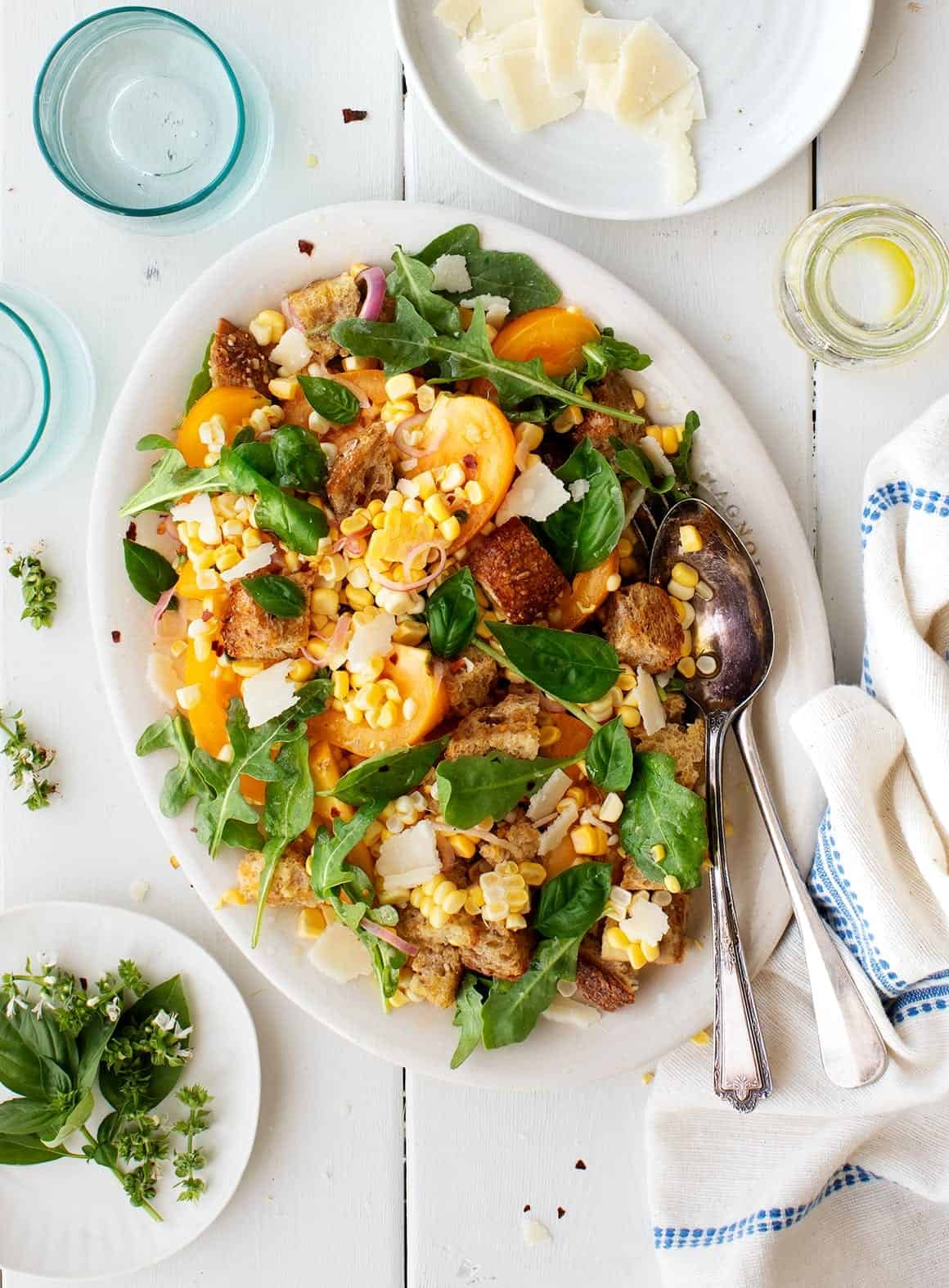 3 tablespoons extra-virgin olive oil, more for drizzling
3 tablespoons sherry vinegar
½ teaspoon Dijon mustard
¼ teaspoon sea salt
1 small shallot, very thinly sliced
2 garlic cloves, minced
4 cups cubed whole-grain bread
4 ears corn, kernels cut from cob
2 medium tomatoes, sliced into wedges
3 cups arugula
pinches of red pepper flakes
flaky sea salt, if desired
½ cup fresh basil, torn or sliced
shaved pecorino cheese, optional, omit if vegan
Preheat the oven to 350°F and line a baking sheet with parchment paper.
In a large bowl, mix together the olive oil, vinegar, mustard, salt, shallot, and garlic. Set aside.
Arrange the bread cubes on the baking sheet, drizzle with olive oil, and toss to coat. Bake until toasted, about 8 minutes.
To the large bowl, add the corn, tomatoes, toasted bread, arugula, a few pinches of red pepper flakes, and toss. Season to taste with flaky sea salt (or regular sea salt). Spread onto a platter and top with the basil and shaved cheese, if using. Serve.
Make-ahead note: If you're not serving this right away, mix every ingredient together except the bread, arugula, basil, and cheese. Add the bread and arugula 15 minutes before serving so that the bread does not get too soggy, and the arugula does not wilt. Top with the basil and cheese as you're ready to serve.
3.4.3177