Whole Wheat Zucchini Pancakes-these healthy zucchini pancakes remind me of zucchini bread, but in pancake form. Top with butter and maple syrup for a real breakfast treat!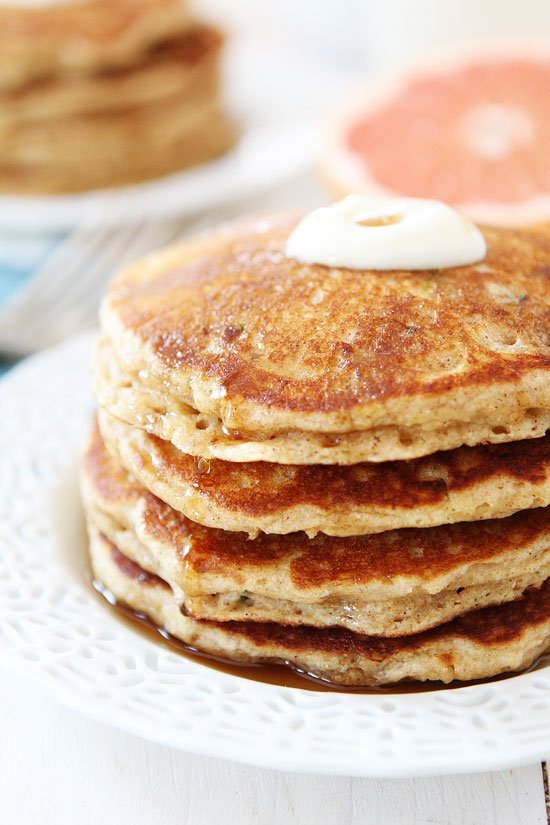 Zucchini Pancakes
I really hope you aren't sick of zucchini because I have another zucchini recipe for you today! And even if you are sick of zucchini, I am sure you still have lots to use up so at least I am giving you a new recipe to try! We can't let the zucchini go to waste! And I guarantee you will fall in love with zucchini all over again after you make these Whole Wheat Zucchini Pancakes. They are delicious and a great way to use up your summer squash!
Zucchini Pancakes Freeze Wonderfully!
I made these healthy zucchini pancakes and decided to make extra for our freezer. I am SO glad I did because these pancakes have saved the day on many occasions.
Our boys love pancakes and ask for them a few times a week. I just pull these zucchini pancakes out of the freezer and heat them up. I feel like super mom for about 5 minutes. Hey, 5 minutes is better than no minutes:) They don't even know these pancakes are zucchini pancakes because they are SO good! They love them and I love that they are getting in their veggies.
To freeze the zucchini pancakes, cool them completely. Place the pancakes on a sheet pan or large plate, making sure they aren't touching. Put the pancakes in the freezer for 30 minutes, until frozen. Then you can place the pancakes in the resealable freezer bag and freeze for up to 2 months. To reheat the frozen pancakes, place in the microwave and reheat for 20-30 seconds, per pancake.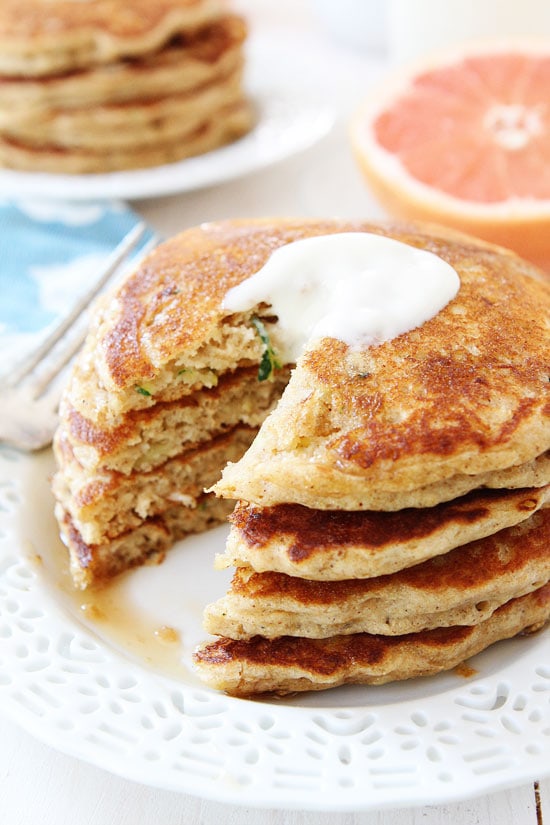 Use that Zucchini for Zucchini Pancakes!
The pancakes remind me of zucchini bread but in pancake form. The recipe calls for a cup of shredded zucchini, and will easily use up 1-2 medium sized zucchinis and more if you double the recipe for freezing.
I like to use white whole wheat flour for this recipe, the pancakes are still nice and fluffy, even though they are whole wheat. You can use all-purpose flour if you wish. Top the pancakes with butter and maple syrup and you are in for a real breakfast treat.
Whole Wheat Zucchini Pancakes are a hit at our house and I think you will enjoy them too! You will probably be begging your neighbors for more zucchini so you can make giant stacks of these pancakes! Make as many as you can because they freeze well and you never know when something as simple as healthy zucchini pancakes will save your day! Happy kids make a happy mom:)
Looking for more zucchini recipes, we've got you covered! Check out these zucchini recipes!
If you like this zucchini pancake recipe, you might also like: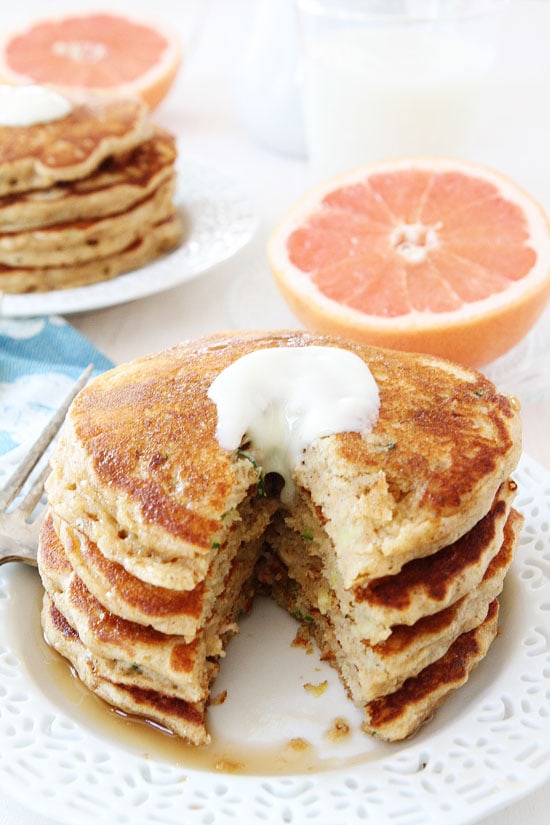 Whole Wheat Zucchini Pancakes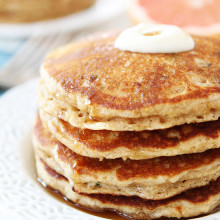 Put your summer zucchini to good use and make a giant stack of whole wheat zucchini pancakes! These pancakes freeze well too!
Yield: About 12 pancakes
Prep Time:15 minutes
Cook Time:15 minutes
Total Time:30 minutes
Ingredients:
2 1/4 cups white whole wheat flour
2 teaspoons baking powder
1/2 teaspoon baking soda
1/2 teaspoon coarse salt
3/4 teaspoon cinnamon
1/4 teaspoon ground nutmeg
2 tablespoons brown sugar
1 tablespoon granulated sugar
2 cups buttermilk
4 tablespoons unsalted butter, melted and cooled
2 large eggs
1 teaspoon vanilla extract
1 cup grated zucchini
Maple syrup and butter, for serving
Directions:
In a large bowl, whisk together flour, baking powder, baking soda, salt, cinnamon, nutmeg, and sugars.
In a separate bowl, whisk together buttermilk, melted butter, eggs, and vanilla extract. Pour liquid ingredients over dry ingredients, stirring until just combined. Fold in the zucchini.
Heat a griddle or pan to medium heat. Spray with cooking spray. Pour about a 1/2 cup of batter onto heated skillet. Cook until surface of pancakes have some bubbles and a few have burst, about 3 minutes. Flip carefully with a spatula, and cook until browned on the underside. Continue making pancakes until the batter is gone. Serve pancakes with butter and maple syrup, if desired.
Note-we use white whole wheat flour, but you can use all-purpose flour or whole wheat flour. These pancakes freeze well. Wrap them in plastic wrap and place in a freezer bag. Will keep in the freezer for up to 2 months.


All images and text ©Two Peas & Their Pod.




Follow twopeasandpod on Instagram and show us what recipes you are making from our blog! Use the hashtag #twopeasandtheirpod! We want to see what you are making in your kitchen!