Easy15 minsGluten-Free
This Avocado Chicken Salad is made with your choice of greens and veggies, tender baked chicken, and a simple homemade tahini ranch dressing.  Super fresh and light and delicious!
We finally arrived home last week from our big trip to visit family in New Zealand and friends in Korea, and were so happy to find that SPRING had sprung in Barcelona while we were away!
Ever since we've been back, the weather here has been in the 60s and sunny and downright dreamy, daylight is finally stretching into the evenings again, trees and flowers (and my little herb garden!) are all beginning to bloom, and everyone has been flinging open windows and doors and heading outside to soak. it. up.  After a long winter, this city is ready for spring.  And so are we.  ♡

MY
LATEST VIDEOS
So to celebrate (and also do some much-needed detoxing after a delicious vacation), Barclay and I have been tossing together huge spring salads for lunch every day since we've been home.  And I couldn't wait especially to share this new fave with you!  It's made with lots and lots of fresh spring greens, zesty baked chicken, creamy avocado, crunchy veggies and — best of all — my new tahini ranch dressing.  I've been tinkering around with this ranch dressing recipe all week and am already 100% obsessed with drizzling it on just about everything.  It's fresh, it's light, it's super-easy to make, it's naturally both gluten-free and vegan, and it basically tastes like the best of springtime with every bite.  I already know you're going to love it.
Let's make a big spring salad together!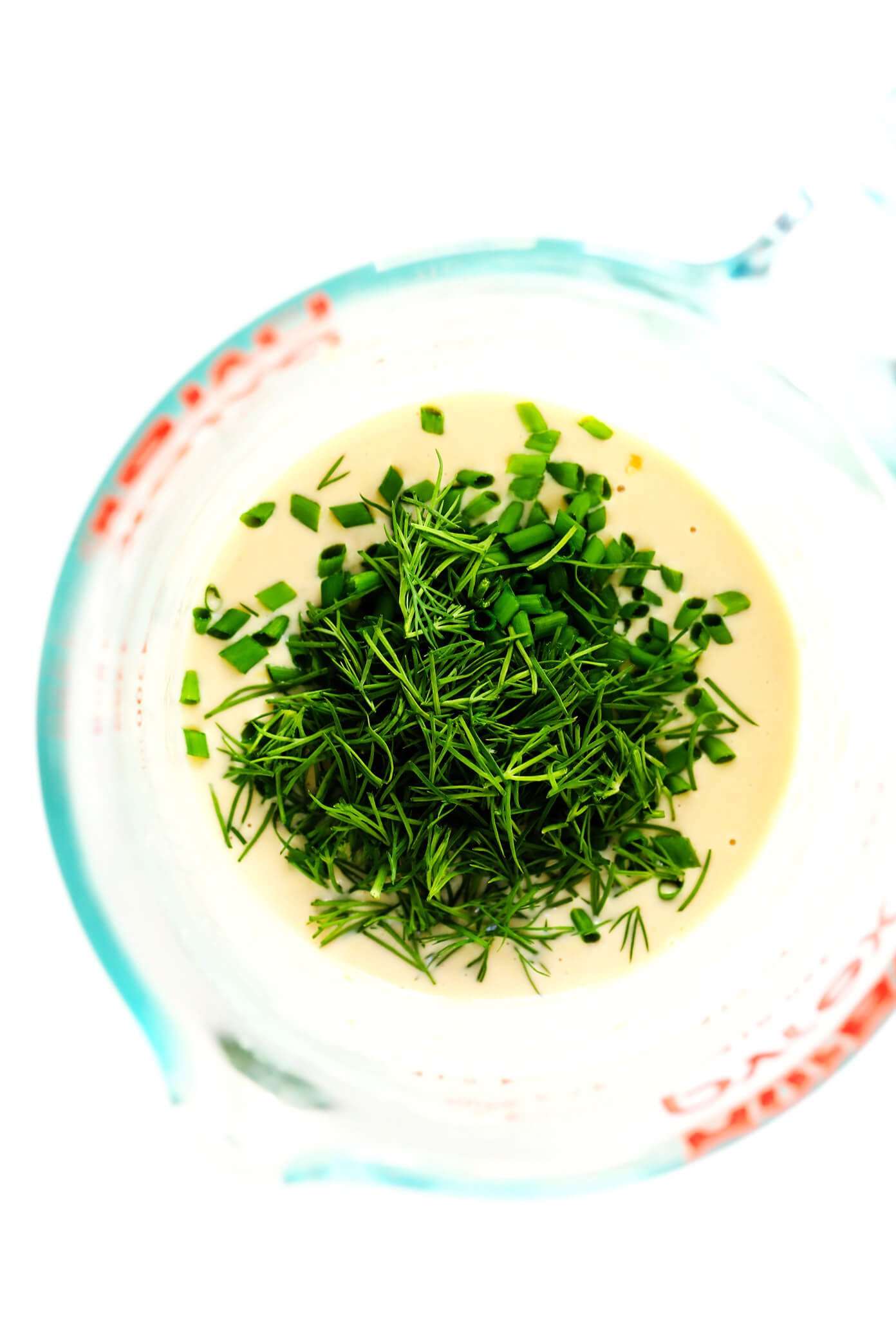 Tahini Ranch Dressing Ingredients:
Ok, this tahini ranch dressing is so good that I gave it its own post, so feel free to click here to read more about it if you'd like.  In a nutshell, it's a fresher, lighter, vegan version of the creamy ranch dressing I grew up loving.  And it's also super simple to make!  You will just need:
Lemon juice: You know I'm always a fan of freshly-squeezed!  (I'm also obsessed with this juicer, affiliate link.)
Tahini: To make the dressing thick and creamy.
Dill: I really, really recommend chopping up some fresh dill if you can.  But if not, dried dill will work in a pinch.  Feel free to adjust the amount of dill depending on how much you prefer in your ranch.
Dijon: Just a little bit — either creamy or whole grain.
Garlic: You can either press or mince a fresh garlic clove, or use garlic powder as a shortcut.
Onion powder, salt and pepper: For seasoning.
Water: To thin the dressing out however much you would like.
(Optional) fresh chives: I always love fresh chives in my ranch, but they're not required.
Avocado Chicken Salad Ingredients:
And to continue your grocery list, you will need the following ingredients for the rest of this Avocado Chicken Salad recipe:
Cooked chicken: I just baked up a half batch of my favorite baked chicken breasts recipe.  But feel free to use whatever chicken recipe you love best.  Or to save time, a shredded rotisserie chicken would also be great here!
Greens: I used a bag of mixed greens, but feel free to add in whatever salad greens you love.
Avocado: One ripe avocado, please!
Veggies: I just added in some sliced English cucumber and red onion, but see below for more veggie ideas.
Pepitas: Or your favorite nuts for salad.
Optional garnish: I also sprinkled some chopped fresh chives on the salad (leftover from making the dressing), which made it taste and look extra spring-y. 😉
How To Make This Salad:
To make this Tahini Ranch Avocado Chicken Salad, simply:
Prep your chicken.  Cook it however you prefer, then dice or shred the chicken into bite-sized pieces.
Prep the dressing.  Whip up the tahini ranch dressing and get it ready to go.
Prep the veggies.  Dice, slice, and chop those veggies and salad greens.
Toss!  Then combine everything together in a big salad bowl, drizzle with the dressing, give it a good toss, and enjoy!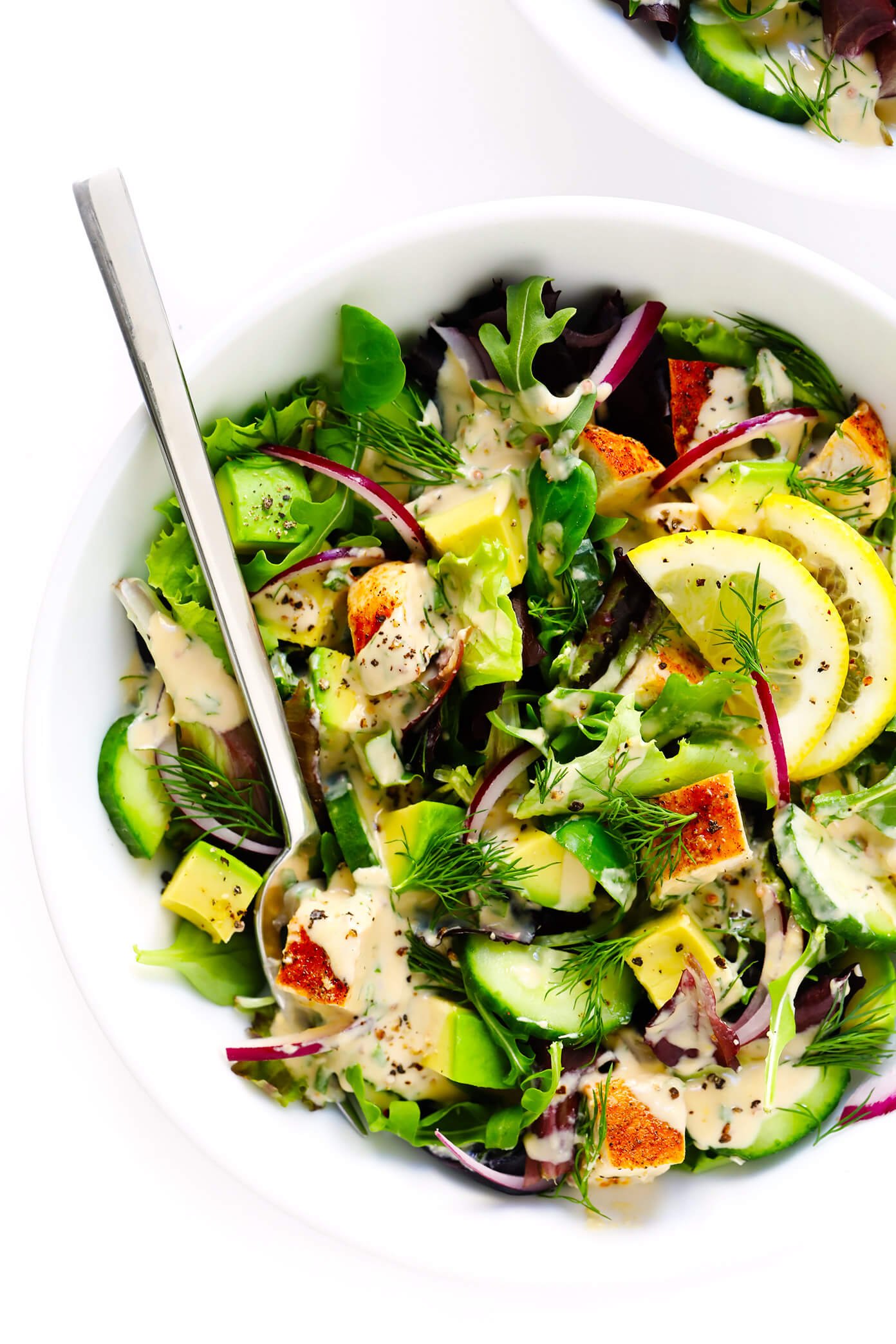 Possible Variations:
There are all sorts of delicious ways to customize this salad recipe.  For example, feel free to:
Use a different protein: If chicken isn't your thing, this salad would also be delicious with salmon, shrimp or steak.
Make it vegetarian/vegan: Nix the chicken, and add in some chickpeas (roasted or plain) and/or roasted veggies (such as cauliflower, sweet potatoes or broccolini) in its place.
Add cheese: Some crumbled feta would be delicious in this salad too.
Add extra fresh herbs: Feel free to toss in chopped fresh mint or basil or parsley if you happen to have them on hand, either in addition to or in place of the fresh chives.
Add more goodies: I've also made versions of this salad with sun-dried or cherry tomatoes, Kalamata olives, marinated artichoke hearts, and/or white beans — all are delicious extra add-ins.
More Favorite Salad Recipes:
Looking for some extra green salad inspiration this spring?  Check out these faves:
Enjoy, everyone!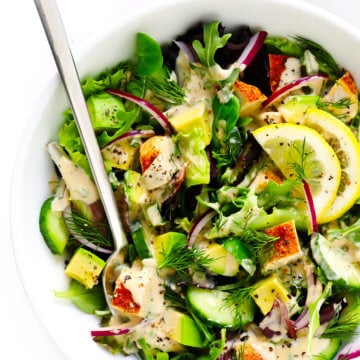 Yield: 4 servings
Tahini Ranch Avocado Chicken Salad
This Avocado Chicken Salad is made with your choice of greens and veggies, tender baked chicken, and a simple homemade tahini ranch dressing.  See notes above for possible ingredient variations too.
Ingredients:
5 ounces greens of your choice (I used a bag of mixed greens)
2-3 cups diced cooked chicken (I made a half batch of this recipe*)
1 ripe avocado, peeled, pitted and diced
half of an English cucumber, thinly sliced
half of a small red onion, peeled and thinly sliced
1/2 cup pepitas (or your favorite nuts)
1 batch tahini ranch dressing
optional garnish: extra fresh dill and/or chives, freshly-cracked black pepper
Directions:
Arrange the salad greens, chicken, avocado, cucumber, onion and pepitas in a large salad bowl (or in individual serving bowls).  Drizzle evenly with dressing and toss to combine.
Serve and enjoy immediately. 🙂
*Feel free to cook your chicken however you would like.  Or you can save a step and shred a rotisserie chicken too.
Difficulty: EasyCategory: Gluten-Free


All images and text ©Gimme Some Oven
If you make this recipe, be sure to snap a photo and hashtag it #gimmesomeoven. I'd love to see what you cook!
This post contains affiliate links.