This is my anti-dote to the holidays with all their sweets, drinks, and, cold, short days. You put ten ingredients in a blender, puree, and then decide if you'd like to enjoy the soup hot or cold. In winter, I like the gently heated option, but keep in mind, this this is also a fantastic summer soup when served chilled. It's a potent jolt of alkalizing vegetables and herbs, with some staying power thanks to the fat in the silky coconut cream, and the protein-rich split green peas. Serve topped with whatever herbs, sprouts, or nuts you might have on hand, or simply straight and green.
A few considerations – in winter, heat the soup gently. Just shy of a simmer. And just before serving. This will help maintain the beneficial qualities of the miso, and more of the alkalizing power of the greens.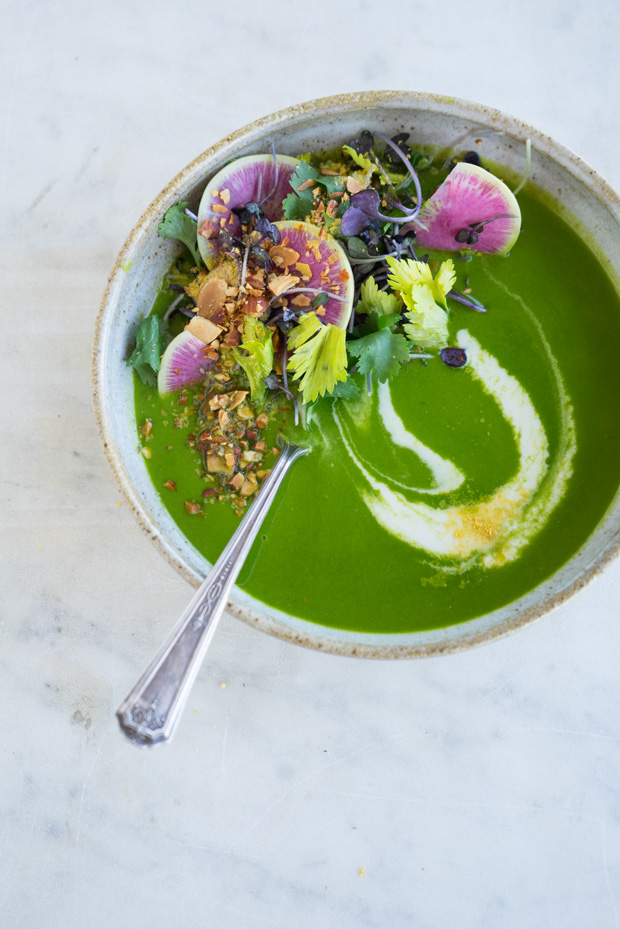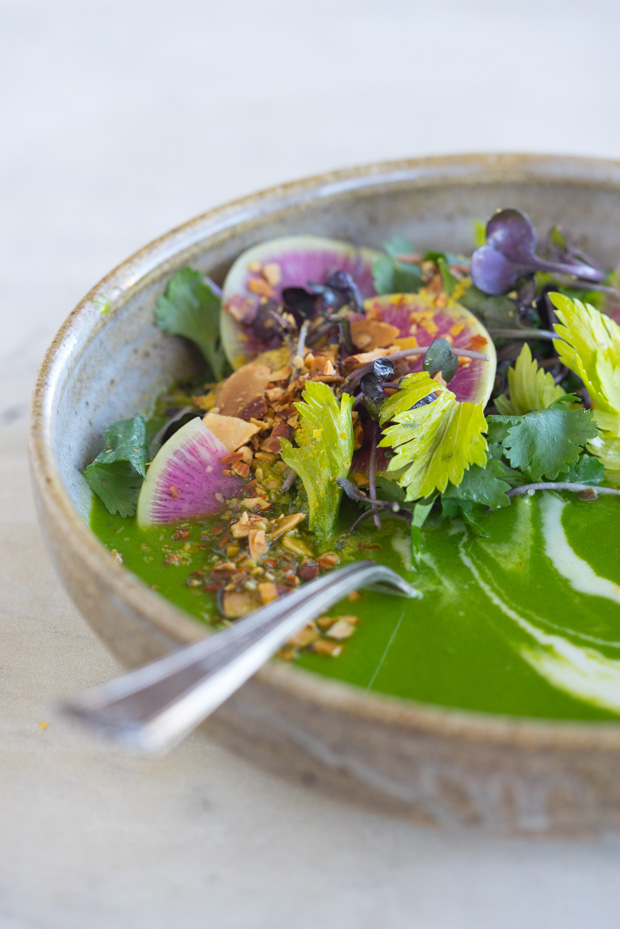 Happy holidays everyone. I'll post some more clean eating favorites to the front page in the coming days & weeks for new year inspiration.
Be sure to rinse/wash all your greens well prior to using. You can make a chunky, alternative version of this soup by adding the split peas after pureeing the rest of the ingredients.
1 cup cooked split green peas
2 ounces (2 handfuls) spinach, de-stemmed
1 large celery stalk
1 ounce parsley leaves (1 handful)
1 ounce cilantro leaves (1 handful)
1 clove garlic
1 tablespoon miso
1 tablespoon nutritional yeast
2 tablespoons coconut cream*
2 1/2 cups water

Toppings: any/all of the following: shaved watermelon radish (I like to soak in salt water), toasted almonds, celery &/or cilantro leaves
Combine the split peas, spinach, celery, parsley, cilantro, garlic, miso, nutritional yeast, 1 tablespoon of the coconut cream, and the water. Puree until silky smooth. Transfer to a medium saucepan, and (if desired) heat gently until hot but not simmering. Taste, and adjust with a bit of salt or more miso, if needed. Serve topped with a drizzle of the remaining cream, and whatever toppings you have on hand.
Makes about four cups.
*I use the thick coconut cream from the top of a can of full-fat coconut milk.
Prep time: 5 min –
Cook time: 5 min
Print Recipe