The BEST Black Bean Breakfast Tacos
Easy20 minsQuick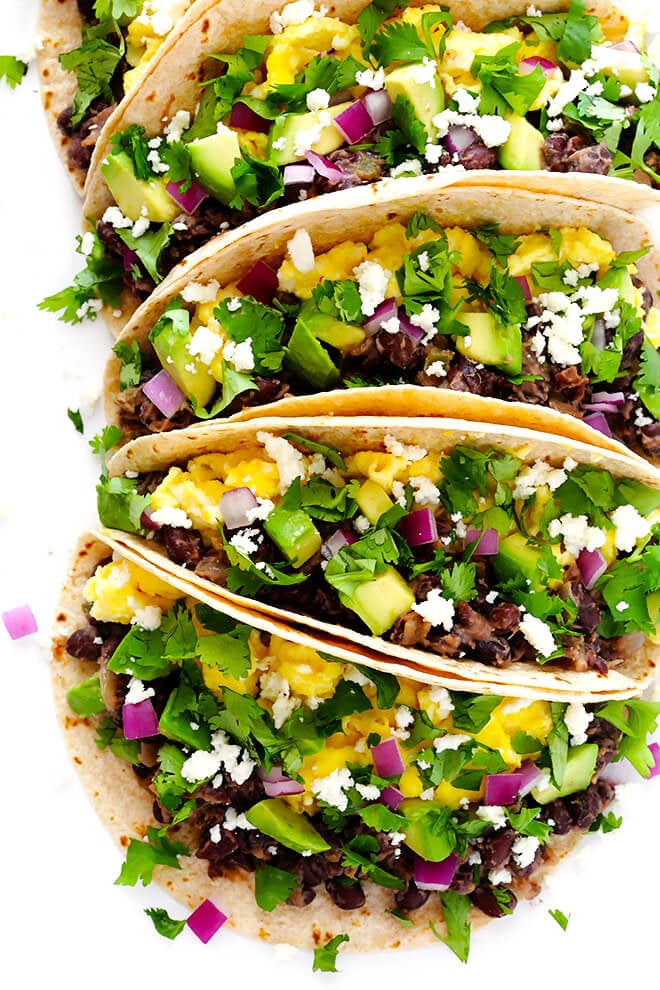 Reason #1285 that I love this man:
He likes to call every moment that we spend together a "date".
From the traditional date-nights-out ("sushi date!", "movie date!", "picnic date!") to laid back date-nights-in ("pasta date!", "West Wing date!", "Kindle date!") to just about every day of the week ("Sun-date!", "Mon-date!", "Tues-date!") to the travels near and far ("39th street date!", "road trip date!", "Paris date!") to all of our random faves ("picnic date!", "fireplace date!", "therapy date!") and all of the not-always-so-fun adulting in between ("working date!", "dishes date!", "laundry date!") — he always manages to find a way to make even the most mundane of moments together feel a little extra special.
Like one never-ending date. ♡
Without a doubt, I think that my favorite dates of ours will probably always our simplest little everyday moments at home together. Be that just having a cup of coffee together, or flipping open our laptops and sitting side-by-side working together, or turning up some music and doing the dishes together, or taking the pups for a walk together — just simply having him with me, making "together" our reality now, always means so much. And now we get to do this for the rest of our lives — eeee! (Or, as Barclay put it when he proposed, "Now we get to have so many more dates together!!!")
Of course, dates are always all the better with some good food to go along with them. So for a lazy Saturday morning "reading date" a few weeks ago, I decided to scavenge the pantry for something to make for brunch, and ended up whipping up some impromptu vegetarian black bean breakfast tacos for the two of us to share. They weren't anything extra-fancy, but they were surprisingly awesome. And they gave us the perfect protein boost for a morning of snuggling up on the couch with our Kindles and coffee and napping pups beside us.
My kinda date.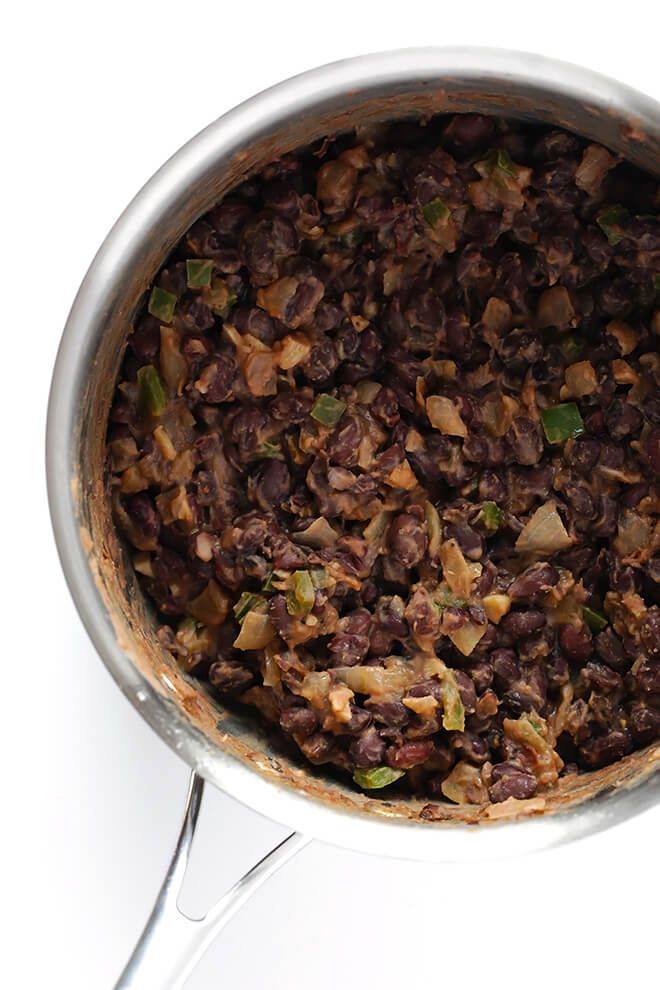 So, about these black bean tacos.
You're welcome to top them however you want with whatever you want. I usually scramble up some eggs (or you could fry them), dice an avocado and red onion, and then sprinkle on lots of fresh cilantro and cheese and lime juice. But the real secret to these tacos is right here in this zesty, tangy, oh-so-delicious pan of black beans. They're perfectly seasoned with onion, jalapeno, garlic, lime juice, and cumin. And they make the perfectly hearty and protein-packed base for a good taco. ??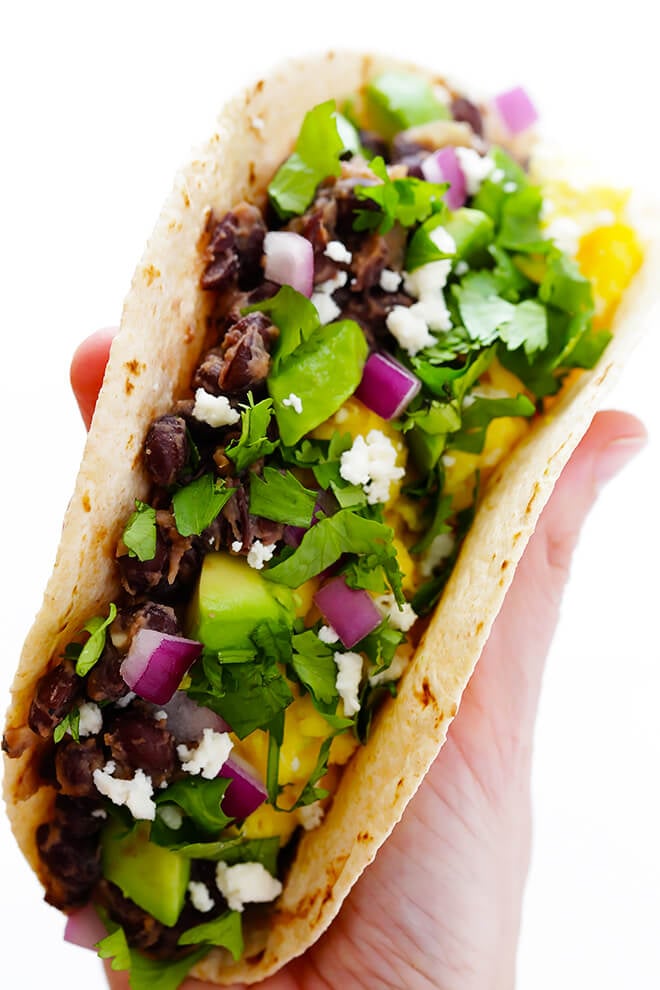 Oh and the best part? These tacos can easily be ready in just about 20 or so minutes, if you chop up the rest of your toppings while those black beans are simmering on the stove.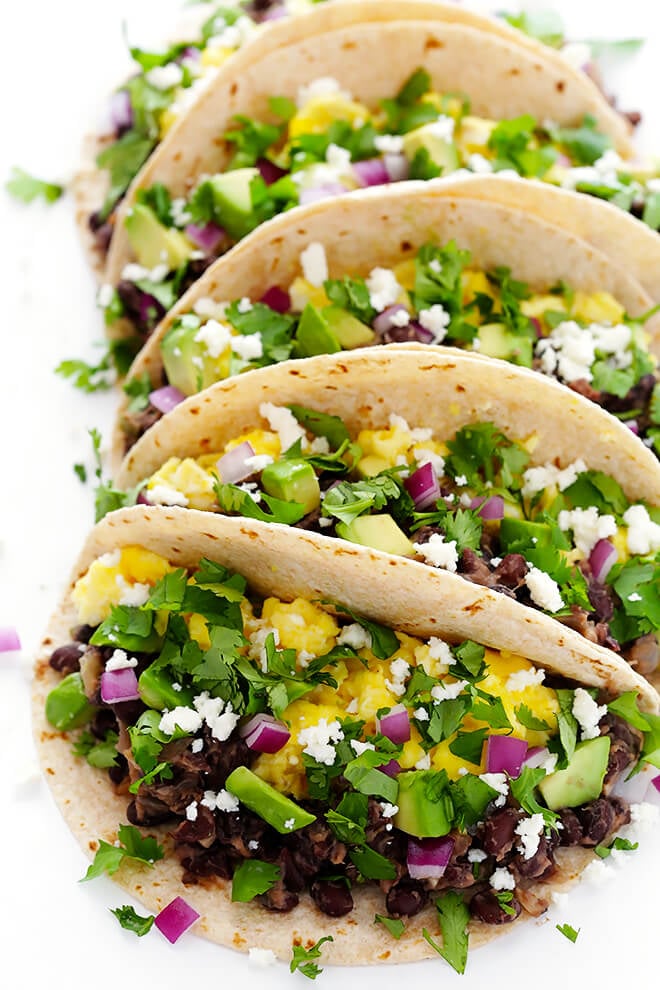 Easy peasy. And perfect for a good Saturday morning reading date…or any morning that you'd like to get off to a delicious start.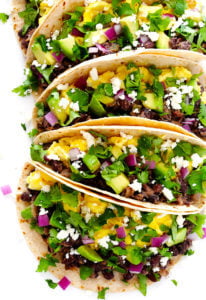 Yield: 8-10 servings
Black Bean Breakfast Tacos
These awesome Black Bean Breakfast Tacos are quick and easy to make, naturally vegetarian (and gluten-free, if you use corn tortillas), and so flavorful and delicious!
Ingredients:
Black Bean Tacos Ingredients:
1 batch zesty Mexican black beans (see below)
1 batch scrambled eggs (see below)
8-10 small wheat or corn tortillas
toppings: chopped fresh cilantro, diced red onions, diced avocado, crumbled queso fresco (or shredded Pepper Jack cheese), fresh lime wedges, and/or salsa
Zesty Black Beans Ingredients:
1 tablespoon avocado oil (or olive oil, or any other mild-flavored oil)
1 cup diced white or red onions
1 jalapeño, finely-diced (with seeds removed)
5 cloves garlic, peeled and minced
2 (15-ounce) cans black beans, rinsed and drained
1 1/2 teaspoons ground cumin
juice of 1 small lime
salt and pepper
Scrambled Eggs Ingredients:
10 eggs
1/3 cup milk
salt and pepper
Directions:
To Make The Black Bean Breakfast Tacos:
Prepare the zesty black beans and scrambled eggs. (And I recommend prepping your toppings while those cook, to save time.)
Once all of your fillings and toppings are ready to go, fill your tortillas with a large spoonful (each) of the black bean mixture and scrambled eggs. Then sprinkle on your desired toppings. Serve immediately.
To Make The Zesty Black Beans:
Heat oil in a medium saucepan over medium-high heat. Add the onion and jalapeno, and saute for 4-5 minutes, stirring occasionally, until the onion is cooked and soft and translucent. Stir in the garlic and saute for 1-2 minutes, stirring occasionally, until fragrant. Stir in the black beans, cumin and lime until completely combined. Saute for 1-2 minutes, or until the black beans are warmed through.
Season to taste with salt and pepper, then remove from the heat and serve.
To Make The Scrambled Eggs:
Whisk together eggs and milk and a pinch of salt and pepper in a large bowl until smooth.
Heat a large saute pan over medium-heat, and spray with cooking spray (or melt a tablespoon of butter in the bottom of the pan). Add the egg mixture and cook, stirring frequently, until the eggs are scrambled and cooked through. Remove from heat and serve.

Difficulty: Easy
Category: Quick

If you make this recipe, be sure to snap a photo and hashtag it #gimmesomeoven. I'd love to see what you cook!