Easy35 minsQuick
This Healthy Chocolate Granola recipe is super-easy to make, naturally sweetened with honey or maple syrup, and soooo chocolatey and delicious.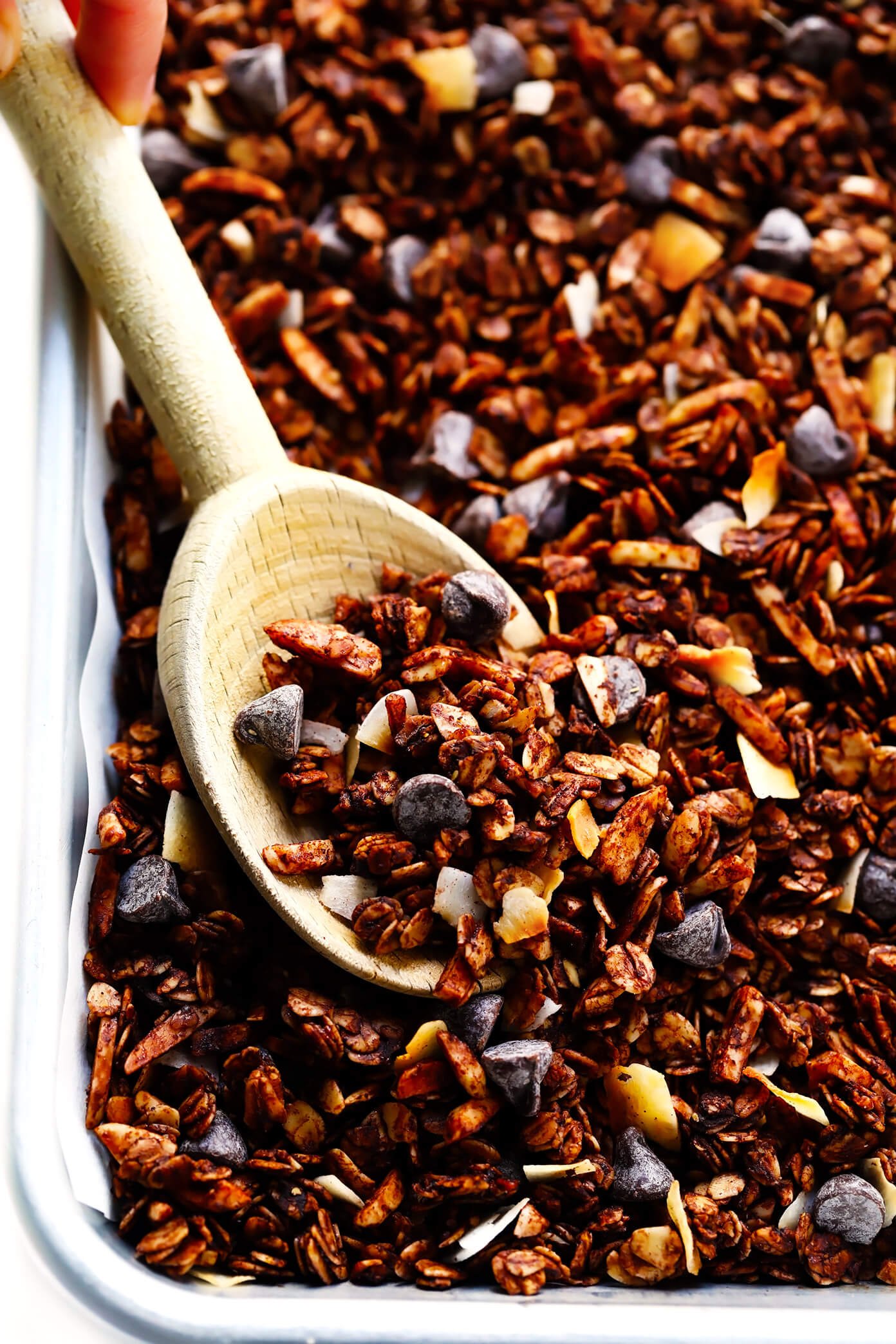 Meet…your newest excuse to start the day with chocolate. ♡
This healthy chocolate granola recipe is here for you, friends.  It's perfectly rich and decadent and chocolatey, without being overly sweet.  It crisps up nicely in the oven so that the texture is crispy and crunchy, and it can also be made to be as clustery as you might like.  It's naturally sweetened with your choice of honey or maple syrup, and can be tweaked to be both gluten-free and/or vegan.  And most importantly, it is just ridiculously, irresistibly, fabulously good.

MY
LATEST VIDEOS
This recipe is also super flexible and easy to customize with whatever granola add-ins sound best to you.  I realized that the version I photographed here had a bit of an unintentional Almond Joy vibe happening, with all of that delicious extra coconut, almonds and chocolate chips added in.  (So good!!)  But if those aren't your favorite ingredients, no worries, I have lots of other suggestions for you below.
Let's make some chocolate granola!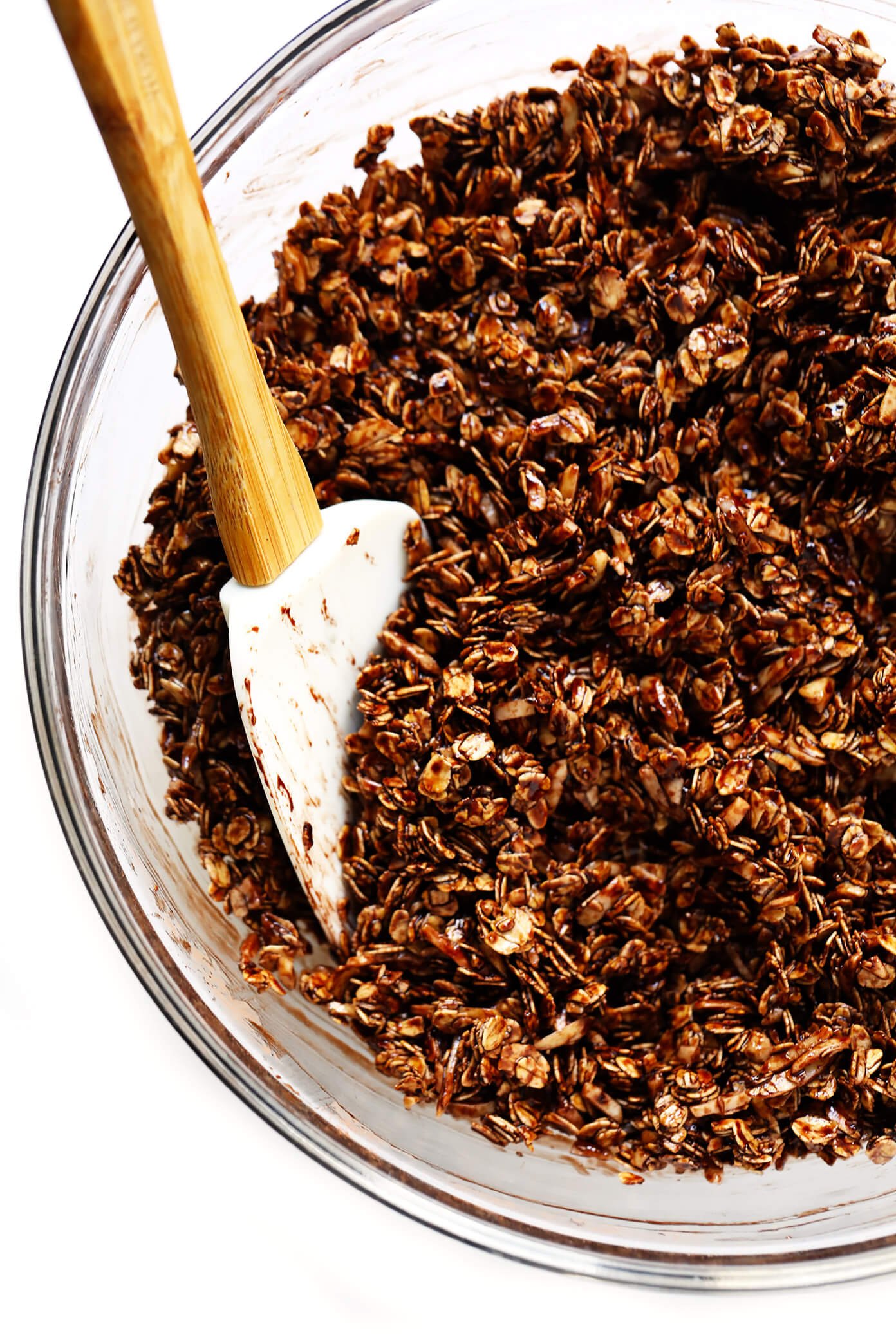 Chocolate Granola Ingredients:
I'm guessing that most of these chocolate granola ingredients are probably already sitting in your pantry.  You will need…
Old-fashioned oats: Also known as rolled oats.  (Also, if you would like this recipe to be gluten-free, be sure to use certified GF oats.)
Nuts: I almost always use slivered almonds in my granola.  But feel free to replace them with your favorite nuts or seeds (like pepitas or sunflower seeds).
Unsweetened cocoa powder: Because…chocolate. 🙂
Fine sea salt: To help bring out the flavor.
Melted coconut oil: Or your preferred kind of oil.
Maple syrup: Or honey.
Vanilla extract: For extra flavor.
Cocount: I like to use flaky coconut in my granola for fun texture, but shredded coconut would work too.  Or if you're not into coconut, no worries, just skip it altogether.
Semisweet chocolate chips: Or any kind of chopped up chocolate bars.  I would note this the extra chocolate optional here, but I'm going to guess that everyone will be on board.
You will also need a mixing bowl, a large baking sheet (or two medium baking sheets) and parchment paper.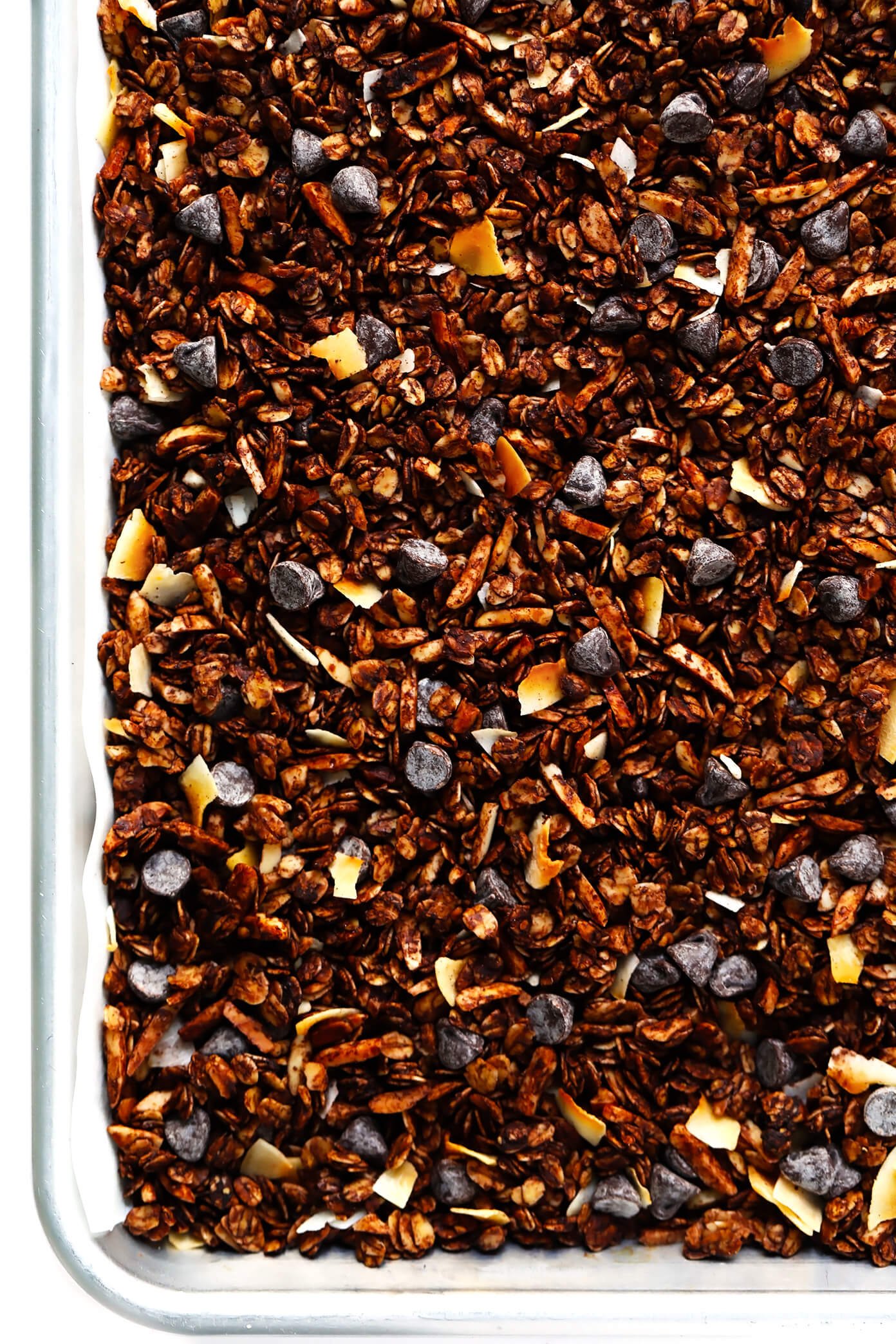 How To Make Granola:
Alright, let's talk about how to make granola!  Simply:
Toss together (most of) the dry ingredients.  Oats, almonds, cocoa powder, salt, that is.  We'll save the chocolate chips and coconut for later.
Add the wet ingredients.  Whisk together the melted coconut oil, maple syrup, and vanilla.  Then drizzle it over the dry ingredients and give everything a good toss until it's evenly mixed.  Spread the mixture out evenly on a large parchment-covered baking sheet.
Bake.  Let the mixture bake at 350°F for 20 minutes.  Then remove from the oven and give the mixture a thorough stir.
Add coconut.  Then sprinkle the coconut evenly on top of the granola.  (We're doing this so that it's just lightly toasted and doesn't overcook.)  And pop the baking sheet back in the oven for another 5 minutes, keeping a close eye on the coconut so that it doesn't burn.  Then remove the baking sheet from the oven and transfer it to a wire rack.
Let the granola cool.  Wait for about 20-30 minutes, or until the granola has completely cooled to room temperature.
Add your mix-ins.  Then finally, stir in the chocolate chips and/or any other mix-ins that you might prefer.
Enjoy!  You can either serve the granola right away.  Or transfer it to a sealed container, and it should keep for up to 1 month.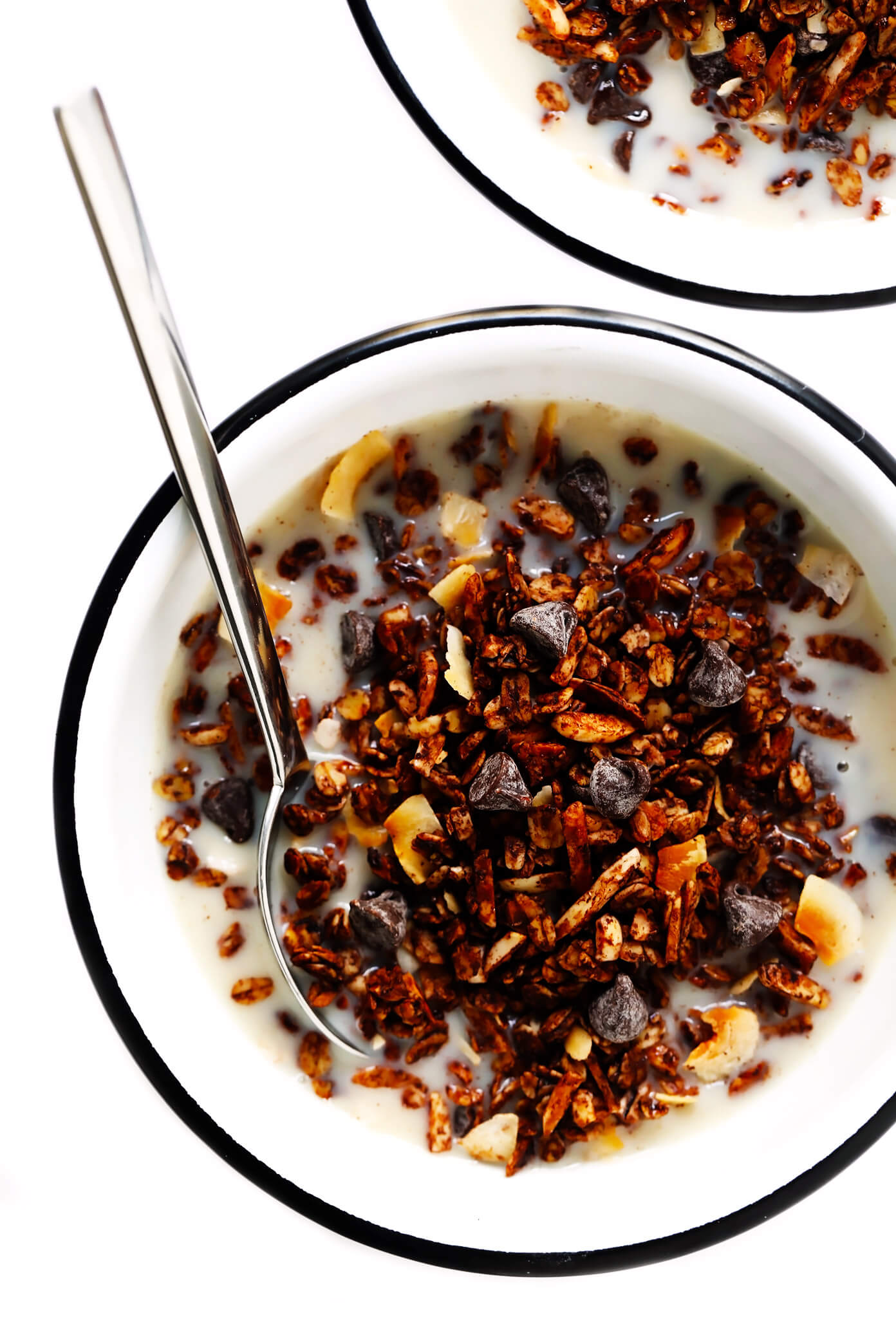 Possible Variations:
Want to mix things up with this chocolate granola recipe?  Feel free to:
Add dried fruit: Dried berries, especially, would be delicious here.
Add peanut butter: Feel free to add 1/4 cup of peanut butter (just stir it in with the coconut oil mixture) if you would like.
Make it vegan: Just be sure to use dairy-free chocolate chips, such as these (affiliate link).
Omit the coconut: If coconut isn't your thing, feel free to just skip it entirely.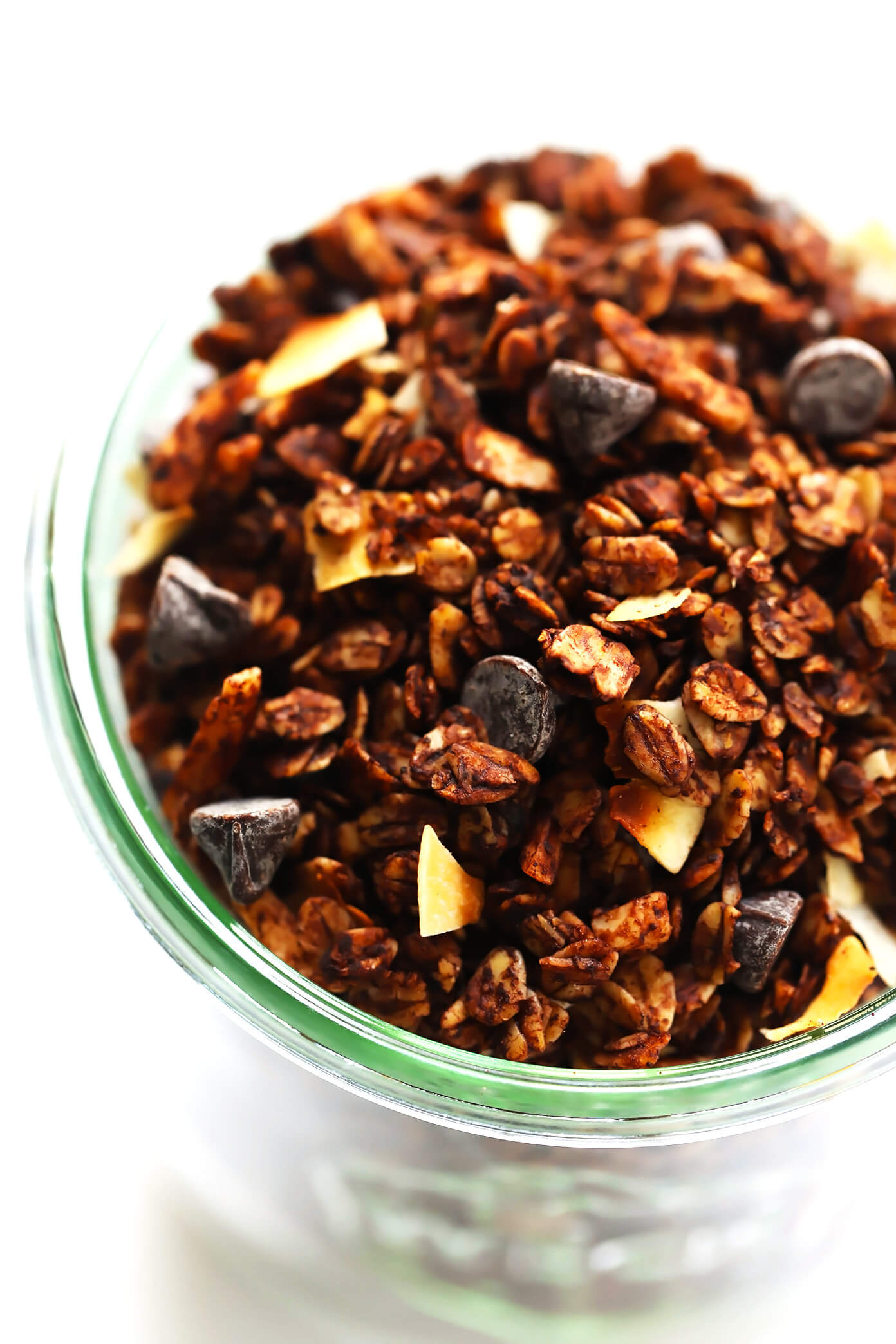 More Granola Recipes:
Here are a few more of my favorite granola recipes: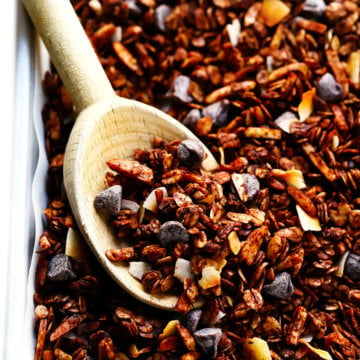 Yield: About 6 cups
The Best Healthy Chocolate Granola
This Healthy Chocolate Granola recipe is super-easy to make, naturally sweetened with honey or maple syrup, and soooo chocolatey and delicious.
Ingredients:
4 cups old-fashioned oats*
1 cup slivered almonds (or your preferred nuts)
1/3 cup unsweetened cocoa powder
1 teaspoon fine sea salt
1/2 cup melted coconut oil
1/2 cup maple syrup
2 teaspoons vanilla extract
2/3 cup unsweetened flaked coconut (or 1/2 cup shredded coconut)
1/2 cup semisweet chocolate chips (optional)
Directions:
Heat oven to 350°F.  Line a large baking sheet with parchment paper, and set aside.
In a large mixing bowl, stir together oats, almonds, cocoa powder and sea salt until evenly combined.
In a separate mixing cup, stir together the melted coconut oil, maple syrup and vanilla extract until combined.  Pour the coconut oil mixture into the oats mixture, and stir until evenly combined.
Spread the granola out evenly on the prepared baking sheet.  Bake for 20 minutes, stirring once halfway through.  Then remove from the oven, give the mixture a good stir, then sprinkle the coconut evenly on top.  Bake for 5 more minutes, until the granola is lightly toasted and golden.
Remove baking sheet from the oven and transfer to a wire baking rack.  Let cool until the granola reaches room temperature.  Then stir in the chocolate chips and/or any other add-ins that you prefer.
Serve immediately, or store in an airtight container at room temperature for up to 1 month.
Difficulty: EasyCategory: Quick


All images and text ©Gimme Some Oven
If you make this recipe, be sure to snap a photo and hashtag it #gimmesomeoven. I'd love to see what you cook!
This post contains affiliate links.