This easy recipe for Homemade Bolognese Sauce is a family favorite! Made from scratch in about an hour, it's perfect for a cozy weekend meal.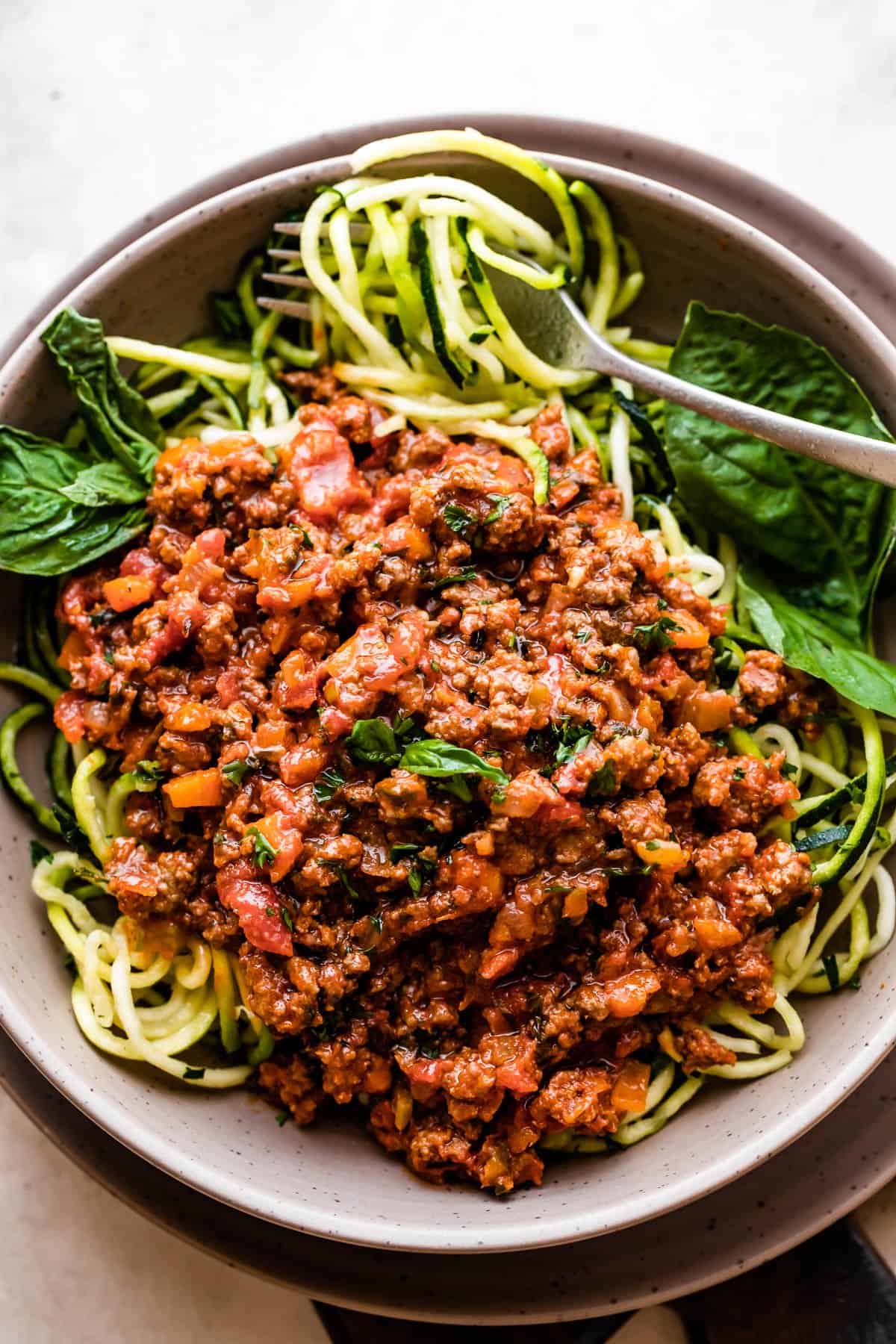 A Classic Italian Pasta Sauce Recipe
Bolognese sauce with pasta is a rich and hearty meal that everyone always agrees on. The comforting meat and tomato sauce, paired with your favorite pasta, is a wholesome and tasty real meal that is full of flavor without being spicy or complex.
Additionally, pasta bolognese is one of the easiest weeknight meals to make! The sauce is simply simmered slowly to tenderize the meat and blend the flavors. Using ground beef, you can pull this together in about one hour, and it's more or less hands-free!
But, if you're thinking of pasta sauce sold in a jar at the grocery store, think again! There's no need to buy pre-made (and often expensive) sauces in order to get that rich, authentic taste. Using good-quality canned or boxed tomatoes, you can make your own homemade sauce with ease!
What's the Difference Between Bolognese Sauce and Spaghetti Sauce?
So is spaghetti sauce and bolognese sauce the same thing? Sort of! It depends on who you ask. Here's the skinny.
Bolognese sauce is technically a ragu, which means that it has a heavy emphasis on slow-simmered meat. Therefore, Bolognese experts may insist that only sauces that use chunks of meat with very little tomato sauce (or maybe just a bit of tomato paste) are true Bolognese sauces. Strictly speaking, Bolognese sauce also includes pork or pancetta, and often a splash of cream or milk.
However, for many pasta lovers, "Bolognese sauce" is synonymous with "spaghetti sauce." There are plenty of different ways to make it, but at the end of the day, it's a rich tomato sauce with meat, usually ground beef. That simple!
Recipe Ingredients
My Bolognese sauce is a simple combination of veggies, ground beef, tomatoes, and seasonings. I do add a bit of Pecorino Romano cheese at the end for extra richness. Here's a rundown of the ingredients in detail!
Oil: I use olive oil, for sauteing.
Onion, Celery, and Carrot: Known in Italy as soffritto, but more commonly as mirepoix, this classic trio of chopped veggies builds a base of well-balanced flavors into the sauce.
Garlic: Fresh garlic is best. Pressing it is easier than mincing, but either is fine.
Beef: I recommend using ground chuck in this recipe. It tends to have a bold, beefy taste.
Tomatoes: Canned crushed tomatoes. If you can find imported Italian tomatoes, they are typically extra sweet.
Parsley and Basil: Chopped fresh, these add the perfect fresh herbal fragrance and flavor.
Salt and Pepper
Pecorino Romano Cheese: Freshly grated is best,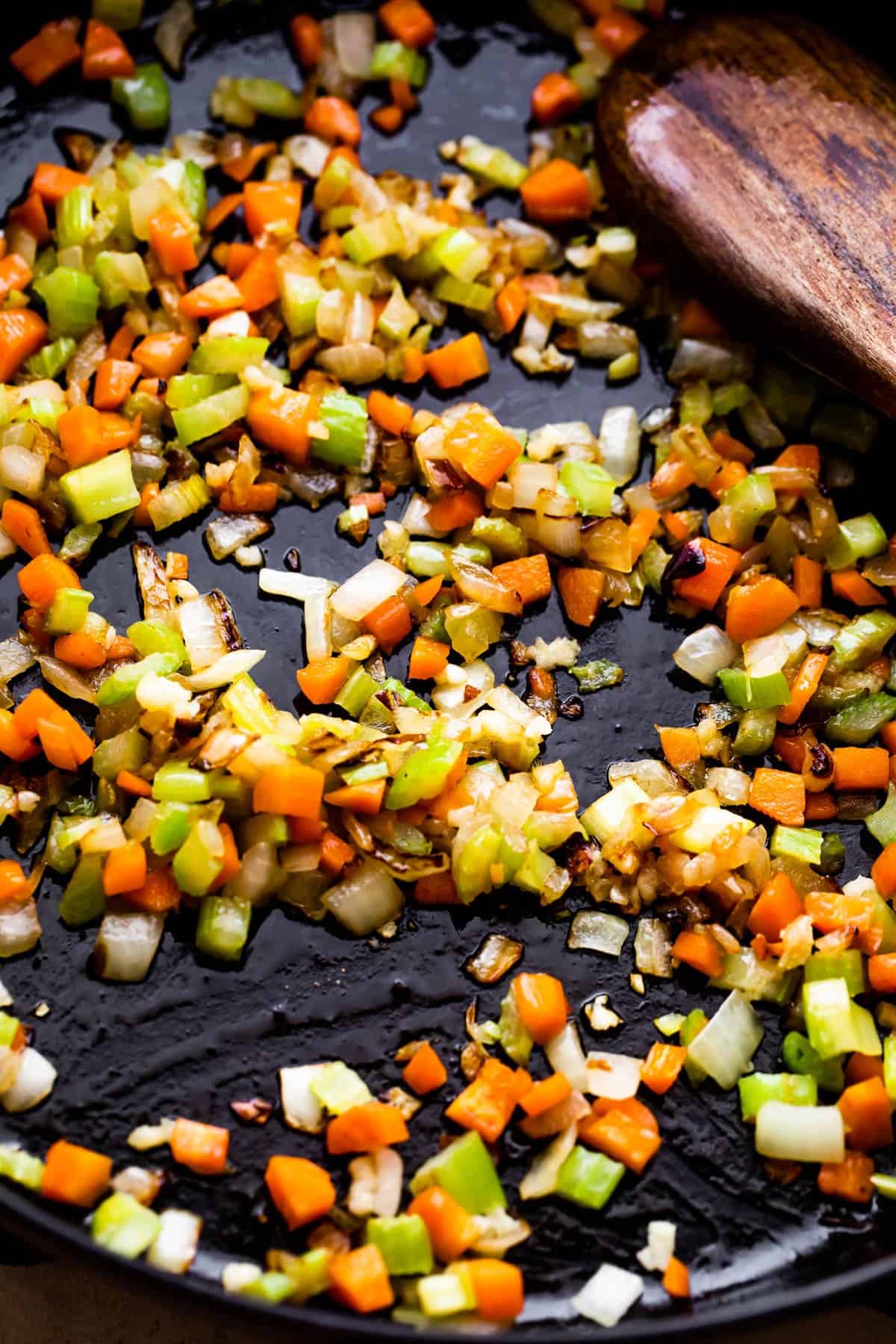 How to Make Bolognese Sauce
Making this sauce is so simple! It's a great recipe for people who are learning how to cook, or to teach kids who want to help in the kitchen.
Saute the Veggies. Heat the olive oil in a large skillet or Dutch oven, set over medium heat.  Add the onions to the hot oil, and cook them for about 3 minutes, to soften and build flavor. Stir in the garlic, and cook for 1 more minute. Then add the celery and carrots, and cook for 5 more minutes. If the pan seems dry at any point, you can add some more oil.
Brown the Beef. Increase the heat to high, and add the ground beef. Cook it for about 10 minutes, or until there is no more pink, stirring and breaking up the beef as you go.
Add Tomatoes and Seasonings, and Simmer. Stir in the tomatoes, parsley, and basil. Bring the sauce to a boil, and then reduce the heat to medium-low. Season with salt and pepper, and continue to cook for 25 minutes, or until the sauce has thickened. Taste the sauce for salt and pepper, adjusting as needed.
Enjoy! Garnish with grated Pecorino Romano and more parsley, and serve over pasta, zucchini noodles, mashed potatoes, or whatever you like!
Tips for Success
To make this dish a success, try one or more of these easy tips! They'll add even more richness and flavor to your basic Bolognese sauce recipe.
Add Veal or Pork: Substitute veal or pork for part of the meat, or cook the veggies in bacon grease. You can also add pancetta to this sauce.
Make It Creamy: Add a small amount of heavy whipping cream at the end, to give the sauce an indulgent finish.
Slow Cook It: You can make this sauce in a slow cooker for a more tender, complex sauce flavor (cook on high for 3 hours, or on low for 6 hours).
Serving Suggestions
To serve Bolognese sauce, it's nice to have a wide, flat pasta. Tagliatelle, which is a type of flat egg pasta, is a traditional choice, but Bolognese is also great with fettuccine or even just spaghetti. For side dishes, it's good to have something crunchy and maybe a little bit tangy. Here are some favorites:
How to Store and Reheat Leftovers
Storing pasta sauce is super easy, and so is reheating it! Here's how:
To Refrigerate: Store in the fridge in an airtight container for up to 4 days.
To Reheat: Reheat on low heat until piping hot all the way through, stirring occasionally.
Can I Freeze Bolognese Sauce?
Yes, for up to 3 months. Pack the cooled sauce in freezer bags, and lay flat to freeze.
Defrost the sauce in the fridge before reheating.
ENJOY!
Homemade Bolognese Sauce
A hearty pasta sauce made with crushed tomatoes, fresh herbs, olive oil, garlic, and ground chuck.
Instructions 
Heat olive oil in a large skillet or dutch oven set over medium heat.

Add the onions to the hot oil and cook for 3 minutes.

Stir in the garlic and cook for 1 more minute.

Add celery and carrots; cook for 5 more minutes. Add more oil, if needed.

Increase heat to high and add the ground beef; cook for 9 to 10 minutes, or until no longer pink, stirring frequently to break up the beef.

Stir in the tomatoes, parsley, and basil; bring to a boil then reduce heat to medium low.

Season with salt and pepper and continue to cook for 25 to 30 minutes, or until the sauce has thickened.

Taste for salt and pepper; adjust accordingly.

Garnish with grated pecorino romano and parsley.

Serve over zoodles, pappardelle, spaghetti, etc…
Nutrition Facts
Homemade Bolognese Sauce
Amount Per Serving
Calories 330
Calories from Fat 216
% Daily Value*
Fat 24g37%
Saturated Fat 8g40%
Trans Fat 1g
Polyunsaturated Fat 1g
Monounsaturated Fat 12g
Cholesterol 58mg19%
Sodium 296mg12%
Potassium 713mg20%
Carbohydrates 14g5%
Fiber 3g12%
Sugar 7g8%
Protein 17g34%
Vitamin A 2299IU46%
Vitamin C 19mg23%
Calcium 124mg12%
Iron 4mg22%
* Percent Daily Values are based on a 2000 calorie diet.
Keywords: beef bolognese, pasta sauce recipe
Want To Save This Recipe?
More Italian Dinner Ideas