This is the simplest cauliflower soup. And it is so incredibly good. The ingredient list is shorter than short, and if you have a great yellow curry paste on hand (or even just a good one), it is worth making.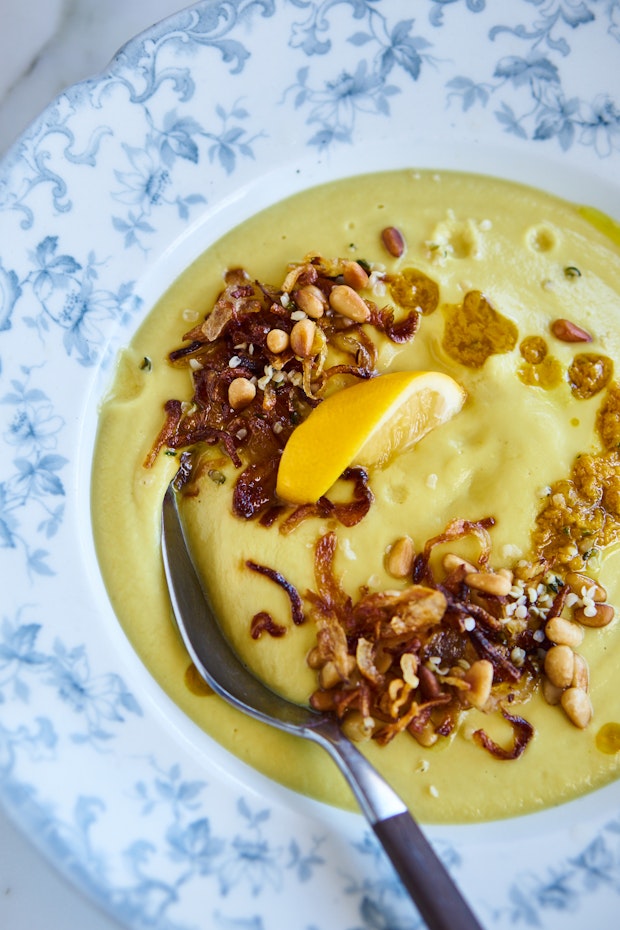 The way it works is the following. Cook some onions and a bit of garlic in some olive oil. Toss in a few chopped potatoes. Add a bunch of cauliflower, and then flare it our with a jolt of curry paste. Cover the ingredients with water and let it all simmer until tender. The last step is to use a blender to blitz it until smooth into a beautiful cauliflower soup.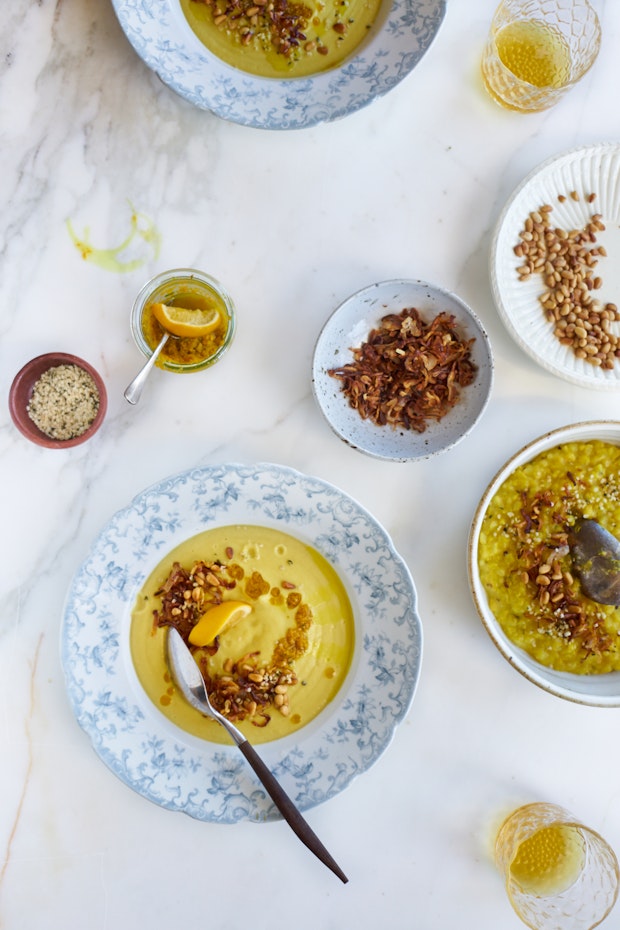 Best Method for Blended Soups?
I love the super silky texture you get from blending this soup in a high-speed blender, but a hand-blender is B+ level good as well. So, don't sweat the equipment side of things too much. Also, make sure your ingredients are tender. Not overcooked, but notably tender.
Have Fun with Toppings
I get a little crazy with soup toppings, but you don't have to. This one is good simple and straight too. Here cauliflower soup is topped with toasted pine nuts, fried shallots, and hemp seeds, and more of the yellow curry paste whisked with a bit of shallot oil. You could also season this with a favorite Indian spice blend, for another take. Or a simple showering of fresh herbs. Play around!

Variations
A number of you have left comments with tweaks you've made to the recipe, and I love this! For example, Anna said, "I had a head of cauliflower to use. I didn't have white or yellow potatoes so I used a sweet potato and left the skins on. Used a couple tablespoons of spicy Vindaloo curry powder. The soup turned out SO GOOD! And it's a beautiful color from the sweet potato." Nisa noted, "To make it a little heartier, we added moong dal (hulled yellow mung beans)." 
More blended soups
Don't stop at cauliflower soup. You can make other blended soups using a very similar approach. This post is just the latest in a long-running series of love letter recipes to simple pureed soups, including (get ready 😉 carrot soup, asparagus soup, green soup, tomato soup, also this broccoli soup. What I'm saying is, blender soups forever. Or, if you want to browse all my favorite soups in one spot, all the soup recipes live here.