The Perfect Cookie Base is one cookie dough recipe that you can use to make TONS of cookie recipes! Crisp, buttery edges with soft centers, this cookie dough is the perfect canvas to get creative with your add-ins. Chocolate chips, chopped candy, sprinkles, and nuts this foolproof cookie recipe is so adaptable!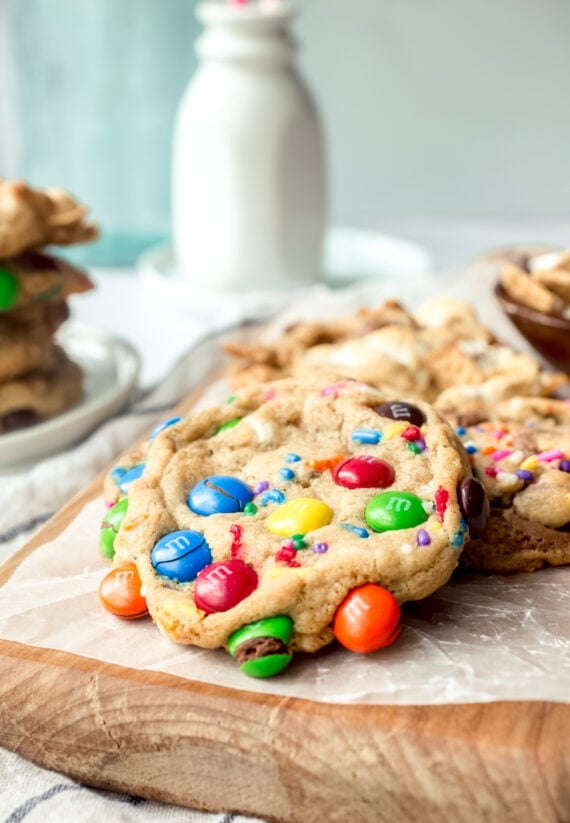 One Cookie Dough = Endless Possibilities!
I feel like I'm over here solving the world's problems one cookie at a time. I have created the actual ONLY cookie dough recipe that you will ever need. Let me explain…
This cookie recipe will give you buttery, crisp edges with thick, soft centers. The texture is sturdy enough to stand up to pretty much anything you want to mix into the dough, while still being soft and tender. Basically it's magic.
You can keep it simple and make these into chocolate chip cookies, or you can chop up your favorite candy bar and mix that right into the dough too! Or even keep it simple and roll them in cinnamon sugar for an easy twist on a snickerdoodle.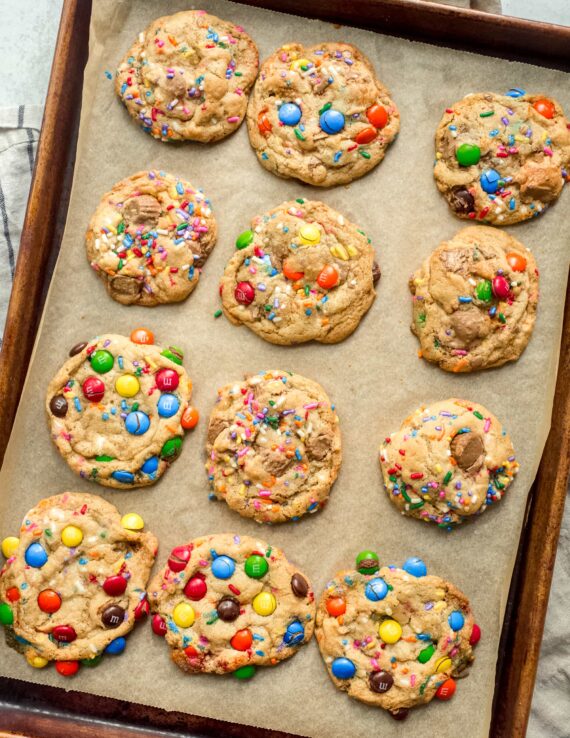 How Do You Make Perfect Cookies?
The recipe for these cookies is pretty basic, with just a few tweaks to allow it to work as a base for lots of adaptations. The beauty of these cookies, like I said before, is they hold up to just about any type of mix-in, while still being soft and tender. I have found that sometimes cookies with lots of mix-ins can get a little dry and hard. This happens because you need a thicker dough to encompass what is added in, and an easy way to make a dough thicker is to add more flour. This can work in very small amounts, but too much flour will give you a dry, hard cookie.
The perfect amounts of flour, sugar, and cornstarch stabilize the dough, while still keeping it tender and gooey!
Why Do You Add Cornstarch?
Cornstarch is a secret ingredient that you see in some cookie recipes that helps add to the thickness of the dough without having to add too much flour. Ot stabilizes the dough and keeps it thick, while adding a soft, slightly melty texture.
You can definitely overdo it with cornstarch if you add too much and it will give your cookies a strange, chalky texture. So stick to the recipe and know that 1 tablespoon is all you need!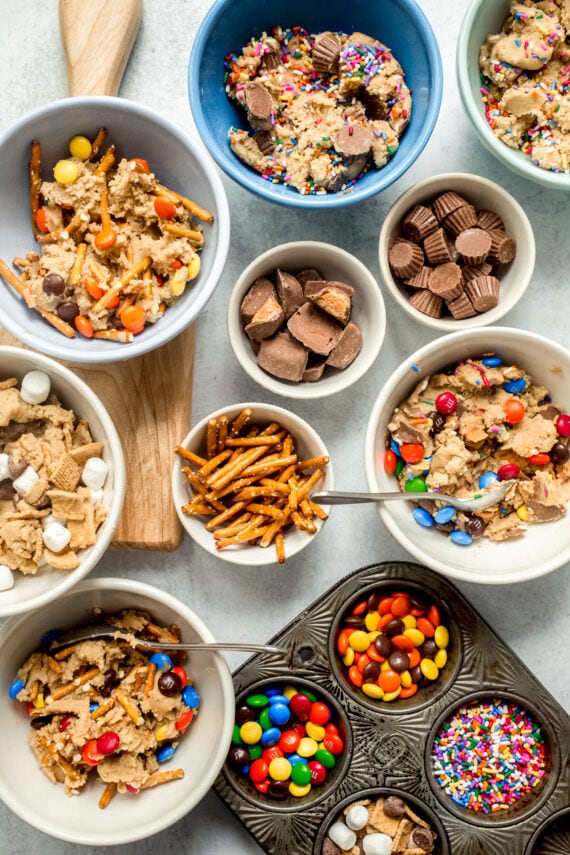 What Can You Add Into This Cookie Dough?
Ok, this is the fun part! Now is the time to get creative! You can keep these simple, because this recipe makes a delicious chocolate chip cookie…BUT let's push it to its limits. Here are a few ideas of yummy add-ins. Mix and match flavors to make your own unique cookie. AND this is a great way to get the kids involved in the baking too! Everyone will love their own custom flavor!
Chips: chocolate, white chocolate, butterscotch, peanut butter…or any combination of them all!
M&Ms are an easy add-in. And with all the fun flavors of M&Ms out now, the sky is the limit!
Peanut Butter Cups. Use regular sized cups and chop them up or minis. You could even swirl in 1/2 cup of peanut butter to the dough if you want!
Pretzels or potato chips. A salty/sweet combo would be delicious!
Candy Bars…really you could chop up just about any kind! Beware if you use a candy bar with a lot of caramel it will ooze out and could burn while baking, so I like to freeze caramel candies before adding to the dough, to help minimize this!
Sprinkles…because don't sprinkles always make everything more fun?!
Crushed Cookies like Oreos, Circus Cookies, or Nutter Butters! Turn these into a Cookies and Cream dream with crushed Oreos and white chocolate chips!
Cereal. I mean why not? Add in Golden Grahams, milk chocolate and marshmallow bits for a s'mores cookie…or Fruity Pebbles and white chocolate chips for a creamy, fruity party cookie!
Can You Freeze The Perfect Cookie Base?
Yes! You can freeze the dough unbaked OR you can freeze the cookies after they've been baked!
To freeze the dough:
Portion out the dough with a cookie scoop.
Place all the dough onto a baking sheet.
Freeze the portioned dough for 30 minutes.
Remove the tray from the freezer and transfer the dough into a large zip-top bag to freeze for up to 30 days.
Bake according to recipe instructions, but add 2 minutes to the bake time. No need to thaw!
To freeze baked cookies:
Allow the cookies to cool completely.
Place the cookies in a large zip-top bag in a single layer, or a large airtight container stacked, with parchment or wax paper in between the layers.
Freeze for up to 30 days.
Thaw at room temperature. Microwave each cookie for 10 seconds to get it warm and gooey.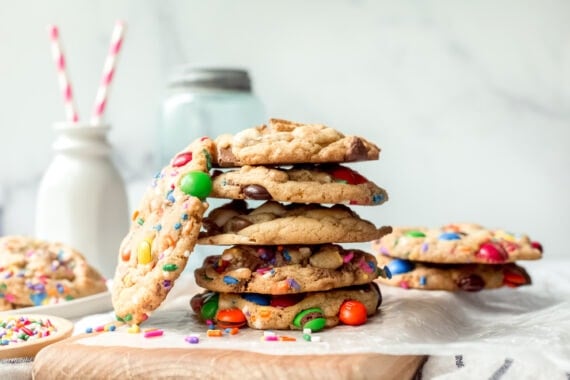 Enjoy and get creative!
Looking For More Cookie Recipes? Here Are A Few Of My Favorites:
This recipe was originally published in 2013. The photos and recipe tips have been updated in 2020. The original recipe remains the same!