These Turkey Stuffed Peppers are an easy, healthy dinner recipe that the family will love! Full of ground turkey, brown rice, salsa, cheese and extra veggies!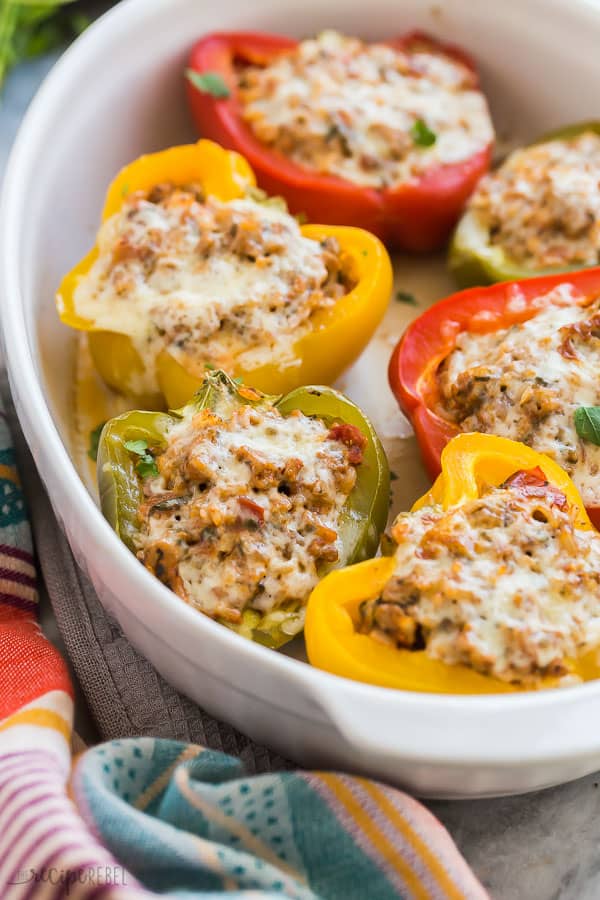 I don't know about you, but any meal I can make ahead about mix and match with whatever leftovers I have going on in the fridge is a total win.
And if it's healthy, cheesy goodness that the kids will eat, too?
It makes it onto the menu of Regulars.
These Turkey Stuffed Peppers are all of that and more.
They're made with cooked ground turkey (you can substitute leftover cooked turkey of any kind!), cooked brown rice, finely chopped spinach (the kids won't even know it's in there 😉 ), salsa and seasonings for incredible flavor and covered in a crown of melty cheese.
Often when we're talking stuffed peppers people use ground beef, but it's time to think turkey! I love swapping beef with ground turkey as it is such a versatile protein and easily takes on a wide variety of different flavours.
Mixing up your meal plan to include more turkey is a great way to support Canadian turkey farmers, and these Turkey Stuffed Peppers are an easy, nutritious meal that the family will be begging you to make again!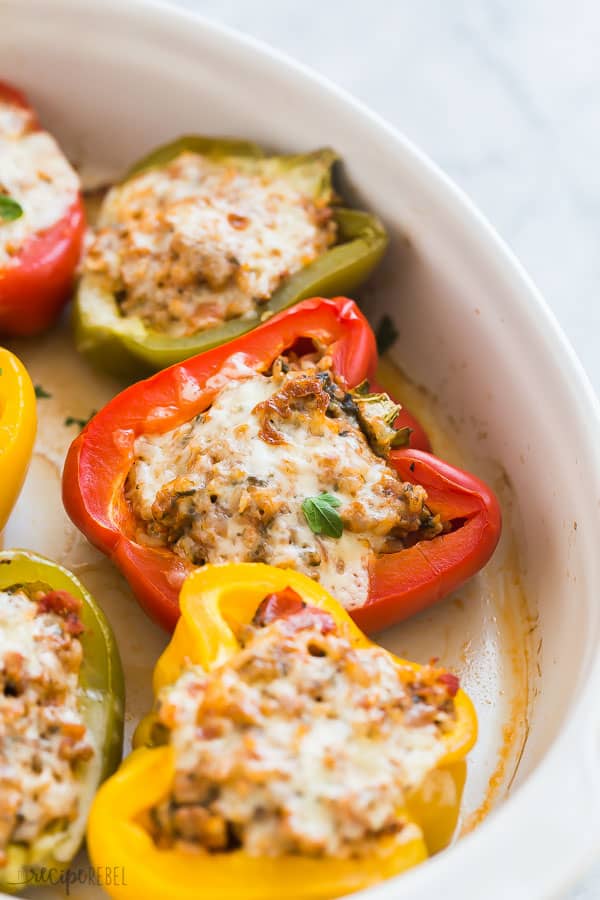 How to make Stuffed Peppers:
Mix up your filling: ground turkey, rice, salsa, seasoning, and some chopped spinach for good measure.
Slice the sides off of your bell peppers — I know some people lop off the top and have these super tall stuffed peppers, but I like laying them sidewise as they're easier to eat and there's less of a chance they'll fall over.
Stuff 'em.
Top with cheese, add a splash of water (this helps the peppers to steam and soften slightly) cover and bake!
Watch the family devour them with satisfaction.
Variations on these Turkey Stuffed Peppers:
There are so many ways to mix up this stuffed peppers recipe!
Use leftover roasted turkey instead of ground turkey.
Add in a variety of other vegetables, finely chopped or shredded, that your family loves.
Use leftover cooked quinoa or barley instead of rice if that's what you have (or you can skip it altogether).
Use a new variety of salsa for a fun and flavorful twist.
Spice it up and top with Jalapeno Monterey Jack instead of mozzarella.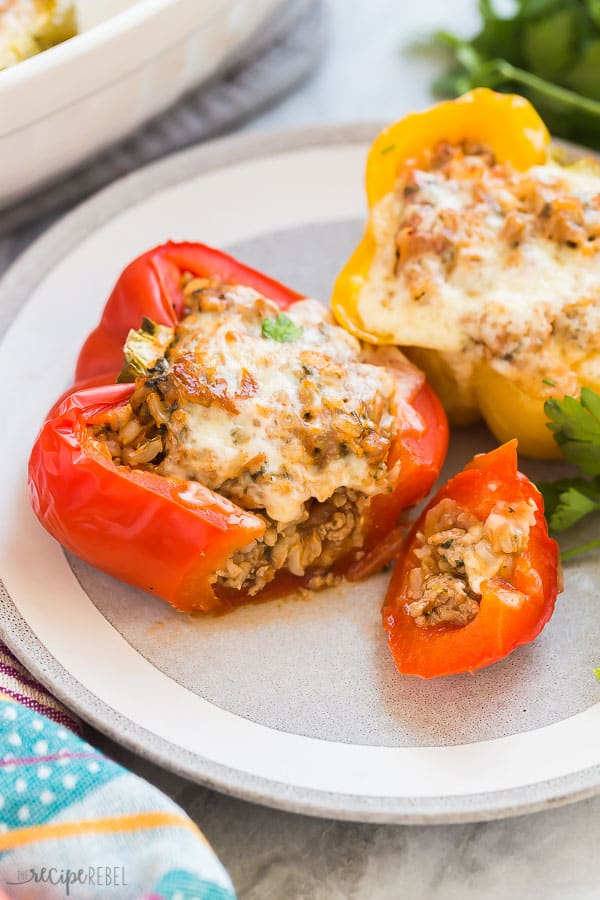 How to prep these Stuffed Peppers ahead:
One thing I absolutely love about this recipe is that I can prep it ahead and stash it in the fridge for a day or two until I need it. This makes it a great recipe for busy families who don't always have hours to spend cooking every night.
Simply assemble completely, cover with foil, and refrigerate up to 48 hours, provided all of your ingredients were fresh when you started.
When needed, just pop right in the oven with the foil and bake!
Another option is to prepare the filling in advance, then refrigerate up to 2 days or freeze up to 3 months before using.
*This post is generously sponsored by Canadian Turkey and I was compensated for my time in creating this recipe. All opinions are my own. Visit thinkturkey.ca for delicious recipes