Craving the comfort of takeout but want to make something even better? This easy homemade vegetable lo mein recipe, made with fresh vegetables and the tastiest sauce ever, will satisfy your Asian noodle cravings and have the whole family asking for more!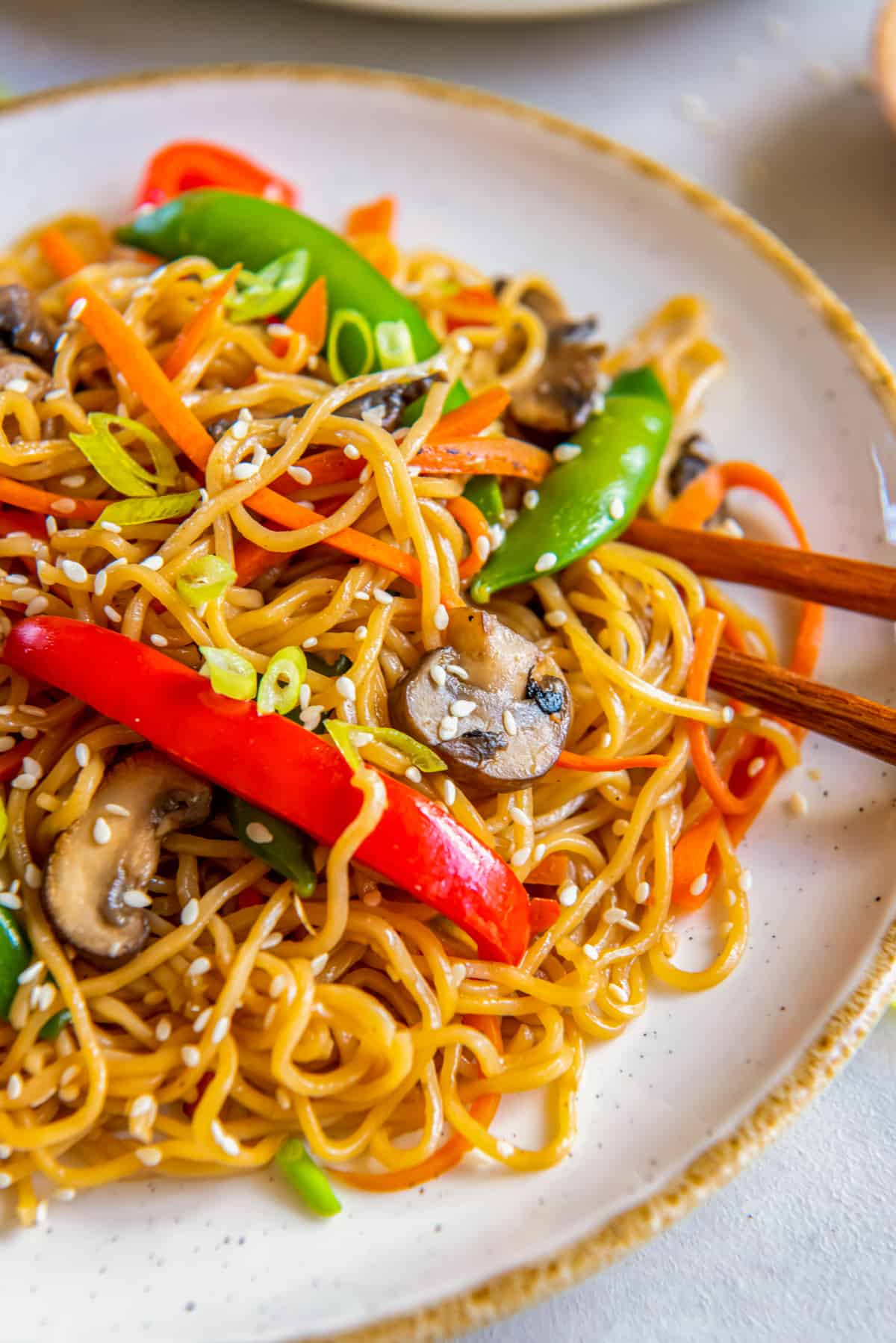 Veggie Lo Mein
This easy vegetable lo mein recipe comes together quickly with simple ingredients you can find anywhere. The sizzling sounds of veggies cooking in the wok and the aromas of soy and sesame oil wafting through the house will dazzle your family too!
When it comes to the fresh veggies in the recipe, feel free to add others, such as zucchini, baby corn, bean sprouts, water chestnuts, snow peas, etc. Serve up this veggie lo mein with your other favorite takeout dishes, like crab rangoon or beef and broccoli.
Why You'll Love this Vegetable Lo Mein Recipe:
Healthier: The homemade versions are always healthier than ordering takeout, but taste just as good!
Quick and Easy: In about 20 minutes, your lo mein noodles will be ready to serve and enjoy!
Kid-Friendly: The sauce on these noodles makes the fresh veggies your kids usually try to avoid irresistibly yummy!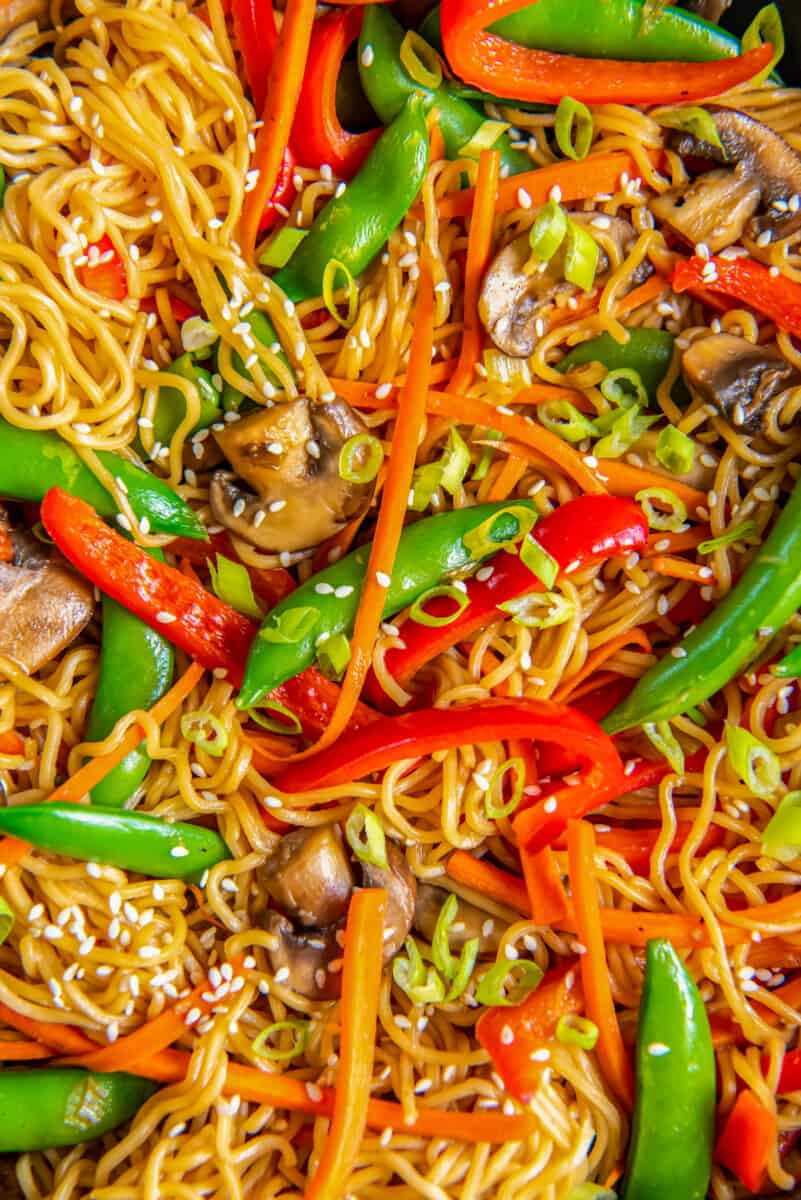 How to Make Vegetable Lo Mein
You can jump to the recipe card for full ingredients & instructions!
In a small bowl, prepare the lo mein sauce.
Heat the sesame oil in a wok or skillet.
Add the green onions, garlic, and vegetables – cooking until tender.
At the same time, boil water in another pot for the egg noodles.
Stir the drained noodles and lo mein sauce into the vegetables, tossing well.
Garnish with chopped green onions and sesame seeds before serving!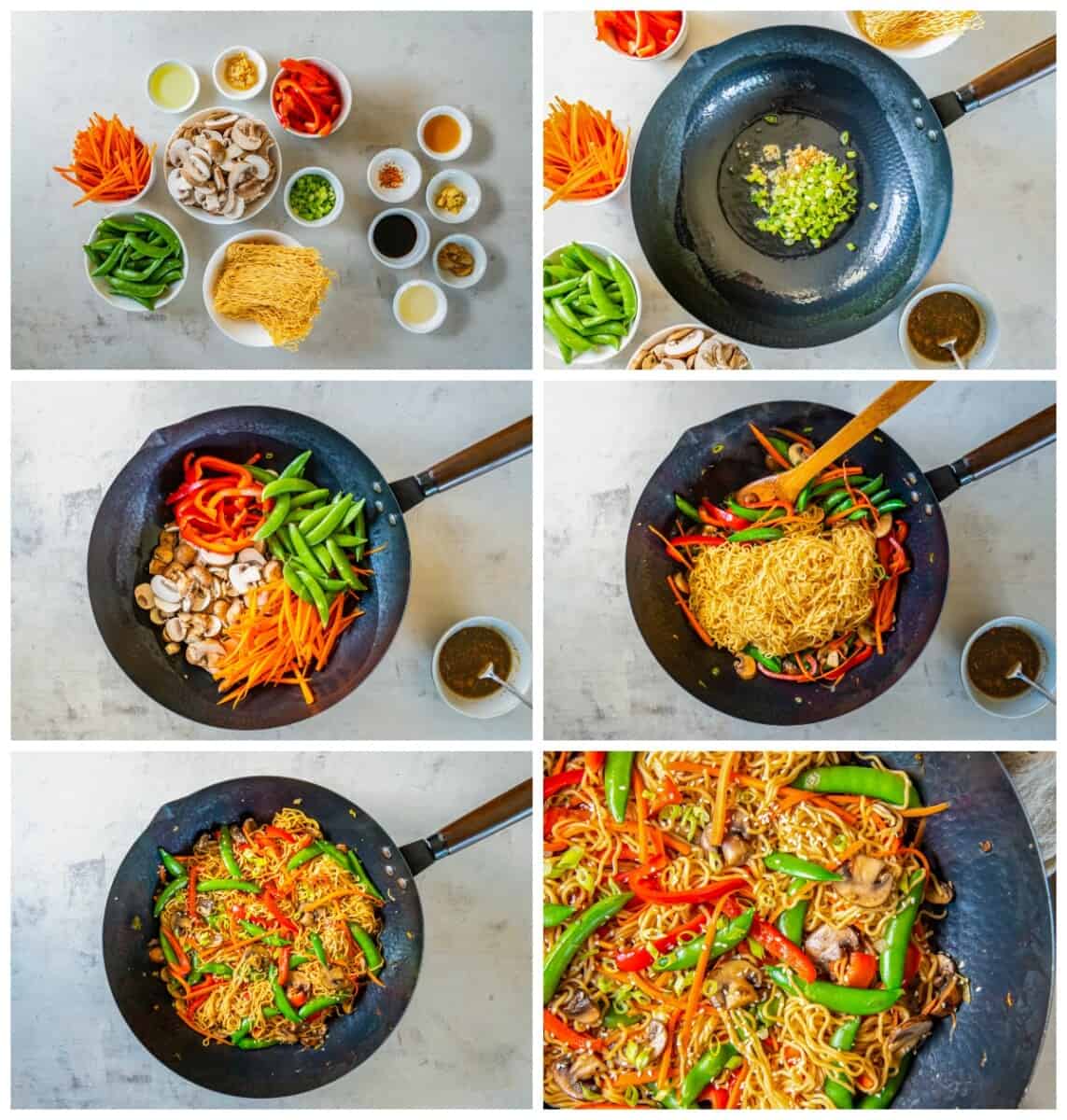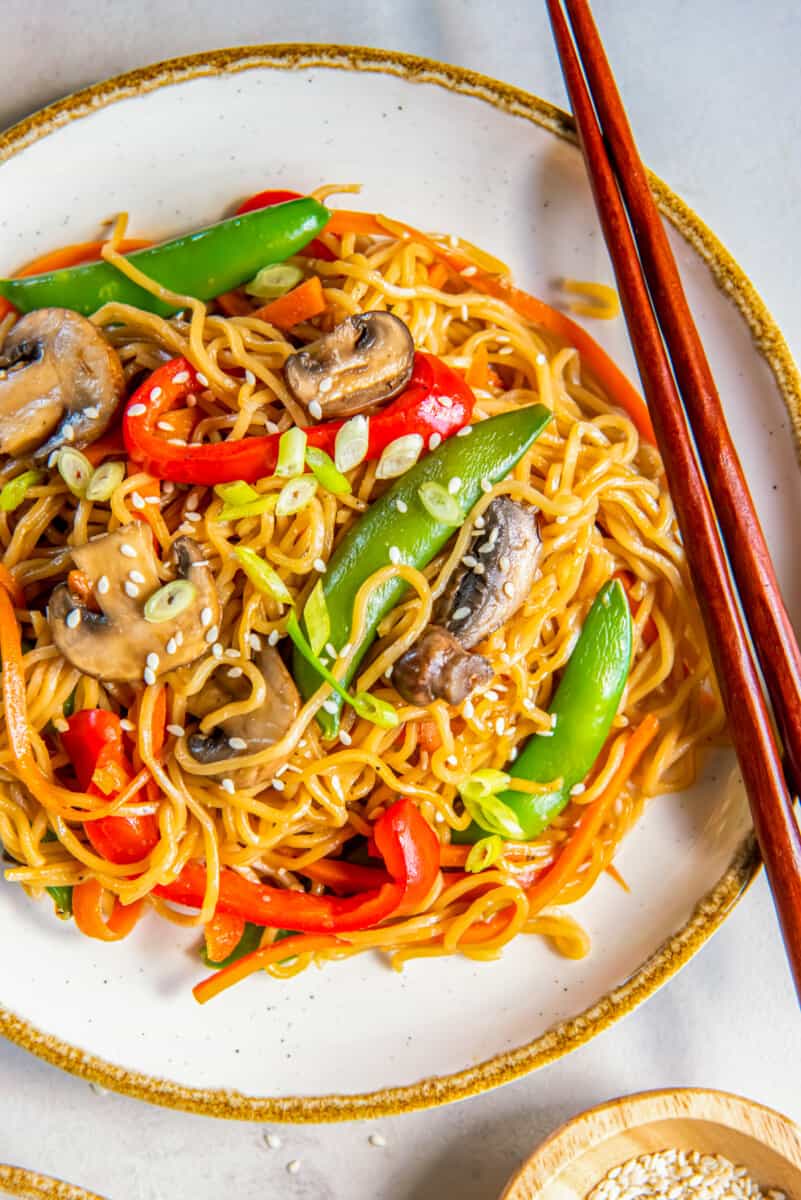 What is lo mein?
Lo mein is a Chinese-American noodle dish made with a soy-based sauce and a combination of vegetables, meat, and/or seafood.
Is lo mein gluten free?
Unfortunately, this vegetable lo mein is not gluten free due to the use of wheat-based noodles and soy sauce. To make lo mein gluten free, use gluten free or rice noodles and swap the soy sauce for tamari or coconut aminos.
What's the difference between lo mein and chow mein?
It's easy to get the two confused, but the main difference is the preparation. Both dishes use egg noodles, but lo mein noodles are fully cooked separately before being added to the stir-fry, while chow mein noodles are par-cooked directly in the pan, and then the vegetables and meat are added to the noodles. Chow mein is also typically less saucy than lo mein.
Is vegetable lo mein vegetarian/vegan?
Vegetable lo mein is vegetarian, but it is NOT vegan due to the use of egg noodles. To make this dish vegan, use regular, egg-free noodles and make sure to use certified vegan soy sauce and brown sugar.
What can I use instead of lo mein noodles to make vegetable lo mein?
Lo mein is a dish that can really be made with any type of noodles, including Italian pastas. If you cannot find lo mein noodles, the best substitute is another type of egg noodle, followed by udon, ramen, or soba noodles. I would recommend using an Italian spaghetti or linguini only in the case that you cannot find a better substitute.
Serving Suggestions
Make it feel just like takeout night, but better! Serve up your veggie lo mein with your other favorites, all made right at home.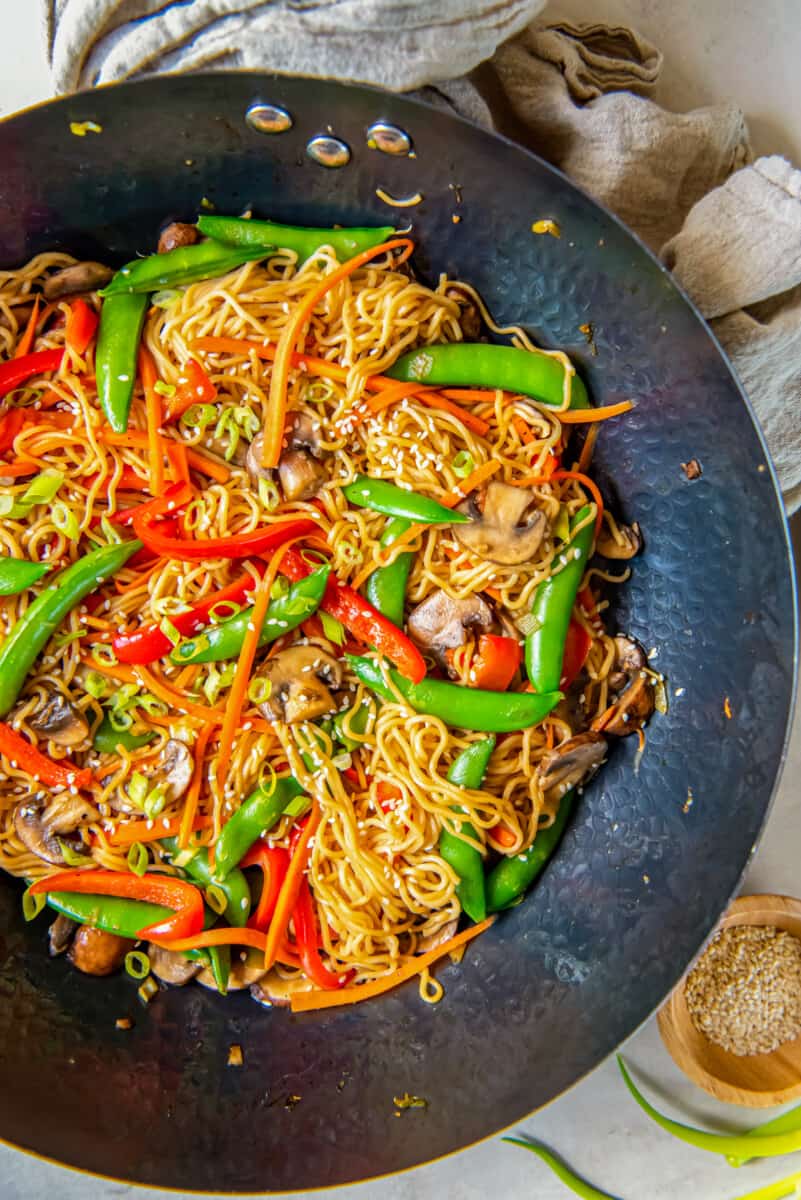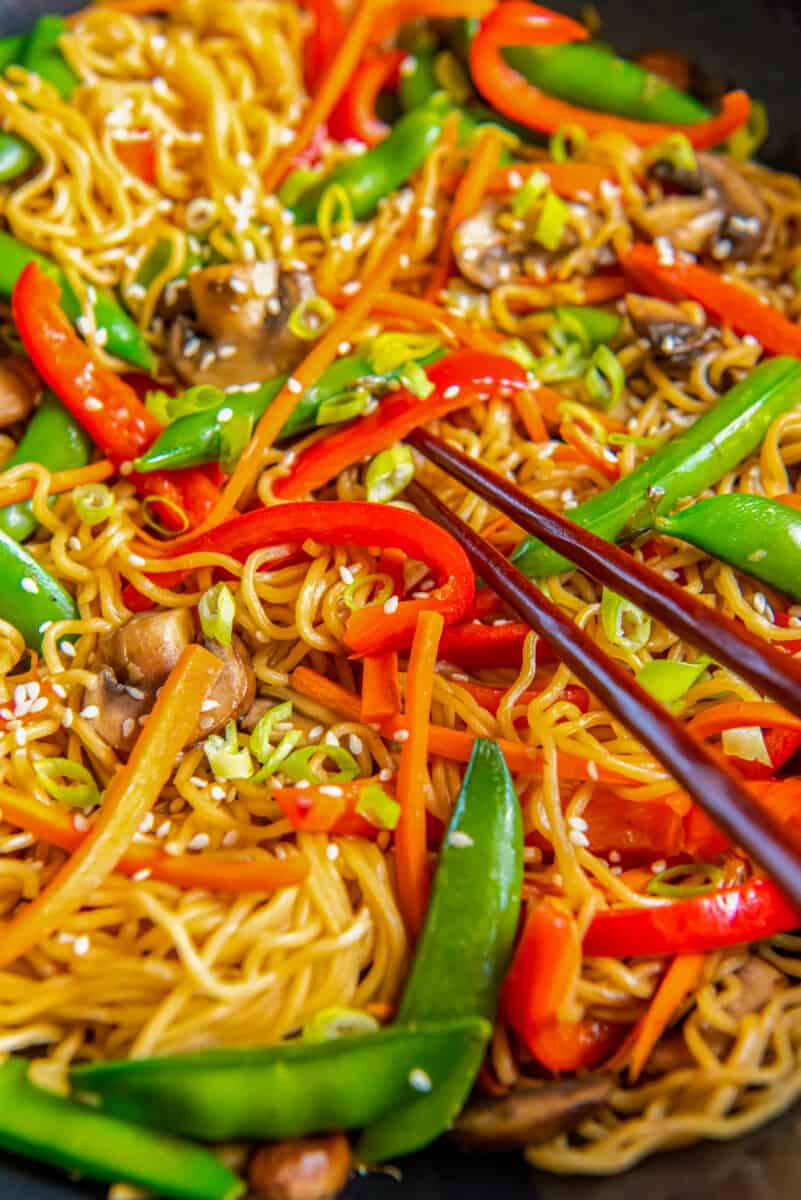 Make Ahead Instructions
You can make vegetable lo mein up to 3 days before you plan to serve it. Store it in an airtight container in the refrigerator until ready to serve.
To make this recipe even easier, you can stir the sauce together and chop/prep all of the vegetables the day before you plan to make this dish.
Storage Instructions
Store leftover vegetable lo mein in an airtight container in the refrigerator for up to 5 days. Reheat gently in the microwave or in a large skillet set over medium-low heat until warmed through.
Freezing Instructions
Freeze vegetable lo mein in an airtight container for up to 3 months. Let thaw in the refrigerator overnight before reheating.
Substitutions
If you can't find lo mein noodles, opt for egg noodles; udon, ramen, or soba noodles; or even Italian spaghetti.
Feel free to add in any combination of vegetables you like, such as broccoli, edamame green beans, zucchini, baby bok choy, or water chestnuts.
For a boost of protein, add a few scrambled eggs, diced chicken, tofu, shrimp, or beef flank steak.
For gluten-free vegetable lo mein, use gluten-free noodles or rice noodles and swap the soy sauce for tamari or coconut aminos.
If you can't find mirin, you can use rice vinegar, white wine vinegar, dry sherry, or a sweet marsala wine instead.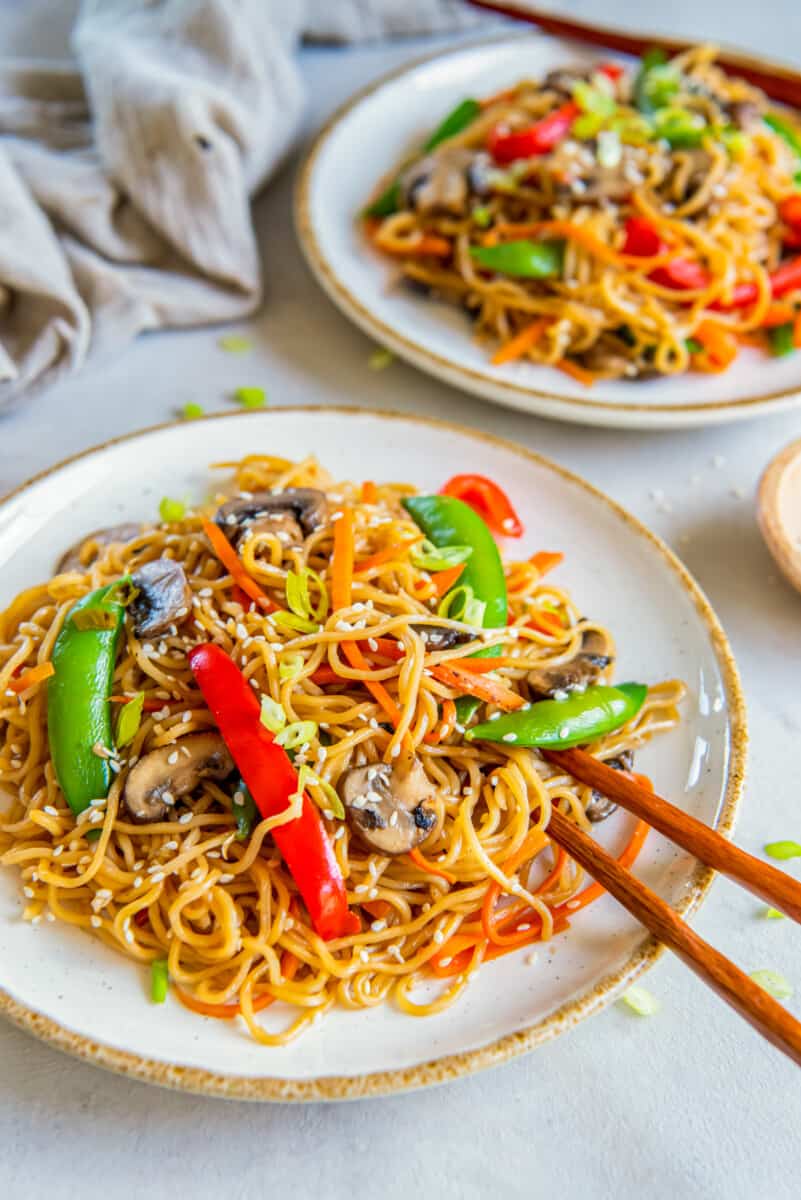 Vegetable lo mein is easy to make and easy to love. The textures, flavors, and colorful fresh vegetables are so satisfying you may never order takeout again!
If you make this recipe be sure to upload a photo in the comment section below or leave a rating. Enjoy! You can also jump to recipe.