For those cold, winter days, nothing is better than a large, steaming bowl of soup. Creamy Chicken Noodle Soup is a hearty meal that warm the kitchen and your belly. Make this homemade chicken noodle the soup for your family today.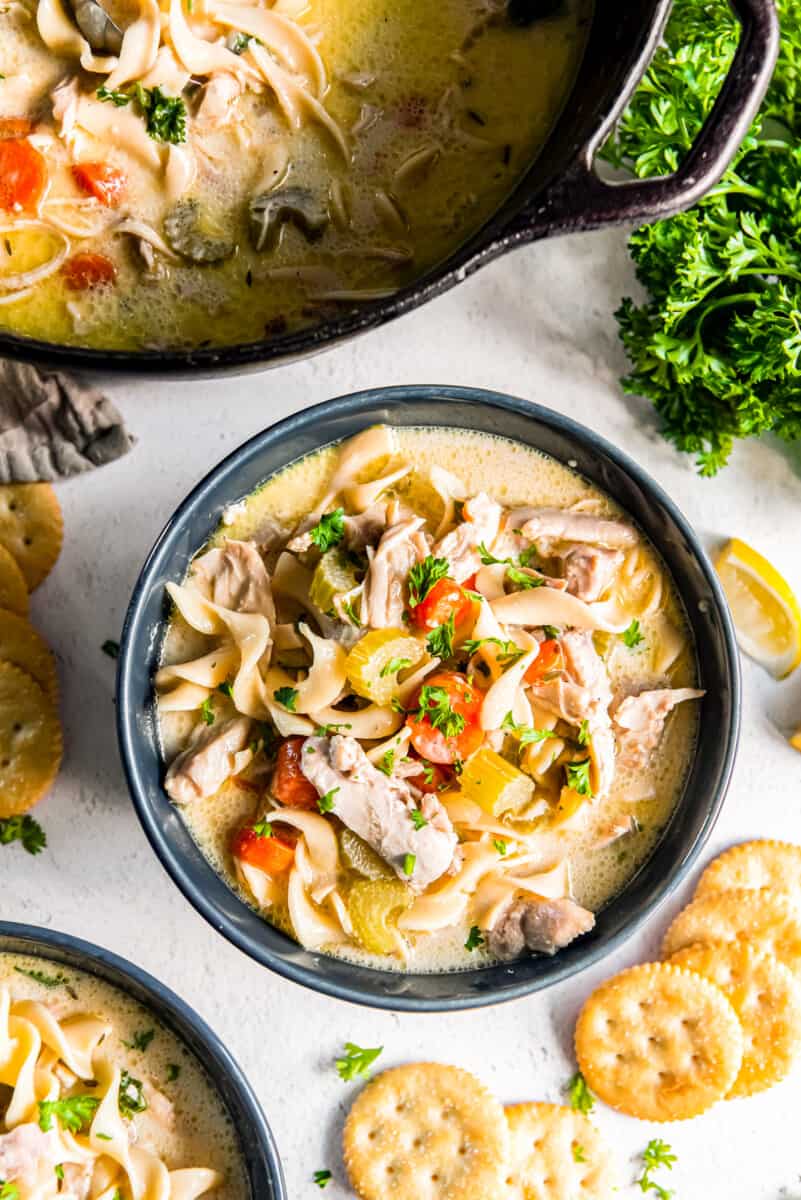 Homemade Chicken Noodle Soup
It's cold outside! There's always things to be done outdoors. But what better way to warm those frozen fingers and noses than a big bowl of Creamy Chicken Noodle Soup. This recipe is easy and, with all of the fresh ingredients, it is a meal in and of itself.
This soup is similar to classic chicken noodle soup, except the base is creamier thanks to the addition of the heavy cream. It's full of flavor and a great way to warm your body and belly.
Why You'll Love this Chicken Noodle Soup Recipe:
SIMPLE INGREDIENTS: The ingredient list may be a bit longer than normal, but they are all easy to find and make one delicious soup.
HEARTY MEAL: You can add a side dish to this soup, but it's a full meal all on it's own!
EASY TO MAKE: Like classic chicken noodle soup, this creamy version is easy to make.
Cozy up next to the fireplace or under your favorite heated blanket with a bowl of Creamy Chicken Noodle Soup that you prepared all on your own. Just like Grandma used to make!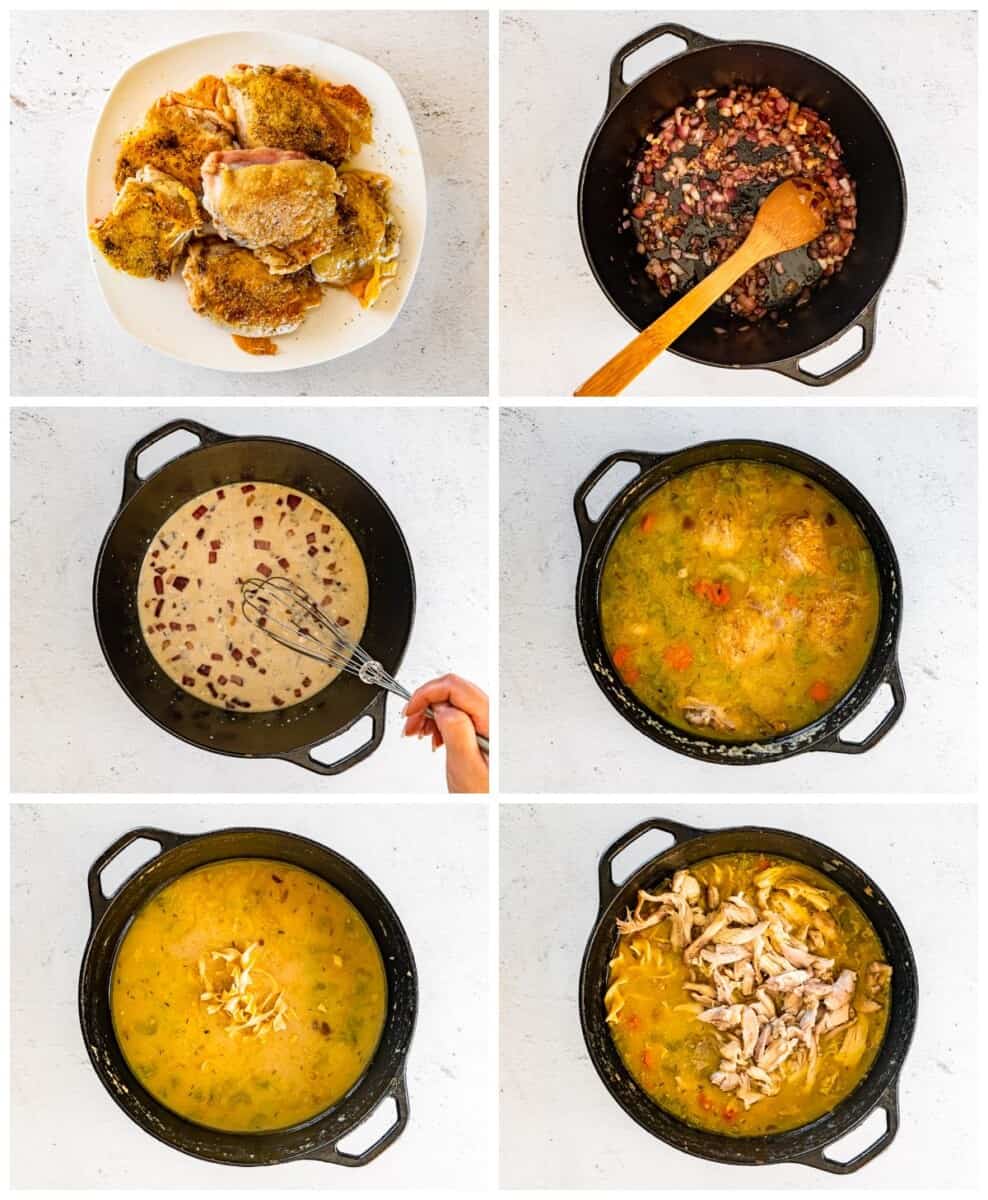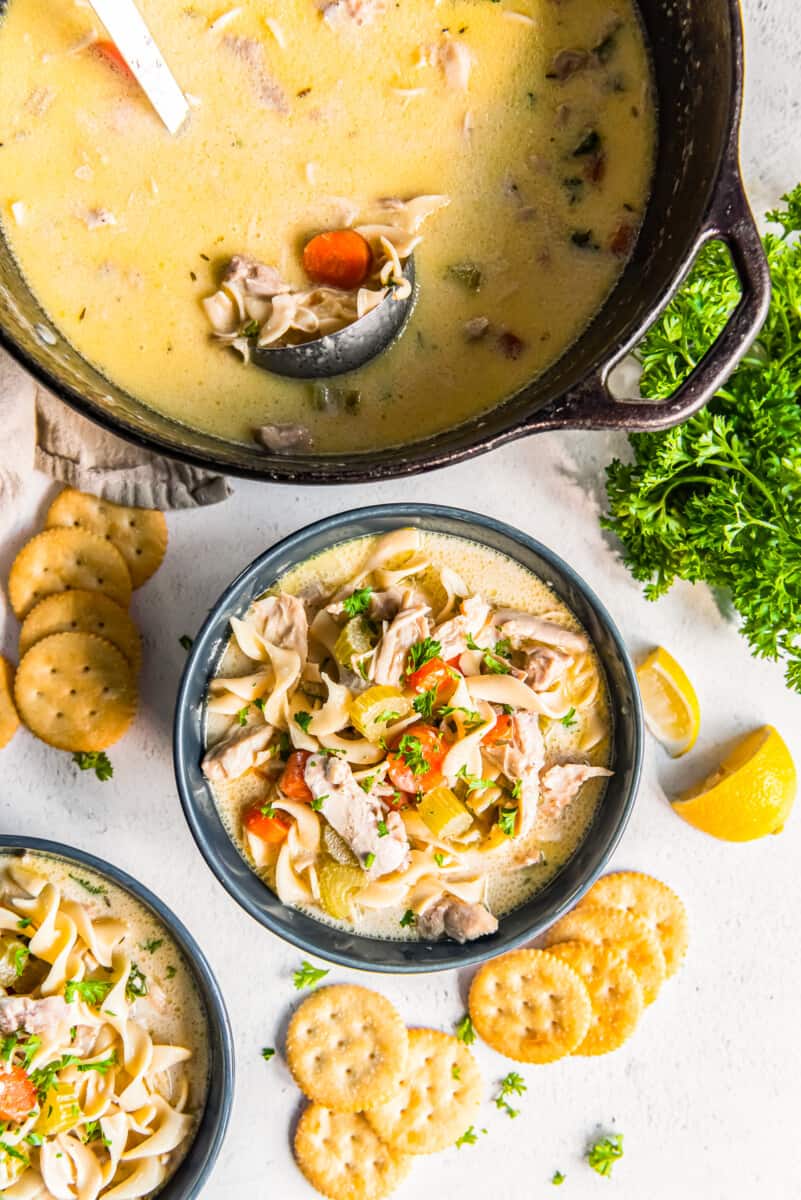 How to Make Creamy Chicken Noodle Soup
Be sure to see the recipe card below for full ingredients & instructions!
Thaw your chicken ahead of time and pat the meat dry with a paper towel.
Season with salt and pepper.
Pour a small amount of olive oil in the bottom of a stock pot and sear the chicken skin side down until golden brown. Remove the chicken, but leave the drippings.
Add more olive oil.
Add onion and garlic and saute until tender.
Pour one cup of broth into the pot and deglaze the bottom with a wooden spoon. 
In a small bowl, whisk together the milk and the flour until smooth. Pour into the pot, add the remainder of the broth, and stir.
Bring it to a low boil. 
Return the chicken to the pot and add in your carrots, celery, bay leaves, and thyme.
Cover the pot and reduce the heat.
Simmer for about 30 minutes to let the chicken cook the rest of the way. 
Once the chicken is thoroughly cooked and tender, transfer the thighs to the cutting board.
Stir in the noodles and let them cook for 4 minutes or so, until they're soft.
Remove the chicken meat from the bone and shred the meat. Return the chicken to the pot.
When noodles are tender, stir in the cream, parsley, and lemon juice.
Adjust seasonings. Serve and enjoy.
Recipe Notes (optional)
Be sure to pat dry the chicken thighs before searing
Allow the thighs to cook thoroughly in the soup before deboning. It will be much easier to remove the meat and you won't be dealing with potentially raw chicken a second time.
Fresh parsley will have a pleasant, but subtle herbal flavor in this meal, as opposed to dried parsley which can be hit or miss on flavor quality.
Fresh squeezed lemon juice is always better than the store bought bottle of lemon juice. You want the lemon to enhance the overall flavor profile, not over power it.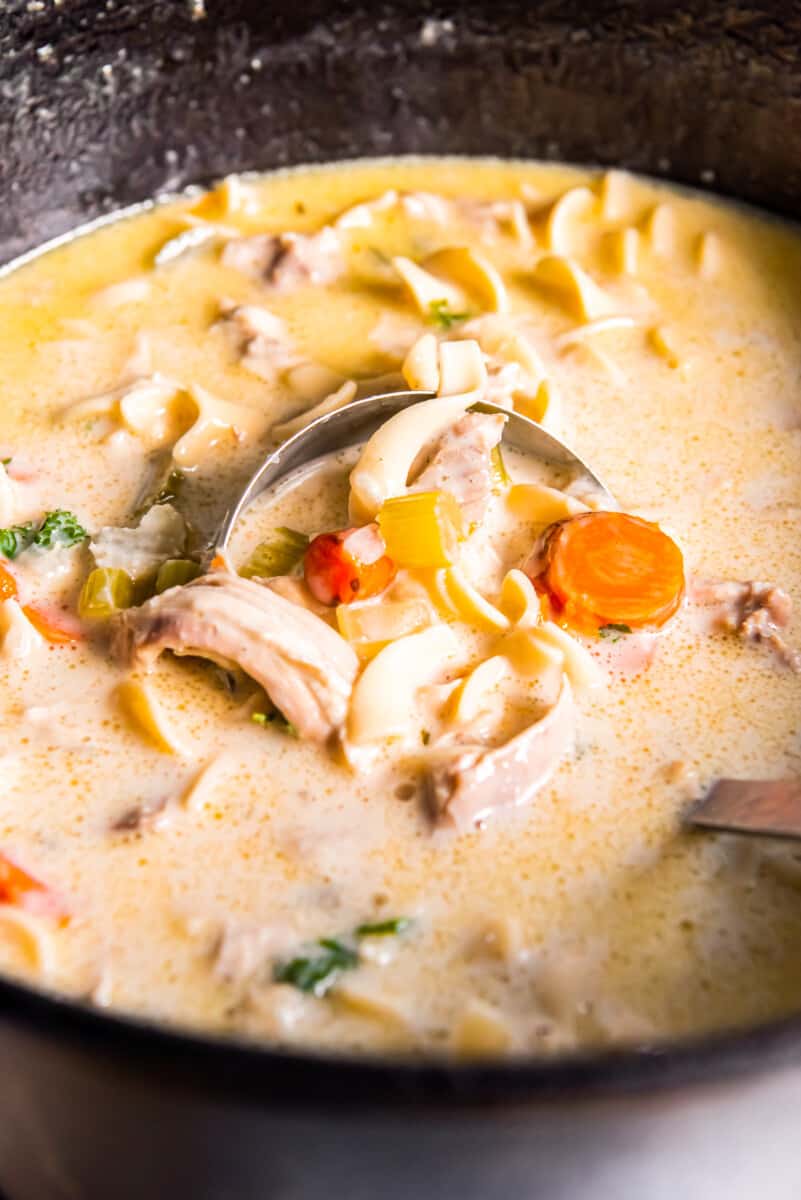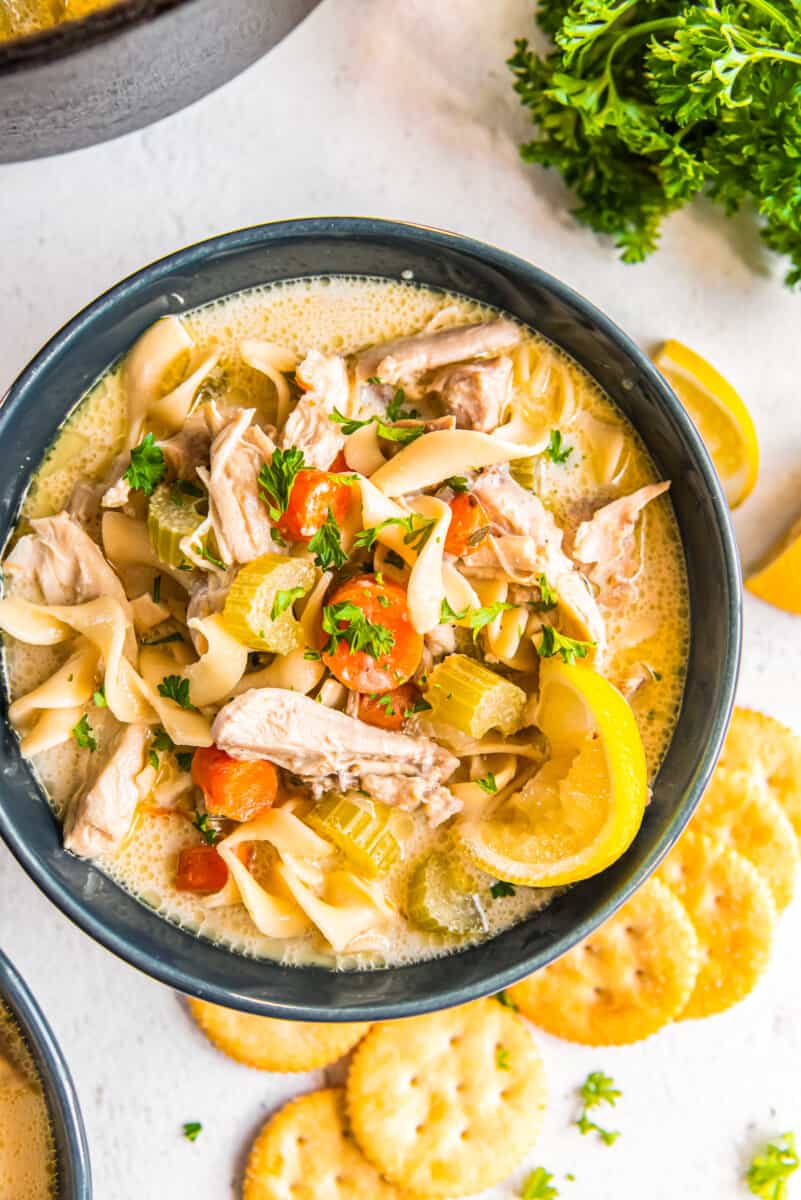 Can I use frozen chicken thighs?
It is not recommended. However, if you do not thaw your chicken ahead of time, be sure to allow for a longer cook time in the soup, before attempting to debone and shred the meat.
What other cuts of chicken can I use for chicken noodle soup?
Dark meats like thighs are preferred. If you don't have thighs, wings and legs are perfect substitutes. However, if all you have are chicken breasts, then, by all means, go for it!
How long does chicken noodle soup last?
About three days when properly stored in the fridge.
Can I freeze chicken noodle soup?
Yes, you can! A large Tupperware container or gallon sized Ziploc bags are perfect for stowing them away in any freezer.
Serving Suggestions
Everyone loves a big, hearty bowl of chicken noodle soup. This easy recipe is perfect in that it takes old fashioned chicken noodle soup and adds some filler thanks to the milk, flour, and cream.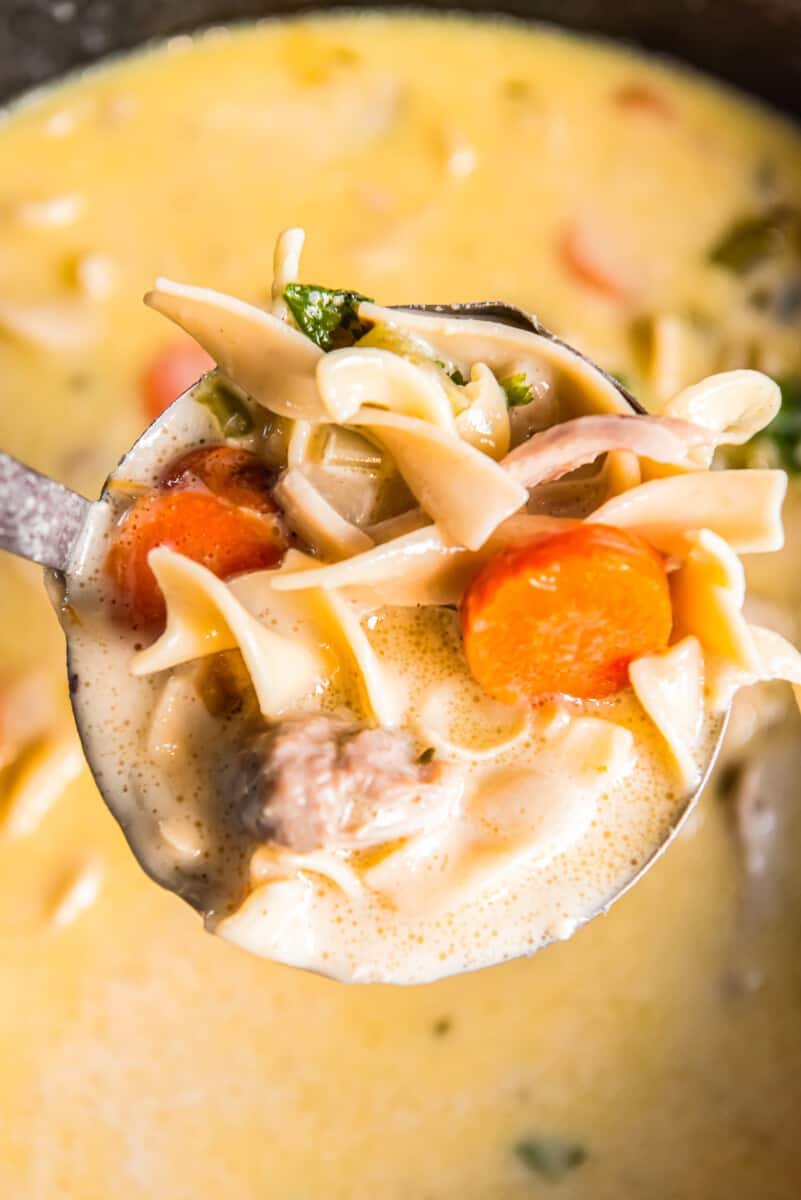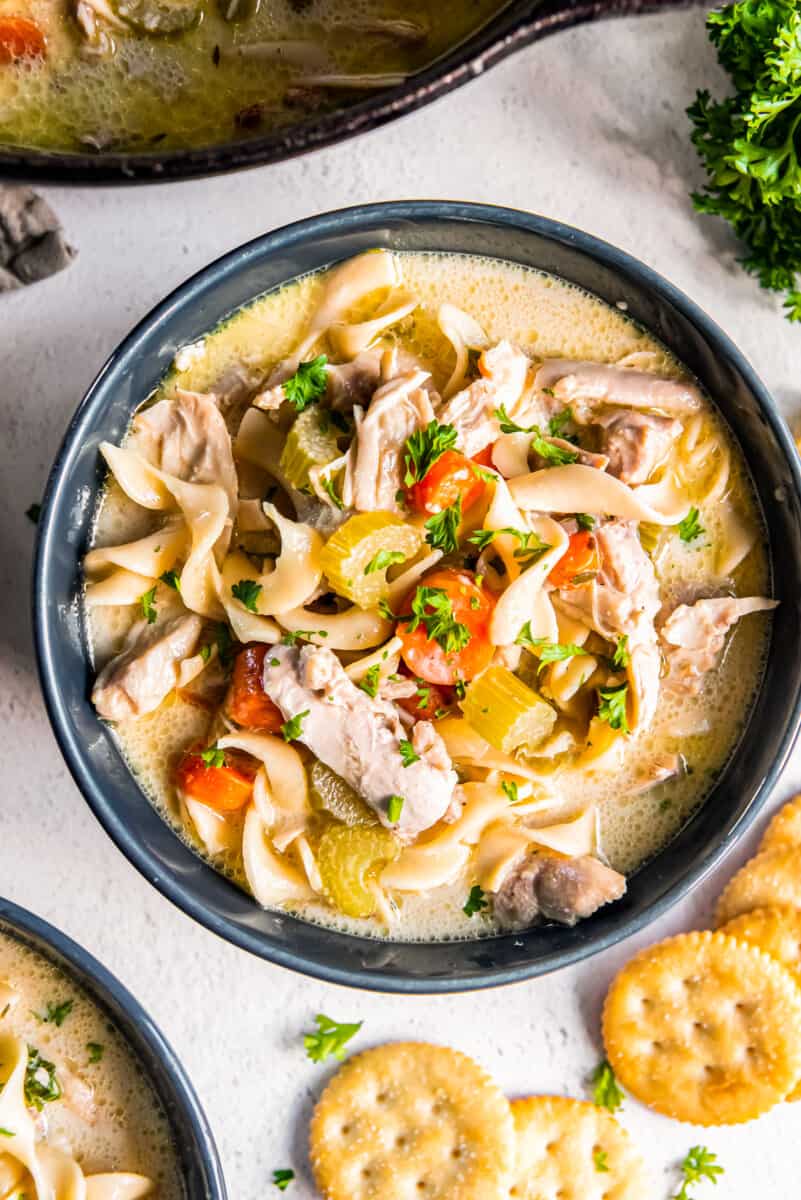 Tips!
Ensure you have a pot large enough to handle the volume of this soup.
If you want to make this dairy free, use coconut cream instead of heavy cream.
This soup is best when shared with others! 
This soup is a great way to use leftover chicken and vegetables. You can reduce the cook time by using leftover ingredients that you have on hand.
Can I make this soup with rotisserie chicken?
You can and it will remove the need for many of the steps included in this recipe. You may want to debone the meat from the get go and just let it simmer in the pot. 
What are the best noodles for chicken noodle soup?
Kluski egg noodles are the way to go. These Polish noodles soften easily in any soup.
Can I make this soup in a crockpot?
Most certainly! You won't be able to sear the meat in the crock pot, so be sure to do that part of the recipe in a frying pan.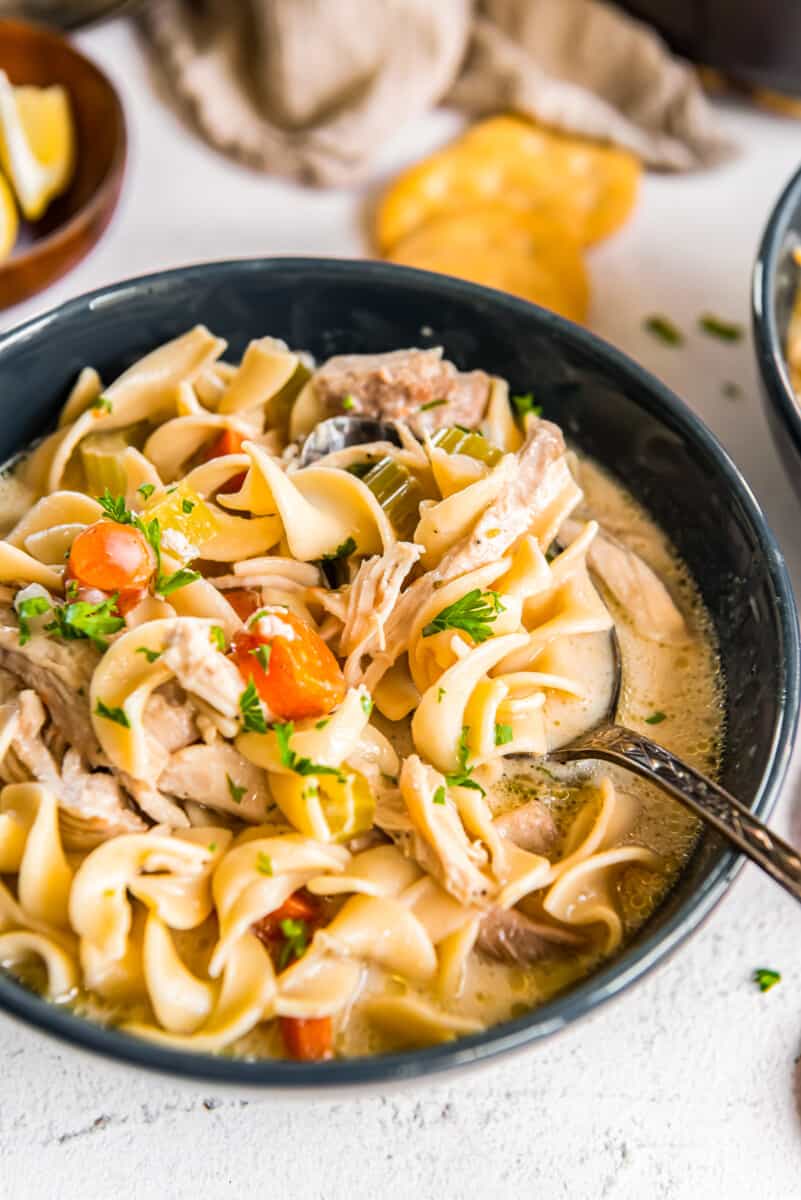 Despite the time required, this creamy chicken noodle soup is easy to make. Nothing beats a homemade soup that the whole family will love!
If you make this recipe be sure to upload a photo in the comment section below or leave a rating. Enjoy!