This Whipped Shortbread Cookies recipe is amazing! It's super simple, delicious, uses only a few ingredients and has a delicious meltaway texture!
Looking for a more classic style shortbread? My 3 Ingredient Shortbread is perfection!
Whipped Shortbread Melts In Your Mouth!
I happen to be shortbread obsessed. What's not to love really? You have a sweet, buttery cookie that is both simple and flavorful all at the same time.
Whipping the butter for 3 minutes creates a lighter, whipped base to add the other ingredients. The finished cookie is light, yet rich, and subtly sweet.
Only 4 Ingredients…
The great part about shortbread is its simplicity. But with that said, since there are so few ingredients I recommend using the highest quality you can manage. That doesn't mean you need to go out and spend a ton of money on fancy butter, or organic flours…
It just means choose ingredients that TASTE good. You might have a preference in which brand of all purpose flour you use…or butter…or vanilla…And in this case, I'd say choose your favorite. You can even splurge on a fancy European butter if you're feeling like the splurge. This is a time when that butter makes the cookie better!
Butter. I like to use salted butter as it adds to the flavor. BUT you can absolutely use unsalted, because you do add a little more salt. I would recommend that if you use unsalted, just add 1/4 teaspoon more
Powdered Sugar. Yep, just powdered sugar in this recipe, not granulated sugar. The powdered sugar is smooth and sweet, and gives the shortbread a melty texture.
Flour. All purpose all the way!
Salt. I use kosher salt in this shortbread recipe, as I do in most of my baking recipes.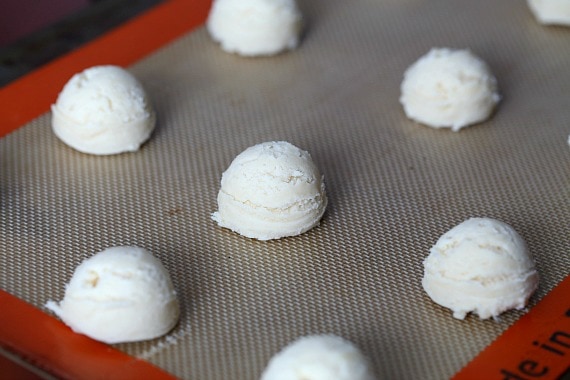 How To Make Whipped Shortbread…
In your mixer fitted with paddle attachment whip the butter for 3 minutes on high speed, scraping down the sides of the bowl as needed.
Add in add in powdered sugar, salt and flour slowly and mix on low speed until incorporated, and then turn the mixer up to medium and mix for just 20 sends.
If you would like to add in chocolate chips, add those in now. You can also divide the dough in half and make half of the shortbread with chocolate chips and half without for a combination!
Use a medium cookie scoop and portion the dough out onto a parchment lined baking sheet.
Bake at 325°F for 12-15 minutes until edges are slightly golden.
Cool completely!
Love Shortbread? Check Out My Other Recipes: