Easy5 minsQuick
This classic Middle Eastern za'atar recipe is perfect for seasoning everything from veggies, to meats, seafood, breads, dips and more.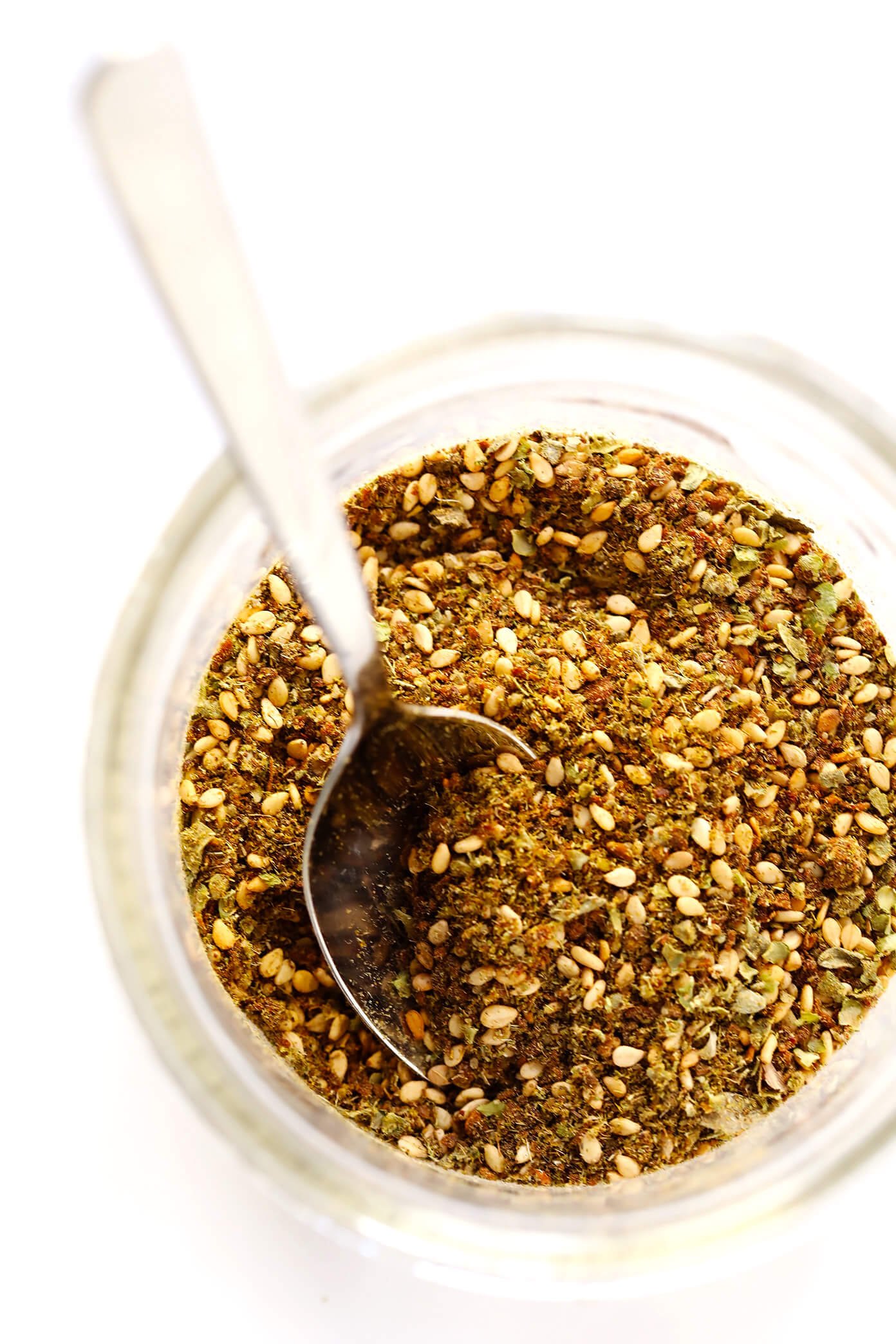 Friends!  Do you have a jar of za'atar seasoning sitting in your spice collection right now?
If not, it's time to mix up a quick batch. ♡
This classic Middle Eastern herb and spice blend has been one of my go-to seasonings for years now, mainly because it is absolutely delicious, because also its earthy, savory flavors literally go with just about everything.  Chicken, fish and shellfish?  Always a winning combo.  All kinds of roasted veggies, potatoes, and chickpeas?  Sprinkle it on liberally!  Hummus, tahini dip, baba ganuosh, salad dressings, lentil soup, olives and more?  Stir in a generous spoonful for an instant flavor boost.  Bread, pita chips, and even popcorn?  Oh boy, za'atar and carbs were made for each other.
I've been a huge fan of za'atar ever since a friend introduced me to it about five years ago.  But I haven't been able to track down a pre-made blend yet here in Barcelona.  So I've been mixing up my own from scratch these past few months, and tinkering around with the proportions a bit each time, and I think I've now finally nailed my favorite recipe.
Let's make some!
What Is Za'atar Seasoning?
So first off, what exactly is za'atar seasoning?  And what goes in it?
Well, the word za'atar (pronounced "zah-tahr") literally translates to mean "wild thyme" in Arabic.  But it's more known as a seasoning blend, whose ingredients vary slightly from country to country across the Middle East.  And it is delicious.
Za'atar Seasoning Ingredients:
The starring ingredient in traditional Middle Eastern za'atar is usually its namesake — a variety of wild thyme that is native to the region, which is then dried (or occasionally used fresh) and then ground to mix into za'atar seasoning.  That said, since wild thyme is difficult to find in the States, traditional fresh or dried thyme will work too.  It's traditional for the thyme to be ground for za'atar, which you can either purchase pre-ground or use a mortar and pestle to ground your own.  Or, hakuna matata, you can totally skip that step and just add in a little extra (non-ground) dried thyme instead, which will be just as delicious.
The main three ingredients for za'atar seasoning usually include:
Thyme: As noted above
Sesame Seeds: toasted, to bring out their flavor
Sumac: a delicious tangy, lemony red spice that I adore
That said, various Middle Eastern countries also like to add in other herbs.  I really love adding in some extra cumin and marjoram, plus salt and pepper.  But feel free to experiment and find which flavors taste best to you.
How To Make Za'atar Seasoning:
Simply stir all of your ingredients together in a small bowl (or shake them up in a spice jar) until combined.  And…serve!
Ways To Use Za'atar Seasoning:
Again, there are countless ways that you can put za'atar seasoning to use.  Some of my favorites include sprinkling or stirring it into:
meats, fish and seafood
all kinds of veggies (grilled, roasted, sautéed, etc.)
roasted chickpeas
dips (hummus, baba ganoush, tahini dip, etc.)
salads and salad dressings
soups (especially lentil soup!)
breads and pita chips
olives
popcorn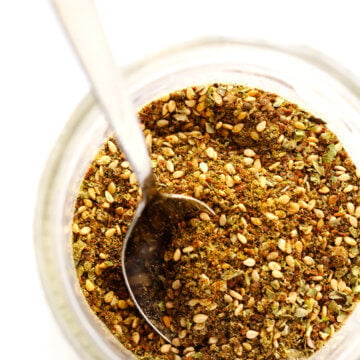 Yield: About 1/3 cup
Za'atar Seasoning
This classic Middle Eastern za'atar recipe is perfect for seasoning everything from breads to proteins, vegetables, dips and more.  Feel free to adjust the seasonings to taste.
Ingredients:
1 tablespoon ground cumin
1 tablespoon ground* dried thyme
1 tablespoon sumac
1 tablespoon toasted sesame seeds
(optional) 2 teaspoons dried marjoram
1 teaspoon fine Kosher salt
1 teaspoon freshly-ground black pepper
Directions:
Combine all ingredients in a small bowl and stir until combined.
Use immediately, or store in a sealed container for up to 3 months.
*If using traditional dried thyme (that is not ground), add in an extra 2 teaspoons dried thyme.
Difficulty: EasyCategory: Quick


All images and text ©Gimme Some Oven
If you make this recipe, be sure to snap a photo and hashtag it #gimmesomeoven. I'd love to see what you cook!