This post may contain affiliate links. Please read my disclosure policy.
This Smashed Potatoes recipe is irresistibly soft and crispy and full of the best garlicky, buttery flavors.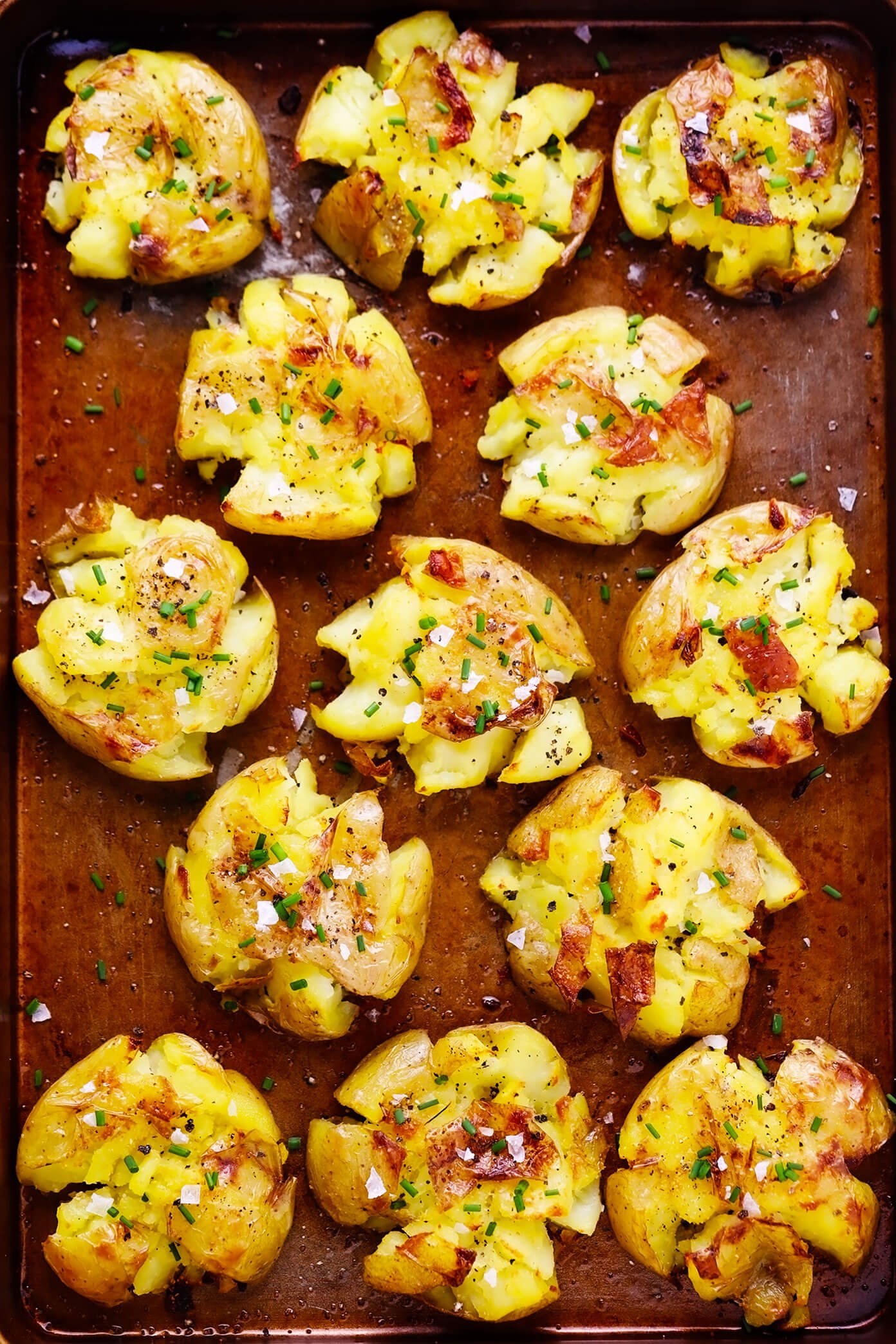 Hundreds of thousands of you have made and loved our recipes for baked potatoes, mashed potatoes, and scalloped potatoes (amongst others) here on Gimme Some Oven.  So today, I wanted to add one more classic potato recipe to the list…
…smashed potatoes! ♡
My husband always fondly refers to these as "Ikea potatoes" in our house, because we always use our drinking glasses from Ikea to gently smash the potatoes, haha.  But whether you choose to use a drinking glass or a potato masher or a fork to make yours, these smashed potatoes are always a fun addition to any meal!
They strike that irresistible balance of being soft on the inside yet crispy and golden on the outside.  And when roasted up with melted butter, a garlicky seasoning blend, and a sprinkle of fresh herbs or flaky salt, these smashed potatoes are downright delicious and can pair easily with so many types of entrees.  Feel free to also make this recipe vegan, melt some extra cheese on top, or load your potatoes up with the works (bacon, cheddar, sour cream, green onions, you name it!) too.  There are so many fun ways to customize and enjoy this simple smashed potatoes recipe.
So let's make some!

Smashed Potatoes Ingredients:
Before we get to the full recipe below, here are the basic ingredients you will need to make smashed potatoes:
Potatoes: I recommend using small-sized potatoes to make this recipe, but medium- or mini-sized potatoes will work too as long as you smash them down to approximately the same 1/2-inch height.  (You will just need to adjust boiling time.)  We're partial to small Yukon gold potatoes in our house, but any type of yellow, red, or purple potatoes will work.
Olive oil + butter: We've made smashed potatoes with olive oil or butter over the years, and my husband and I much prefer the extra flavor and crispiness that melted butter brings to the party.  That said, butter will smoke much more at high heat, so I recommend brushing the pan with olive oil first (or misting it with cooking spray) and then using butter to brush or drizzle onto the smashed potatoes themselves.
Seasonings: I typically stick with my favorite all-purpose seasoning blend of garlic powder, smoked paprika, sea salt and black pepper.  But feel free to add whatever seasonings you love best, either before or after baking.
Toppings: We usually sprinkle our smashed potatoes with whatever fresh herbs we have on hand (chives, parsley, etc) and an extra sprinkle of flaky sea salt.  But feel free to also sprinkle yours with Parmesan cheese or any other toppings that sound fun!
Possible Recipe Variations:
Here are a few other ideas for how to customize and have fun with this smashed potatoes recipe:
Make them vegan: Just use vegan butter or olive oil in place of the butter.
Make them crispier: I typically find that using a fork or potato masher makes these potatoes a bit crispier.  (The more uneven little bits poking out on top, the crispier/crunchier these potatoes will be!)  Feel free to also smash the potatoes 1/4-inch thick, too, if you would like a higher crispy-skin to softer-insides ratio.
Use fresh garlic: I've found that minced fresh garlic tends to burn when sprinkled on top of these potatoes.  But feel free to infuse your butter with fresh garlic flavor by adding a few cloves to the butter as it melts, then you can discard the cloves before drizzling the butter onto the potatoes.
Add cheese: I love sprinkling these potatoes with Parmesan cheese after baking.  But feel free to also sprinkle on any favorite shredded cheeses that you like, which you can do during the last few minutes in the oven if you would like the cheeses to melt.
Add different seasonings: I also love swapping in Cajun seasoning in place of the smoked paprika/garlic blend.  Or adding a sprinkle of everything bagel seasoning to the potatoes after they have bene baked.
Add brown butter: For an extra-decadent treat, simmer a few extra tablespoons of browned butter to drizzle on the potatoes once they have baked.  Heavenly!
Load them up: To make traditionally "loaded" smashed potatoes, top them with bacon, green onions, cheddar cheese, sour cream, avocado (or guacamole), or whatever else sounds good!
More Favorite Potato Recipes:
Looking for more essential potato recipes to add to your repertoire?  These are my go-to faves!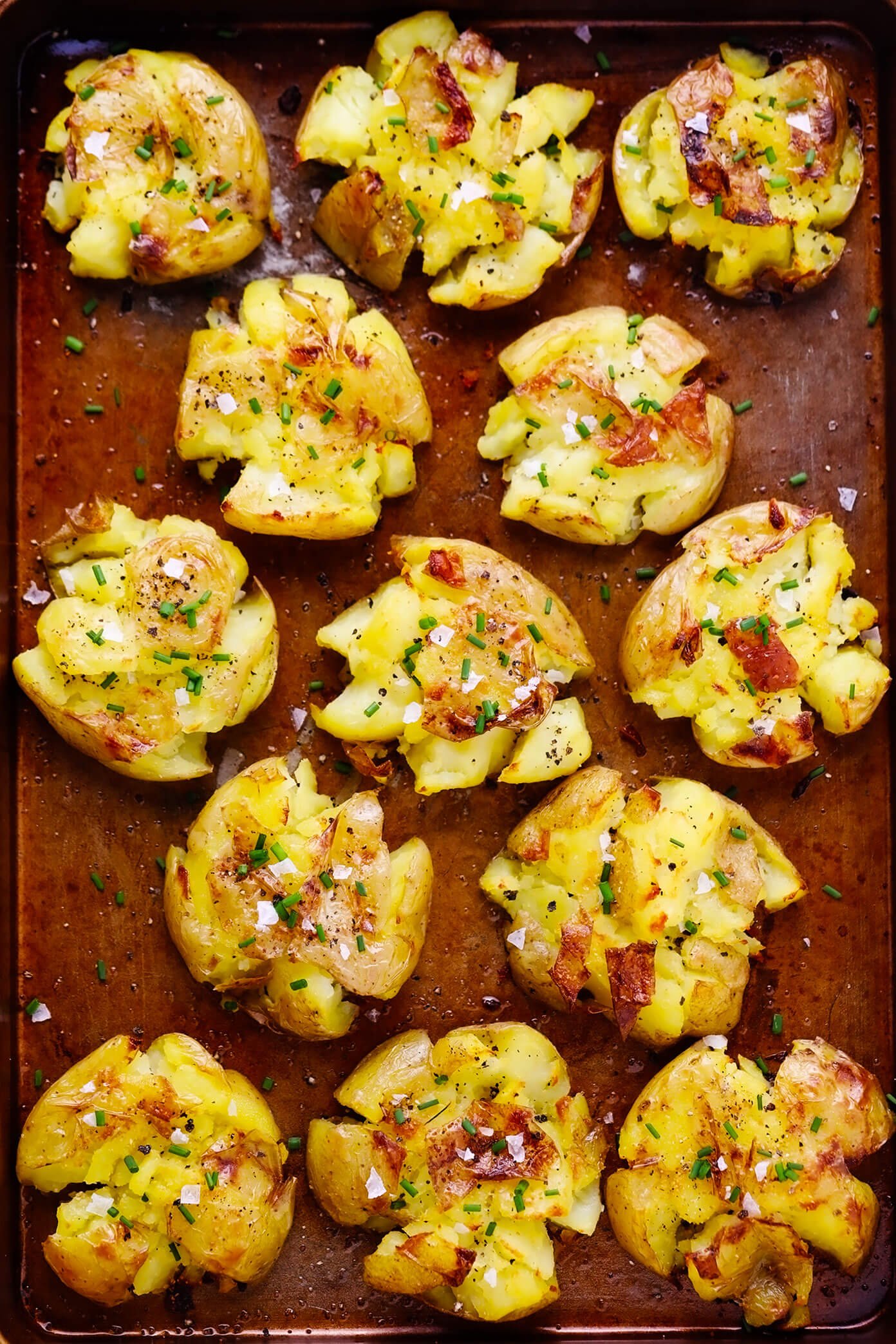 ---
Description
This Smashed Potatoes recipe is easy to make, full of great flavor, and irresistibly soft and crispy!
---
Scale
Ingredients
1 1/2

pounds small potatoes (yellow, red or purple), scrubbed and rinsed
fine sea salt and freshly-cracked black pepper

1 tablespoon

olive oil

3 tablespoon

s melted butter

1/2 teaspoon

garlic powder

1/2 teaspoon

smoked paprika
optional toppings: chopped fresh herbs (chives, parsley, etc), flaky sea salt, and/or Parmesan cheese
---
Instructions
Boil the potatoes. Add the potatoes and

1 tablespoon

fine sea salt to a large stockpot.  Fill the pot with cold water so that the water line sits about 1 inch above the potatoes.  Heat over high heat until the water comes to a boil, then reduce heat to medium-high (or whatever temperature is needed to maintain the boil) and continue boiling the potatoes for about 10-15 minutes, or until a fork can be easily inserted in the center of the potatoes. (Cooking time will vary depending on the size of your potatoes, so please rely on the fork test to double-check when yours are done.)  Carefully transfer the potatoes to a strainer to drain completely.
Prepare oven and baking sheet. Heat the oven to 425°F (218°C).  Brush a large baking sheet evenly with the olive oil.
Smash the potatoes. Once the potatoes are cool enough to handle, transfer them to the baking sheet.  Then use either the bottom of a glass, a fork or a potato masher to gently "smash" each potato down until it is around 1/2-inch thick.  Brush or drizzle the potatoes evenly with the melted butter.  Sprinkle evenly with the garlic powder and smoked paprika.*  Then sprinkle evenly with however much fine sea salt and black pepper you prefer.  (I recommend a pretty generous amount of salt and pepper.)
Bake. Bake for 20 to 30 minutes or until the potatoes are crispy and golden around the edges.  Remove pan from the oven, sprinkle the potatoes with your desired toppings, serve hot and enjoy!
---
---
Notes
Adding the seasonings: For more evenly distributed seasonings, I typically mix together the garlic powder, smoked paprika, salt and pepper and use a small fine mesh strainer to sprinkle them over the potatoes.