Zucchini Coconut Chocolate Chip Cookies are one of my all-time favorite cookies! They are perfect during the summer months when zucchini is in season, but we make them year round because they are SO good!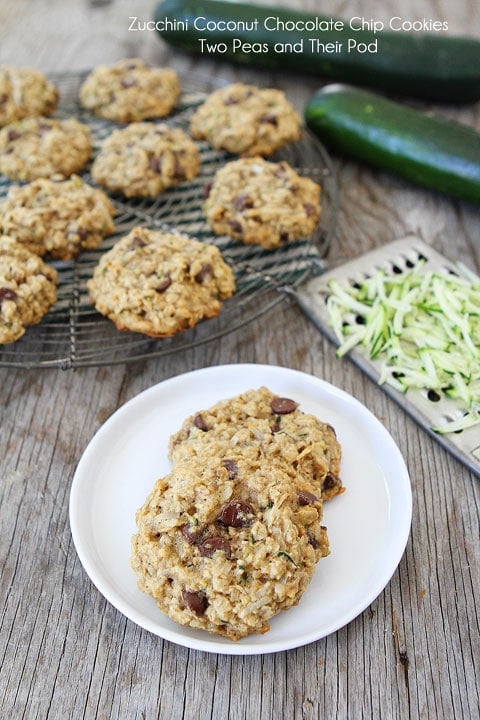 Favorite Zucchini Cookies
Is your garden zucchini staring you down? Don't be scared, we are here to help! Last week we shared a recipe for Grilled Zucchini Nachos and this week we are getting sweet with Zucchini Coconut Chocolate Chip Cookies.
I made Zucchini Coconut Bread and fell in love with the zucchini and coconut combo. Since I am obsessed with cookies, I decided to take that wining combo and create a cookie. Best decision ever because these zucchini cookies are in my top 10 cookies of ALL TIME! That is a big statement since I have over 200 cookie recipes on our blog, but I LOVE these SO SO much!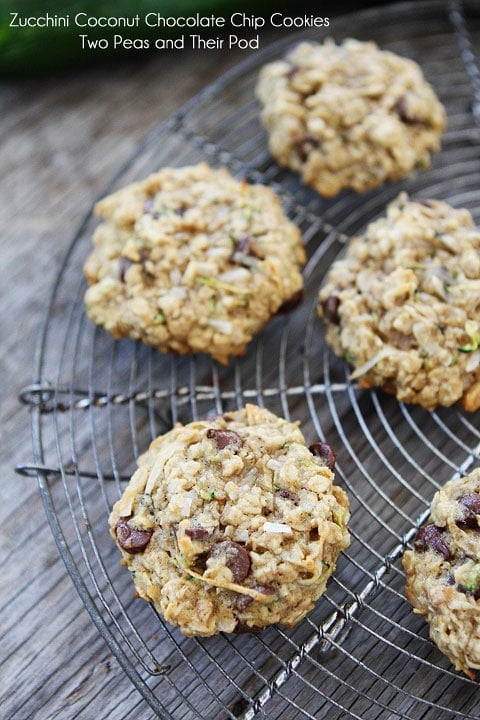 I've made zucchini cookies before and they've always turned out great. I love sneaking veggies into my cookies. It makes me feel better about eating a dozen:) And if you think zucchini doesn't belong in cookies, think again. These cookies are delicious.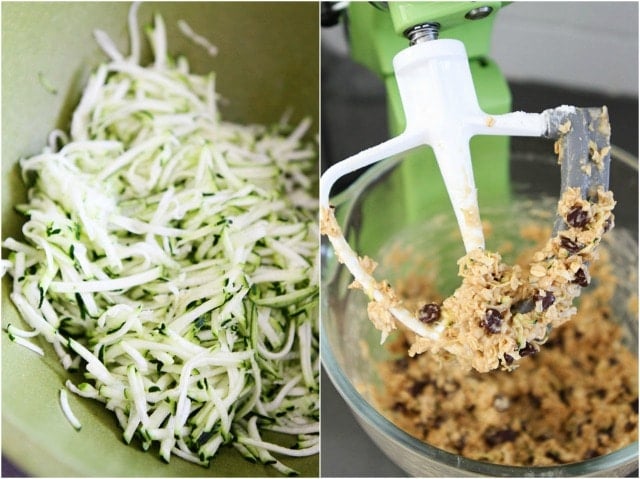 How to Make Zucchini Chocolate Chip Cookies:
These zucchini chocolate chip cookies are easy to make. You can whip up a batch in no time!
These zucchini cookies are made with: zucchini, coconut oil, sweetened flaked coconut, oatmeal, and chocolate chips.
You can make the cookies with regular all-purpose flour or white whole wheat flour. I make them both ways and both ways are equally delicious. I personally like the whole wheat version because they are healthier and no one even knows!
You don't need to squeeze out the liquid in the shredded zucchini unless it is super watery. If it is, give it a gentle squeeze, but leave in most of the moisture.
For the coconut oil, measure it solid and then melt it in the microwave, let it cool slightly before adding it to the dough.
I use sweetened flaked coconut. You can use unsweetened coconut if you wish, but I like the touch of sweetness.
Use old fashioned oats for this recipe, not quick oats.
I use semi-sweet chocolate chips, but you can use milk if you like milk chocolate better.
Feel free to stir in some raisins or dried cranberries.
Zucchini Cookies are Meant for Sharing
I've already made two batches of Zucchini Coconut Chocolate Chip Cookies. I made a batch to share with friends and put a batch in our freezer, for a rainy day. The cookies got rave reviews from our friends and the cookies in our freezer haven't been forgotten. I ate a cookie straight from the freezer and discovered they are just as good frozen, if not better! You HAVE to try them frozen, they are so good and the perfect treat for summer!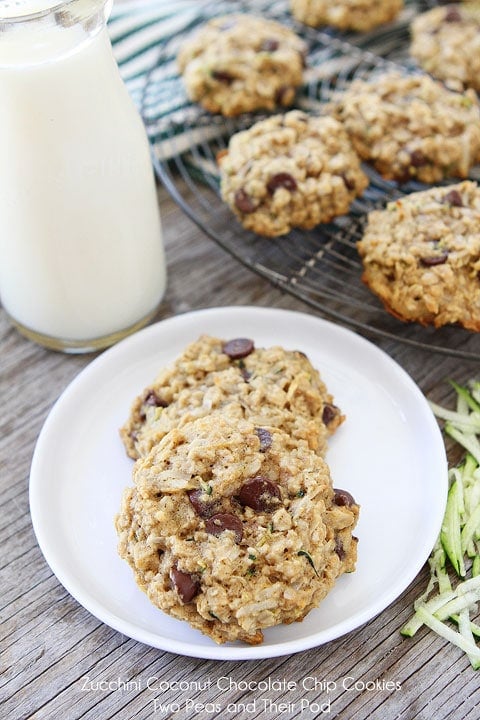 Family Favorite Zucchini Cookies, Even Kids Love Them
So don't let your zucchini overwhelm you! Start shredding some zucchini, you have cookies to make! These easy zucchini cookies are a family favorite and our boys don't even care there is zucchini in them. They asked about the green in the cookies and I told them it was zucchini and they kept on eating! They LOVE these cookies!
Ok, all this talk about cookies has me craving one RIGHT NOW! I am off to eat a cookie now, breakfast of champions! Hey, these are healthy cookies so it's totally ok!
And if you are looking for more zucchini recipes, check out these our favorite zucchini recipes. Happy zucchini season!
If you like these Zucchini Coconut Chocolate Chip Cookies, you might also like: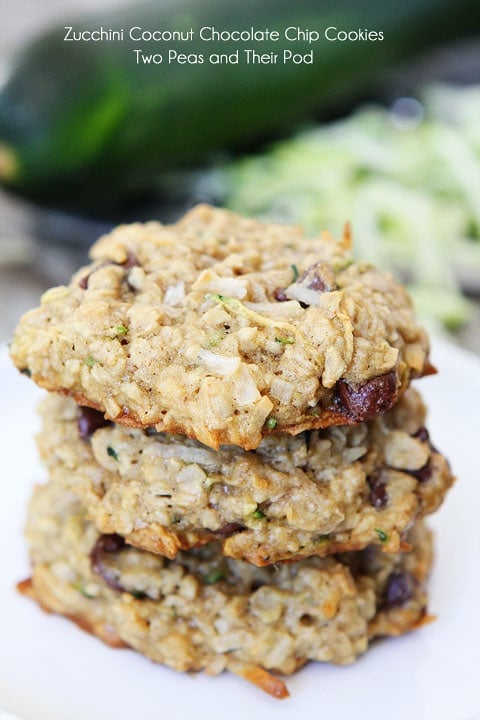 Zucchini Coconut Chocolate Chip Cookies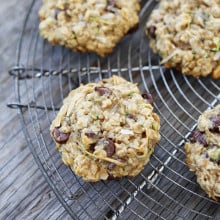 Zucchini cookies made with coconut oil, coconut, and chocolate chips. The best way to use up your garden zucchini!
Yield: 30 cookies
Prep Time: 15 minutes
Cook Time: 12 minutes
Total Time: 40 minutes
Ingredients:
1 cup all-purpose flour or white whole wheat flour
1 teaspoon baking soda
1/2 teaspoon salt
4 tablespoons coconut oil, melted and cooled to room temperature
1/2 cup dark brown sugar
1/4 cup granulated sugar
1 large egg
1 teaspoon vanilla extract
1 cup shredded zucchini
2 cups old fashioned oats
1/2 cup sweetened coconut flakes
3/4 cup semisweet chocolate chips
Directions:
Preheat the oven to 350 degrees F. Line a baking sheet with a Silpat baking mat or parchment paper and set aside.
In a medium bowl, whisk together flour, baking soda, and salt. Set aside.
In a large mixing bowl, combine coconut oil and sugars, mix until smooth. Add egg and vanilla extract. Next, add the shredded zucchini. Mix until combined.
Slowly add flour mixture until just combined. Stir in oats, coconut, and chocolate chips.
Drop cookie dough by heaping tablespoonfuls, 2 inches apart, onto prepared baking sheet. Bake for 10-12 minutes or until cookies are slightly golden around the edges and set. Remove cookies from pans; cool completely on wire racks.
Note-the cookies will keep on the counter in an airtight container for up to 3 days. You can freeze the cookies for up to 2 months, they are SO good frozen.


All images and text ©Two Peas & Their Pod.




Follow twopeasandpod on Instagram and show us what recipes you are making from our blog! Use the hashtag #twopeasandtheirpod! We want to see what you are making in your kitchen!