This delicious Apple Fritter Bread is soft, moist, and packed with apples and cinnamon sugar! It's an amazing apple bread recipe that you will make time and time again!

In my mind it is always apple season! Of course, I feel like I do my best apple baking in September/October, but there isn't a time when I will turn down a delicious apple recipe. And today I'm sharing an amazing Apple Bread that I know you will LOVE!
This quick bread is like the classic Apple Fritter Donut in cake/bread form, no frying necessary. It's similar to my Apple Fritter Cake Recipe, but different enough that I thought it deserved a place here on my site. The cake is dense, soft, buttery and vanilla based, with a brown sugar-cinnamon swirl throughout, loaded with sweet apple chunks. I know you will love this as much as I do!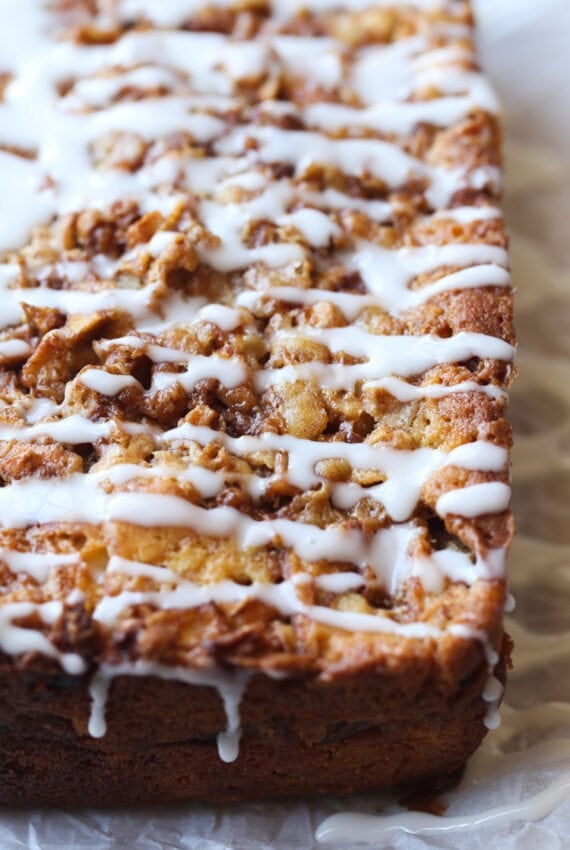 Apple Fritter Bread is a Great Fall Baking Recipe (Or Anytime of the Year!)
This recipe is from my friend Christie's new book, My Little Pony Baking Book! Don't let the name throw you off…this book is filled with classic and delicious dessert recipes, along with some magical rainbow colored treats as well! It's a book that is as good for beginner bakers as well as the seasoned baker. The colorful pictures are so fun and the recipes are ones that everyone in your family will enjoy, like this Apple Fritter Bread!
My son and his friend actually made this recipe all on their own. I was just around to assist if they had a question (they didn't) and snapped some pictures at the end. I am dying to make the cover recipe from the book, it's a Rainbow Bundt Cake that is SO adorable!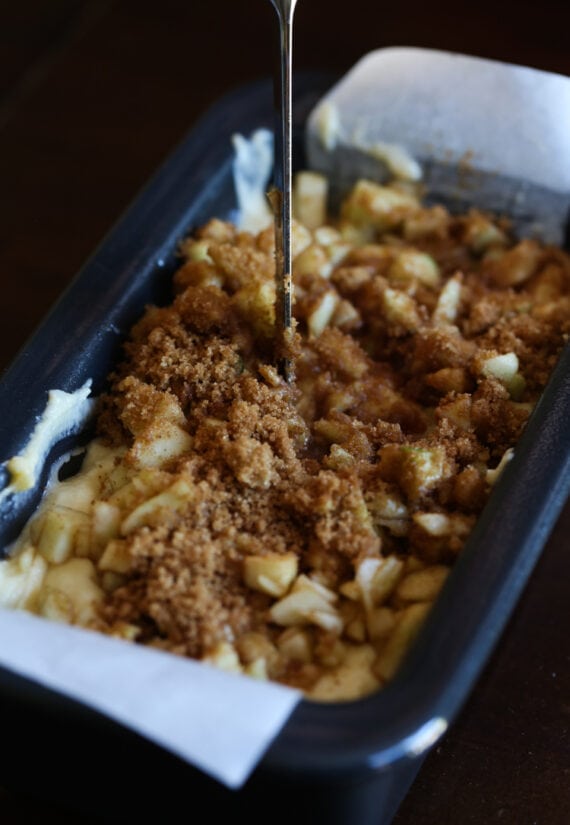 How To Make Apple Fritter Bread
This is a classic quick bread recipe, which is a lot like a cake baked in a loaf pan. I love to call it "bread" because I don't feel bad about eating it for breakfast! You don't need any fancy ingredients, in fact you probably have everything in your kitchen already…as long as you have apples!
What Kind of Apples Do You Use?
I like to use Granny Smith Apples in most of the recipes I bake using apples. I find they hold their structure the best, as well as have the perfect balance of tart and sweet. You can also use:
Honeycrisp Apples
Braeburn Apples
Pink Lady Apples
Gala Apples
Fuji Apples
Can You Bake This Apple Bread in a Bundt Pan?
Yes, you absolutely can! You would prepare the recipe exactly the same way as written, but would need to adjust the bake time slightly. I would check it after 45 minutes in the oven and add time if needed! You could even make this recipe into muffins. I would just cut the apple mixture and cinnamon sugar mixture in half, and only use them to swirl on top of the muffins, as opposed to swirled inside as well!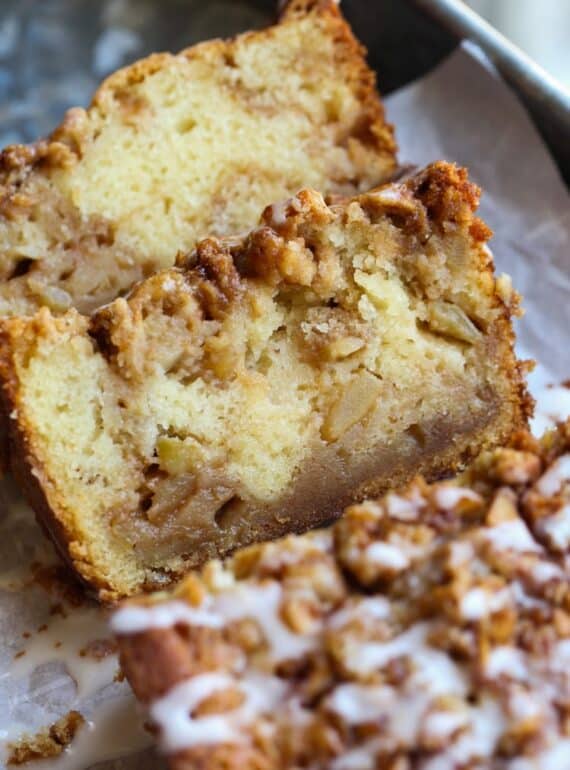 Looking For More Apple Recipes? Try These: