Every Thanksgiving table needs BACON GOAT CHEESE MASHED POTATOES! These are our favorite mashed potatoes and are always a crowd pleaser. So creamy, flavorful, and delicious. THE BEST cheesy mashed potato recipe!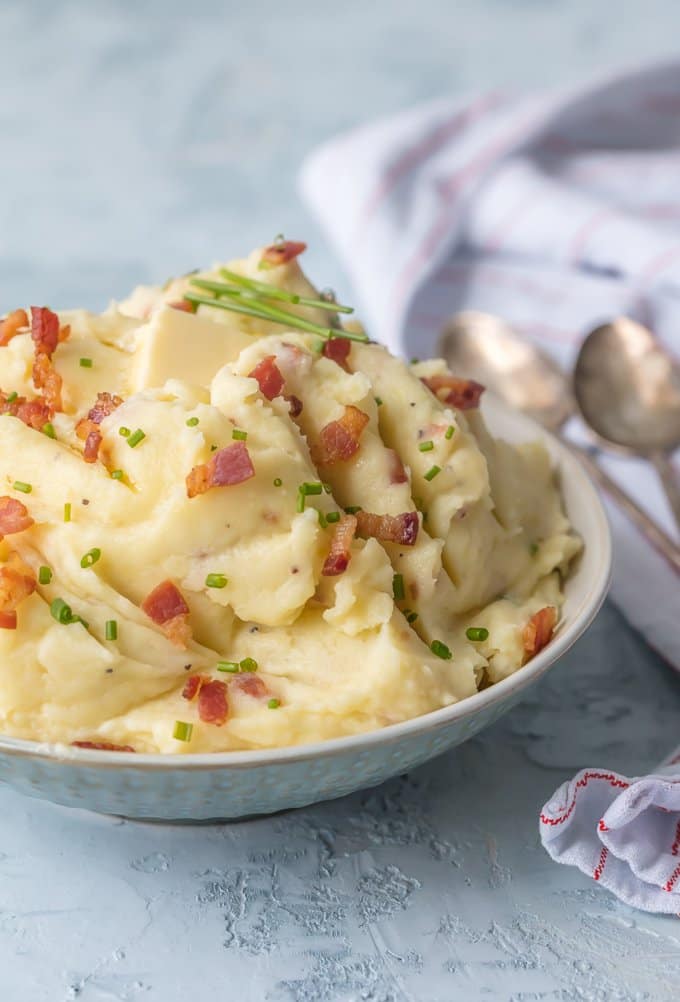 It's officially FALL and officially OCTOBER and that means THANKSGIVING is just around the corner. ARE YOU SERIOUS?! I know I had a baby this year so its normal for time to fly but wow is this year going fast. I feel like time is on a race track and I need it to slow down. In the blog world, the holidays are the best time of year and the ultimate for a foodie. All the best recipes are created between October and January. We have made different types of great Thanksgiving side dishes before, from Best Herbed Roasted Potatoes to Three Cheese Asparagus Gratin to Beer Bread Muffins, but these BACON GOAT CHEESE MASHED POTATOES might just be my favorite yet. The flavor is out of this world and just begging to make an appearance on your Thanksgiving table. Your guests will thank you!!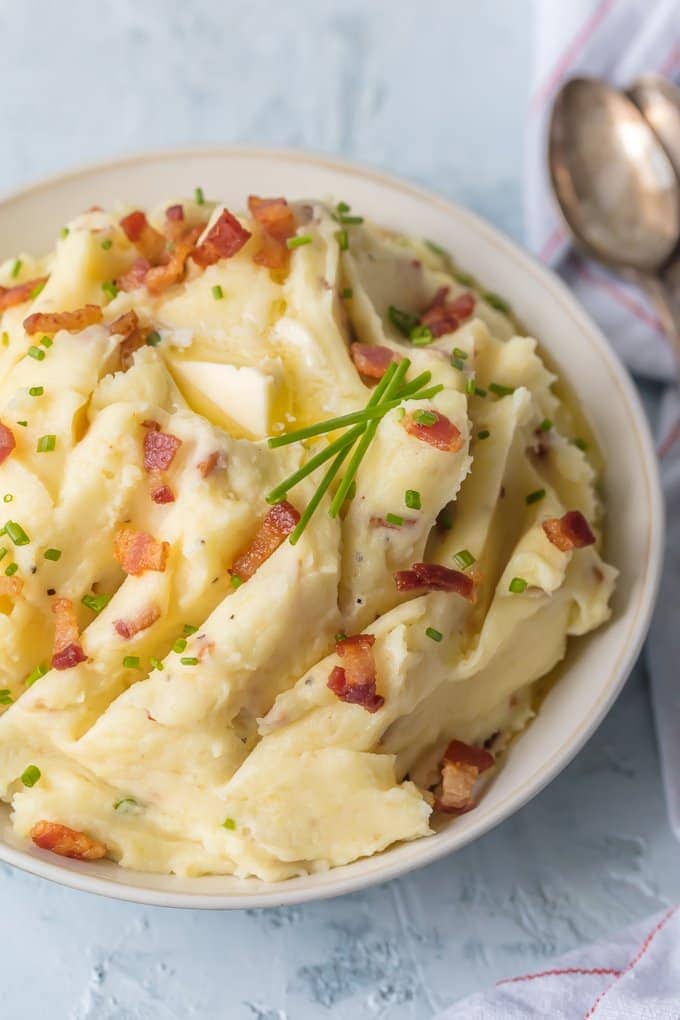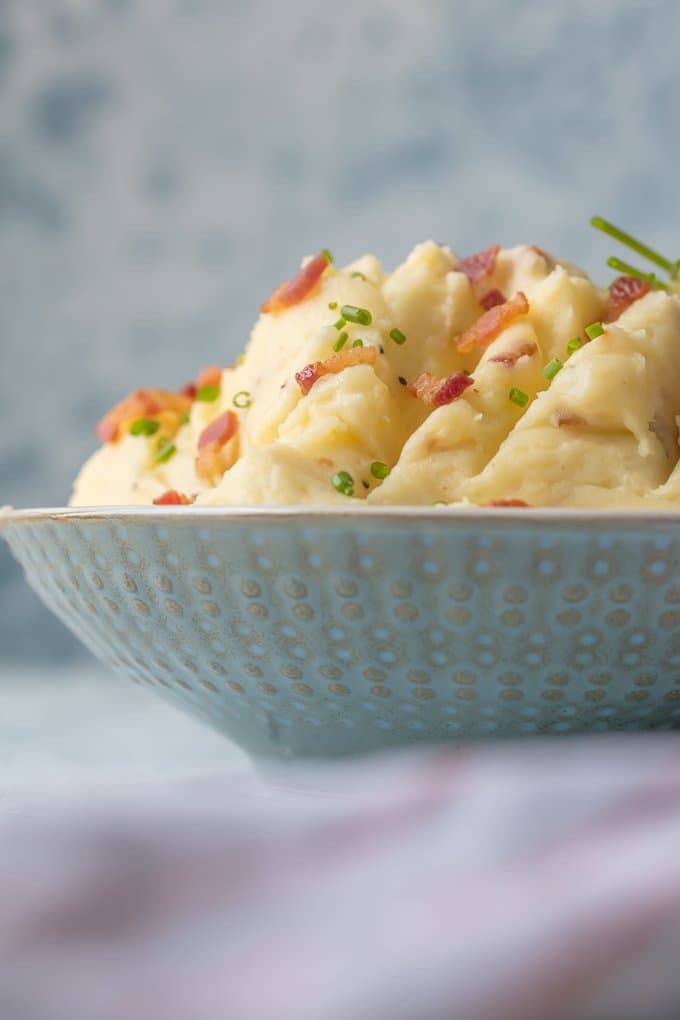 These special mashed potatoes aren't average at all. The Goat Cheese and the BACON…how could this go wrong? They're also just begging to be rolled into balls and deep fried. Would that be delicious?? That's next. But right now I'm eating them with a spoon and loving every minute of it. To say I'd addicted would be an understatement. Legitimately my favorite mashed potatoes of ALL TIME. Trust.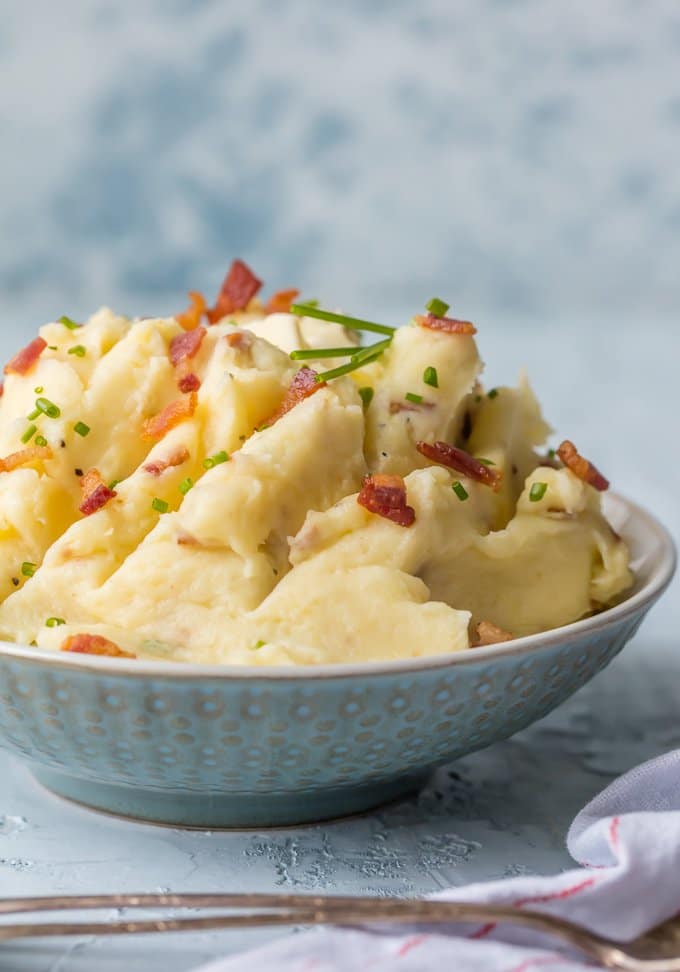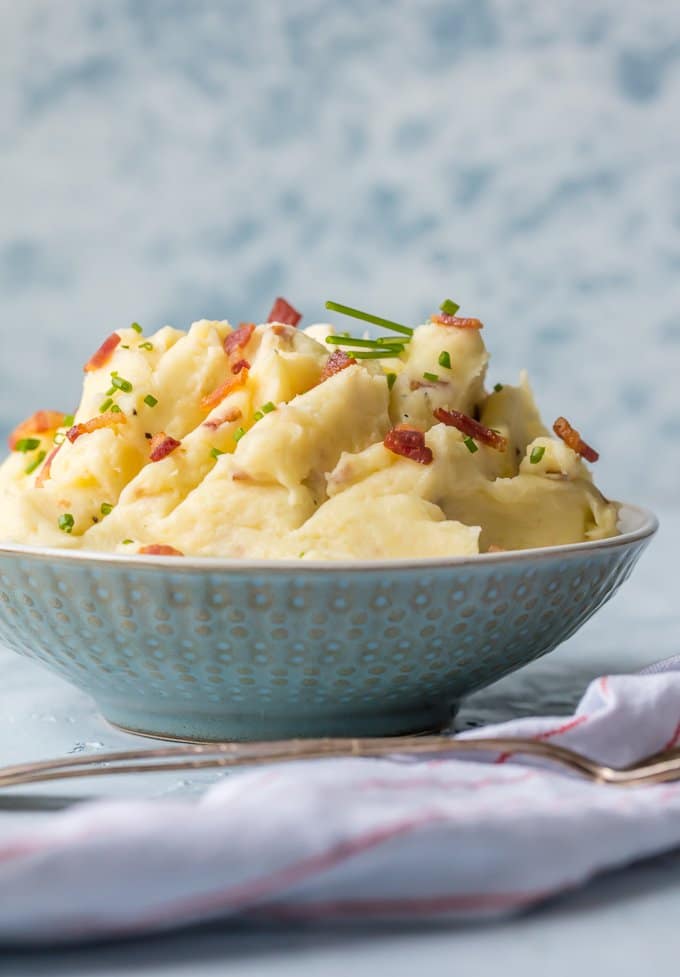 If you're already planning your holiday menu for either Thanksgiving or Christmas, add these Goat Cheese Bacon Mashed Potatoes to your list. If you test them, you're sure to make them again and again. They don't need a gravy or a ton of butter because they're bursting with flavor on their own. Add a few chives or scallions and that's all you need. SO CREAMY. Goat cheese…muah I LOVE YOU.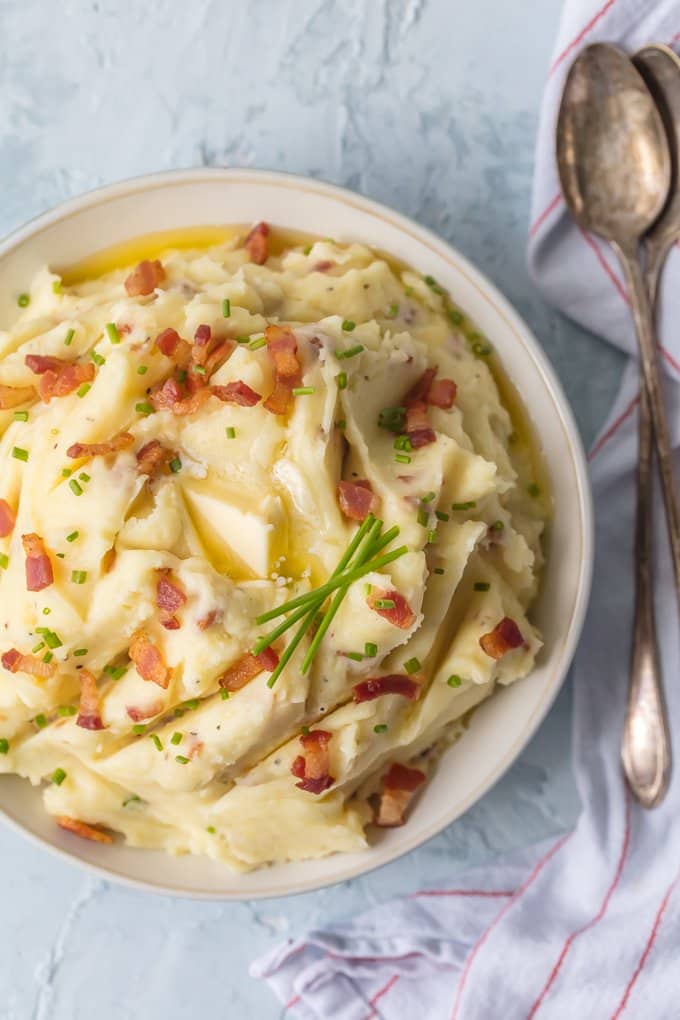 Enjoy Fall lovers!
Ingredients
2½ pounds Yukon Gold or Russet potatoes, peeled and chopped
¼ cup butter, melted, unsalted
¼ cup heavy cream
2 ounces goat cheese, crumbled
3-4 slices thin bacon or pancetta, sliced thin, cooked crisped & crumbled
½ teaspoon kosher salt, or more, to taste
½ teaspoon black pepper
1 teaspoon fresh chopped chives, divided in-half
Instructions
*See Note.
Place water in the bottom of a double boiler. Be sure the water doesn't touch the bottom of the upper pan and bring the water to boil.
Rinse the peeled potatoes under cold water and place them in the top of the double boiler, cover and steam the potatoes until tender, about 15-20 minutes.
Transfer cooked potatoes to a large bowl. (If desired, put the potatoes through a potato ricer.) If not ricing the potatoes, mash them with a potato masher. Add the butter and stir gently to combine. Add the cream, goat cheese, bacon (reserve 1 tablespoon bacon for garnish), salt, pepper and ½ teaspoon chopped chives. Mash gently until combined.
Garnish with the other ½ teaspoon chives and the reserved bacon crumbles.
Enjoy!
*Note: The potatoes work just as well if they are boiled in salted water.
Just be sure to drain them well.
7.6.4
2443
https://www.thecookierookie.com/bacon-goat-cheese-mashed-potatoes/

JOIN OUR MAILING LIST
TO GET COOKING!
Subscibe to recieve all the latest, greatest, and EASIEST recipes sent straight to your email inbox. If we post something yummy, you'll be the first to know.