Banana Cream Pie is a creamy, delicious dessert filled with custard and fresh bananas. It's the perfect holiday recipe for Christmas, Easter, or Thanksgiving. This easy banana cream pie recipe is so rich and so tasty, everyone will love it! Learn how to make banana cream pie for your next holiday dessert!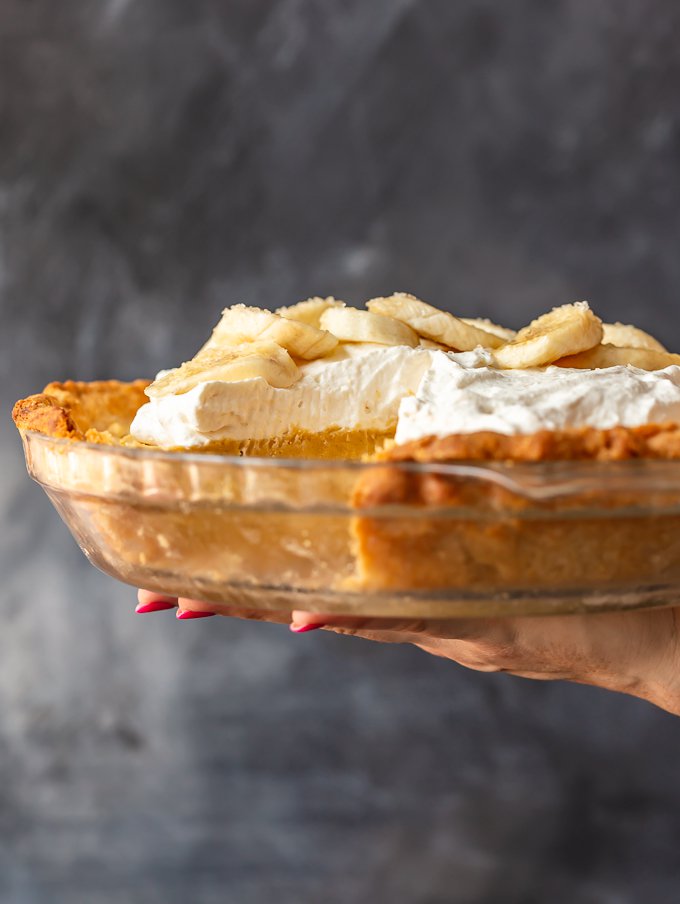 Banana Cream Pie
Banana Cream Pie is a rich, custard-filled pie that completes any holiday table. This easy banana cream pie recipe is layered with homemade custard and fresh bananas. Yum!
This is such a beautiful dessert, and it tastes just as good as it looks! There's something about fresh homemade pies that feels so comforting and homey. I guess that's why they're perfect for the holidays, when family gathers around to enjoy a beautiful meal together.
Here's what we'll be talking about in this post:
Easy Banana Cream Pie Recipe
Blind Baking a Pie Crust
How to Make Banana Cream Pie
This easy banana cream pie recipe is so much simpler than it seems. I started with a pre-made pie crust, made my own custard filling, and then layered it all up for a delicious holiday pie recipe. Serve it up at Christmas, Easter, Thanksgiving, or any time of the year really. It's always delicious!
Learn how to make banana cream pie with this easy recipe. It's the perfect dessert recipe to serve on any holiday!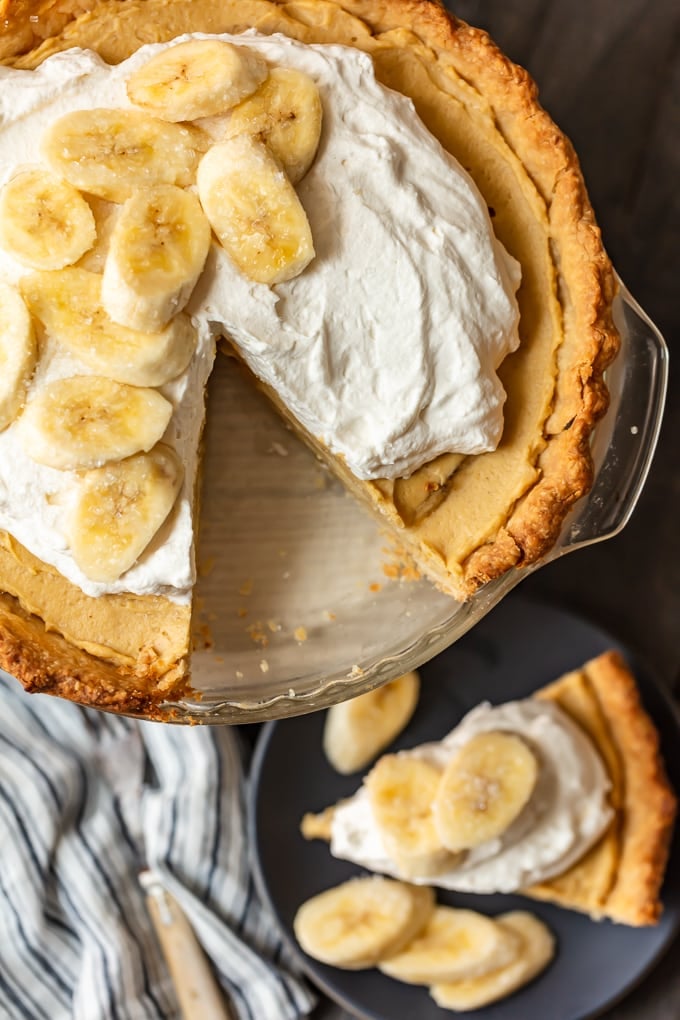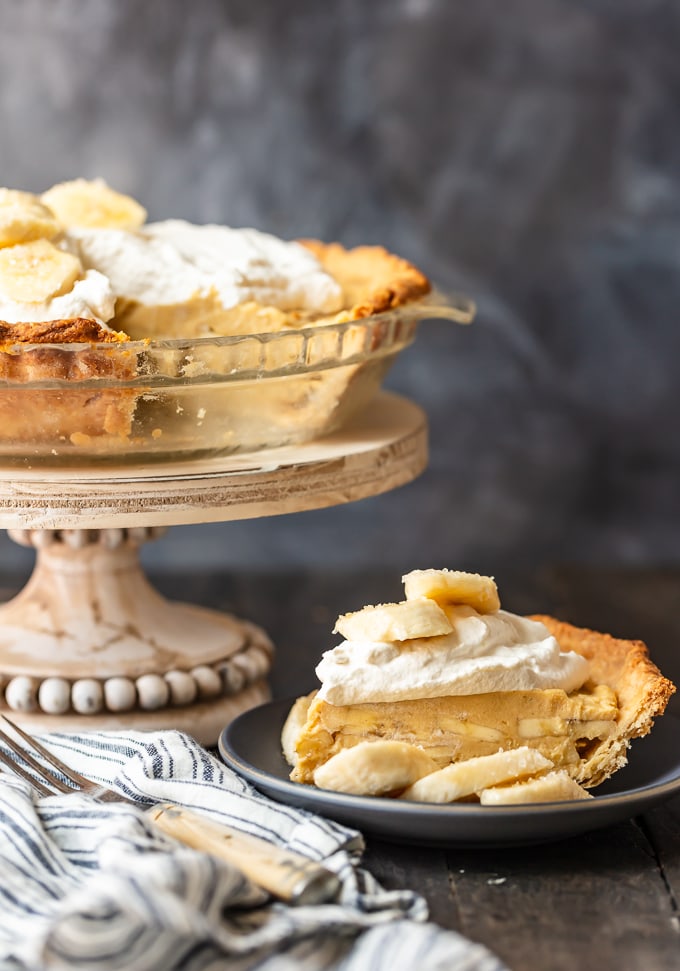 Easy Banana Cream Pie Recipe
I really love custard pies because they don't really require baking, other than the pie crust. And since this is an EASY banana cream pie recipe, I'm using a pre-made pie crust that just needs to be baked on its own before assembling the cream pie and finishing it off. What's better than an EASY dessert recipe for the holidays?
What is Blind Baking?
For this recipe (as in many custard pies and no-bake pie recipes), you will need to bake the pie crust on its own, without the filling. This is called "blind baking". You have to line the pie crust with parchment paper and fill it with "weights" to make sure it doesn't bubble up while cooking. That way you're left with a perfect pie crust to fill with your custard. You can read more about blind baking here.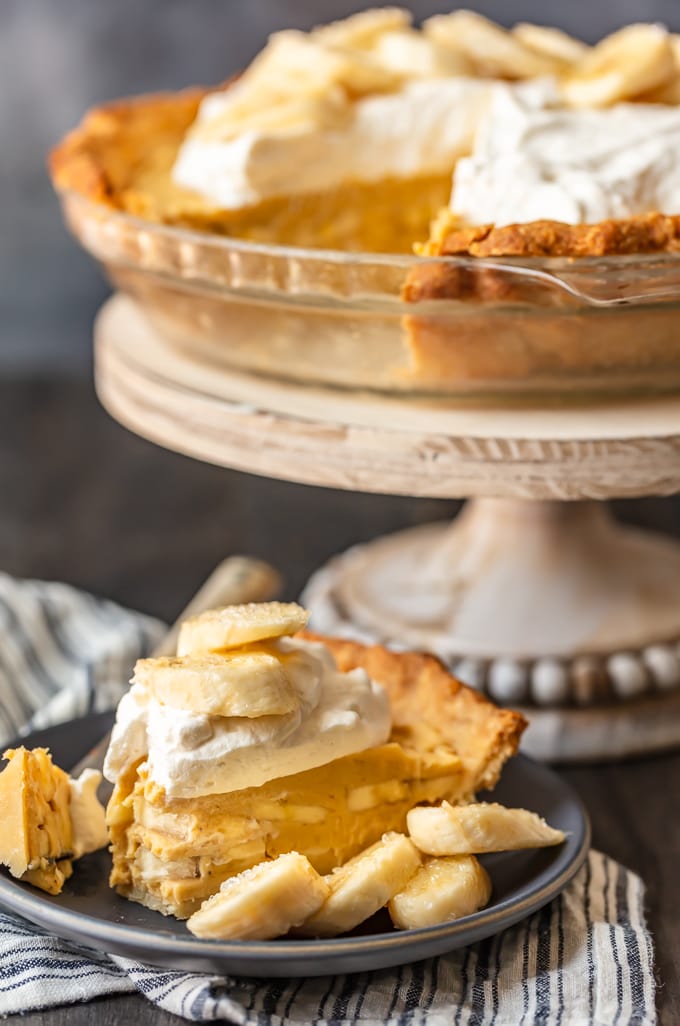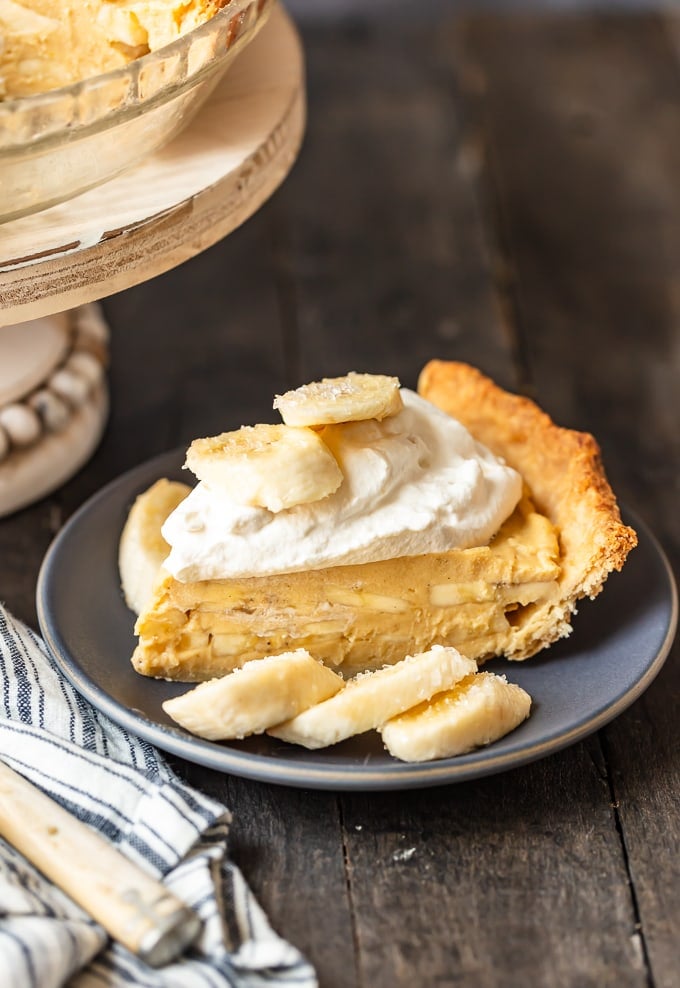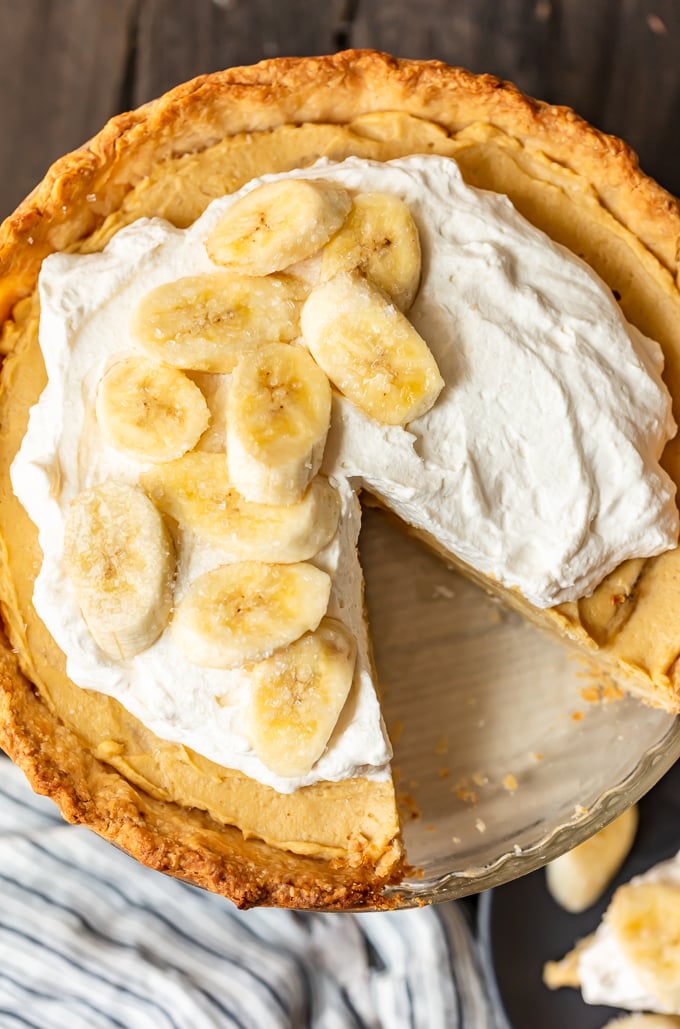 How to Make Banana Cream Pie
Making a pie can seem like a lot when you're starting out, but it's not as complicated as it seems! Once you break this easy pie recipe down into the four basic steps, it starts to seem much more simple: Pie Crust, Custard Filling, Assembling, Topping. Done!
How to Make Banana Cream Pie:
Pie Crust – We're using a pre-made pie crust for this recipe, because there's really no need to make your own (unless you prefer to). Buy a pie crust, blind bake it as mentioned above, and let it cool before filling it.
Custard – While this is the most intricate part of the recipe, it's mostly just a lot of whisking and mixing the milk, egg, and butter until a smooth custard forms. Let this cool in the refrigerator before assembling the pie.
Assembling – Once your pie crust and custard have cooled, it's time to assemble the banana cream pie. Spread a thin layer of the custard on the bottom of the pie crust, layer on half of the sliced bananas, another layer of custard, the rest of the sliced bananas, and finish off with a final layer of custard.
Topping – Whisk up a homemade whipped cream, slice up some fresh bananas, and top off the pie.
Making a banana cream pie is much easier when you look at it in neatly-defined steps like this. And since everything needs to be cooled before assembling the pie, you can take your time to prepare each step. See the recipe card below for full instructions.
Recommended Products to make Banana Cream Pie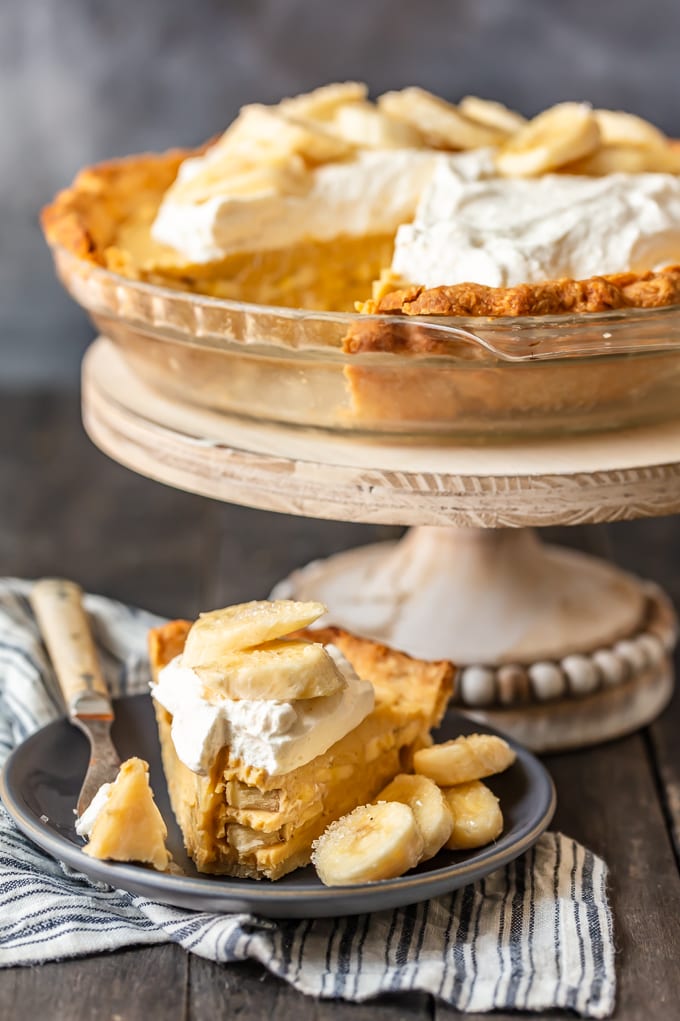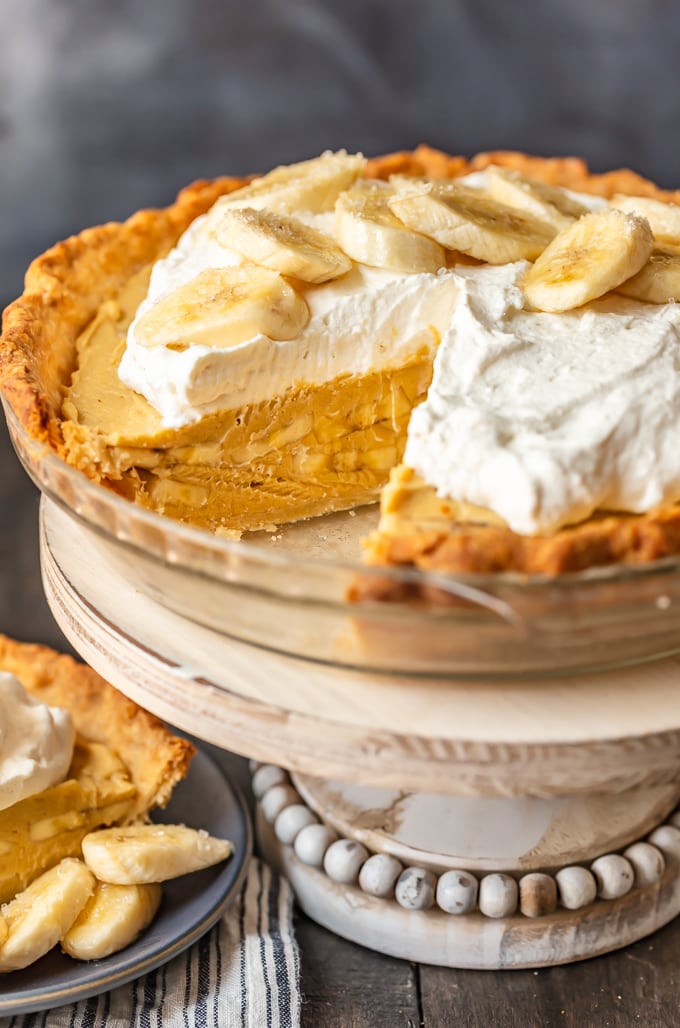 Does banana cream pie need to be refrigerated?
It does need to be refrigerated after baking. If you have leftovers or if you're not eating the pie right away, cover it with plastic wrap or aluminum foil and store it in the refrigerator.
Can I make banana cream pie ahead of time?
Yes! Instead of making the pie right before serving it, you can make it earlier in the day, the night before, or even a couple of days ahead of time if needed. This is a great option if you're preparing it for the holidays. With all the other cooking going on, desserts are the last thing you want to worry about the day of. Just keep the pie in the refrigerator until ready to serve, up to a couple of days.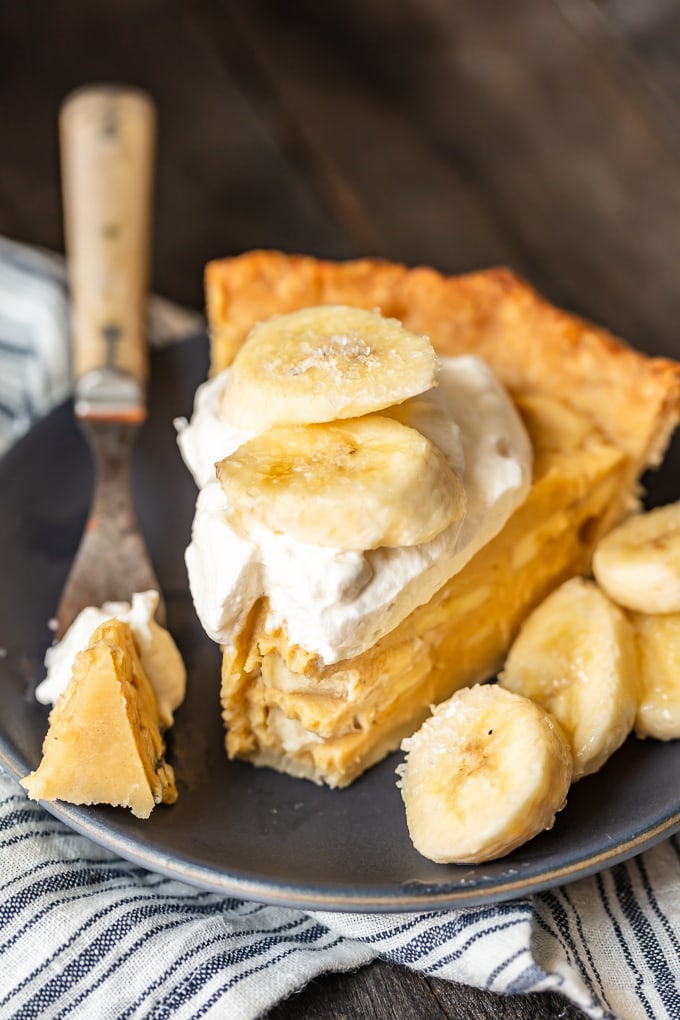 This easy banana cream pie recipe is so just rich, creamy, and delicious. It's the ideal holiday recipe and I hope you enjoy it as much as our family does!
See the recipe card below for details on how to make Banana Cream Pie. Enjoy!
If you like this recipe, try these other delicious pie recipes too: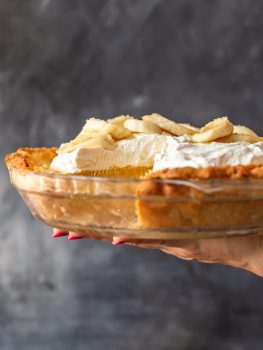 Banana Cream Pie
Original recipe: Dorie Greenspan, Baking From My Home to Yours This is not what one would call a classic banana cream pie (although it is just as delicious). It has a touch of spice (thus the darker than usual color) and a little sour cream added to the topping. Yum!!
For the Pie:
2

cups

whole milk

6

large egg yolks

½

cup

packed light brown sugar

1/3

cup

cornstarch

sifted

½

teaspoon

ground cinnamon

1/8

teaspoon

freshly grated nutmeg

Pinch

of salt

1

teaspoon

pure vanilla extract

3

tablespoons

unsalted butter

cold, cut into smaller pieces

3

bananas

ripe but firm

1

9 inch

single pie crust; your favorite
For the Topping:
1

cup

heavy cream

cold

2

tablespoons

powdered sugar

1

teaspoon

pure vanilla extract

2

tablespoons

sour cream.
For the Custard:
Bring the milk to a boil, stirring often. Once it comes to a boil, remove from the heat and set aside.

While the milk heats, in a large saucepan, whisk together the yolks, brown sugar, cornstarch, cinnamon, nutmeg and salt. Whisk until the mixture is thick and completely blended.

While whisking quickly and nonstop, drizzle in ¼ cup of the hot milk to temper the yolks so they won't curdle. While still quickly whisking, slowly add the remaining milk.

Place the pan over medium heat. Whisk constantly while bringing the mixture to a boil. Boil and continue whisking, being sure to get the edges of the pan, for 1-2 minutes before removing from the heat.

Continue whisking and add the vanilla. Leave alone for 5 minutes, then whisk in the butter pieces. Stir until all butter is incorporated and the custard is smooth and silky. Cover the custard with plastic wrap that has been sprayed with nonstick spray (place the sprayed side on top of the custard) and refrigerate until cold. Once the custard and piecrust are completely cooled, it is time to assemble the pie.

See *Note for quicker cooling method.

To assemble the pie, peel the bananas and cut them ¼-inch thick, diagonal slices. Whisk the cold custard to loosen it and spread 1/4th of it over the bottom of the pie crust. The layer will be thin. Top the custard with ½ of the banana slices. Spread half of the remaining custard over the banana layer and top with the remaining banana slices. Spread the remaining half of the custard evenly over the bananas.
For the Topping:
Use a stand mixer fitted with the whisk attachment. Whisk the cream, confectioner's sugar (powdered sugar) and vanilla to the stiff peak stage. Add the sour cream and whisk just until it is incorporated (just a couple of seconds).

Top the pie with the whipped cream and slices of just-cut bananas. Refrigerate until ready to serve or serve immediately. Keep uneaten pie refrigerated up to 2 days. (Remember fresh is best!)

Enjoy!
*Note: To cool the custard more quickly, put the custard in a bowl and put that bowl of custard in an even larger bowl of ice water. Stir the custard occasionally until it is completely cool, about 20 minutes.
Nutrition Facts
Banana Cream Pie
Amount Per Serving
Calories 446 Calories from Fat 243
% Daily Value*
Total Fat 27g 42%
Saturated Fat 14g 70%
Cholesterol 206mg 69%
Sodium 138mg 6%
Potassium 314mg 9%
Total Carbohydrates 45g 15%
Dietary Fiber 1g 4%
Sugars 24g
Protein 6g 12%
Vitamin A 18.2%
Vitamin C 4.9%
Calcium 12.8%
Iron 6.4%
* Percent Daily Values are based on a 2000 calorie diet.