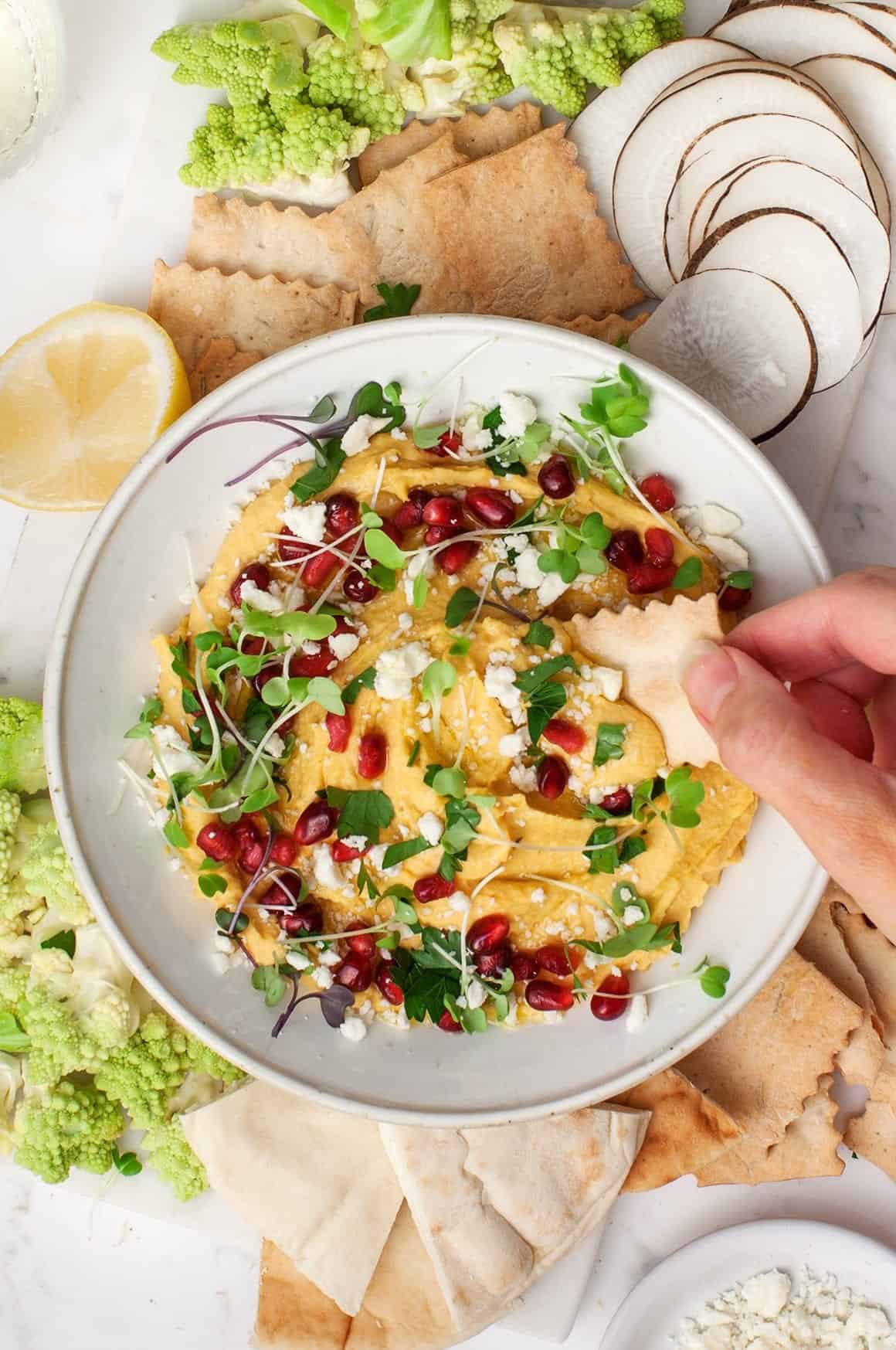 I hope you need a last-minute Thanksgiving appetizer because this butternut squash hummus dip is so insanely good! While I was making it, I couldn't stop eating it. Now that the leftovers are in the fridge, I can't walk by the kitchen without grabbing a cracker for a quick swipe.
It's easy to make, especially if you're roasting butternut squash for another recipe – just roast an extra cup of cubed squash and swirl this hummus together in no time. It's thick, creamy, tangy, and nicely spiced from the cumin, coriander, and a bit of cayenne.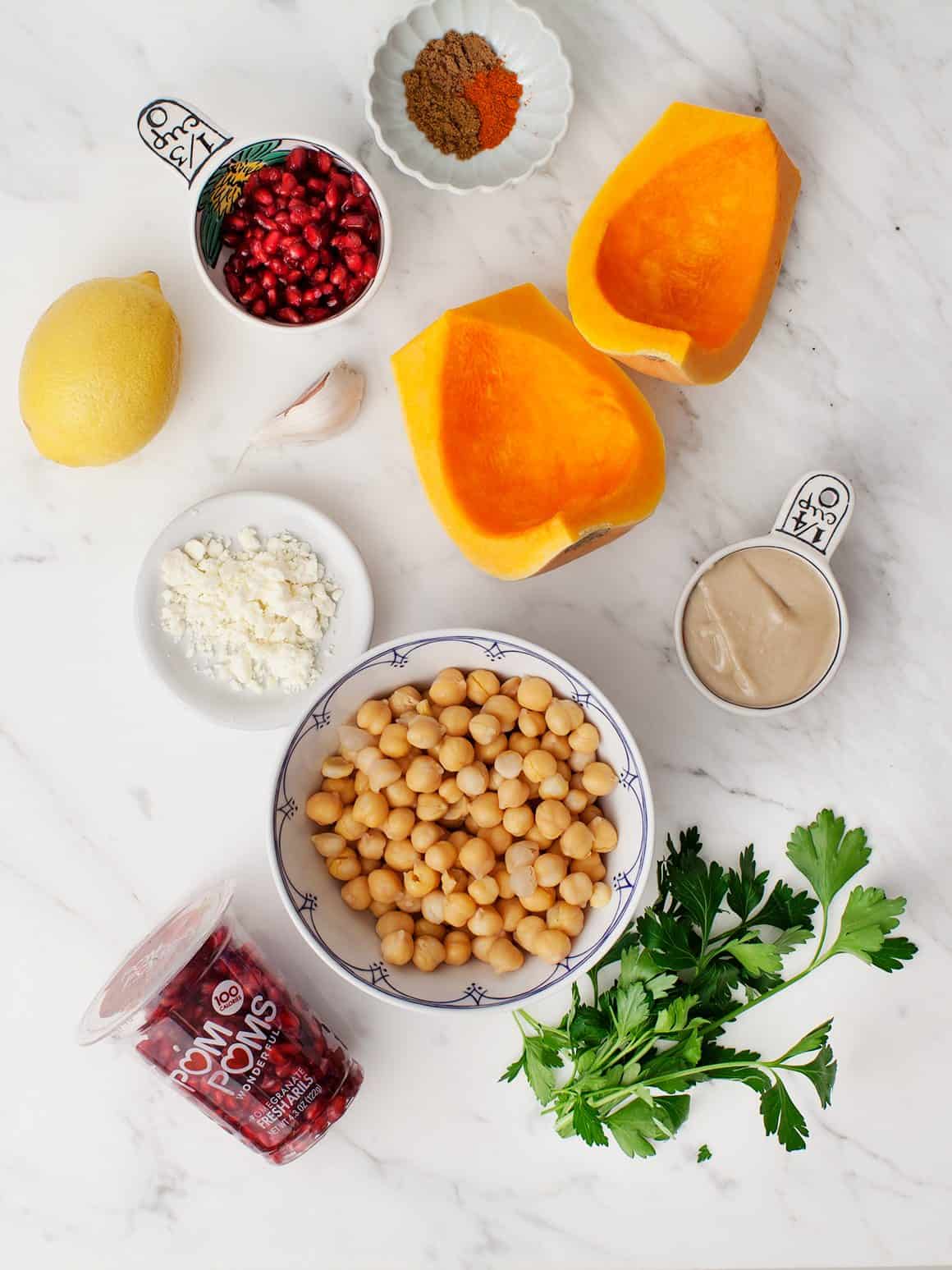 Now the important part – what REALLY puts this dip over the top is serving it all fancy with feta and pomegranates. The feta adds a nice salty bite and the burst of sweetness from the fresh POM POM pomegranate arils brings such a delicious pop of flavor, as well as a contrast to the feta. Plus that ruby red color is so pretty for the holidays!
Today we're partnering with POM Wonderful, because we really really love pomegranates and 'tis the season for them (October through December). The little arils not only delicious but they're packed with fiber and antioxidants. I love the convenience of the little ready-to-eat packs because they're great for snacking or sprinkling and, let's face it, I'm sometimes just too lazy to open up whole pomegranates ?



I served my dip with crackers, pita, sliced black radish, and chopped up romanesco – I think the little green romanesco trees look so festive for the December holidays that are just around the corner!

Butternut Squash Hummus w/ Feta & Pomegranates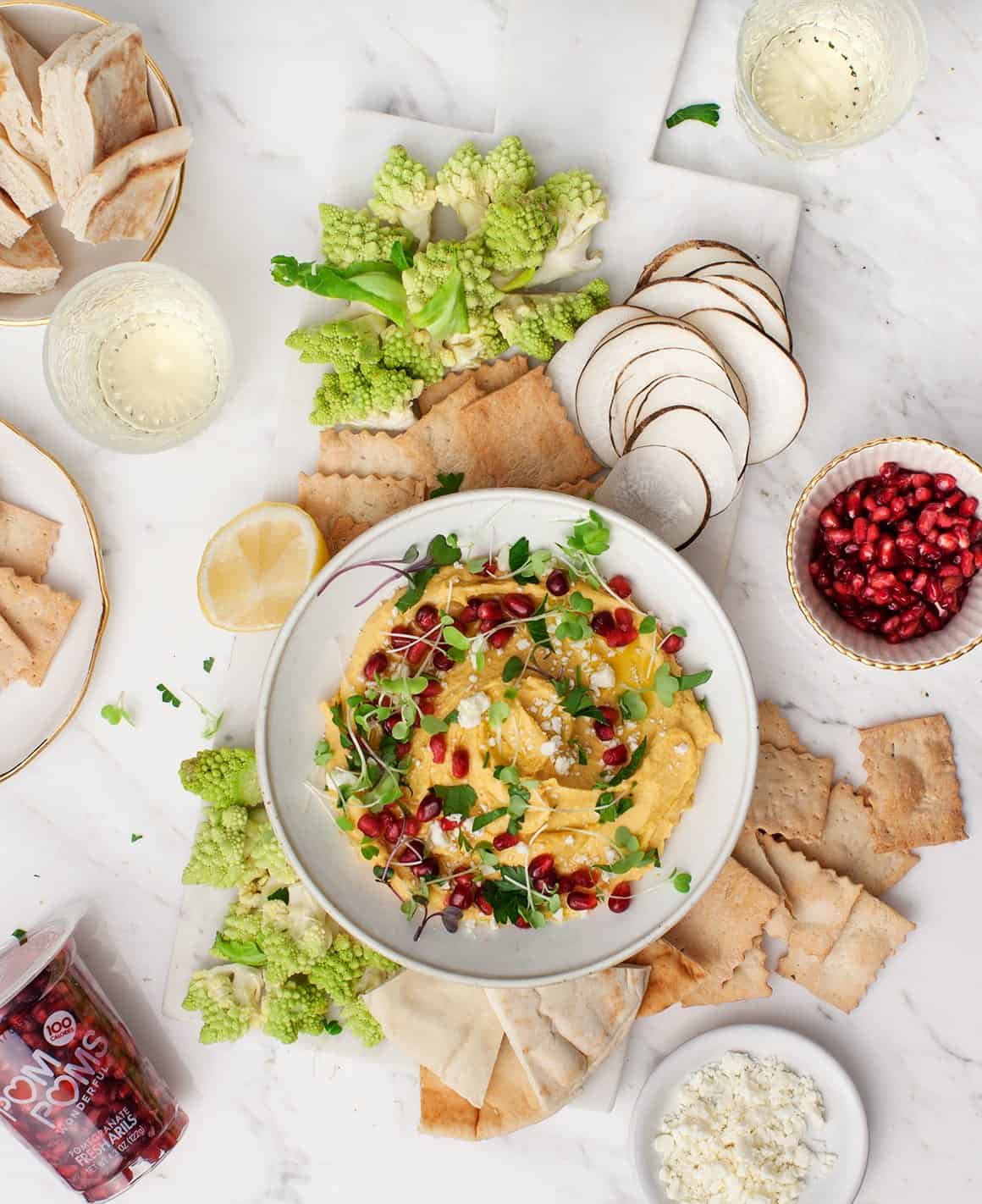 1 cup cubed butternut squash (1/2 inch cubes)
1 large or 2 medium garlic cloves, unpeeled
1½ cups chickpeas, cooked, drained, and rinsed
¼ cup tahini
3 tablespoons fresh lemon juice
½ teaspoon cumin
½ teaspoon coriander
½ teaspoon cayenne, less if sensitive to spice
½ teaspoon sea salt, more for sprinkling
¼ cup water
¼ cup extra-virgin olive oil
freshly ground black pepper
¼ cup crumbled feta cheese
2 tablespoons chopped parsley
2 tablespoons micro greens, optional
a drizzle of olive oil
pita, crackers and/or veggies
Preheat the oven to 400°F and line a baking sheet with parchment paper.
Place the squash cubes on the baking sheet, toss with olive oil, and a few pinches of salt and pepper. Wrap the garlic cloves in a small piece of foil, with a drizzle of olive oil and a pinch of salt. Place on the baking sheet with the squash.
Roast for 20 to 25 minutes, or until the squash is tender. Let cool slightly.
In a food processor, combine the chickpeas, roasted squash, roasted garlic (peel the skin off and use the soft roast garlic inside), tahini, lemon juice, cumin, coriander, cayenne and sea salt. Process until smooth.
With the food processor blade running, drizzle in the water and olive oil. Taste and adjust seasonings. (Note: this is a bit spicy before you add the olive oil – the olive oil tones down the spice and makes the hummus smooth, so don't skip it).
Scoop the hummus into a serving bowl and top with POM POMS pomegranate arils, feta, parsley, micro greens, if using, and a drizzle of olive oil. Serve with toasted pita, crackers, and/or chopped veggies.
3.4.3177
Special thanks to POM Wonderful for partnering on this post!