These CHEESY PIGS IN A BLANKET with RANCH PARMESAN BUTTER will be all the rage at your next party. They're easy, fun, and oh so delicious. Lil' Smokies wrapped in sharp cheddar, crescent roll dough, and brushed with parmesan ranch butter are sure to be a hit.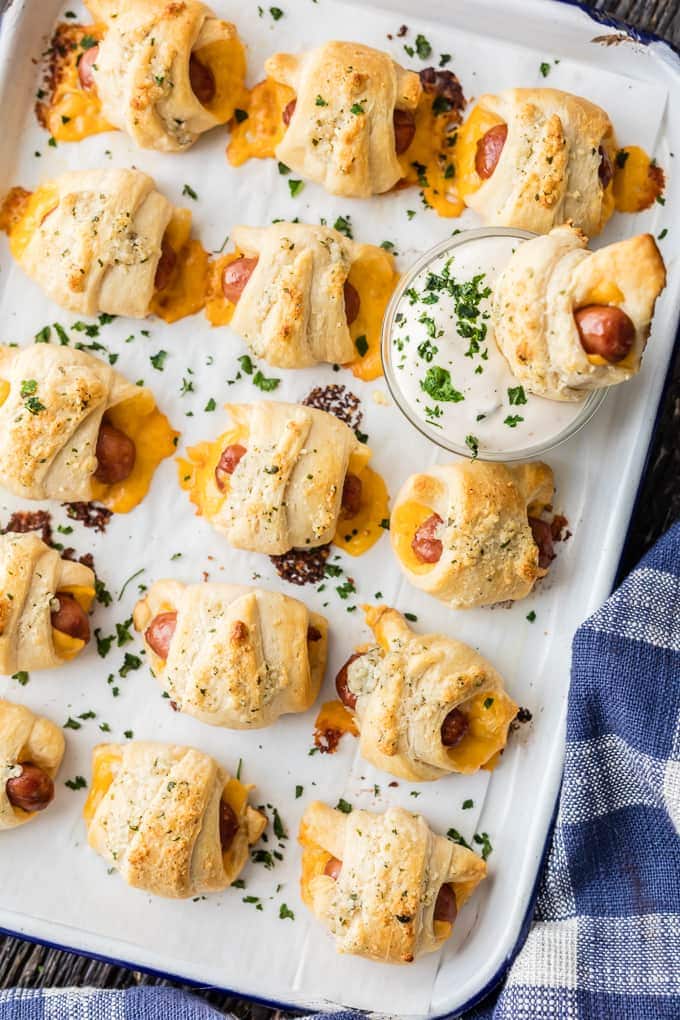 Can you believe graduation and graduation parties are upon us?! How is this possible?? How is it Summer?! I can't. This year has fllllown by. It's wild to me that before we know it, school will be starting again. But let's not jump to that yet. Today we celebrate those who are graduating. From high school, college, heck even my niece who just graduated from daycare and is headed to Kindergarten this Fall (another WOW moment). Everyone has a reason to celebrate, and these CHEESY PIGS IN A BLANKET with PARMESAN RANCH BUTTER are the perfect snack to bring to the parties. You won't even need to bring a gift if you bake some of these!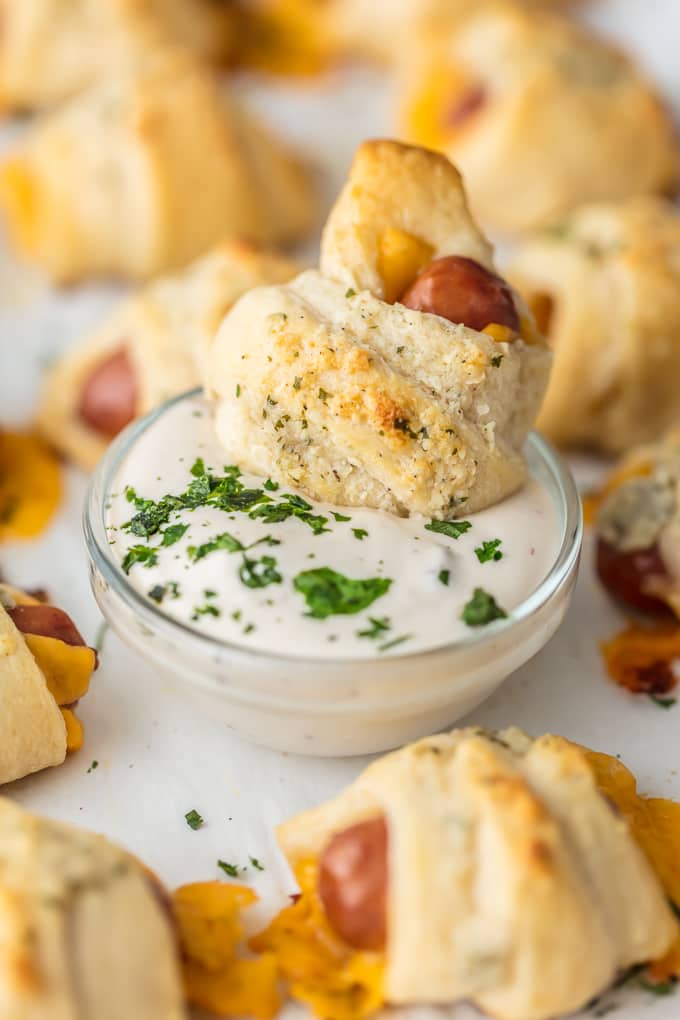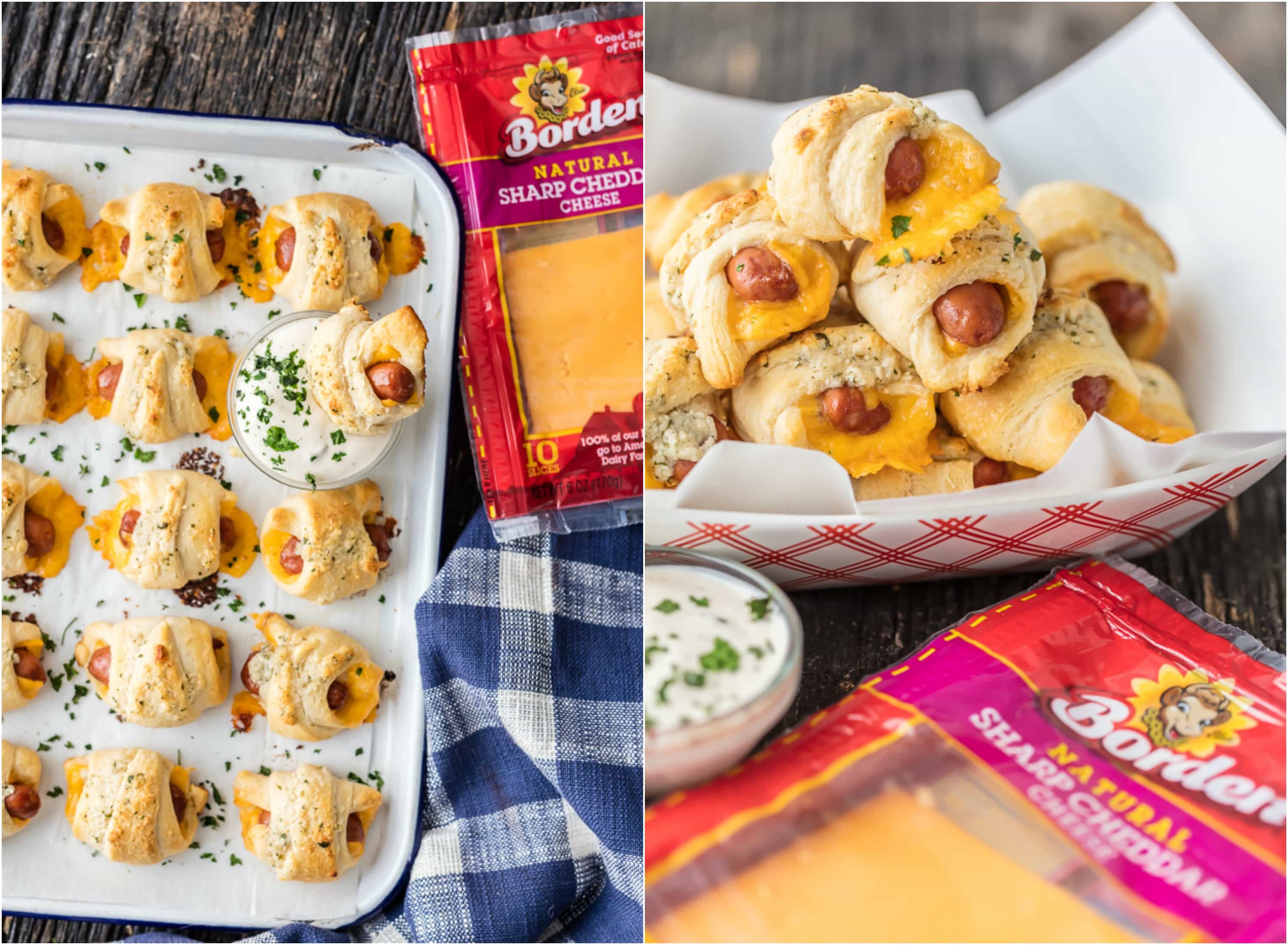 This Summer I'm having so much fun creating some cheesy recipes with my favorite creamy brand, Borden® Cheese! You might remember my Crab Artichoke Bread Bowls or Cheesy Baked Breakfast Sliders, two other favorites perfect for a crowd. I can't get enough of their Natural Sharp Cheddar Slices and they were just perfect in these Cheesy Pigs in a Blanket. Just the right amount of creamy zip to bring to the party. YUM!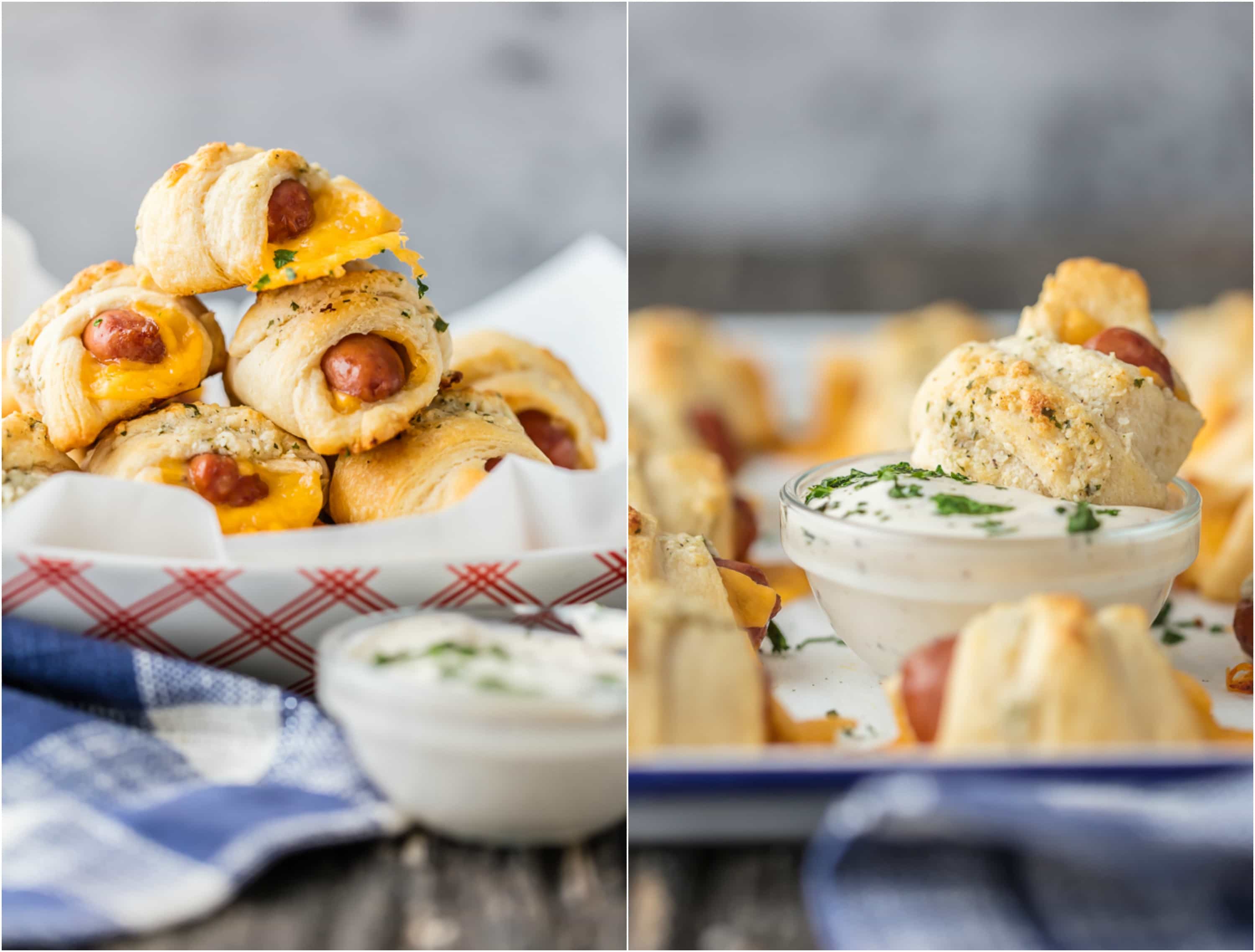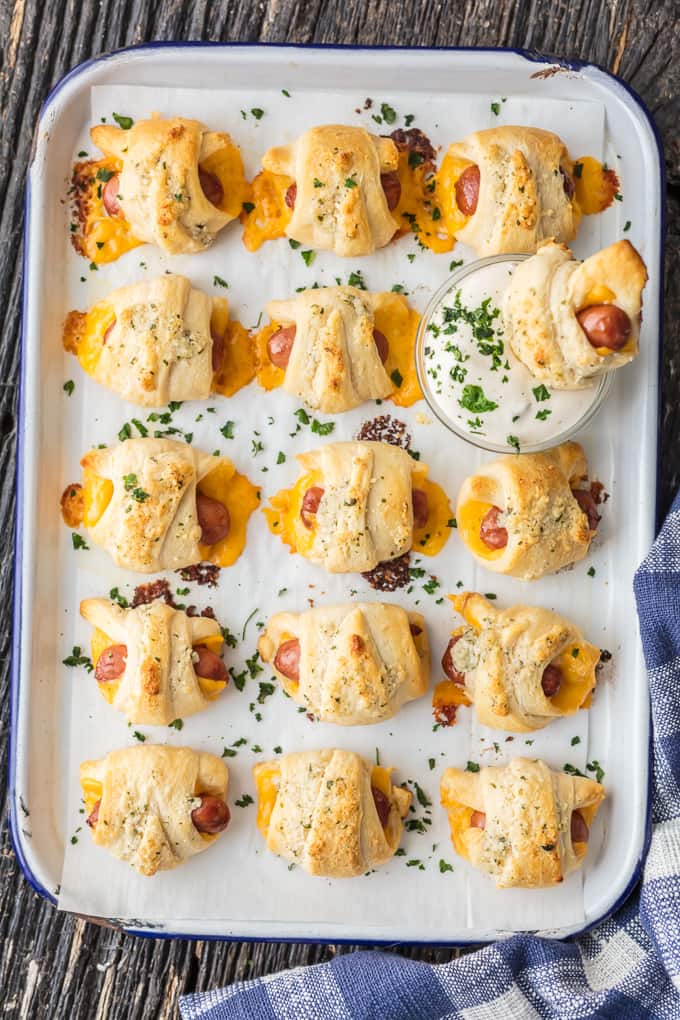 I used to be so nervous about big get togethers such as graduation parties when potluck food was involved. WHAT WOULD I BRING! This food journey has been so fun but most of all it has shown me there are so many simple and delicious recipes out there that anyone can make (and EVERYONE will love). These Cheesy Pigs in a Blanket are a perfect example. These are too easy not to try! (And that parmesan ranch butter…OMG)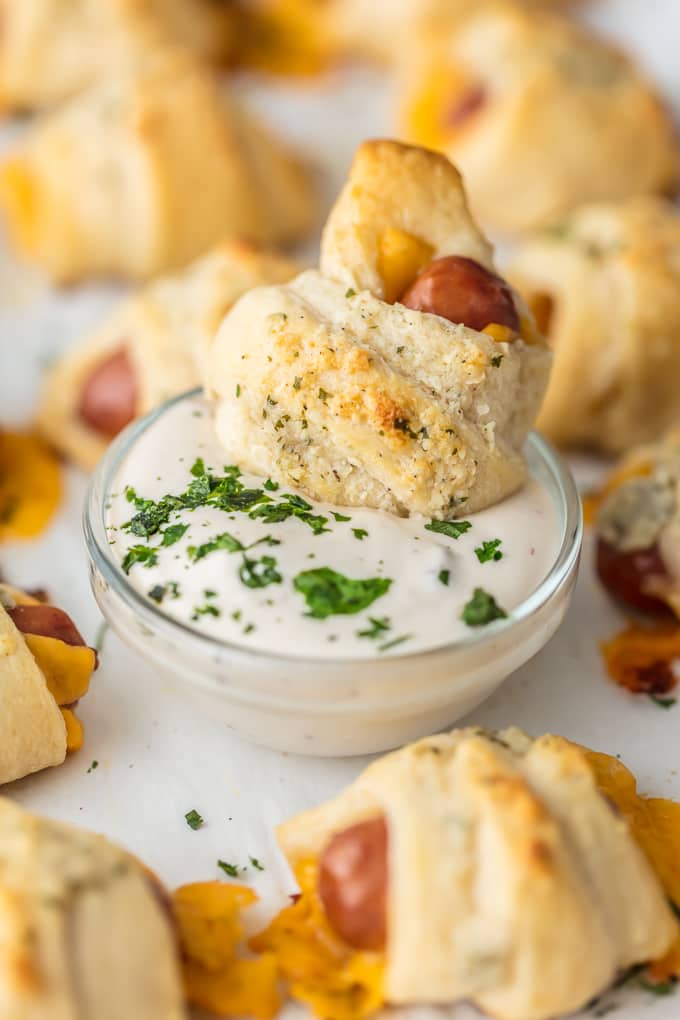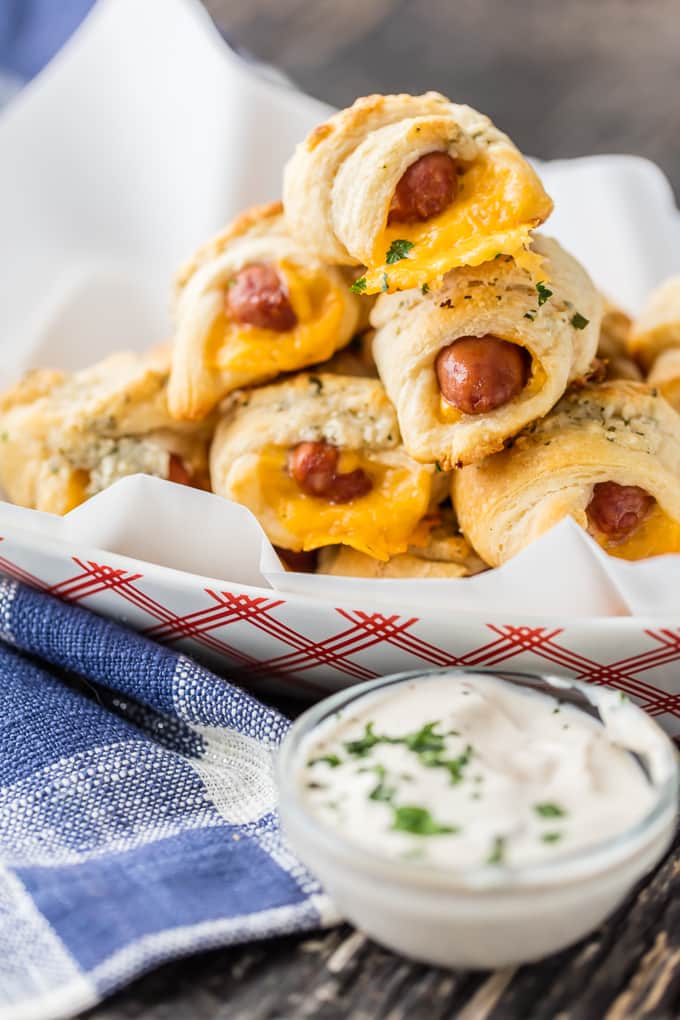 Be sure to check out Borden® Cheese at BordenCheese.com, and of course on Facebook and Instagram. Enjoy!!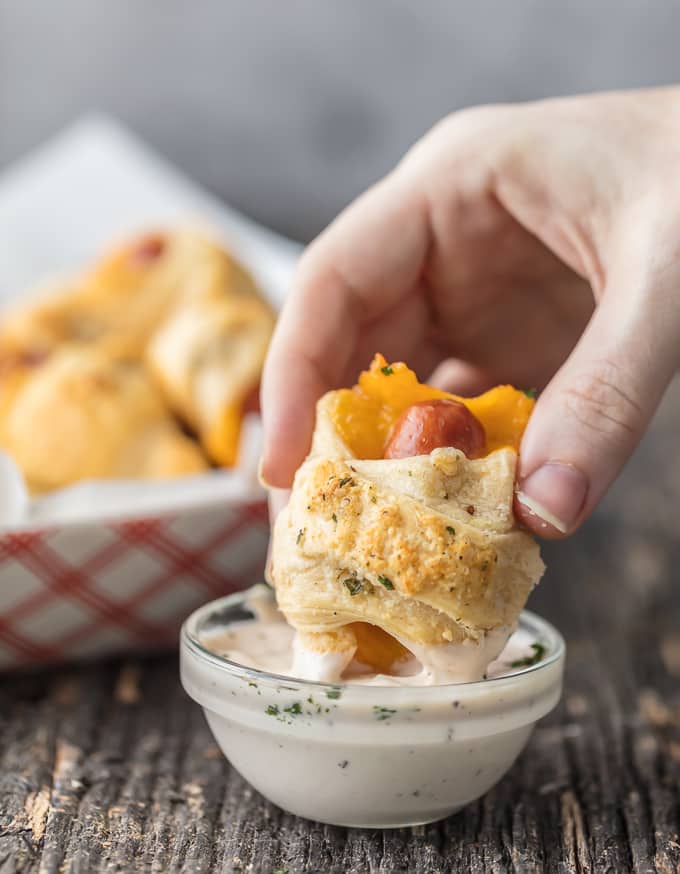 Ingredients
2 (12 ounce) can crescent rolls
30 lil smokey sausages
8 slices Borden® Cheese Natural Sharp Cheddar Slices, each cut into 4ths (4 small squares per slice)
4 tablespoons salted butter, melted
1/2 ounce (1/2 of one packet) ranch seasoning
1 tablespoon grated parmesan cheese
Instructions
Preheat oven to 425F
Line a large baking sheet with parchment paper
Roll out the crescent roll dough and separate by the triangles provided. Cut each triangle in half to create to smaller same shape triangles.
Starting at the bigger end of each triangle, lay a small square of cheese, topped with a sausage, then roll up on itself. Lay on the baking sheet. Continue until all 30 pigs in a blanket are on your baking sheet.
Combine the melted butter, ranch seasoning, and parmesan in a small bowl.
Brush the rolled up pigs in a blanket with the butter.
Bake for 12-15 minutes or until the dough is browned and cooked through.
Enjoy!
7.6.2
2409
This post was written in partnership with Borden® Cheese. As always, all opinions are 100% my own. Thank you so much for supporting the brands that help support The Cookie Rookie!

JOIN OUR MAILING LIST
TO GET COOKING!
Subscibe to recieve all the latest, greatest, and EASIEST recipes sent straight to your email inbox. If we post something yummy, you'll be the first to know.