It's almond, chocolate, and cherry heavy in these amazing shortbread-style cookies inspired by the famous Ben and Jerry's ice cream flavor, Cherry Garcia!
For more popular cookie recipes to make right now, try my Cookie Butter Chocolate Chip Cookies, my Copycat Swig Sugar Cookies, and my Almond Sugar Cookies.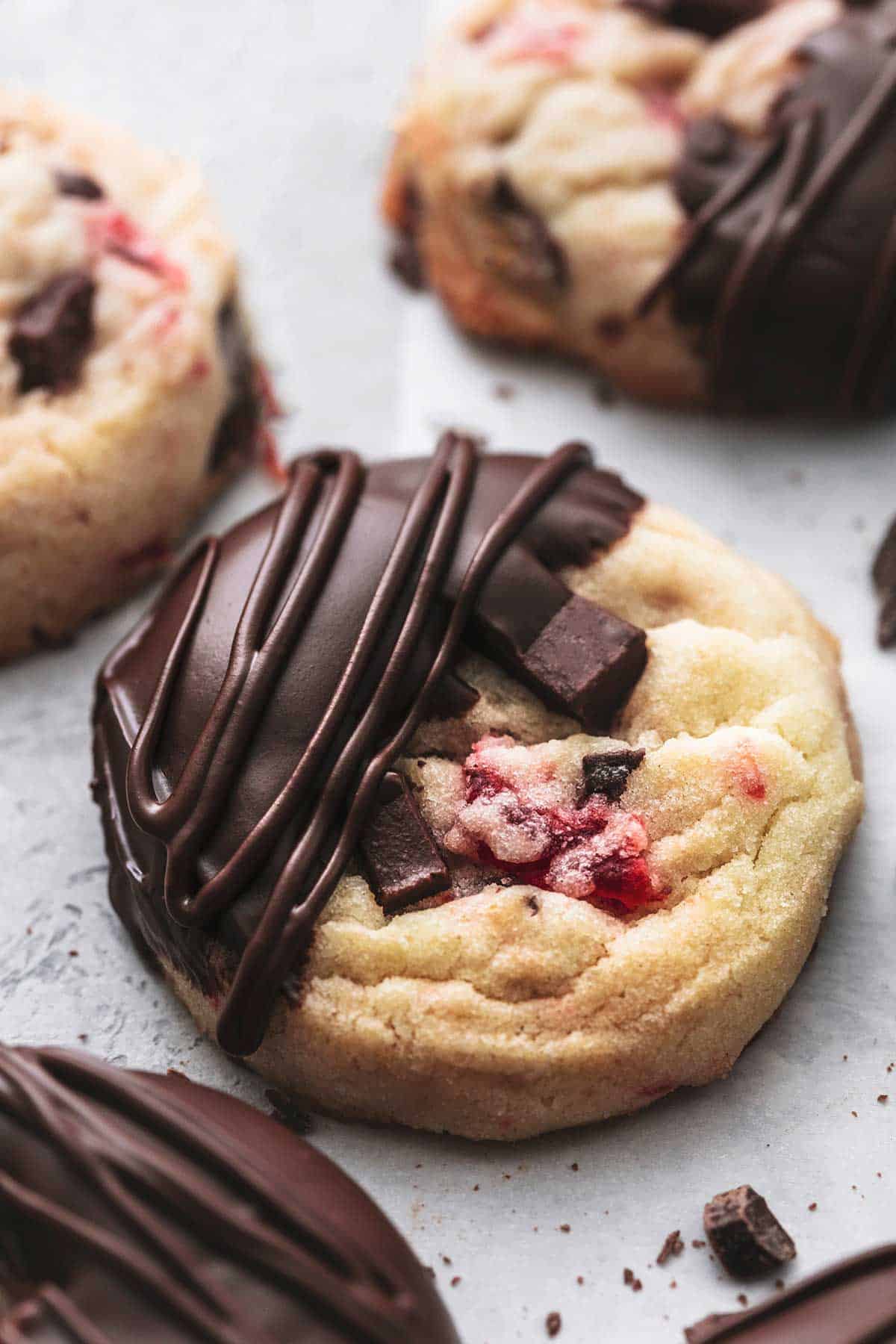 You all know how much I love hearing from you! Whether you leave comments on my recipe blogs, follow me on Facebook, or Instagram, I read everything you guys say and take it all into account when creating new recipes. 
Recently, I asked my followers on Instagram for some cookie ideas. The most requested flavor? Cherry Garcia! I don't know why but this surprised me. I guess I thought you'd all want more chocolate or peanut butter, maybe some kind of fancy oatmeal? 
But, the more I think about it, the idea is actually genius! What a great tasting cookie just in time for summer this would be! So, I took inspiration from the Ben & Jerry's ice cream flavor, Cherry Garcia, which is made from cherry ice cream with more cherries added, plus fudge flakes mixed in. 
For these shortbread cookies, I wanted to meld all the cherry flavors and chocolate flavors and pack them together by using both maraschino cherries, cherry extract, and chocolate chunks in the cookies (plus a hint of almond), and then went ahead and dipped them again in chocolate for a cookie that is out-of-this-world delicious!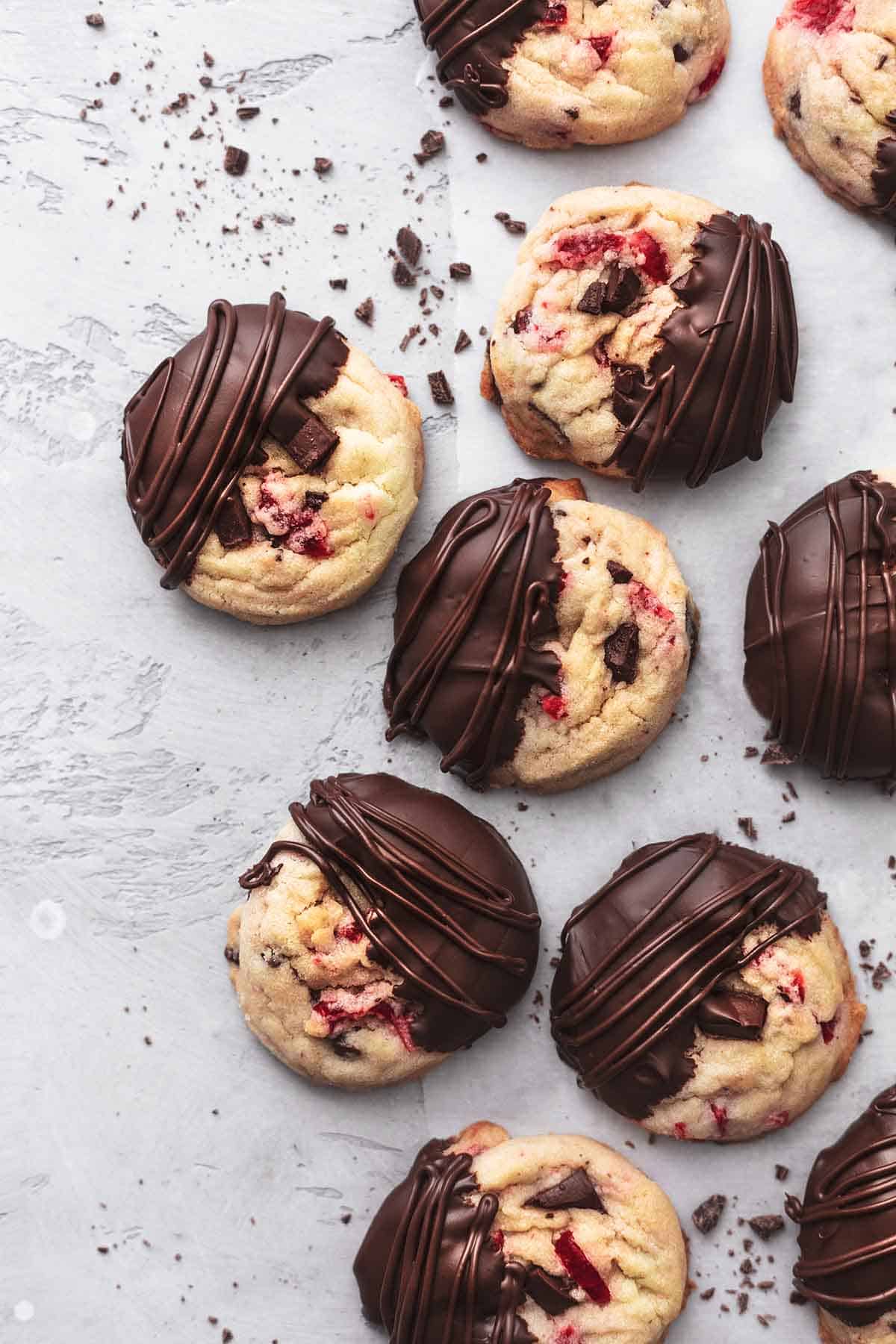 Here's How You Make these Cookies 
Are you ready to make these amazing cherry chocolate cookies? There are a few steps involved, but every step is worth it! 
First, preheat your oven to 375 degrees and lightly grease a baking sheet or line one with a nonstick mat if you have it. 
Then, cream together the butter, some of the oil, sugar, and the powdered sugar in a large bowl. Add to this the egg and almond and cherry extracts and mix again. 
Get out another large bowl and whisk together the dry ingredients: flour, baking soda, cream of tartar, and salt. Add the dry ingredients to the wet ingredients until all the ingredients just come together. Stir in one cup of chocolate chunks and the chopped cherries. 
Drop the dough one tablespoon at a time onto the prepared baking sheet. Be sure to leave about 2 inches between cookies to allow for some spreading as they bake. Let them bake for 8-10 minutes. They should look dry around the edges and turn a light golden color. 
Let the cookies cool on the pan for 2-3 minutes before taking them off to cool on a cooling rack all the way.
Now, get the dipping chocolate together by combining another cup of chocolate chunks and 1 teaspoon of oil in a medium microwave-safe bowl. Melt the chocolate in the microwave for 45 seconds. Take out of the microwave, and stir, then put it back in at 20 second increments (stirring in between) until the chunks are completely melted and smooth. 
Dip the cooled cookies into the melted chocolate and then place on wax or parchment paper to cool and dry. You can dip half the cookie or just the top — up to you!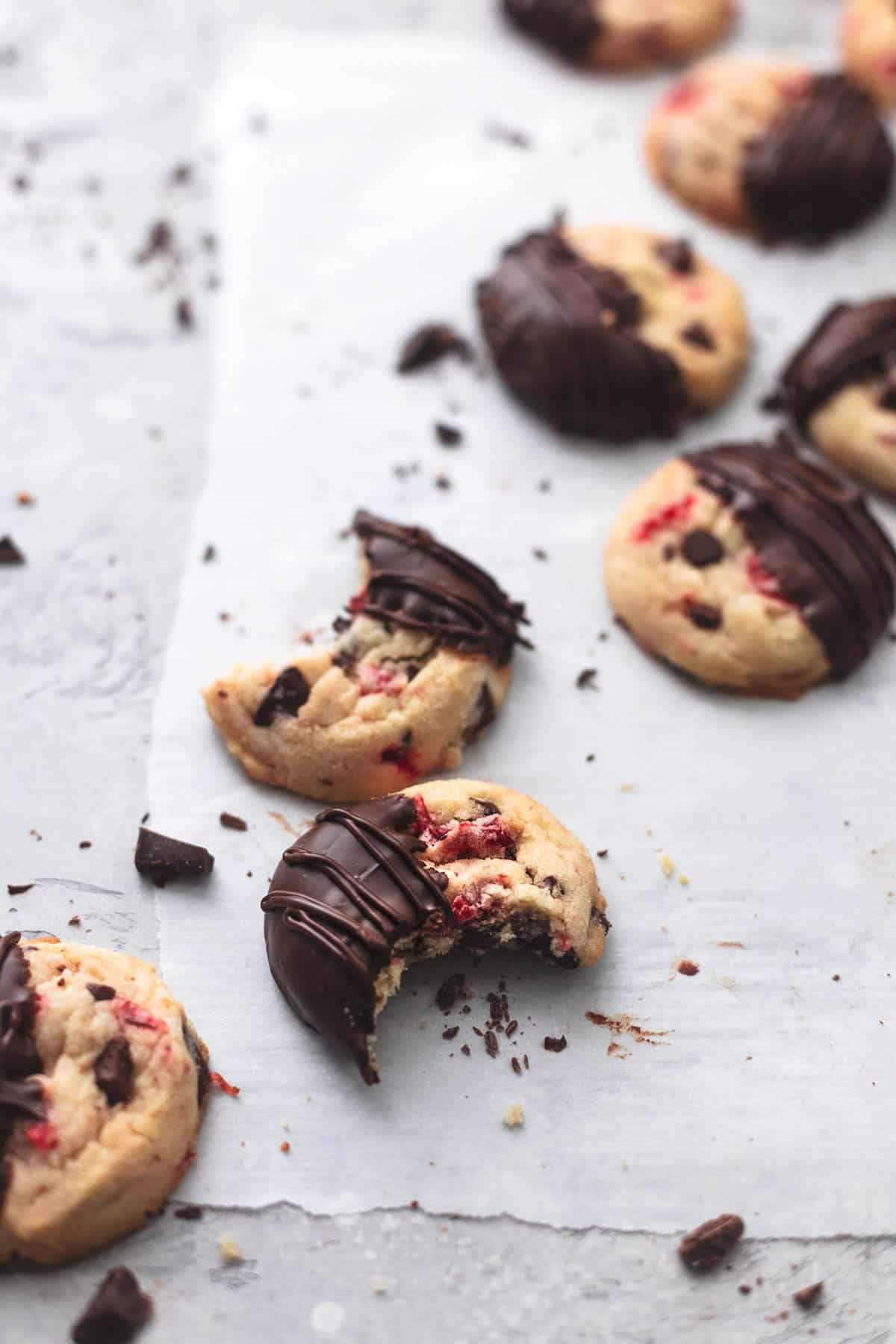 Expert Tips and Tricks

While these cherry chocolate cookies are pretty straightforward to make, there are a couple of tips that can make the job easier and the take these cookies to the next level! 

To avoid having the maraschino cherries wet your cookies down too much, I recommend putting the chopped cherries on paper towels and squeezing out excess moisture before putting them in the batter.  
If you need your cookies ASAP after dipping them in chocolate, try popping them in the fridge or freezer for 2-3 minutes after dipping (and laying them flat on a baking sheet on wax or parchment paper) to harden even quicker.  
Take your cookies to the next level by drizzling even more chocolate over the top of the chocolate after you dip (using milk or white chocolate), adding slivered almonds on top of the melted chocolate, or adding even more chopped cherries on top of the melted chocolate before drying.  
When adding oil to the chocolate for melting, it's best to use one that is flavorless like canola or vegetable. You can also use olive oil or coconut but keep in mind these have a mild flavor that may change the taste of the chocolate slightly. 
What Does Adding Oil to the Melted Chocolate Do?
Adding an oil to chocolate adds a little bit of fat to help it melt and stir more smoothly. It can also make the chocolate softer to bite into after it sets. For best results, use a neutral-tasting oil.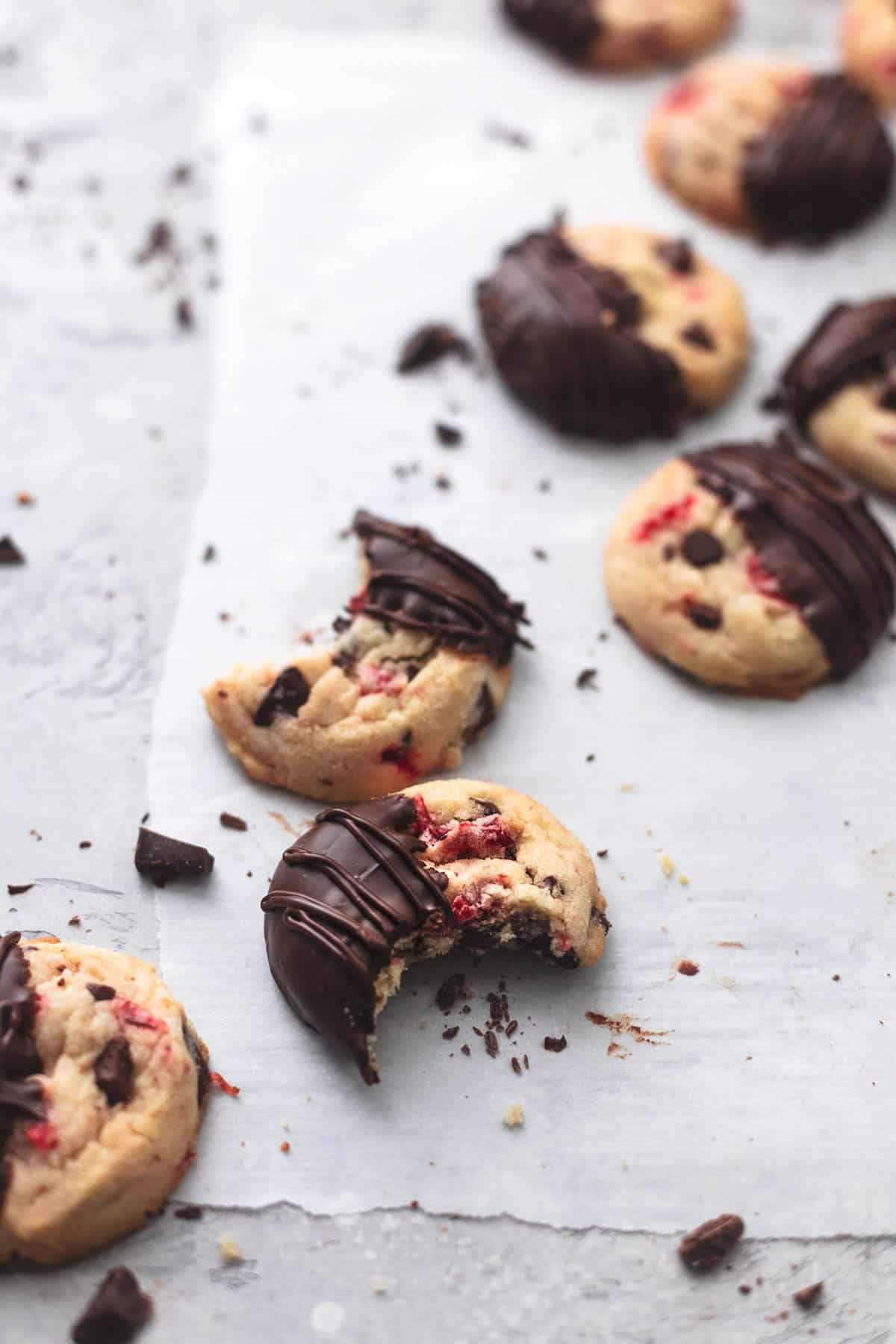 Most Popular Cookie Recipes
Did you make these Cherry Garcia Cookies? I'd be thrilled if you would give this recipe a rating!
Preheat oven to 375 degrees and lightly grease a large baking sheet or line with a nonstick baking mat.

In a large bowl, cream together butter, 1 cup of oil, sugar, and powdered sugar.

Add egg, almond and cherry extracts, and mix well.

In a second bowl whisk together flour, baking soda, cream of tartar, and salt.

Add dry ingredients to wet ingredients and mix until just combined.

Gently stir in 1 cup of chocolate chunks and the chopped maraschino cherries.

Drop tablespoons of dough onto prepared baking sheet 2 inches apart.

Bake for 8-10 minutes until cookies look dry around the edges and edges begin to turn a lightl golden color.

Cool on pan 2-3 minutes before transferring to a cooling rack to cool completely.

While cookies are cooling, prepare the dipping chocolate. Combine remaining 1 cup chocolate chunks and 1 teaspoon oil in a medium microwave-safe bowl. Microwave on high for 45 seconds. Stir, then return to microwave for 20 seconds at a time stirring after each until completely smooth.

Dip cookies into melted chocolate and plate on wax or parchment paper to cool. (See my pro tip in the notes to speed this up!)
For the cherries, use a sharp knife to finely chop the cherries, then combine all of the cherry bits on top of several layers of paper towels. Wrap the paper towels around the cherry bits and squeeze the cherries to remove as much of the liquid as possible (do this over a bowl or the sink!). 
If you have trouble finding cherry extract, you can substitute strawberry extract or add an additional 1/2 teaspoon almond extract. Without the cherry extract the cherry flavor will not be quite as prominent but the cookies are still crazy delicious!
After dipping your cookies in the melted chocolate it will take about 10-15 minutes for them to cool and harden if you are doing this at room temperature. To speed things up a bit, after dipping your cookies place them on a quarter-size sheet pan or flat serving platter lined with wax paper, parchment paper, or a baking mat. Pop it in the fridge or freezer for 2-3 minutes and they'll be ready to go! 
To take the presentation to the next level, use any leftover melted chocolate to drizzle over cooled cookies OR sprinkle with chocolate shavings or very finely chopped almonds.