Fudgy M&M's Brownies are a colorful, fun, chocolaty brownies recipe! This easy brownies recipe is loaded with M&M's and chocolate chips!

I feel like a chewy, fudgy brownie recipe is always one you are glad to see on my site. I love trying new variations of brownies, and have so many on my site that I make on the regular. I have boys, so brownies are always a treat I can make in a pinch that everyone will be happy about.
In my mind the perfect brownie will be thick, soft, chewy, and ultra fudgy. My Perfect Brownies Recipe is ABSOLUTE perfection! If you haven't tried it, you need to give them a go. PLUS they're even better then next day, so if you're entertaining they are a super dessert to make ahead!
M&M's Turn Brownies Into A Celebration!
So while a delicious brownie is great, adding a little flair in the form of colorful chocolate candies only makes them more festive. AND with so many flavors of M&M's out these days, you could get super creative with flavor combos!
Looking For More Brownies Recipes? Try These: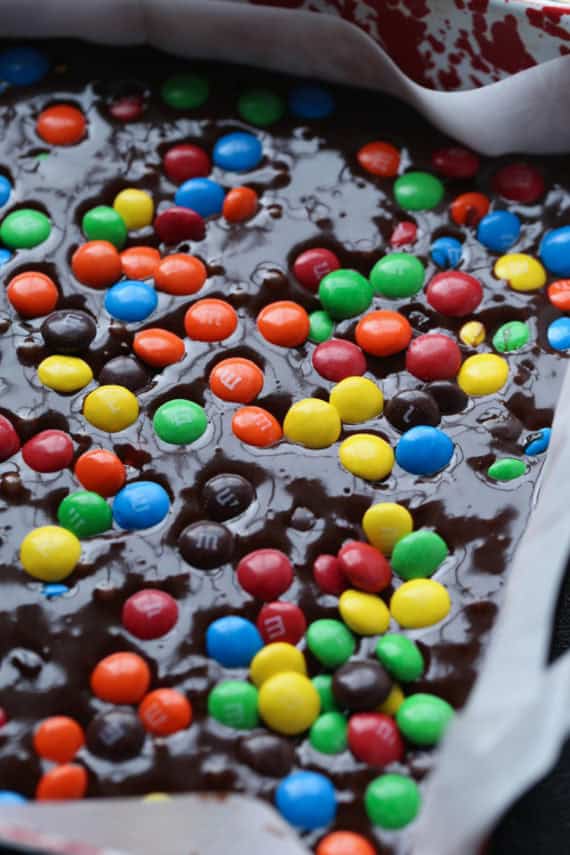 How To Make M&M's Brownies
Why I love brownies as a quick dessert is because they really go together quickly and you don't even have to break out your stand mixer, which is always a win in my book!
Why Do You Use Melted Chocolate In This Recipe Instead Of Cocoa Powder?
In this brownies recipe, I use melted chocolate instead of cocoa powder because if gives your brownies a deeper chocolate flavor, as well as adding to the thick, dense texture. A brownie made with cocoa powder, like My Kid's Favorite Brownies, are fantastic, but you don't get that same fudgy texture.
What Flavors of M&M's Would Be Good In Brownies?
This is a fantastic place to get creative with flavor combos! I used regular Milk Chocolate M&M's in this recipe, but M&M's have really upped their game in the last few years with amazingly fun varieties. Here are a few options that I would love:
Peanut M&M's – A huge classic!
Mini M&M's – They sell these down the baking aisle in bags and are PERFECT for baking! I usually opt for the minis in my cookies and brownies!
Peanut Butter M&M's – The best M&M candy. Fight me.
Pretzel M&M's – These could add a fun crunch!
Almond M&M's – If you're an almond lover these could be good! Plus you could add 1/4 teaspoon of almond extract into the batter to add a little extra almond flavor!
Seasonal M&M's like Mint, Coconut, Candy Corn, Hazelnut, Coffee – You can't go wrong!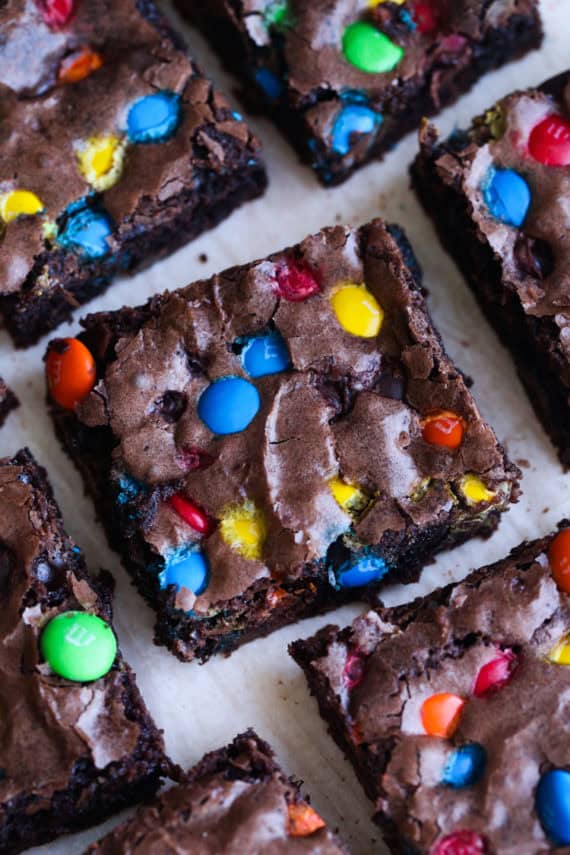 I use M&M's in so many recipes here on my site, so if brownies aren't your thing, or if you are looking to use up some extra candy you have on hand I have plenty of options for you!
Looking for More M&M's Recipes? Try These: