This moist Chocolate Zucchini Cake with Chocolate frosting is easy to make and a family favorite dessert! You will never know there is zucchini in this chocolate cake because it is SO good!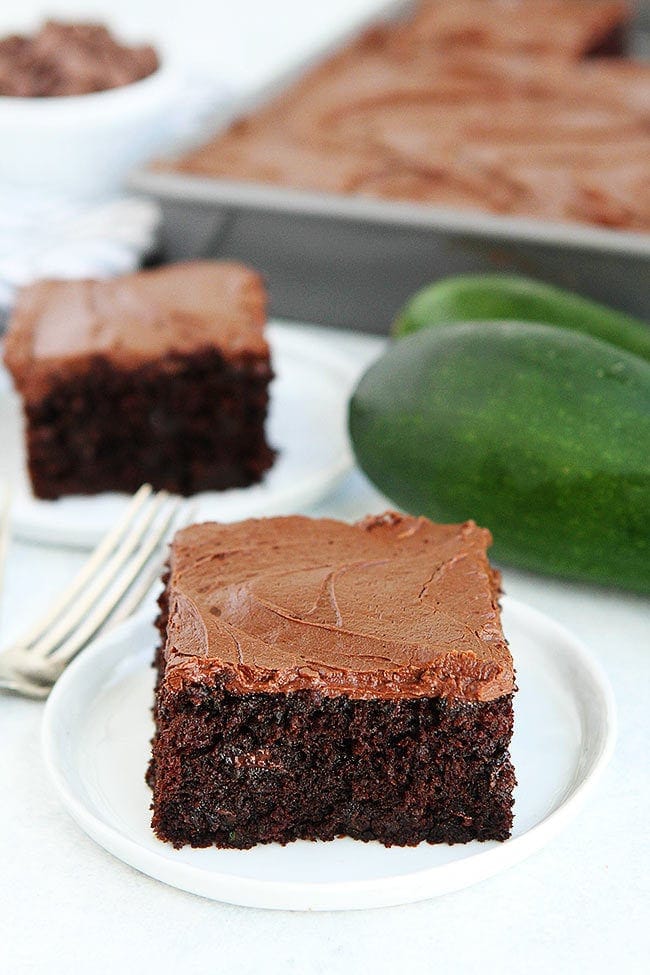 Chocolate Zucchini Cake? YES!
You guys are obsessed with my Chocolate Zucchini Bread and that makes me SO happy! I am so glad you like it as much as we do. I love seeing all of your comments, messages, emails, and photos about the bread. It has been such a hit! Yay!
Some of you have asked me to make a chocolate zucchini cake and I am always happy to make your recipe requests, especially when chocolate is involved. And some of you might be thinking zucchini doesn't belong in chocolate cake, but I am here to tell you IT DOES! Over the weekend, I used our freshly picked garden zucchini to make a chocolate zucchini cake and I have to say thanks to all of you for requesting this recipe because I really enjoyed eating the cake. It is SO SO good! If you like our chocolate zucchini bread recipe you will LOVE this chocolate zucchini cake too!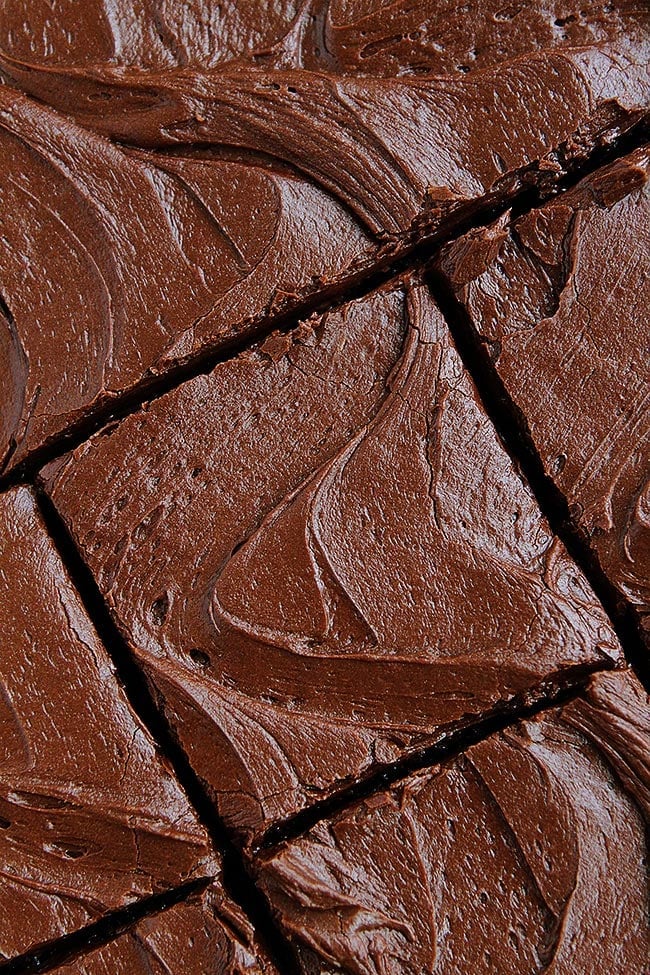 Zucchini, the Secret Ingredient!
For all of you that love my chocolate zucchini bread, you know that zucchini does wonders in baked goods, even when chocolate is involved. The zucchini is the secret ingredient and makes this cake SO moist and delicious. You will never know this cake is made with a vegetable. And if you do know, then go ahead and eat two pieces, you know to get more veggies into your diet:)
Triple the Chocolate
You might not notice the zucchini because this cake is made with cocoa powder, chocolate chips, and chocolate frosting. Triple the chocolate, triple the fun! This really is the ultimate chocolate cake, the zucchini is just an added bonus. I know everyone is always trying to use up their garden zucchini in the summer, so why not go the chocolate route? And if you are going to have chocolate cake go ALL out! The silky, smooth, rich chocolate frosting really is the icing on the cake!
Easy Chocolate Zucchini Cake
You all know I like no fuss cakes and this chocolate zucchini cake is right up my alley. I make it in a 9×13-inch pan so decorating is easy and so it will feed a lot of people. The ingredients are all standard, you should have all of them on hand, as long as you have zucchini. If it is summer time, you shouldn't have a problem finding any. Look in your garden or knock on your neighbor's door. I am sure they would love to share a zucchini with you.
Tips for Making Chocolate Zucchini Cake
You need 2 cups grated zucchini for this recipe, about 1 very large zucchini or 2 medium.
You don't need to peel the zucchini before shredding it. I use a box grater with a medium grate.
If your zucchini is full of moisture, squeeze it out a little bit, but don't squeeze it dry. Large garden zucchini tends to have more moisture and smaller store bought zucchini. You don't want to get rid of all of the moisture or you will have a dry cake. Just give it a gently squeeze before adding it to the cake.
I use all brown sugar in this zucchini cake recipe because it keeps the cake super moist and adds nice flavor.
The cake is made with oil and butter, I like the combo. I also add in buttermilk for moisture.
Make sure your buttermilk and eggs are at room temperature. Melt the butter and let it cool down a little before adding it to the other liquid ingredients.
Don't over mix the cake. Once you add in the zucchini and chocolate chips, stir just until combined.
I bake this cake in a 9×13-inch pan. If you want to make a layered cake, you can pour the batter into two round cake pans.
Make sure the cake is cooled completely before frosting it with the chocolate frosting.
The cake will keep on the counter, covered, for up to 4 days. I actually think it is better the second day.
Family Favorite Cake, Even the Kids Love This One!
Put your summer zucchini to good use and make this Chocolate Zucchini Cake. Our family LOVES this cake, it is so rich and divine. You will never know it is made with zucchini! Our boys licked their plates clean and had happy chocolate faces after eating this chocolate cake. It is super rich and moist and worth every bite, I mean it is zucchini so eat up! I can't even tell you how divine it is, you just have to trust me and make it TODAY! The zucchini is magical!
And if you are looking for other delicious zucchini recipes, check out our favorites HERE! There are over 35 to choose from!
If you like this Chocolate Zucchini Cake, you might also like: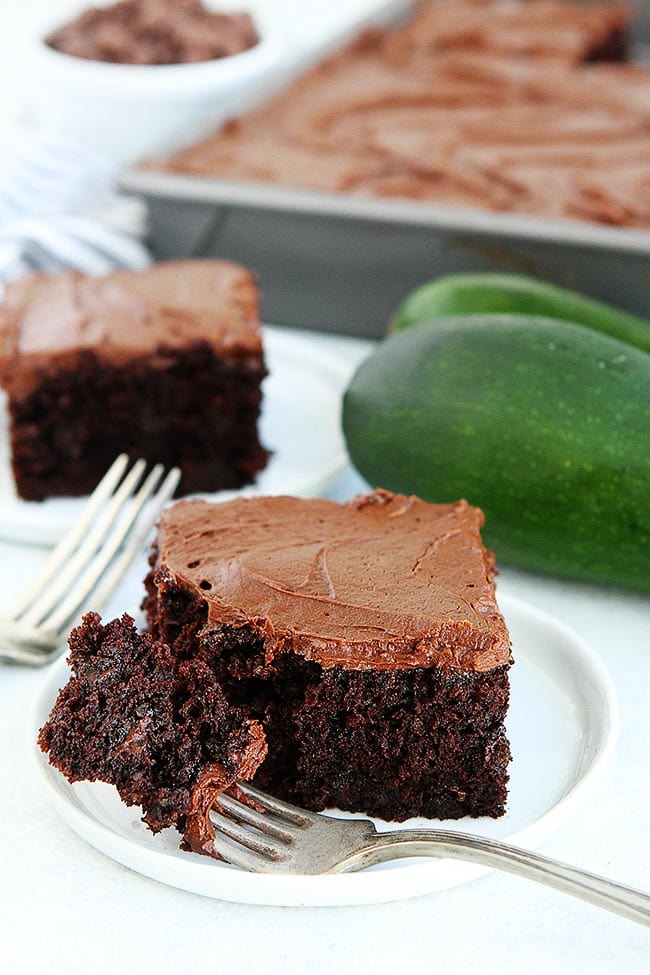 Chocolate Zucchini Cake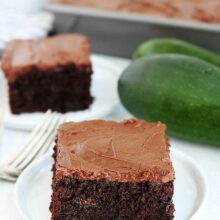 You will love this easy Chocolate Zucchini Cake! It is so moist and delicious and a great way to use up garden zucchini!
Yield: Serves 16
Prep Time:20 minutes
Cook Time:30 minutes
Total Time:50 minutes
Ingredients:
For the chocolate zucchini cake:
2 cups all-purpose flour
1 cup unsweetened cocoa powder, sifted
2 teaspoons baking soda
1/2 teaspoon salt
1 1/2 cups brown sugar
3/4 cup vegetable oil or canola oil
1/4 cup melted butter, cooled to room temperature
1/4 cup buttermilk, at room temperature
3 large eggs, at room temperature
1 1/2 teaspoons vanilla extract
2 cups shredded zucchini
1 cup chocolate chips
For the chocolate frosting:
1/2 cup unsalted butter, at room temperature
3 cups confectioner's sugar
2/3 cup unsweetened cocoa powder
1/3 cup milk
1 teaspoon vanilla extract
Pinch of salt
Directions:
Preheat oven to 35o degrees F. Grease a 9×13-inch pan with nonstick cooking spray and set aside.
In a medium bowl, combine the flour, sifted cocoa powder, baking soda, and salt. Whisk together and set aside.
In a large bowl, combine the brown sugar, oil, melted butter, buttermilk, eggs, and vanilla extract. Whisk until combined.
Stir in the dry ingredients until barley combined, it is ok if there is still some flour not mixed in. Gently squeeze out some of the moisture in the zucchini. You want the zucchini to still have some moisture, but not full of liquid. Add the zucchini and chocolate chips and stir until just combined. Don't over mix.
Pour the cake batter in the prepared pan and smooth with a spatula. Bake for 25-32 minutes or until a toothpick comes out clean when inserted into the center or the cake.
Let the cake cool completely. While the cake is cooling, make the chocolate frosting. In the bowl of a stand mixer or with a hand mixer, beat the butter until smooth, about 1 minute. In a large bowl, sift together the confectioner's sugar and the cocoa powder. Add the mixture to the butter and beat, slowly adding in the milk. Add the vanilla extract and salt. Stop and scrape down the sides. Beat until frosting is smooth and fluffy.
Frost the cooled chocolate zucchini cake with chocolate frosting. Cut the cake into squares and serve.
Note-cover the cake and store on the counter for up to 3 days.


All images and text ©Two Peas & Their Pod.




Follow twopeasandpod on Instagram and show us what recipes you are making from our blog! Use the hashtag #twopeasandtheirpod! We want to see what you are making in your kitchen!