This Creamy Tortellini Soup with spinach has layers upon layers of cozy flavor! It's an easy vegetarian soup recipe loaded with cheese tortellini and tender veggies in a flavorful cream base. Have this one-pot wonder ready in 30 minutes!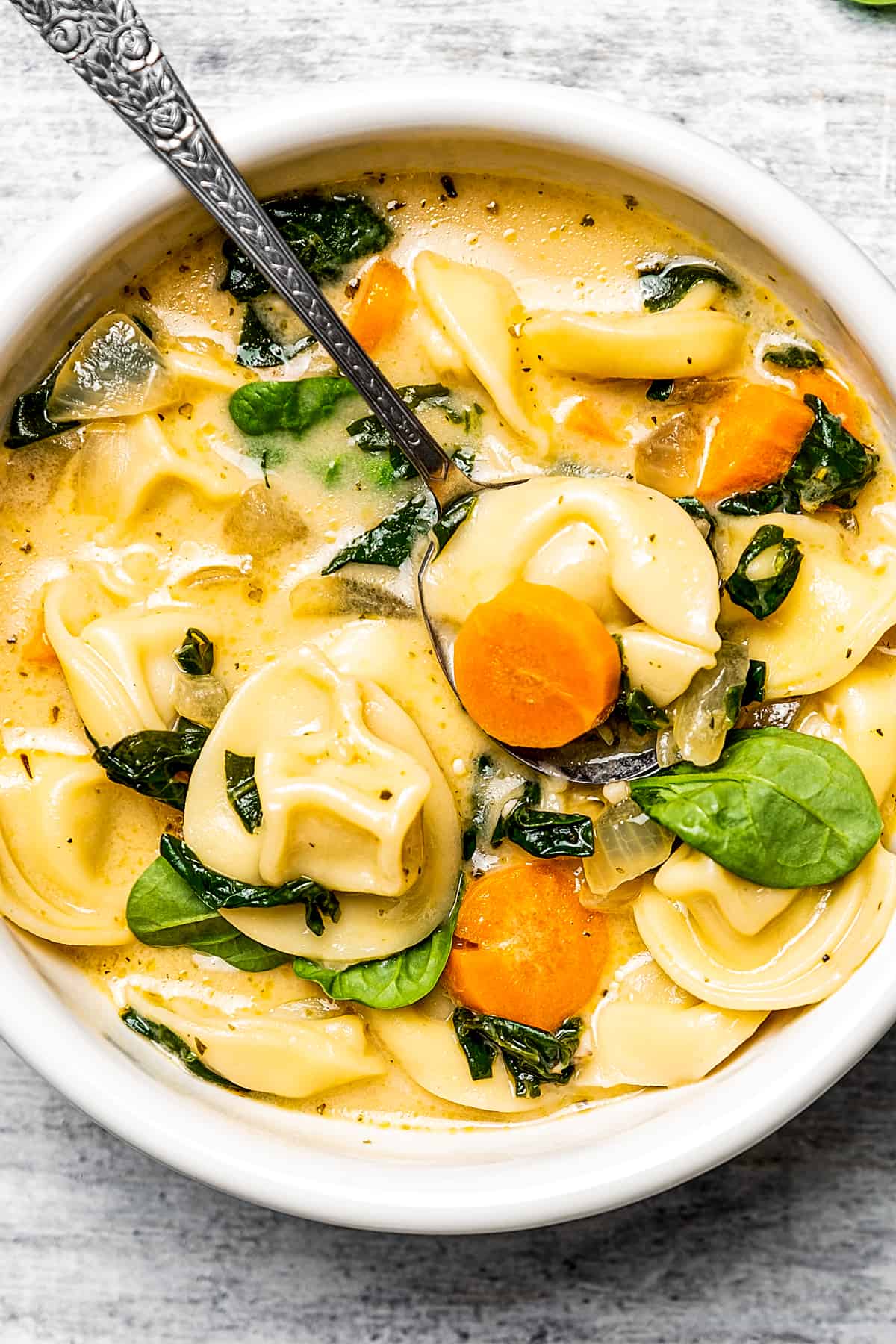 A Rich, Velvety Vegetarian Soup with Pasta
I remember the first time I made this creamy tortellini soup recipe. I was in serious need of some comfort. I'd just dropped my little one off for her first day at preschool. And she didn't. Even. Cry. Not even a tug on my sweater to suggest she might miss me. She just walked off toward all the other little ones and never looked back! ?
In retrospect, kudos to my kiddo. But at the time, I needed something that equated to a "there, there, mummy" in a bowl. Hello, creamy homemade soup!
This beautiful tortellini soup is a vegetarian dream. It's made with cheesy tortellini, carrots, and spinach, swimming in the silkiest cream base. A little roux and a splash of milk make it super rich, soul-warming, and of course, comforting. Plus, it's ready in a single pot in just 30 minutes!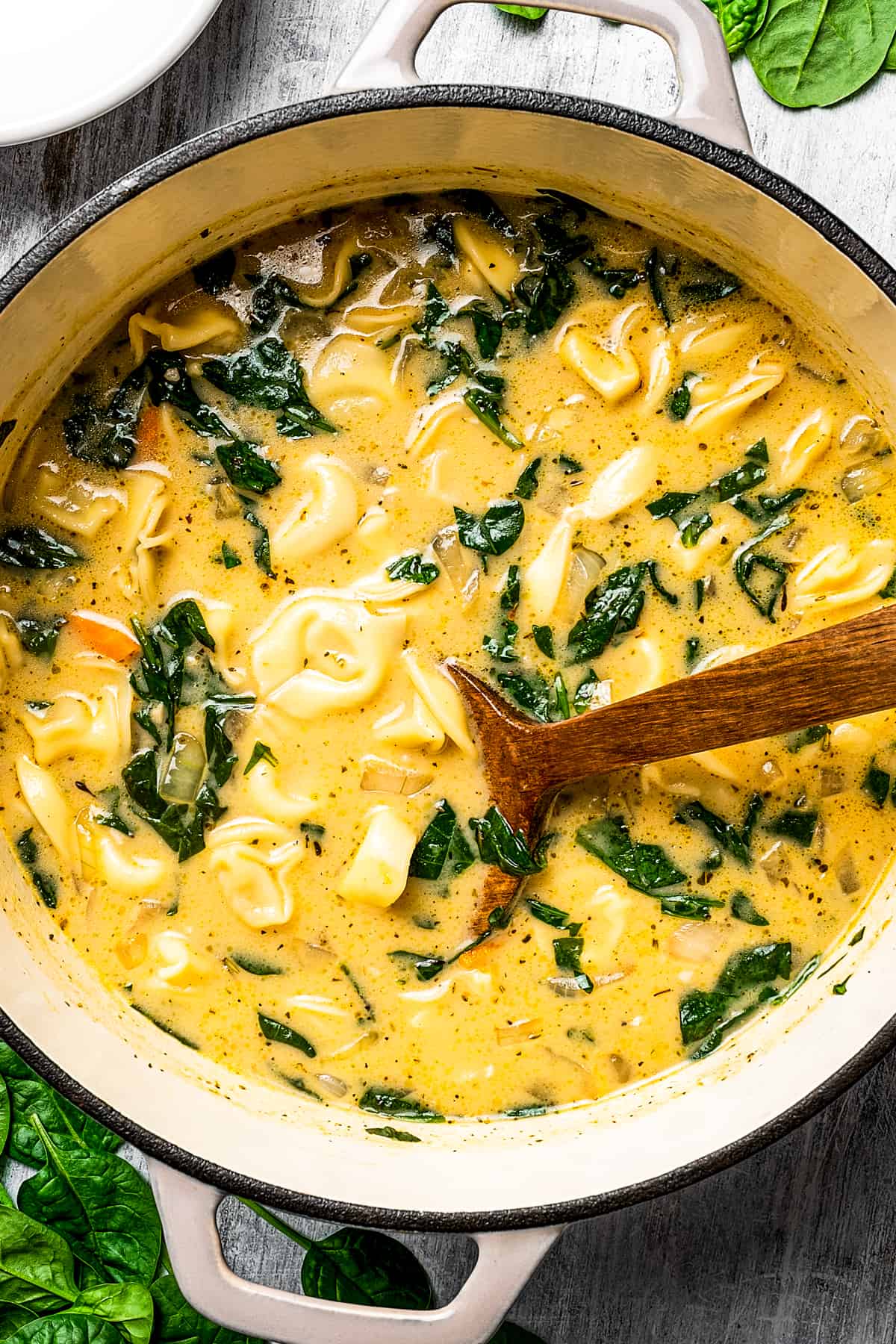 Ingredients
You might already be aware, but I'm a vegetable lover in a house full of pasta fiends. This creamy veggie soup filled with tortellini is our meeting ground! Below is a roundup of what you'll need to make this creamy tortellini soup, with the full deets available in the recipe card:
Butter: For sauteing your veggies. Use salted or unsalted butter, just remember to adapt the amount of added salt as needed.
Onion: I like to use a mild onion variety like Vidalia, brown, or yellow onion.
Garlic: You'll need 2-3 freshly minced garlic cloves, depending on how garlicky you like your soup.
Carrots: Thinly slice up two large-sized carrots.
Seasoning: I season this tortellini soup with Italian seasoning, salt, and freshly cracked black pepper.
Flour: All-purpose flour forms the base for a quick and easy roux to thicken the soup.
Vegetable Broth: Use low-sodium vegetable broth if you're making vegetarian soup. Otherwise chicken stock or broth will also work.
Tortellini: Pick up one package of your favorite frozen tortellini. I make this recipe with vegetarian-friendly cheese tortellini.
Baby Spinach: Fresh is recommended. Spinach adds loads of nutrition and also a delicious pop of green!
Cream: It wouldn't be a creamy soup without it! You can use full cream, milk (I use 2%), or half-and-half depending on what you prefer.
What Is Tortellini Filled With?
In short: anything you'd like! I use classic ricotta cheese tortellini for this vegetarian soup, while some varieties come filled with parmesan or spinach. You may also find other kinds of tortellini in your local supermarket, like prosciutto, ground pork, or chicken tortellini. Basically, choose your favorite!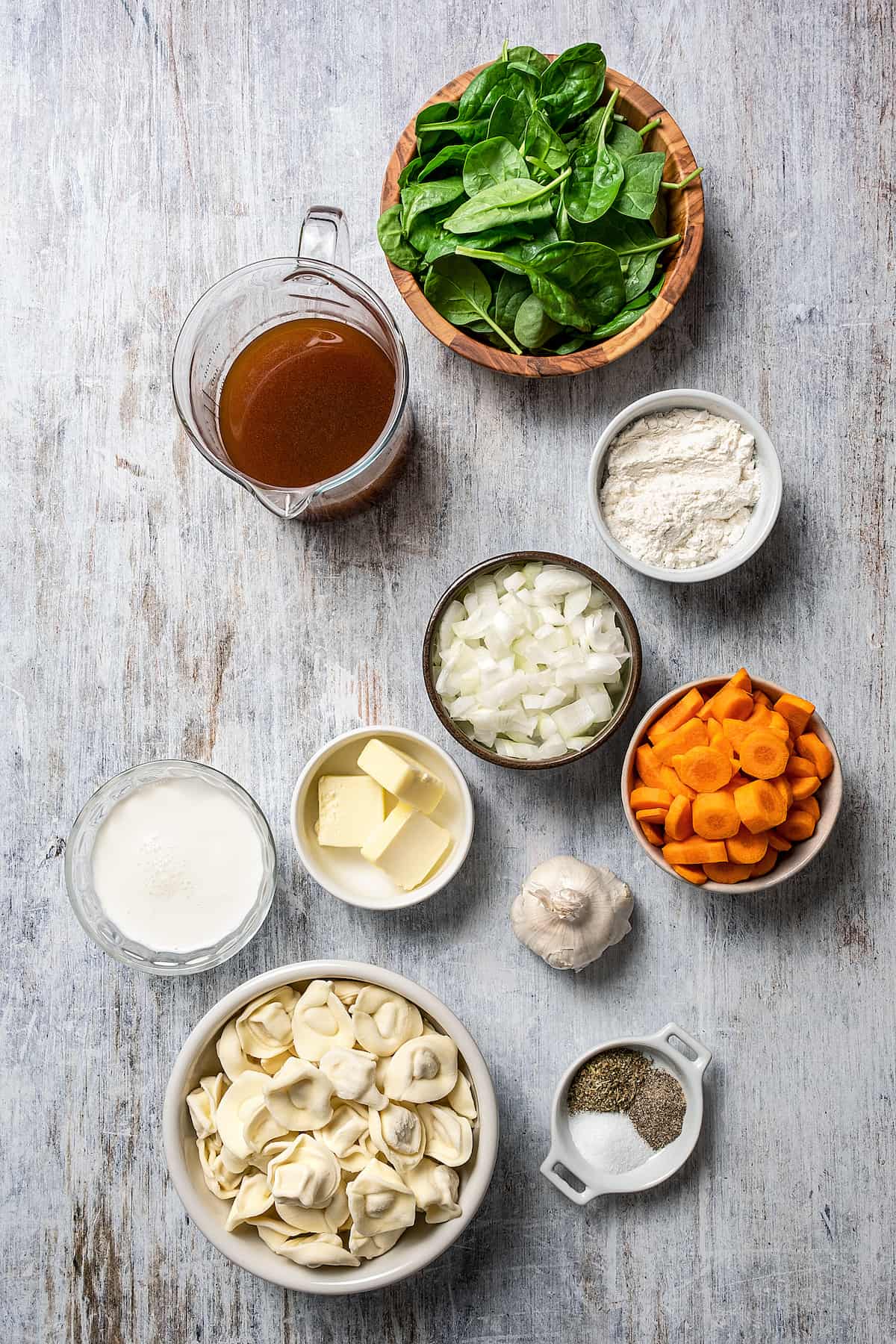 How to Make Creamy Tortellini Soup
Get out a big ol' pot or saucepan (just one, because I'm all about that one-pot dinner life). And let's make this easy tortellini soup!
Sauté: First, sauté onion, garlic, and carrots with Italian seasoning, salt, and pepper. Once the veggies are fragrant and tender, whisk in the flour to make the roux.
Make the Broth: Gradually pour in the broth, whisking until smooth. The base for your soup should be clump-free so that the end result is oh-so-creamy! Once combined, bring the pot to a boil.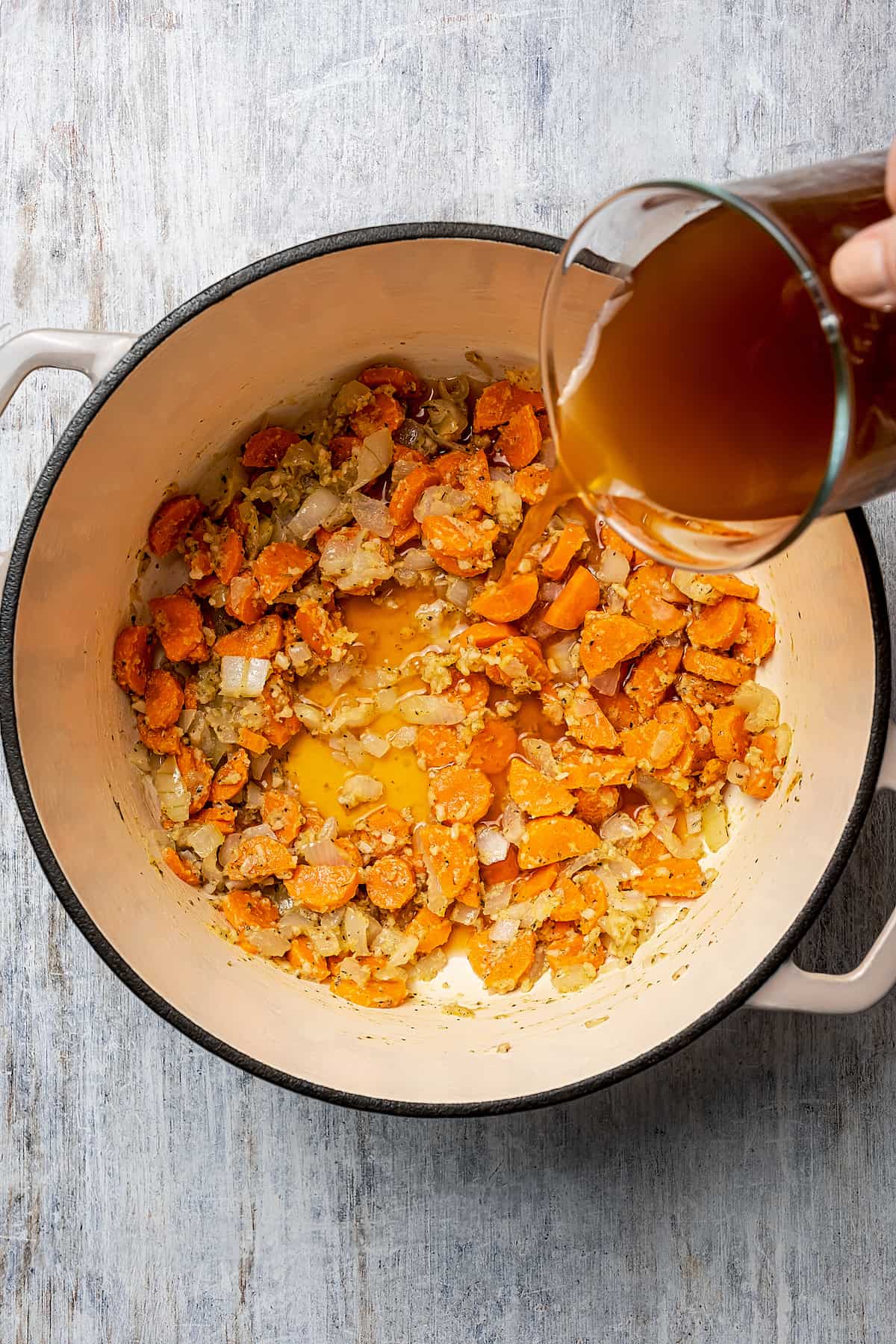 Add Tortellini and Spinach: While the soup boils, stir in the frozen tortellini and fresh spinach leaves. Simmer for a few minutes more to get the tortellini heated through.
Add Cream: Pour in your choice of cream, then stir continuously as the soup returns to a boil. Let the cream cook in and thicken for a couple of minutes, then take the pot off the heat.
After it's sat for a few minutes off the heat, season your creamy tortellini soup to taste with salt and pepper, then serve!
Recipe Notes
Here are some additional notes when cooking up a batch of this ah-mazing homemade soup:
Add the cream over lower heat. Make sure your soup isn't boiling when you go to pour in the cream. Also, remember to stir continuously when you add it. This way you don't risk the soup curdling!
For fewer carbs, omit the carrots and use low carb pasta.
For dairy free, use olive oil or coconut oil in place of butter. Swap out the milk or cream with your choice of dairy-free alternative, like oat, coconut, or rice milk.
To make vegan tortellini soup, substitute the butter and cream (same as above), and use your preferred brand of vegan tortellini.
To make a gluten-free soup, use cornstarch instead of flour to make the roux. Be sure to check that the tortellini pasta, seasoning, and broth you're using are also gluten-free.
Add mushrooms to make a cream of mushroom-style tortellini soup.
Add cooked, shredded chicken to make creamy chicken tortellini soup (also check out my Instant Pot Creamy Chicken Tortellini Soup!). Or, stir in cooked pork or Italian sausage for a hearty sausage tortellini soup.
Swap spinach for kale. If you'd prefer, fresh spinach can be swapped for fresh chopped kale instead.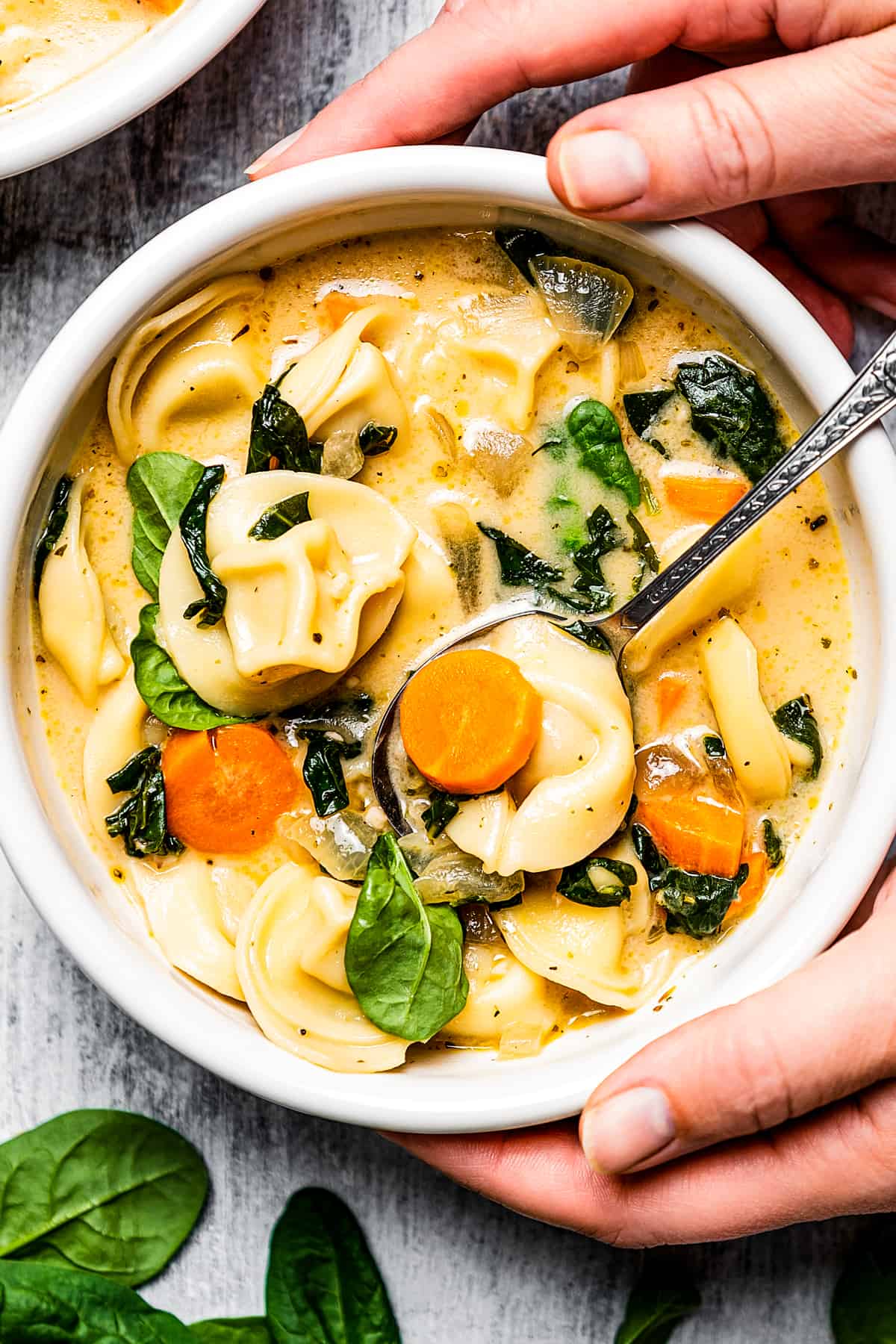 Serving Suggestions
Whoever coined the term "soup for the soul," I'm preeeetty sure they were talking about creamy tortellini soup. Ever since I first made it, I serve up bowls of this soup with a thick slice of crusty bread or one of my Garlic and Cheddar Drop Biscuits. Cozy, creamy, crumbly bliss! The very definition of comfort food.
Here are more easy ways to serve this hearty homemade soup:
Topped with savory add-ons like crumbled bacon, freshly grated parmesan cheese, or shredded cheddar.
With fresh herbs like chopped basil, rosemary, or oregano.
Sprinkle on some crispy baked croutons for a bit of crunch.
Served bistro-style with a side of Lemon Kale Caesar Salad, or paired with a Grilled Cheese Sandwich.
How to Store and Reheat Leftover Soup
Store any leftover creamy tortellini soup in an airtight container in the fridge for up to 3 to 4 days.
Reheat portions in the microwave or in a saucepan on the stove until the soup and tortellini are warmed through again.
Does Tortellini Soup Freeze Well?
While it's technically safe to freeze this creamy tortellini soup, I usually don't recommend it. Cream soups are notoriously tricky to freeze, as the texture and flavor tend to change for the worse once the soup is thawed. Luckily, this soup is so yummy we never have any problems finishing a whole pot!
ENJOY!
Melt butter in a Dutch oven or soup pot.

Add onions, garlic, carrots, Italian seasoning, salt, and pepper; cook over medium-low heat for 6 minutes or until vegetables are tender.

Whisk in flour; whisk until crumbly.

Slowly add broth and continue to vigorously whisk until everything is well combined and there are no clumps.

Bring soup to a boil.

Add frozen tortellini.

Continue to cook over medium-high heat, stirring occasionally, for 5 to 6 minutes, or until tortellini is tender and heated through.

Whisk in cream or milk and add in the spinach; bring back to a steady boil and cook for 2 to 3 minutes or until smooth and thickened.

Remove from heat and let stand 5 minutes.

Taste for salt and pepper, and adjust accordingly.

Serve.
Cream: I like to use heavy cream for a creamier, silkier texture, but this soup also works with milk or half & half. Also, stir continuously when adding the cream, so it doesn't curdle. 
Dairy-Free: To make this soup dairy-free, use coconut oil instead of butter, and you can also use nut milk to replace the cream.
Frozen Cheese Tortellini: This is my favorite frozen pasta for this particular soup, hence the name "tortellini soup",  but you can use whatever pasta you have on hand… as long as there is cheese in it. ☺️
Spinach: Baby spinach is my go-to leafy green for soups, but you can also use kale, watercress, collard greens, and so on.
Add Protein: Stir in some cooked, shredded chicken or cooked Italian pork sausage.
Calories: 498 kcal | Carbohydrates: 45 g | Protein: 16 g | Fat: 30 g | Saturated Fat: 16 g | Polyunsaturated Fat: 1 g | Monounsaturated Fat: 6 g | Trans Fat: 0.2 g | Cholesterol: 96 mg | Sodium: 1012 mg | Potassium: 487 mg | Fiber: 5 g | Sugar: 5 g | Vitamin A: 7099 IU | Vitamin C: 9 mg | Calcium: 168 mg | Iron: 3 mg | Net Carbs: 40 g
Nutritional info is an estimate and provided as courtesy. Values may vary according to the ingredients and tools used. Please use your preferred nutritional calculator for more detailed info.
More Creamy Homemade Soups