Crockpot Barbacoa Beef is filled with flavor! If you've ever had authentic Mexican street tacos, you've likely tasted this delicious beef. This recipe makes it easy to prepare it right at home in your slow cooker.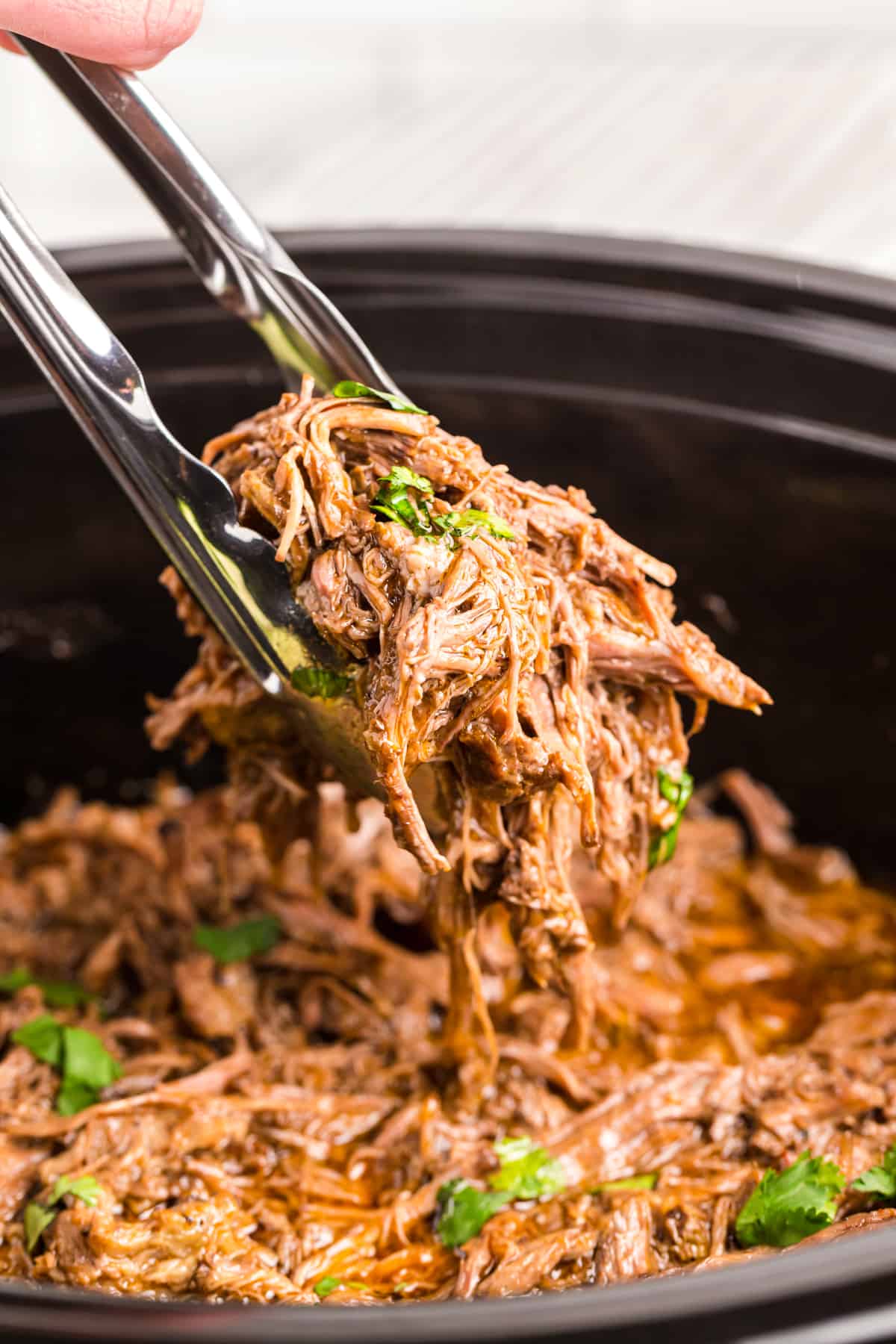 Slow Cooker Barbacoa Beef
This Crockpot Barbacoa Beef recipe is about to be your new favorite taco filling!
Barbacoa beef has a distinct taste best known for its slight tanginess. It's delicious and tastes amazing when added to tacos and burritos. Pile it up with other ingredients, like pico de gallo, shredded lettuce, cheese, and avocado or guacamole.
This super easy recipe means you can make it at home any time you like, to create the most delicious meals!
Why You'll Love this Barbacoa Beef Recipe:
FLAVORFUL: This beef comes out so rich, spicy, and full of flavor. So delicious, you'll be eating it on everything.
VERSATILE: Use it to prepare all kinds of meals, ranging from tacos and burritos, to sandwiches and more.
EASY: Making barbacoa beef in a Crockpot is super easy. It's a hands-off recipe that requires very little work.
Preparing slow cooker beef barbacoa is super simple. It's all about adding the right blend of seasonings to give it that excellent flavor!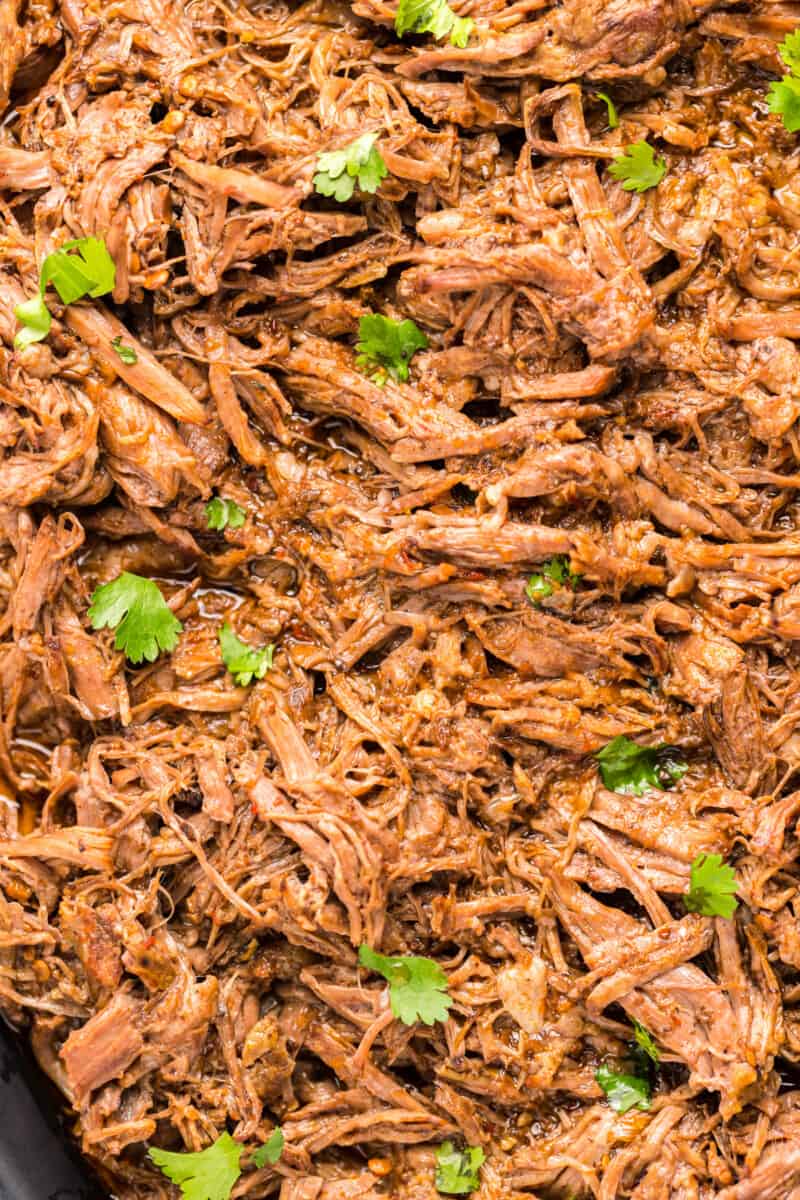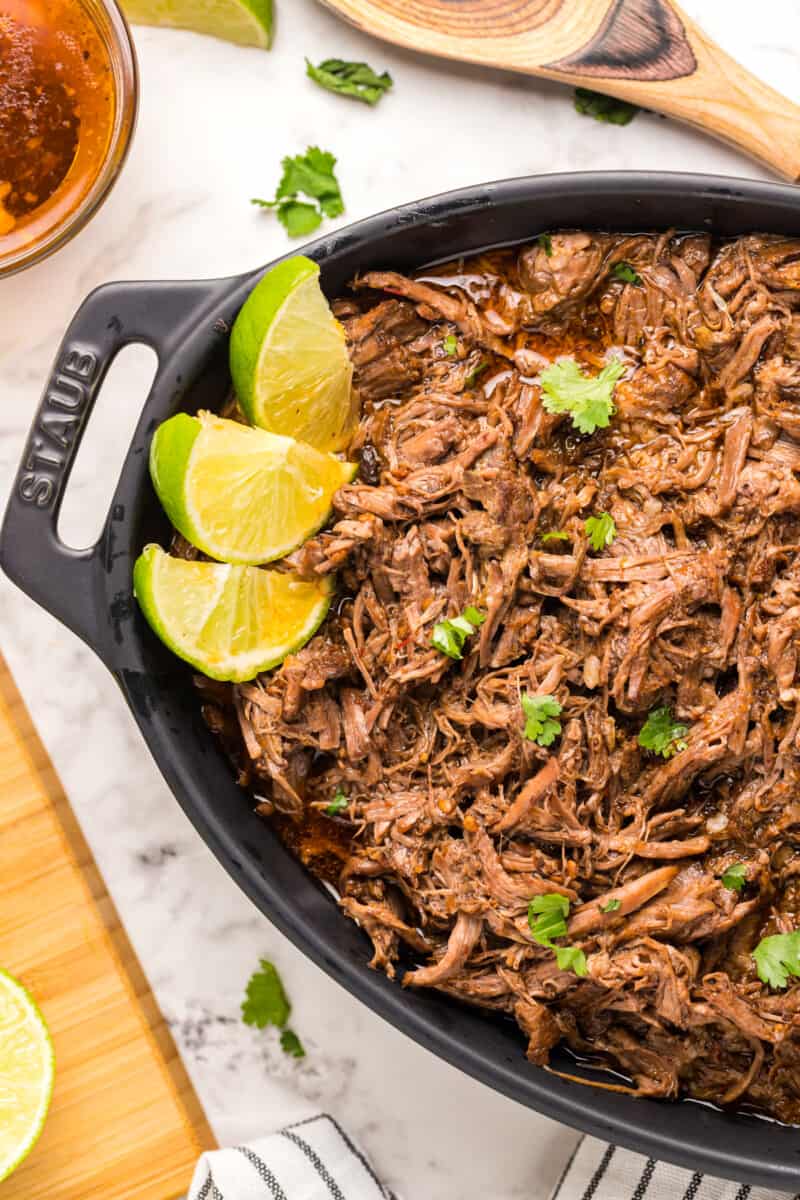 How to Make Crockpot Barbacoa Beef
Be sure to see the recipe card below for full ingredients & instructions!
Juice the limes and combine with ingredients to make the marinade.
Prep beef and season it, then slice it into small chunks.
Add vegetable oil to the skillet, sear beef on both sides, and then place it into the slow cooker.
Pour the marinade on top, cover the cooker with the lid, then set it to cook for six hours on LOW.
Shred cooked beef with two forks or meat claws, serve, and enjoy!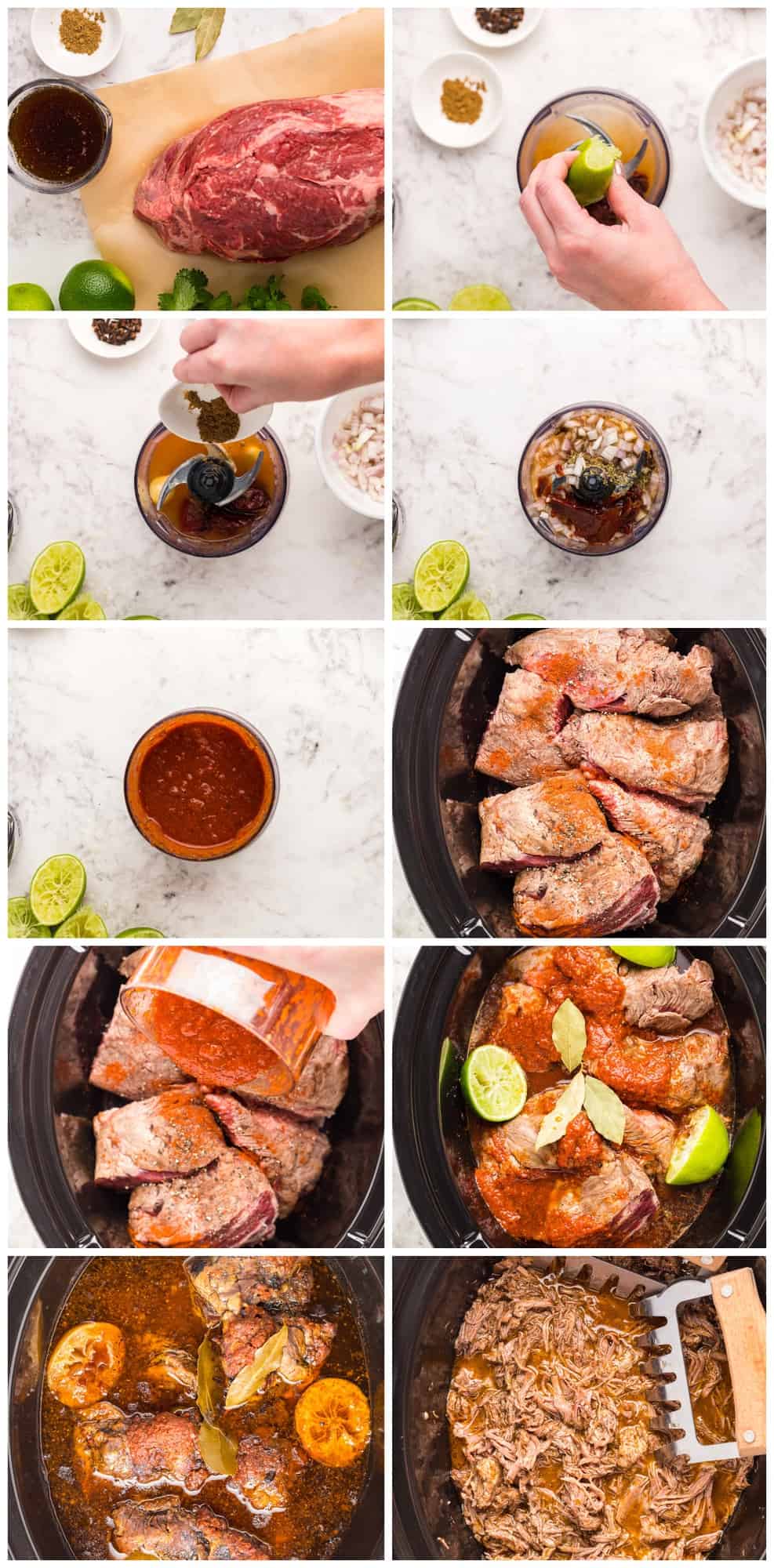 Homemade Barbacoa Tips
For the most tender beef, cook on low for 6 hours. For a quicker meal, cook on high for 3 ½ hours.
To maximize the juice yield of limes, before slicing, roll each lime on a clean work surface using the palm of your hand and firm pressure for around 10 seconds.
The easiest way to shred the beef is to use meat claws, and shred directly in the crockpot.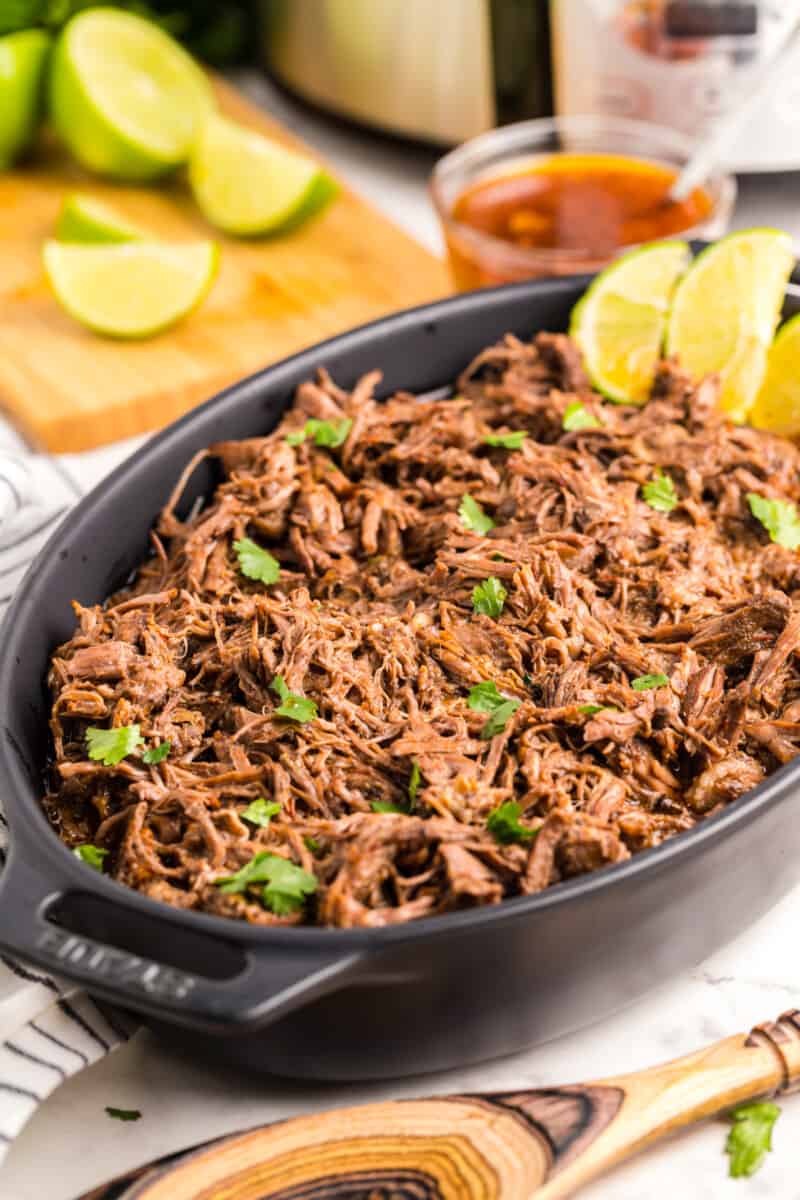 Can I make the barbacoa marinade without a food processor?
You can use a blender instead of a food processor to combine the marinade ingredients.
Are chipotle peppers spicy?
Yes! Chipotle peppers in adobo sauce are very spicy, but the amount used in this recipe does not make the overall dish too spicy. Increase or decrease the quantity based on personal preference.
What can I use instead of beef chuck roast?
Some of my favorite alternatives to chuck roast are tri-tip roast, top round roast, or bottom round roast (sometimes called rump roast).
How can I cook barbacoa beef in a dutch oven instead of a crockpot?
To cook this beef in a dutch oven, preheat oven to 325°F. Follow the recipe as written through step 4, searing the beef pieces in a dutch oven instead of a cast iron pan. Leave the beef pieces in the dutch oven and follow step 5. Cover and roast in the oven for 3-4 hours, or until the meat is fall-apart tender and registers 205°F internally.
Serving Suggestions
Serve barbacoa beef over rice, as tacos, or as burritos. Top with any combination of beans, lettuce, cheese, tomatoes, onions, cilantro, guacamole, salsa, or sour cream.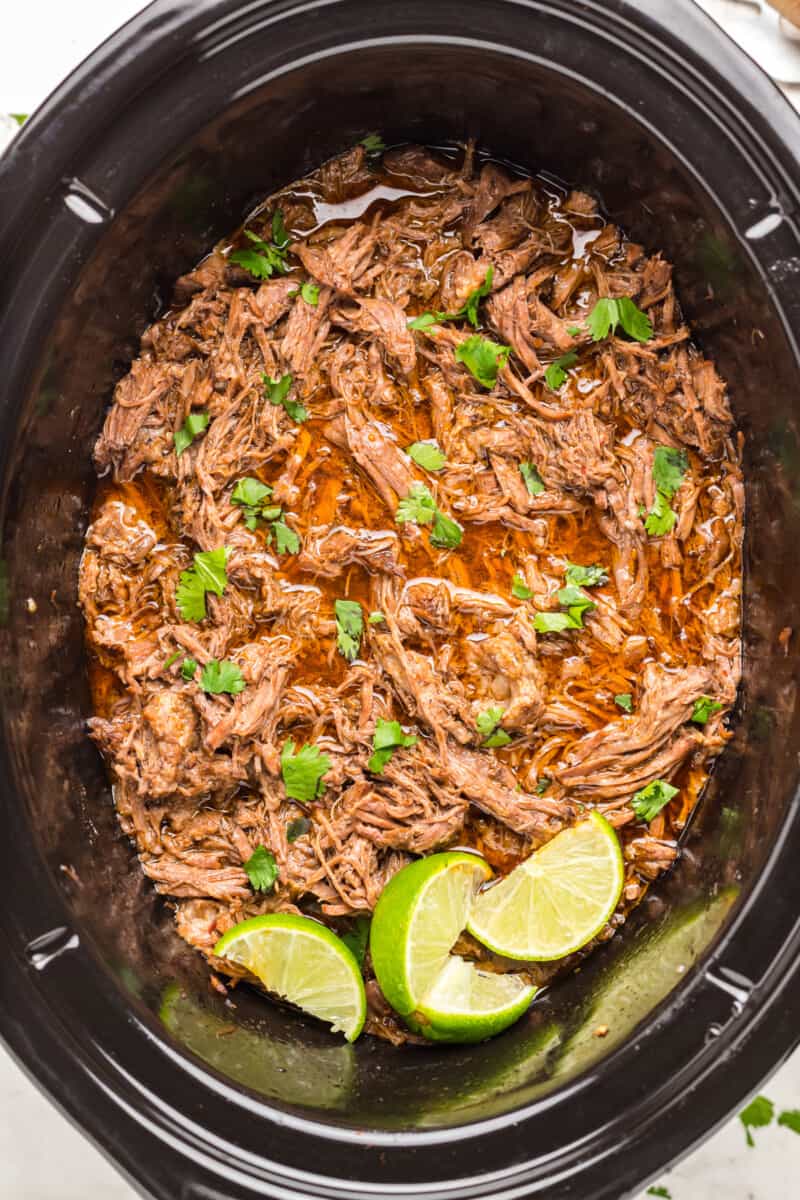 Storage Instructions
Store barbacoa beef in an airtight container in the refrigerator for up to 3 days.
Freezing Instructions
Portion leftover beef into zip-top freezer bags and press into a flat layer. Freeze for up to 2 months. Allow to thaw in the refrigerator overnight before reheating.
DIY Chipotle Peppers in Adobo Sauce
Chipotle peppers in adobo sauce are commonly found in the Mexican or international aisle of  grocery stores. If your local grocery store does not carry them, make your own replacement by mixing 1 tablespoon tomato paste, 1 tablespoon cider vinegar, ½ teaspoon smoked paprika, ½ teaspoon ground cayenne pepper, a pinch of garlic powder, and a pinch of salt together. Use this mixture in place of the 3 chipotle peppers in adobo sauce.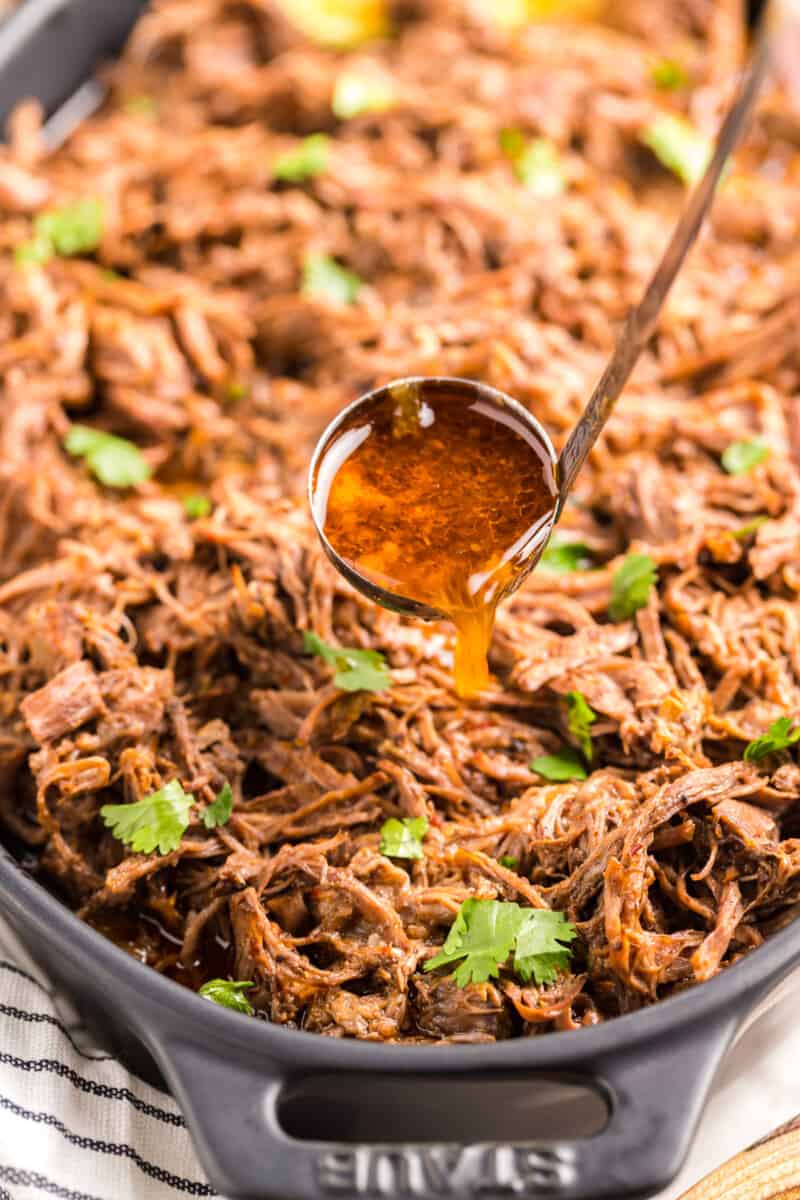 This crockpot barbacoa beef is so easy and so delicious. It makes amazing tacos, but you can use this beef in lots of ways. Anyone who enjoys a bit of spice is going to love this!
If you make this recipe be sure to upload a photo in the comment section below or leave a rating. Enjoy!