This post may include affiliate links that earn us a small commission from your purchases at no extra cost to you.
They make you see better, and they taste even better than that! This crockpot glazed carrots recipe looks just as at home at your holiday dinner as it does on a busy weeknight.
A brown sugar mixture poured over tender carrots will have the whole family asking for second helpings of their new favorite side dish—even the picky eaters. Are you ready for dinner time?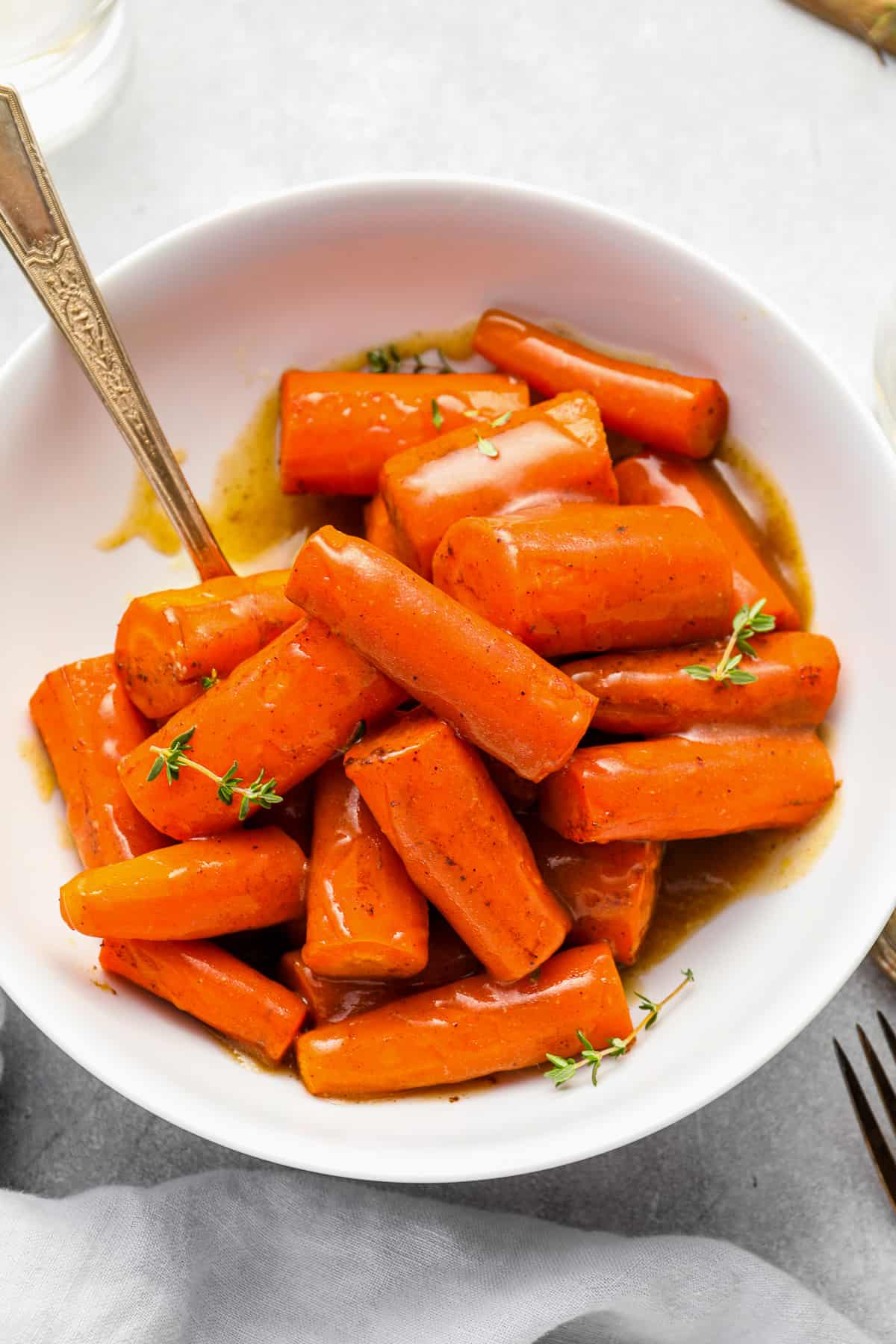 What's in Crockpot Glazed Carrots?
Whole carrots, brown sugar, and a few hours of slow cooking—could this recipe be any easier?
Apple Cider: NOT apple cider vinegar; we're looking for the fall favorite here.
Brown Sugar: Dark or light is more than fine!
Salt: Never forget that even the sweetest recipes need balance.
Ground Cinnamon and Nutmeg: As good in pies as they are on glazed carrots.
Cayenne: A little kick is always welcome.
Carrots: Whole, frozen, or baby! Your choice.
Butter: Unsalted wins this round.
Cornstarch: This (and a little bit of water) is key to creating a thicker glaze.
Top Tips:
Cleanliness is key! Scrub carrots thoroughly to remove dirt before cutting them into smaller pieces.
Sprinkle fresh dill, fresh thyme, or orange zest on the finished dish for a pop of color and bright flavor.
Variations on Brown Sugar Glazed Carrots
To turn these glazed carrots into honey-glazed carrots, replace the ¼ cup of brown sugar with 1 tablespoon of brown sugar and 3 tablespoons of honey. You could also use maple syrup if you prefer!
Amp up the sweetness (and your daily vegetable serving) by adding sweet potatoes cut into the same size as your carrots. Variety is the spice of life!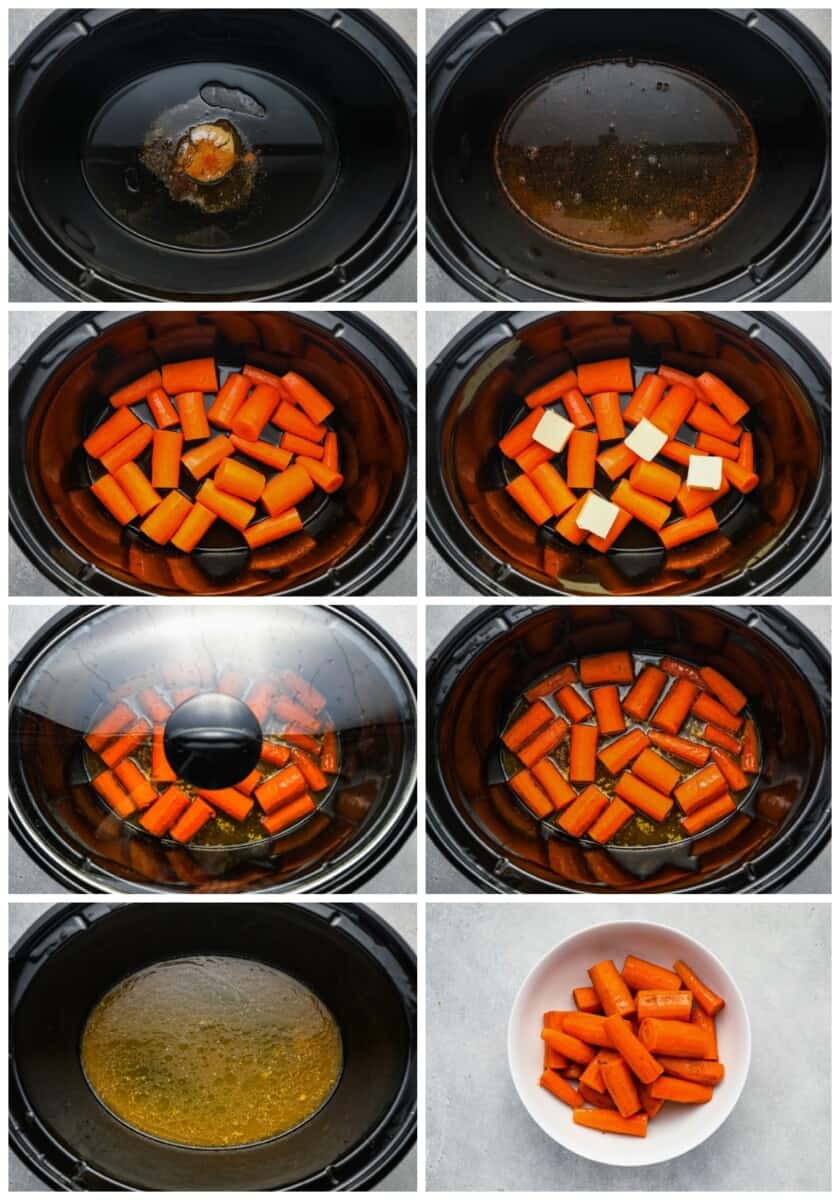 What are the best carrots for crockpot glazed carrots?
I like to use cut-up whole carrots, but you can also use baby carrots or frozen carrots for this recipe.
How long does it take carrots to soften in a crockpot on high?
Tender perfection is a waiting game! Raw carrots tend to need a bit longer than other vegetables to cook in a crockpot, so plan on at least 2½ hours of cook time. I cooked mine for 3 hours.
Can you overcook carrots in a crockpot?
You can overcook anything in a crockpot! To ensure you don't overcook your carrots, start checking on them at around 2½ hours. They should be fork-tender, but they should not fall apart when pierced.
How long should I cook carrots on low in the crockpot?
If you'd prefer to cook your carrots on low, start checking them at 4 hours. They may take up to 6 hours to cook through.
Can I make crockpot glazed carrots in advance?
Yes! Simply make them as directed, let them cool, then store them in an airtight container in the refrigerator until ready to reheat. Reheat in the microwave, in the slow cooker, or in a foil-covered baking dish until warmed through.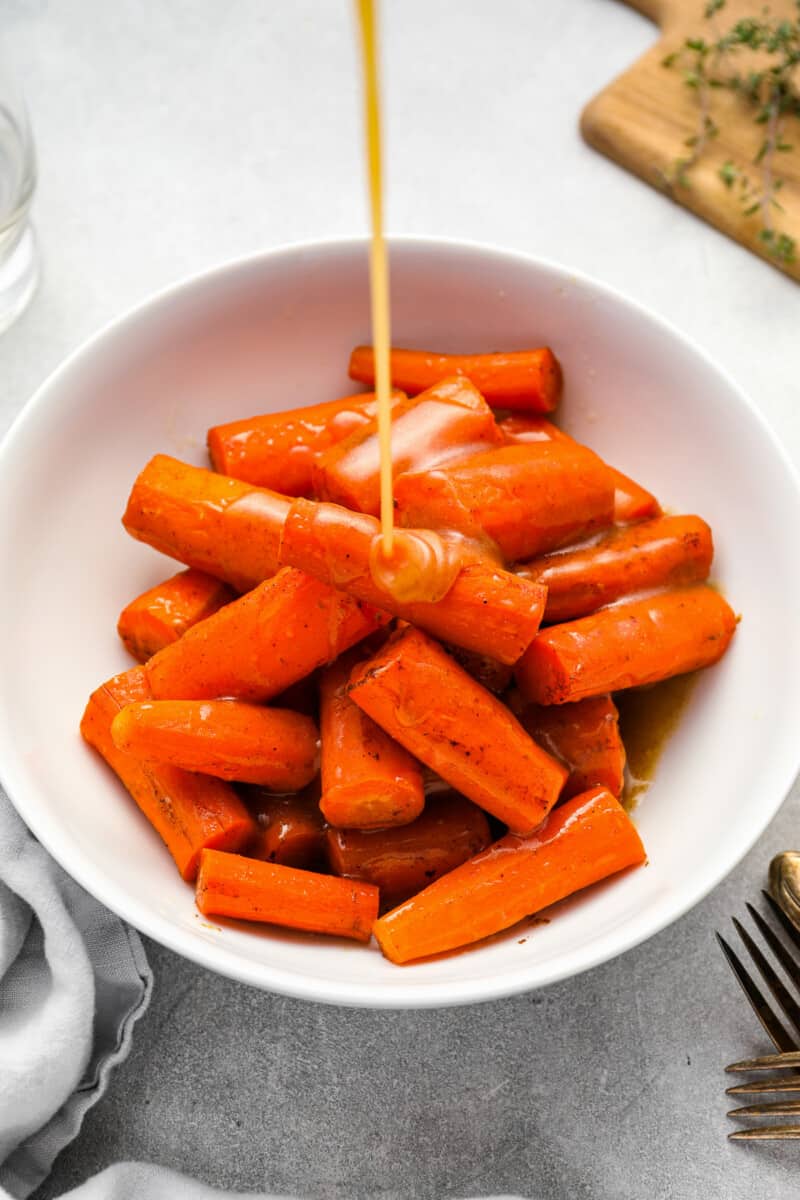 How to Store and Reheat Brown Sugar Carrots
Store leftover crockpot glazed carrots in an airtight container in the refrigerator for up to 5 days. Reheat in the microwave, in the crockpot, or in a foil-covered baking dish in a 350°F oven for 10-15 minutes.
How to Freeze Crockpot Glazed Carrots
Freeze crockpot glazed carrots in an airtight container or Ziplock bag for up to 3 months. Let thaw overnight in the refrigerator before reheating.
What to Serve with Glazed Carrots
This great recipe is perfect for any night of the week—and it pairs well with others. For a Sunday dinner table, pair these glazed carrots with a juicy Pork Tenderloin, a classic Pot Roast, or Whole Roast Chicken. Recreate a family favorite holiday dinner with Creamy Mashed Potatoes, or go for a more casual dinner by making a simple Grilled Salmon as the carrots are finishing in the slow cooker.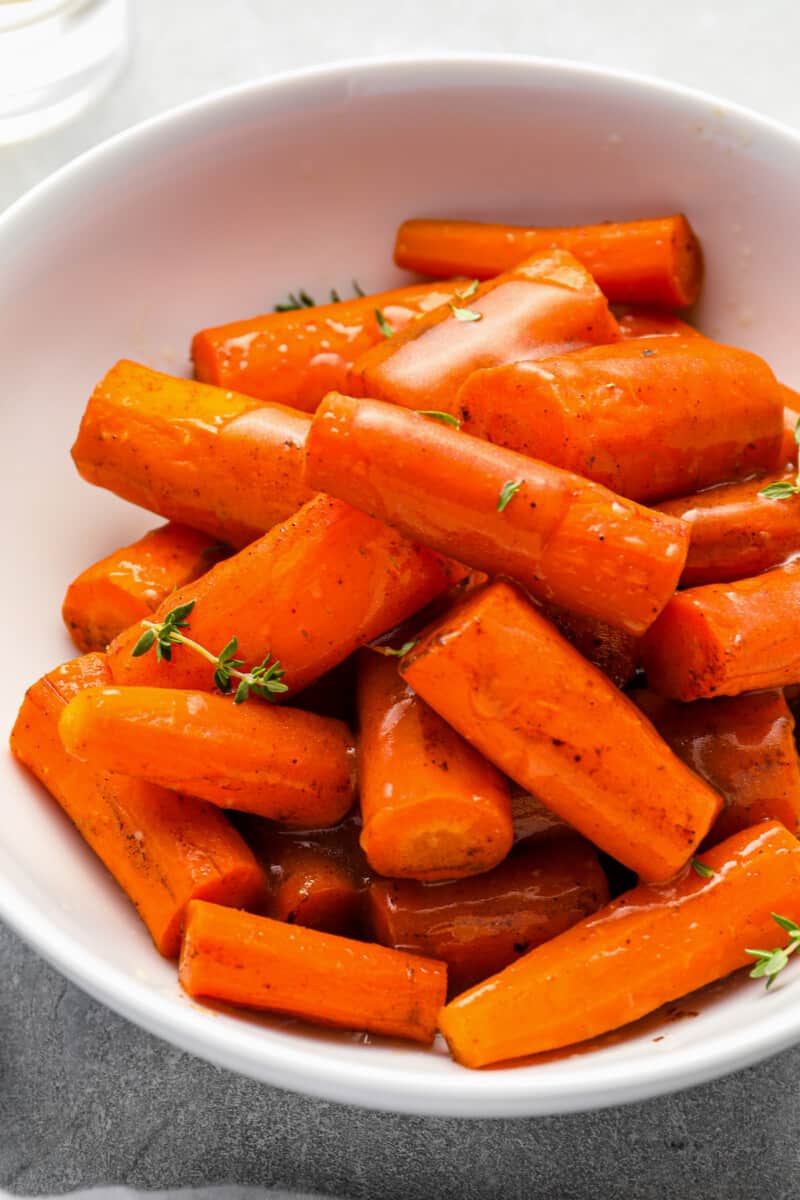 More Glazed Carrot Recipes We Love