Double Chocolate Chunk Muffins with a perfect fluffy crumb and soft cracked tops!
A reader favourite recipe since early 2014! Decadent chocolate muffins are out of this world… right up there with brownies and chocolate cake. If you're craving chocolate, you will love how easy our Double Chocolate Chunk Muffins are to make AND how rich they are! The muffin tops alone are to die for.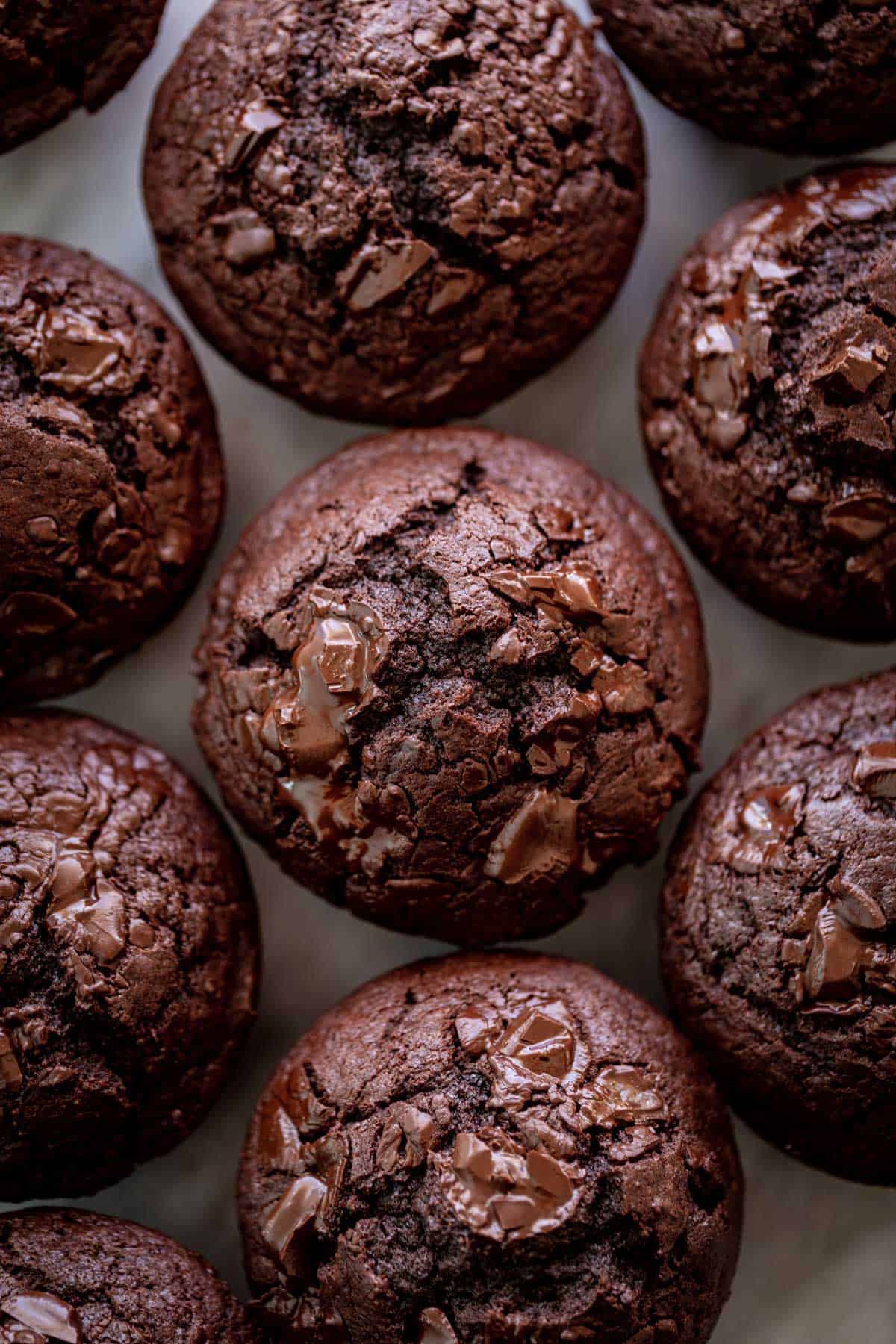 DOUBLE CHOCOLATE CHUNK MUFFINS
Bakery-style muffins are what the world needs right now, and chocolate fixes everything. If you're looking for a hit of cake that takes under 10 minutes to prep, throw ingredients in ONE bowl and mix with nothing but a wooden spoon and maybe a whisk… then this recipe is for you. Enjoy them as they are; serve them with ice cream, or do what we do and dunk them in milk.
Like all of our one bowl recipes, our muffins are easy, classic, comfort food ready in no time.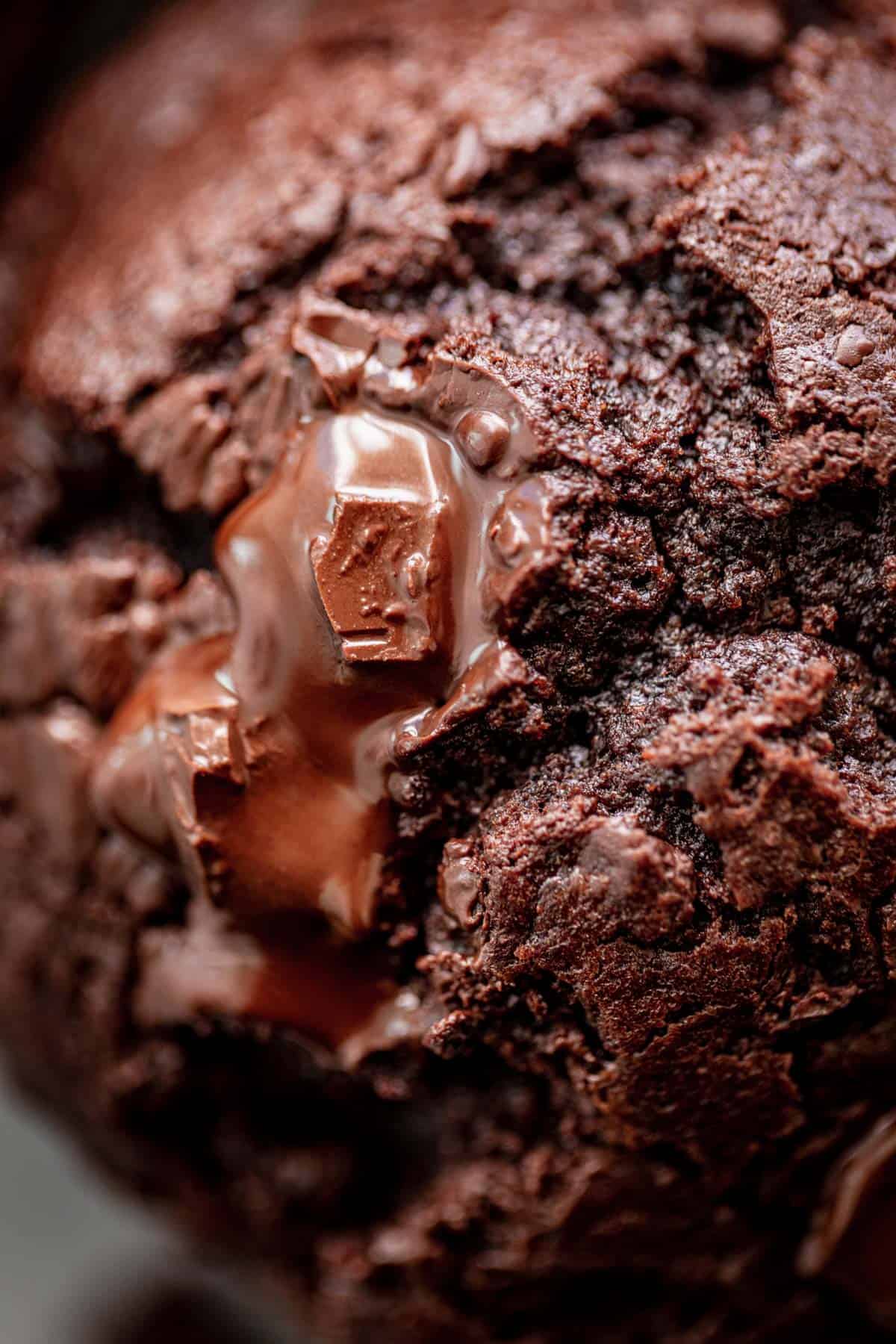 HOW TO MAKE CHOCOLATE MUFFINS
In a large bowl, whisk together your dry ingredients first. Use a whisk to help you get the lumps out of the brown sugar. Stir in three-quarters (just over half) of your chocolate chunks to coat them in the dry mixture. We do this so they don't sink to the bottom while baking.
You can use any chocolate you like: semi-sweet, dark or milk. Just make sure it's a chocolate brand you're familiar with and you LOVE! Very important!
To mix in your wet ingredients, just make a well in the middle the dry ingredients and add in the rest. Whisk the wet ingredients vigorously first, then grab a wooden spoon and briefly fold the wet mixture into the dry ingredients, until JUST mixed together. This is to save you washing up two separate bowls, getting it all done in the one bowl
The batter will be thick. The thicker the batter, the more moist your muffins will be. Don't be tempted to add any more liquids! We have been baking these muffins for years now and they are absolutely perfect.
Spoon the batter evenly into the prepared muffin cups about 3/4 full. Top with the remaining chocolate chunks.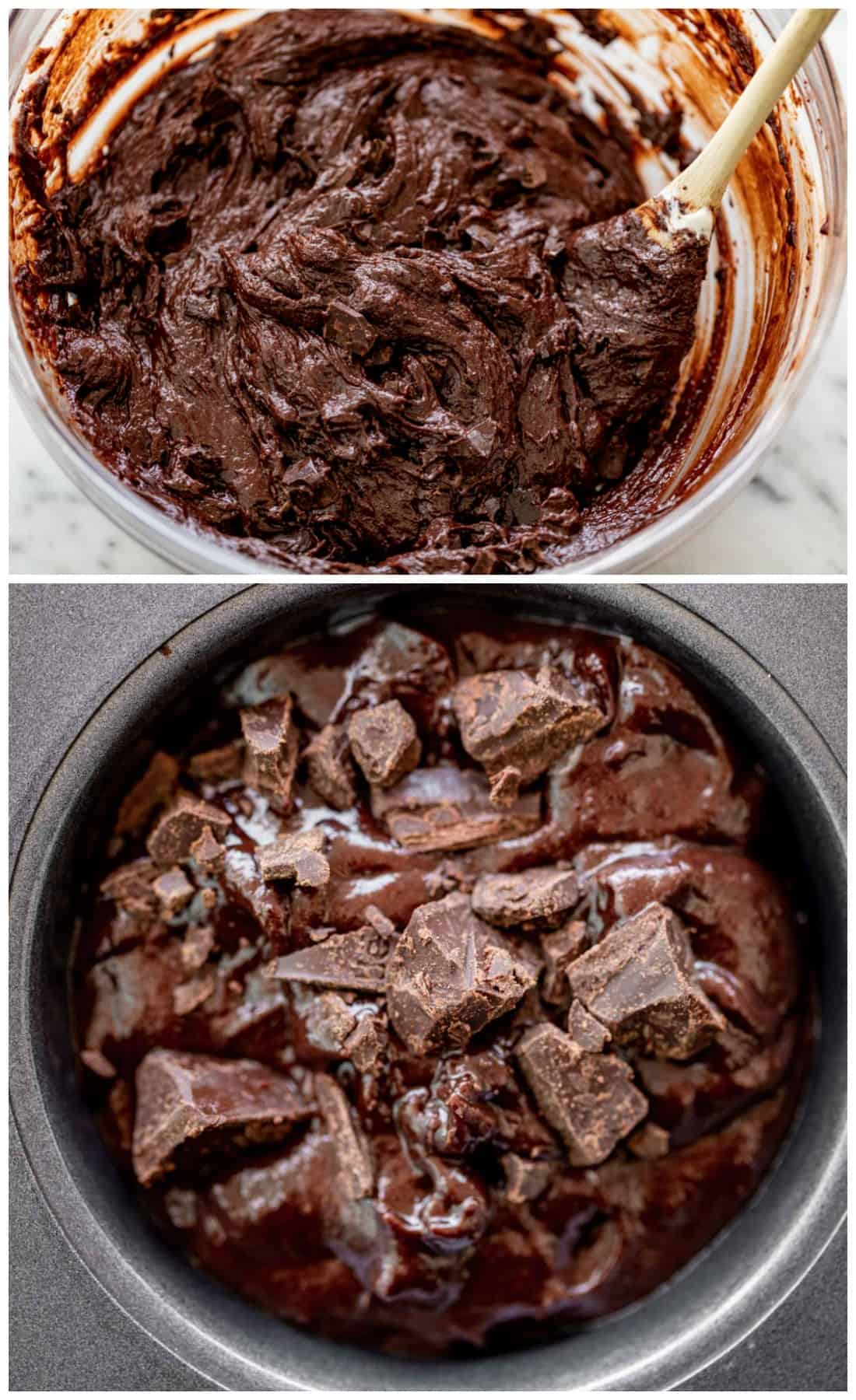 WHAT TEMPERATURE IS BEST TO BAKE MUFFINS?
Baking your chocolate muffins on a high temperature first lifts the muffin tops in a quick burst, creating a tall top (about 8 minutes at at 425°F or 220°C). Then, reduce heat to 350ºF (175°C) and bake for about 8-12 minutes, until the tops are firm to the touch. DO NOT open oven when reducing temperature as heat will escape effecting the end result.
Let muffins cool slightly in the pan (about 10 minutes) then transfer to a wire rack to cool completely. Don't leave them in the hot pan for too long as they will continue cooking and dry out!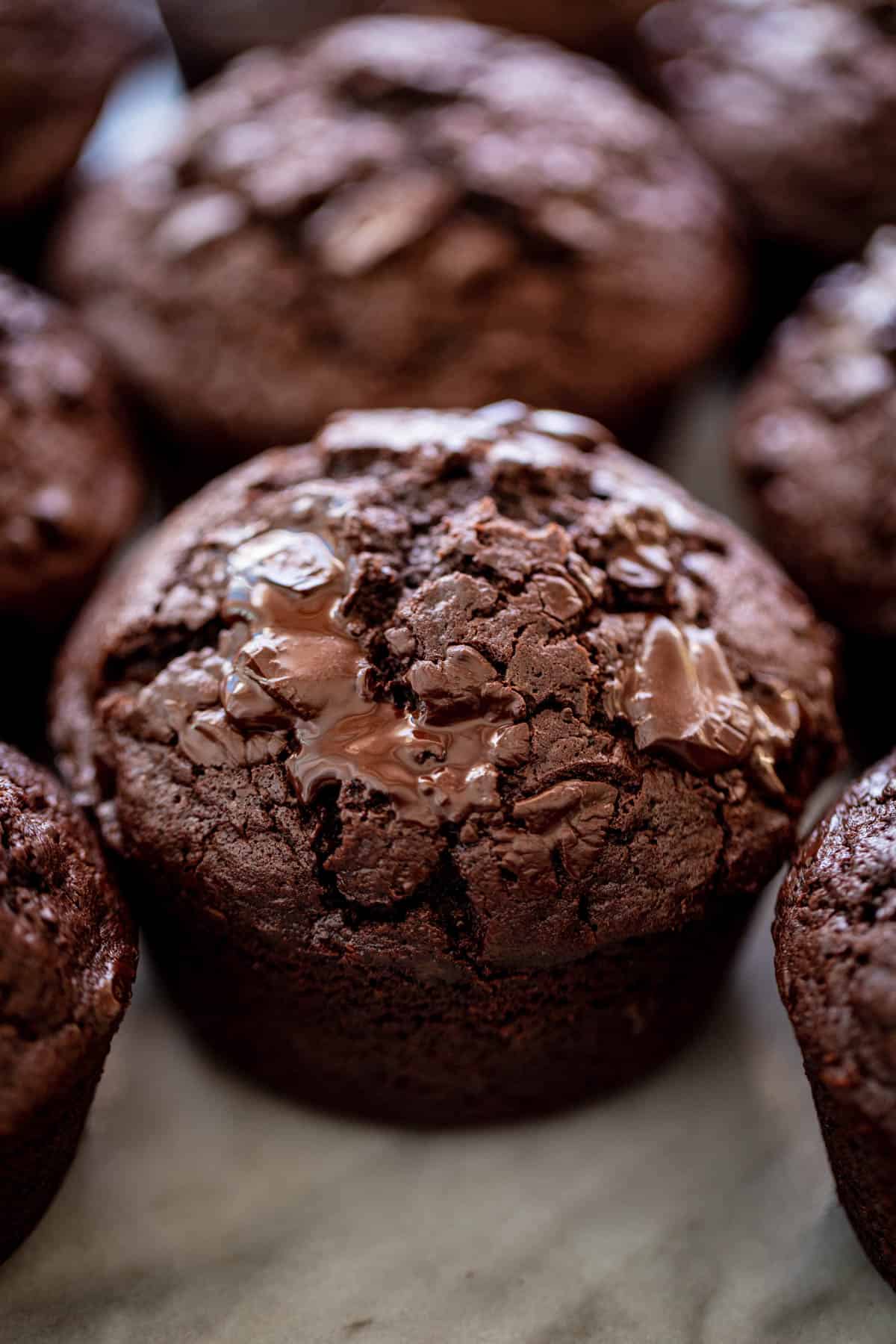 WHAT MAKES OUR MUFFINS SOFT?
A combination of sour cream and buttermilk makes our chocolate muffins moist with a soft-tender crumb. If you don't have those ingredients, substitute with he following options:
SOUR CREAM: Greek Yogurt, Natural Yogurt, Plain Yogurt.
BUTTERMILK: Make your own! Start with 3 teaspoons of white vinegar or lemon juice in a measuring jug. Pour milk into the same jug until you've reached 3/4 cup.  Give it a good stir and let it sit on your bench for a couple of minutes until it semi-curdles.
Cooking oil is another ingredient we use. Any is fine: canola, vegetable, olive oil, etc. You can also use melted butter if it's all you have on hand.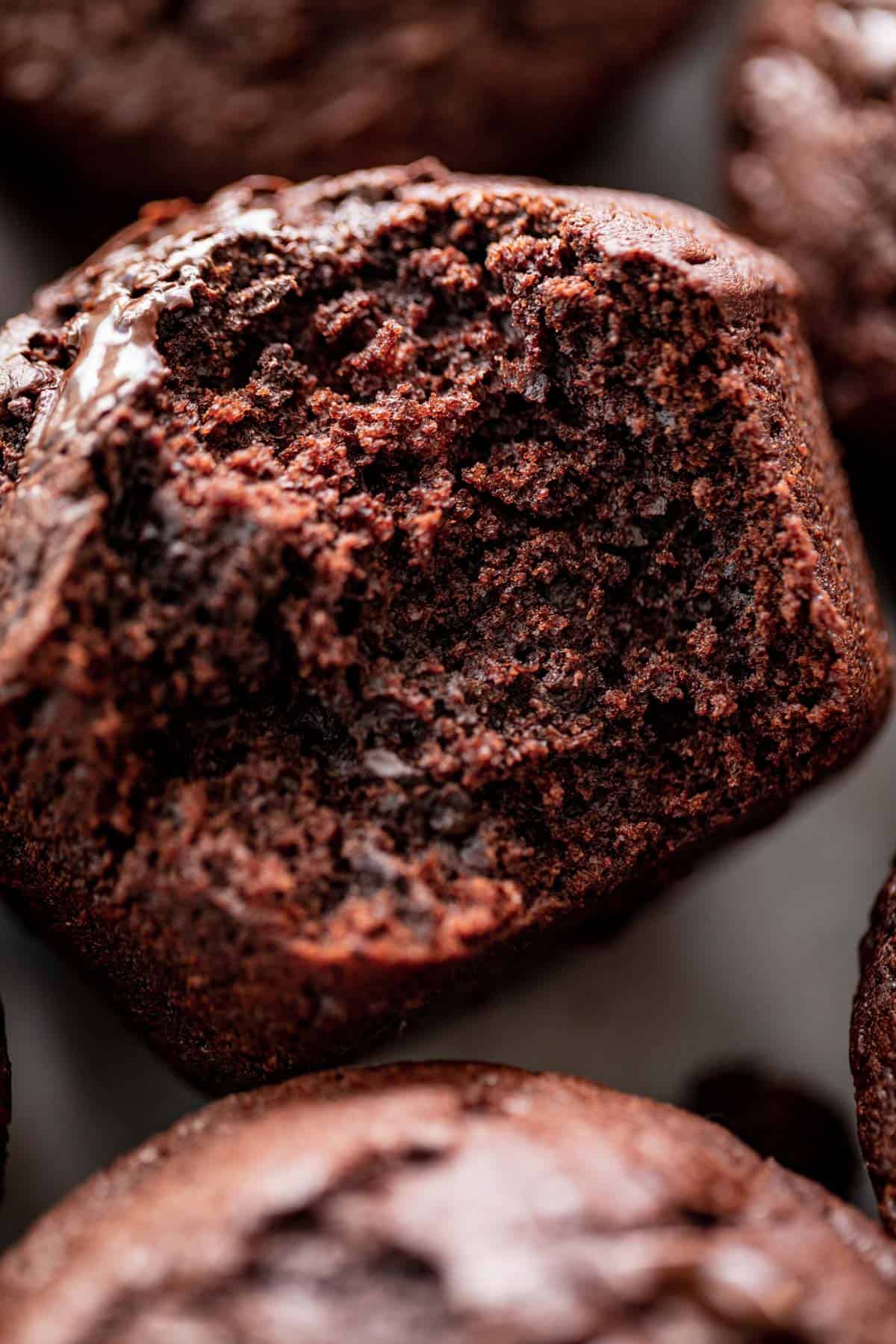 HOW DO YOU KEEP CHOCOLATE MUFFINS MOIST?
Cool your chocolate muffins completely on a wire rack. Transfer them to a resealable plastic bag and seal, getting as much air out of the bag as you can. Place them in an airtight container or bread box to store in your cupboard for up to 2 days, or refrigerate for up top 4 days. You can also place them on a plate and cover with plastic wrap.
MORE MUFFIN RECIPES
Banana and Blueberry Chocolate Chip
Lemon Blueberry Cheesecake French Toast Streusel
Chai Apple Muffins
Healthy Banana, Honey and Date Scone
ORIGINALLY POSTED SEPTEMBER 12, 2014. POST UPDATED WITH NEW PHOTOGRAPHY.