Easy30 minsVegetarian
These Easy Breakfast Tacos are easy to whip up in less than 30 minutes, they're naturally vegetarian (or you're welcome to add meat, if you'd like), and always a crowd fave!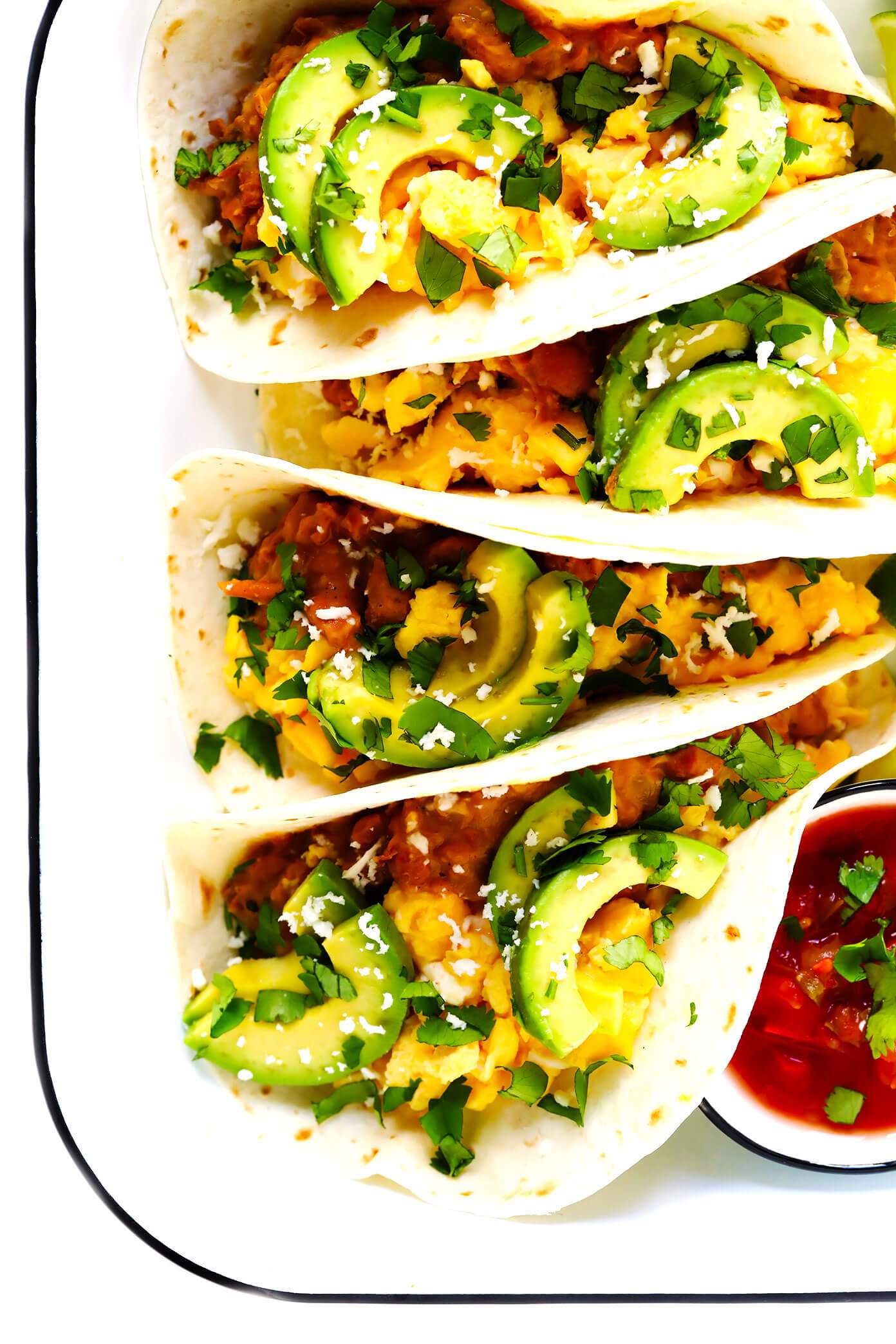 Hey hey!  I'm squeezing in a quick bonus recipe for you today because I just recently realized that Cinco de Mayo falls on a Sunday this year.  Which means…brunch!
Even better…breakfast tacos for brunch. ♡
Ever since I spent some time living in Austin and eating approximately one million of their famous breakfast tacos a few years back, I've been a firm believer that tacos belong on the menu for lunch, dinner and breakfast.  But while there are endless fun ways to make breakfast tacos, I almost always revert to some version of this basic combo — slow-scrambled eggs, homemade refried beans, creamy avocado and some seriously-good salsa.
It's a combo that works for both my vegetarian husband and me (although you're welcome to add in some bacon or chorizo if you'd like).  And I love that they are made 100% from scratch with healthy, protein-packed, whole ingredients that make for a great start to the day.  I also love that this whole recipe can come together from start-to-finish in around 30 minutes, for those (like me!) who would rather have a nice weekend sleep-in rather than waking up early to cook for hours.  But most of all, I just love these breakfast tacos because they are ridiculously good.
We make these breakfast tacos on the reg for easy weekend brunches with friends or with just the two of us.  And they're also one of our favorite recipes to serve to guests who come to stay with us here in Barcelona.  (I love whipping up the refried beans the night beforehand in order to make these tacos extra low-maintenance the morning-of.)  Everyone always loves loading their tacos up with all of their favorite toppings.  And they are always, always a hit!
So if you're looking for a delicious way to kick off your Cinco de Mayo celebrating — or just looking for a hearty and easy new breakfast recipe to make any day of the year — add these ingredients to your shopping list.  Because it's taco time. ♡♡♡
Easy Breakfast Tacos Ingredients:
As I mentioned above, there are about a million ways that you could customize the ingredients in breakfast tacos.  But in general, my base recipe usually includes:
Tortillas: Either corn or flour, up to you.
Eggs: Scrambled or fried.
Refried beans: I'm partial to my homemade refried beans recipe, which is naturally vegetarian/vegan/gluten-free (no lard or preservatives!), easy to make in about 20 minutes, and ridiculously delicious.
Avocado: Either sliced avocado or guacamole.
Salsa: I usually top mine with either red or green salsa (either homemade or store-bought).  But pico de gallo, mango salsa, or elote dip would also be delicious!
Optional toppings: Chopped fresh cilantro, cheese (cotija or cheddar are two faves), sour cream and/or diced jalapeños would also be good!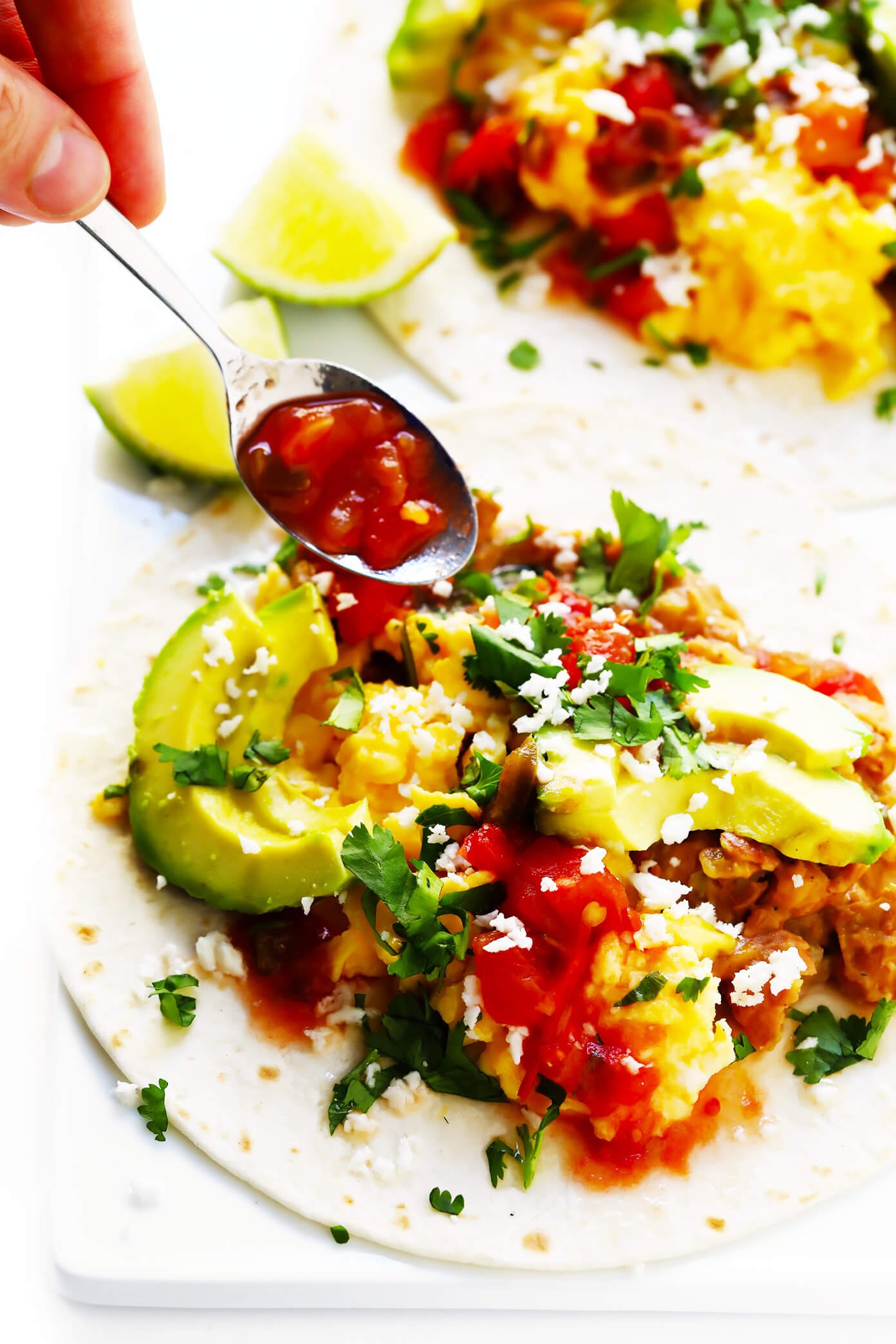 How To Make Breakfast Tacos:
To make this breakfast tacos recipe, simply…
Prep the refried beans.  Use one of the burners on your stove to make these homemade refried beans.
Prep the scrambled eggs.  Then do some multi-tasking on your other burner and scramble (or fry) some eggs.
Prep your toppings.  Chop, chop, chop and get whatever toppings you prefer all ready to go.
Assemble the breakfast tacos.  Then load up the tortillas with beans, eggs and your desired toppings and enjoy while they are nice and warm!
If you are serving these breakfast tacos in the morning and would like to save yourself some time, feel free to prepare the refried beans the day before.  Just refrigerate them in a sealed container and reheat in the microwave or in a saucepan on the stovetop.  (<– You might need to add a bit of extra water if you are reheating them on the stovetop.)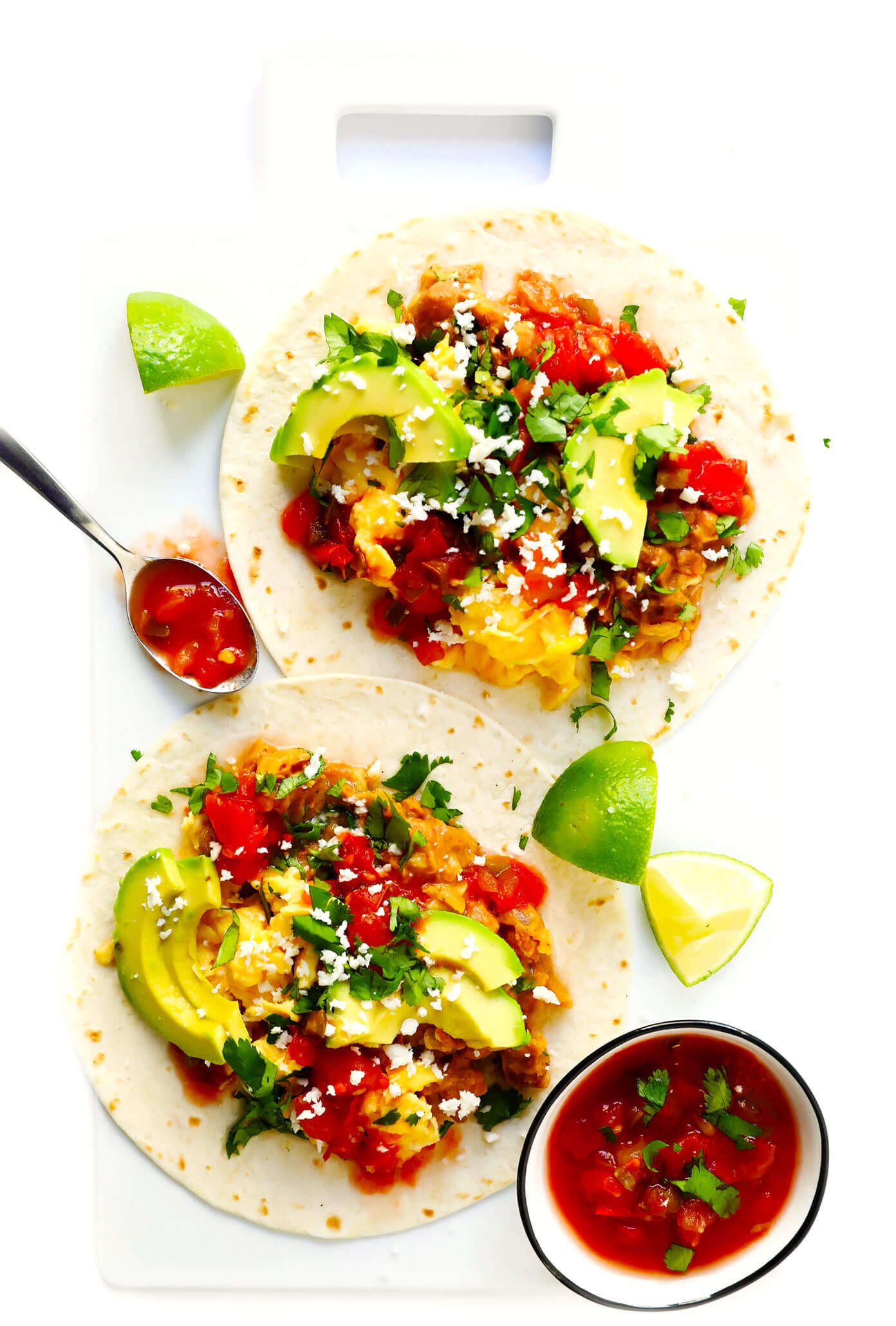 Possible Variations:
Here are a few more ideas of possible ways to customize your breakfast tacos…
Add meat: Cooked bacon, chorizo, carnitas or barbacoa beef would all be delicious in this recipe too.
Add sofritos: Or if you would like a vegan "meat" option, these tofu chipotle sofritas would be delicious.
Add some veggies: Roasted sweet potatoes, crispy hash browns, or sautéed greens would all be delicious additions.
Make them vegan: Just nix the eggs (and maybe scramble some tofu, if you'd like).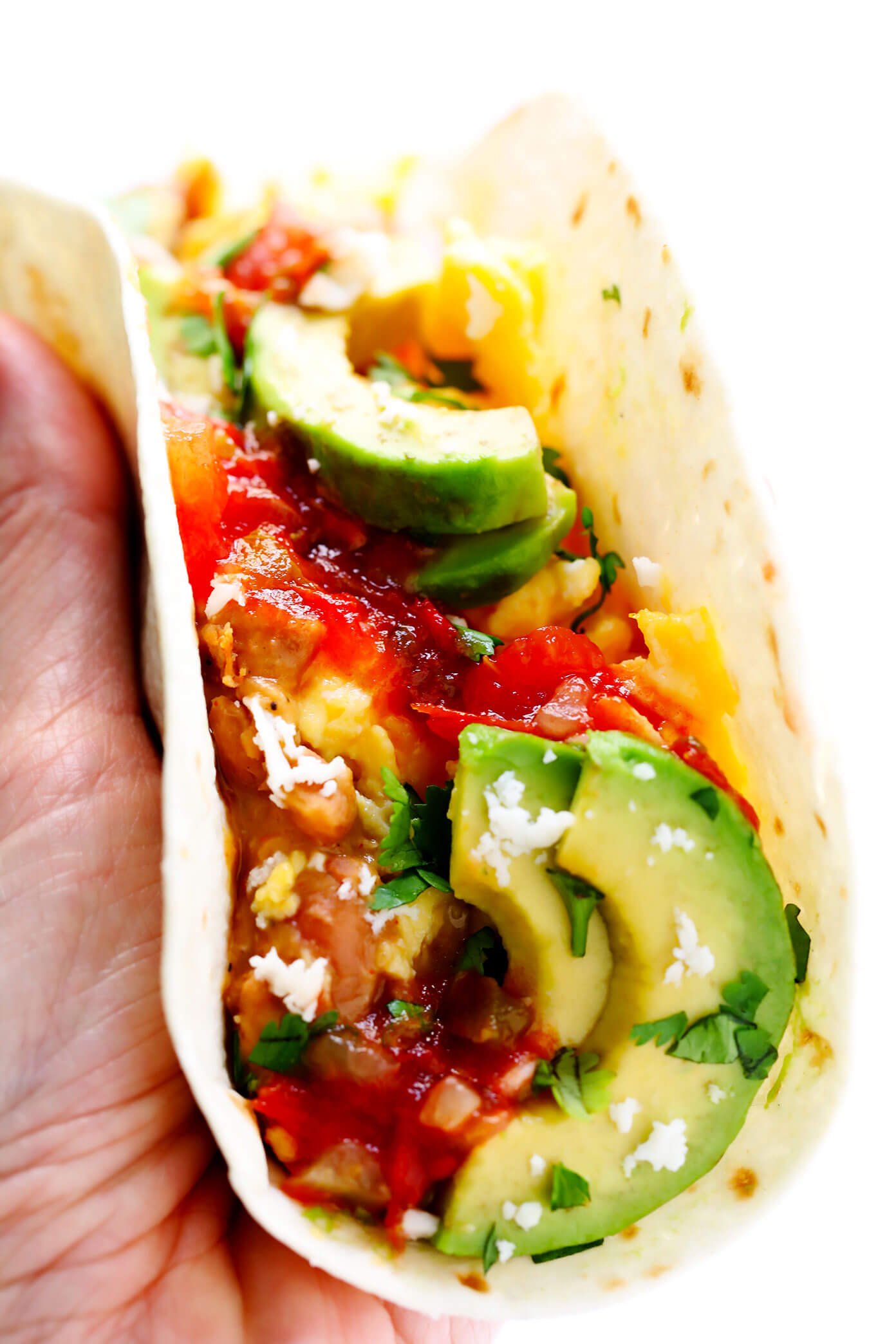 Yield: 8 servings
Easy Breakfast Tacos
These Easy Breakfast Tacos are easy to whip up in less than 30 minutes and always a crowd fave! See notes above for possible ingredient variations.
Ingredients:
8 small corn or flour tortillas
8 large eggs, either scrambled or fried
1 batch homemade refried beans
2 avocados, peeled, pitted and sliced
your choice of salsa: red, green, or pico de gallo
your choice of toppings: chopped fresh cilantro, cheese, sour cream and/or diced jalapeños
Directions:
Prepare the refried beans in a large saucepan according to recipe instructions.
Meanwhile, as the beans are cooking, go ahead and scramble (see below) or fry the eggs in a non-stick sauté pan.
Once the beans and eggs are ready to go, it's time to assemble the tacos!  Simply spread a spoonful of refried beans on a tortilla, top with a spoonful of scrambled eggs, then load it up with avocado, salsa and any of your preferred toppings.
Serve immediately and enjoy!
*To make scrambled eggs, whisk the eggs together in a mixing bowl until they are smooth.  (I also like to add in a generous splash of milk to make them extra creamy.)  Then heat 1 tablespoon oil or butter in a non-stick skillet over medium-low heat.  Add the eggs and cook — stirring often with a wooden spoon or rubber spatula — until they are scrambled to your desired degree of doneness.
Difficulty: EasyCategory: Vegetarian


All images and text ©Gimme Some Oven
If you make this recipe, be sure to snap a photo and hashtag it #gimmesomeoven. I'd love to see what you cook!