Candied Walnuts are great for salads, baking, snacking, gifting, and more! You only need 10 minutes to make this Easy Candied Walnuts recipe! You will love the crunchy, sweet, and oh so addicting candied nuts!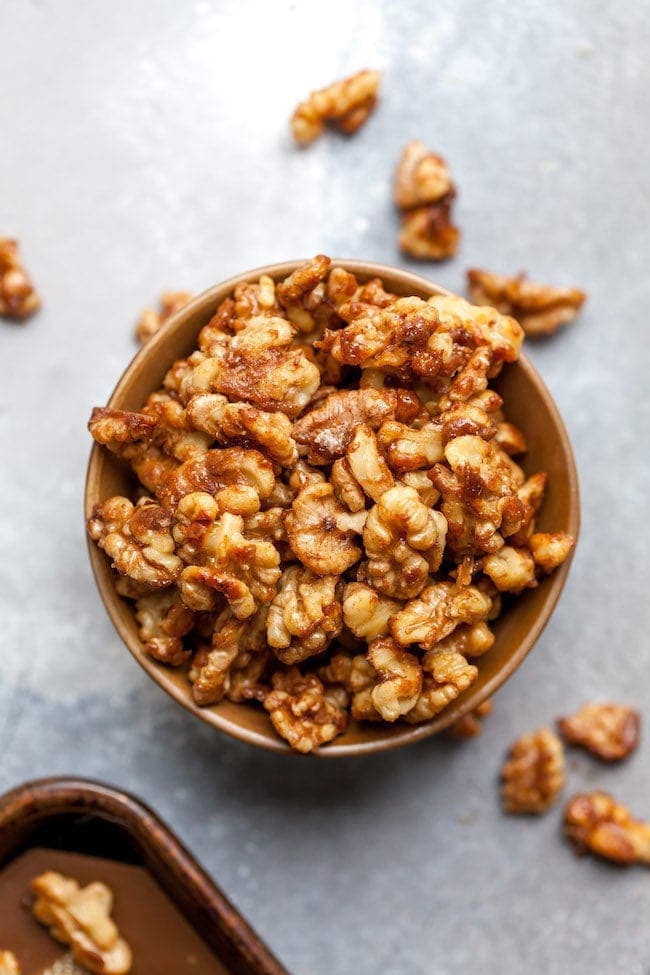 Easy Candied Walnuts
My dad loves walnuts and always kept a jar of walnuts in our pantry. I was never a huge walnut fan until he introduced me to candied walnuts. Candying the walnuts transforms regular old walnuts into sugary, crunchy, sweet walnuts that are 100% addicting! It's amazing what a little sugar will do!
I love this candied walnuts recipe because you make them on the stove top and not in the oven. They only take about 10 minutes to make and you don't have to take up oven space, which is important during the busy holiday months when you are trying to make a million things in the oven.
We always make candied walnuts for Thanksgiving and Christmas, so freeing up oven space is very important. This stovetop method is SO easy and the nuts are DELICIOUS!
How to Make Candied Walnuts
You are going to LOVE this super easy candied walnuts recipe! Let's get started!
Walnuts-Use walnut halves or pieces. If you want smaller walnuts, you can chop them up after they are candied. You can also use pecans for this recipe.
Prepare a pan-Before you start the candying process, place a sheet of parchment paper or Silpat baking mat on a baking sheet and set aside. When the nuts are candied, you will need to immediately spread them out on the prepared pan so always have the pan ready before you start.
Sugars-You can use granulated sugar or brown sugar to make candied walnuts. I have used both and they are both really good! Using brown sugar will give the walnuts a thicker candy coating.
Use a non-stick skillet-In a medium non-stick skillet, add the butter and sugar and heat over medium heat until the butter is melted, stirring occasionally with a wooden spoon.
Spices-Add the walnuts, salt, cinnamon, and cayenne pepper, if using. I like to add cinnamon for flavor and cayenne for a little kick. These spices are optional, but SO good! Stir so the walnuts are coated in the sugar mixture.
Cook-Continue to cook and stir frequently over medium heat for 3 to 5 minutes, or until the sugar is fully melted and coating the walnuts. If using brown sugar, the mixture will be shiny and smooth, not grainy.
Be Quick-Immediately remove the skillet from the heat to prevent the sugar from burning.
Spread-Place the candied walnuts onto the prepared pan in a single layer, making sure they are not in clumps.
Cool-Let the candied walnuts cool for 10 minutes or until the candy hardens.
Ways to Use Candied Walnuts
If you are looking for ways to use candied walnuts, here are a few ideas:
Snacking-candied walnuts are good by the handful! You can also add them to any cheese or snack board.
Salads-add to any salad for a sweet crunch! Candied walnuts make any salad better!
Baking-stir chopped candied walnuts into your favorite cookie or banana bread recipe.
Topping-use candied walnuts as a topping for oatmeal, yogurt, ice cream, baked sweet potatoes or sweet potato casserole.
Gifting-Place candied walnuts in a cute jar with ribbon and give as a gift during the holidays! They also make a great hostess gift.
How to Store
You can store cooled candied walnuts in a sealed jar or container for up to 3 weeks. You can freeze candied walnuts for up to 2 months. Always label and date before going into the freezer!
Other Recipes You Might Like:
1




tablespoon




unsalted butter

¼




cup




granulated sugar or brown sugar

1




cup




unsalted walnut halves or pieces

¼




teaspoon




sea salt

¼




teaspoon




ground cinnamon,




optional

Pinch




of cayenne pepper,




optional
Nutrition Facts
Candied Walnuts
Amount Per Serving
Calories 132.54
Calories from Fat 99
% Daily Value*
Fat 10.96g17%
Saturated Fat 1.79g9%
Cholesterol 3.76mg1%
Sodium 73.22mg3%
Potassium 64.5mg2%
Carbohydrates 8.3g3%
Fiber 1.01g4%
Sugar 6.62g7%
Protein 2.25g5%
Vitamin A 43.73IU1%
Vitamin C 0.19mg0%
Calcium 14.33mg1%
Iron 0.42mg2%
* Percent Daily Values are based on a 2000 calorie diet.
Keywords
easy, gluten free, vegan
Photos by Dishing Out Health