This easy Instant Pot Baked Ziti is a new twist on a classic favourite dish, made healthier with high fibre pasta, sneaky veggies, and extra lean ground beef. It's made completely in the Instant Pot or pressure cooker, so no extra dishes, and the kids will love it! You can even use frozen ground beef! Includes step by step recipe video.
Here we are again. Let me just say that, yes, I cheated, again. And this Instant Pot "Baked Ziti" is made with penne pasta, but no one seemed to mind in this Slow Cooker Baked Ziti, so I'm breaking the rules all over again.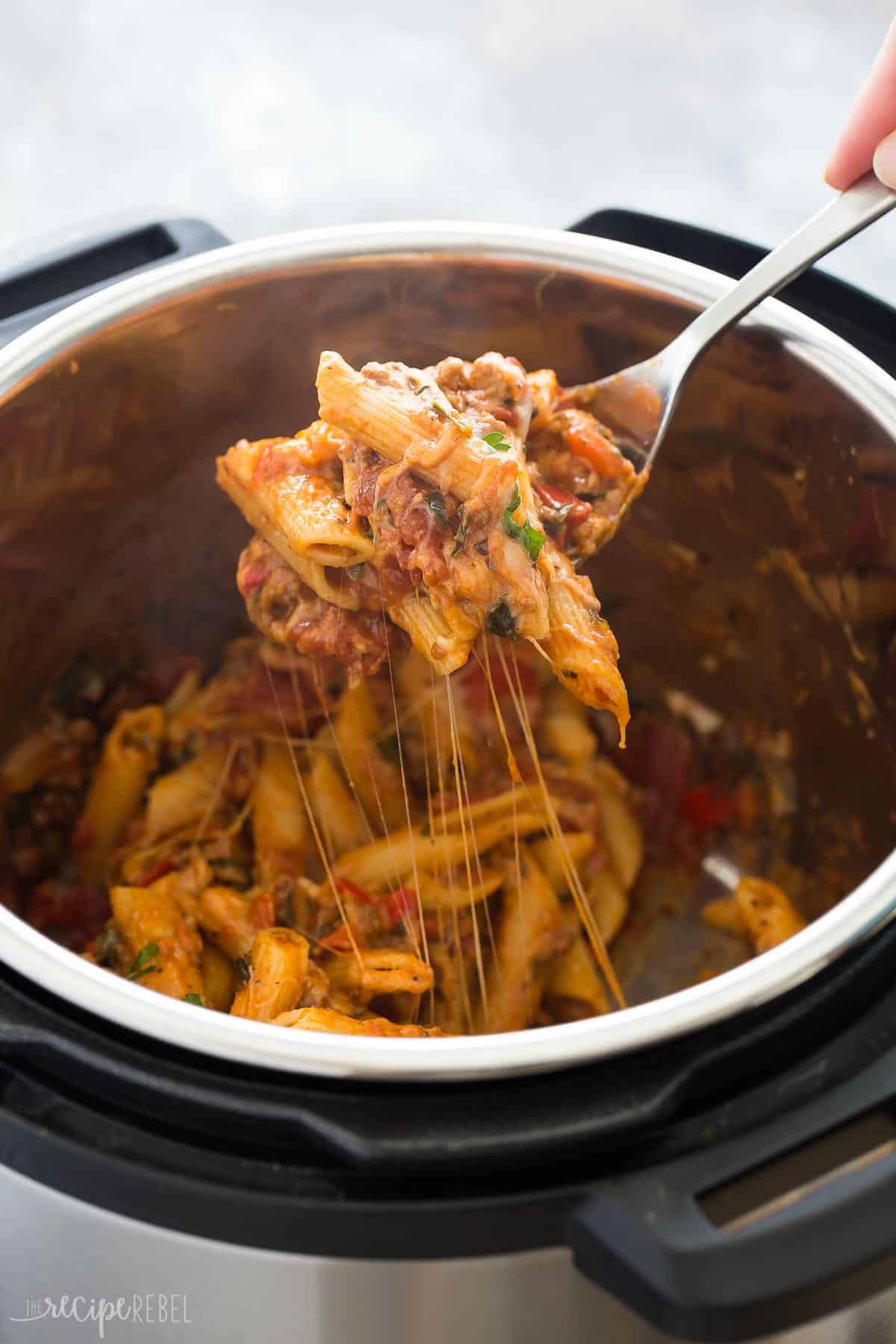 Besides, since we're using Catelli's Smart Penne Rigate, we're getting 32% of our daily fibre just in the pasta alone, never mind all the other good stuff I'm throwing in here: spinach, red peppers, extra lean ground beef and cheese. Because my kids will eat just about anything when it's hiding under a blanket of cheese ?
My 3 year old has always been the feisty one — she's constantly on the go and has an opinion about everything.
I know, I know.
Someday she is going to be a strong, determined woman who accomplishes great things, but today? She's my biggest dinnertime critic.
I'll admit, as much as we'd like to have this parenting thing down, there are still days we bribe her with treats/toys/anything if she'll just have 3 bites, because there are no short order cooks here!
So somedays she has one bite and some days she devours anything on the table in front of her, and it's all okay.
I know we all have those days when the family (okay, maybe just the 3 year olds) rolls their eyes at our creations, but this pasta is always a win here. Sometimes it's nice to have a few meals in your back pocket that you can enjoy together without anyone complaining! (Plus, they're still getting a whack of fibre, protein, and veggies under that cheese).
A recent poll conducted by Catelli uncovered that almost 50% of Canadian parents say their children refuse to eat the food they're served at least once a week, so I know that we're not alone! Share your dinnertime struggles and successes online with the hashtag #RealFeelsGood — and know that you are all rockstars, moms and dads (and that bedtime will come eventually ? )
Hang in there, parents of toddlers. Soon we won't be able to keep enough food in the fridge to satisfy them!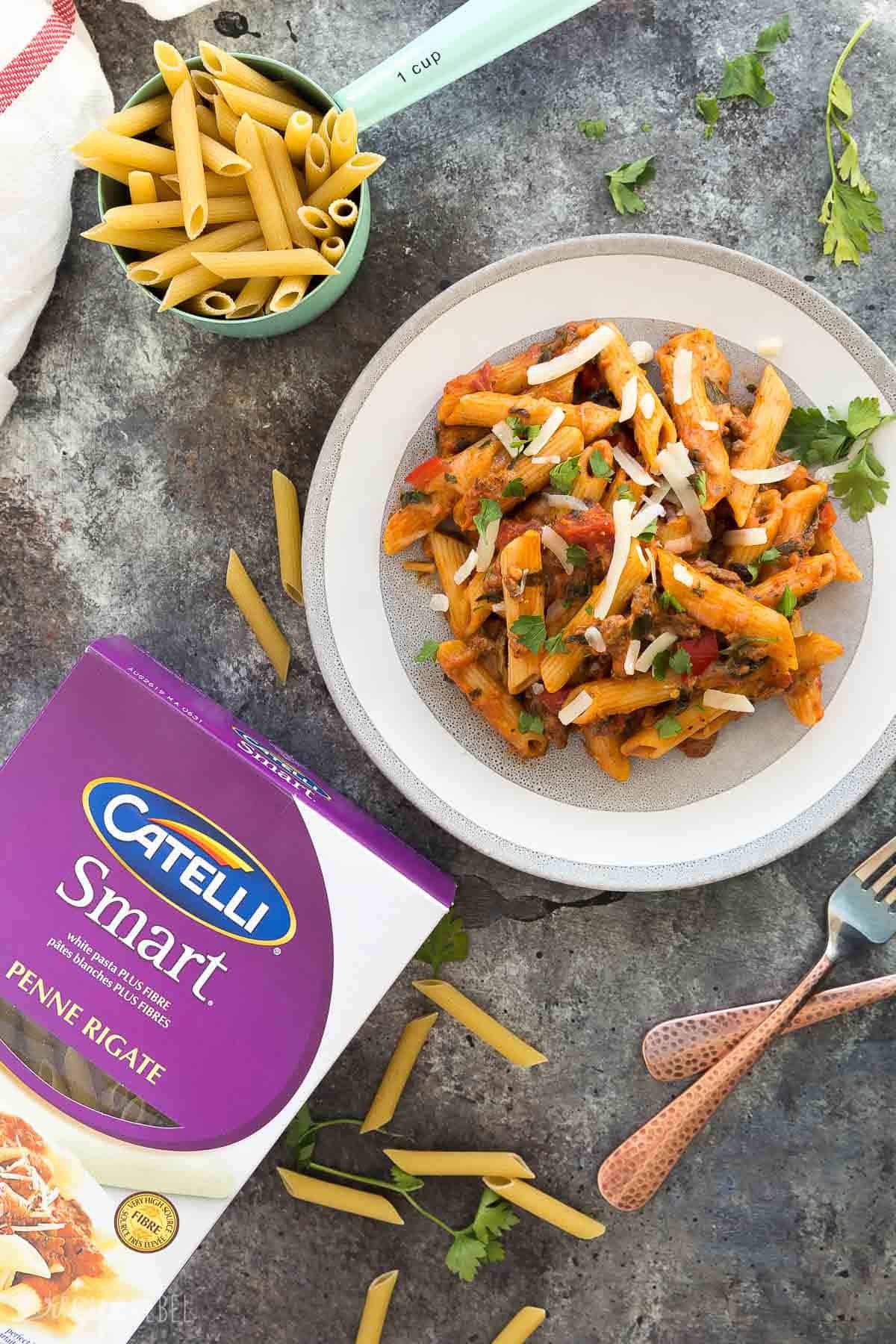 I've been absolutely committed to trying out my Instant Pot this year, throwing anything and everything in there to figure out what it does well and what is not so great. I will admit that I'm coming around, but only with certain things.
Baked Potatoes? Yes. Chicken breasts and ground beef from frozen? Yes. One pot meals, soups and tough cuts of meat? Yes, yes, and yes.
Having to strategically stack different parts of your meal on top of each other using wire racks and tin foil packs? I'm not there just yet.
This Instant Pot Baked Ziti is just so easy, you guys.
You can start with frozen ground beef and throw it straight in the pressure cooker, or start with fresh. Brown it, throw in some veg, some sauce, some pasta, and hit Go, then just come back when dinner is ready.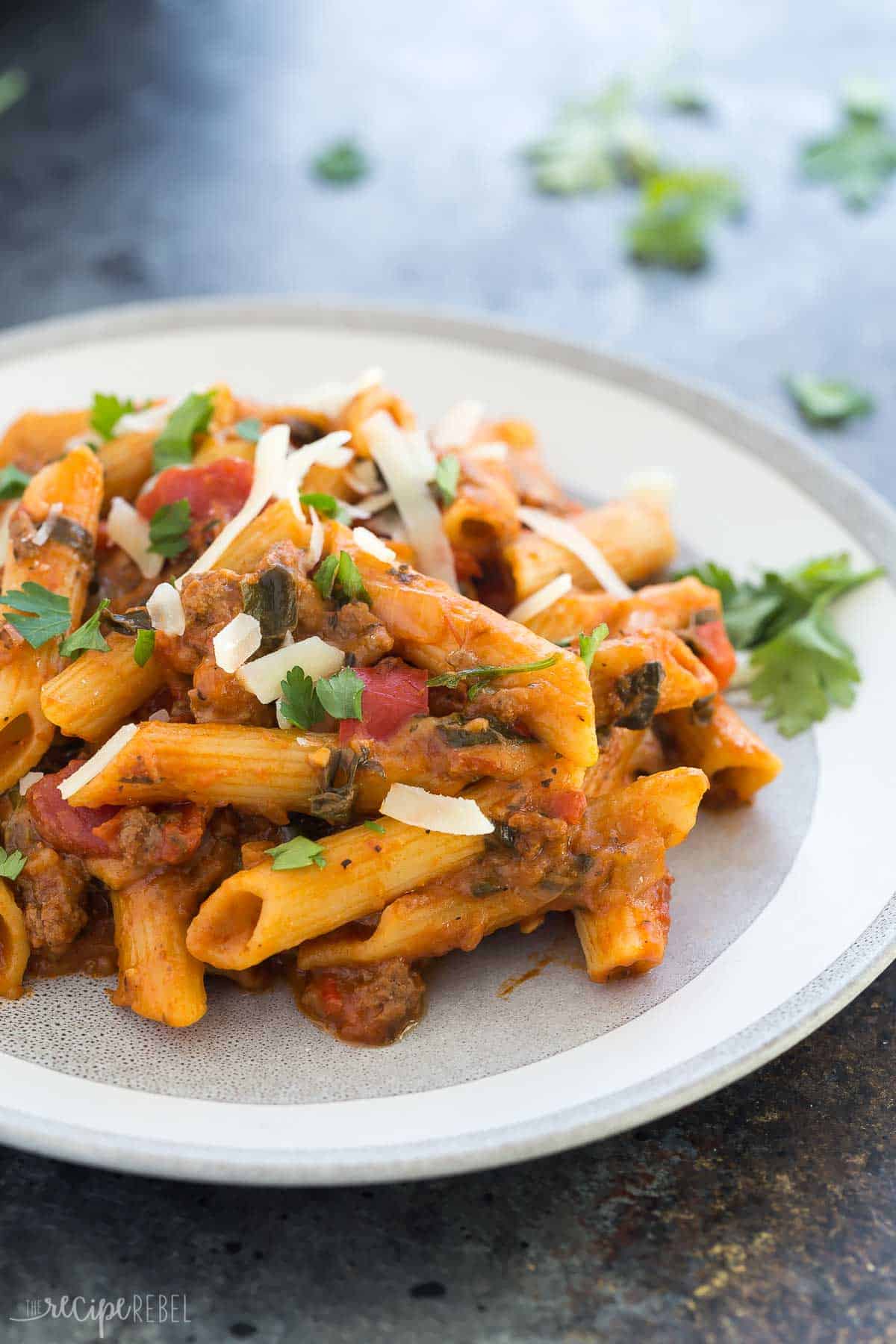 Tips and Tricks for Making this Instant Pot Baked Ziti:
Feel free to mix up the meat in this recipe: try ground turkey or Italian sausage instead!
Feel free to mix up the veggies in this recipe: add mushrooms, zucchini, shredded carrots, whatever your family enjoys! (p.s. Shred or puree extra veggies and cook them with the ground beef, and your picky eaters will never know the difference!)
Any short cut of pasta should work just fine in this recipe, but I recommend choosing a high fibre variety like Catelli Smart.
I have actually made double this recipe in my 6 quart electric pressure cooker and it works just fine! It makes a ton though, which is why I'm sharing this smaller portion. If you like to have leftovers or you have a large family, you may want to double the recipe.
You can find more family-friendly dinner recipes over on the Catelli site here — check them out!
*This post is generously sponsored by Catelli pasta. Thanks for supporting the brands that keep us fed!
Ingredients
1/2 lb extra lean ground beef
1/2 medium onion, diced
3/4 teaspoon salt
1/2 teaspoon minced garlic
1/2 teaspoon dried basil
1/2 teaspoon dried parsley
1/4 teaspoon black pepper
1 pinch red pepper flakes
1/2 red bell pepper, diced
2 cups fresh spinach, finely chopped
1 (14oz) can diced tomatoes, sodium reduced
1 1/2 cups tomato pasta sauce of choice
1 1/4 cups water or low sodium chicken broth
2 cups Catelli Smart Penne pasta, dry
1 1/2 cups shredded mozzarella cheese
Directions
Turn your Instant Pot (mine is the 6 quart with bluetooth) to saute. When the screen reads "hot", add the ground beef, onion, salt, garlic, basil, parsley, pepper and pepper flakes and cook and stir until browned, about 3-4 minutes.
Add the red pepper, spinach, tomatoes, pasta sauce, water and pasta and stir until combined. 
Place the lid on the Instant Pot, seal and turn the valve to sealing. 
Press "Manual" and use the arrows to set a 4 minute cook time. It will take about 10-15 minutes to reach pressure and start counting down.
When the cook time has finished, turn the Instant Pot off and do a quick release of the pressure (I usually do a quick release because I'm impatient and the pasta has such a short cook time I don't want it to get mushy!).
Top with the cheese, replace the lid and let sit 1-2 minutes until the cheese is melted. Serve. 
Loading nutrition data…