Homemade Shrimp Ceviche is easier than you think, and you don't have to eat it raw. This simple recipe will show you how to make citrusy shrimp ceviche with jalapeno, tomatoes, avocado, and more.
Zesty Shrimp Ceviche with Jalapeno and Avocado
Have you ever eaten shrimp ceviche? If you like seafood, you will love this ultra-fresh and flavorful dish. It's often served as an appetizer with chips, but it also makes a wonderful light main course, for lunch or for a simple dinner. However you serve it, it's sure to be a hit!
What's so special about ceviche? It's made with fresh fish or shrimp, often raw, but sometimes very quickly blanched to make sure that it retains its natural ocean bite. A bold citrus marinade adds plenty of flavor, while a medley of colorful veggies rounds it out and adds contrast. It's like the freshest salsa ever meets perfectly seasoned shrimp!
Is Ceviche Safe to Eat?
Ceviche is famous as a raw seafood dish, like sushi, except that the shrimp is technically "cooked" by the acids in the lemon and lime juice. And while it is eaten this way safely all the time (usually in places where the shrimp is freshly caught the same day), many of us aren't confident enough in our shrimp (or our tummies) to go that route! 
So if you want to, and you have access to extremely fresh, high-quality shrimp, you can choose to make this ceviche with raw shrimp. But lightly cooking the shrimp until opaque is also delicious, without the risk, and that's the way I make this easy, no-fuss shrimp ceviche.
What Is Shrimp Ceviche Made Of?
What is this fresh and zesty dish made of, you ask? Goodness, pure goodness. Check out the ingredients and you'll agree!
Raw Shrimp: Peeled and deveined, and the tails removed. You can do this at home, or ask your fishmonger to do it for you.
Lime Juice and Lemon Juice: Fresh juice is best, but bottled is fine as well. 
Tomatoes: Roma tomatoes are nice here – they are firm and meaty without being overly juicy. 
Jalapeño: Remove the ribs and seeds from the jalapeño, and then finely dice it.
Red Onion: If needed, another type of onion, like white or yellow would be fine.
Cilantro: Chopped fresh cilantro is good for you and adds a punchy herbal freshness.
Salt and Pepper
Cucumber: Go for English cucumber, if possible. No peeling needed! 
Avocado: Look for avocados that are squeezably soft, without being mushy. Hass avocados should be nearly black, but not dry or old.
Tortilla Chips: Optional, for serving.
Can I Use Frozen Shrimp?
Yes, fresh or frozen shrimp will work in this recipe. If you do use frozen shrimp, make sure to thaw them out before you use them. (Pro tip: Quality shrimp that you've just defrosted yourself are often fresher than the "fresh" shrimp that have been sitting behind the fish counter all day at your supermarket.)
How to Make It
Unlike ceviche made with raw shrimp, this one does have a quick cooking component: cooking the shrimp lightly in boiling water. Here's the scoop on making this easy seafood fave:
Briefly Cook the Shrimp. Bring about 6 cups of salted water to a boil in a large pot. While the water is heating, fill a mixing bowl with ice water. Next, carefully add the shrimp to the boiling water, and let them cook for just a minute or two, until pink and opaque. Don't overcook. Drain the shrimp (or pull them out of the water with a slotted spoon) and place in the ice water. This stops the shrimp from overcooking, and cools them down.
Soak the Shrimp. Chop the shrimp into ½-inch pieces, and place them in a ceramic or glass dish. Add the citrus juices, cover, and chill for 30 minutes. 
Add the Remaining Ingredients, Except Cucumber and Avocado. After the 30 minutes is up, take the shrimp out of the refrigerator and stir in the tomatoes, jalapenos, red onions, cilantro, and seasonings. Cover again, and refrigerate for another 30 minutes.
Finish the Dish. Last, stir in the cucumber and avocado. Taste the ceviche for salt and pepper, and add more if needed. 
Enjoy! Serve this dish with tortilla chips or other side dishes.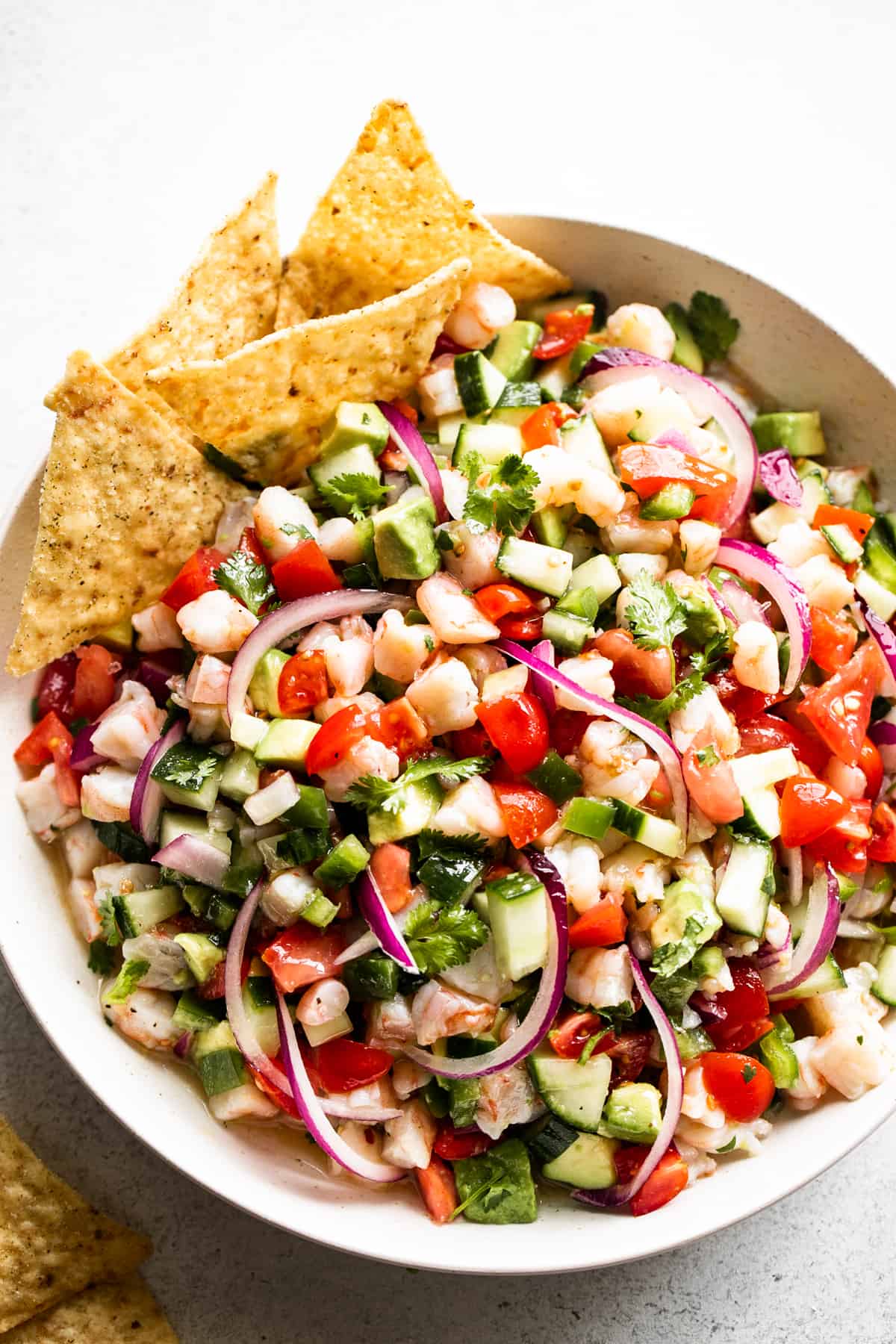 Tips and Hacks
When it comes to making shrimp ceviche, there are a few helpful tips I'd like to share. Read on, and happy cooking!
Shrimp Count: Shrimp are usually sold by the "count," meaning that the bag will tell you how many shrimp there are in a pound. So if you see a bag with 16/20 on it, that means there are 16 to 20 shrimp per pound. If the bag says 10/15, that means that there are 8 to 12 shrimp per pound, which of course means that the shrimp are bigger than their 16/20 cousins! I recommend using bite-sized shrimp in this recipe.
Control the Heat: Removing the ribs and seeds from the jalapeno helps temper the heat a bit, but if you need a milder dish, omit the jalapeno entirely. Replace it with a bit of finely chopped green bell pepper for flavor without heat. For a spicier dish, include some or all of the ribs and seeds. 
Seafood Options: You can substitute firm, meaty fish like cod or mahi mahi for some of the shrimp, for a bit more variety!
Serving Suggestions
There are a few different ways to enjoy ceviche – as a stand-alone appetizer with some kind of chip, as part of a small plate or tapas menu, or as a light, refreshing main course. Here's what to serve, no matter how you enjoy your ceviche.
Appetizer: Bring out the best in your ceviche with a crisp chip. Tortilla chips are good, but these Chili Lime Baked Potato Chips would be amazing, too!
Tapas: Olives, cheese, ham, and other little "bites" are perfect for tapas. So are little squares or triangles of frittata! Try this Bacon and Spinach Frittata – it's the best.
Main Course: Make this a light main course by adding pasta or rice. If you'd like to keep things low-carb, you can't go wrong with this killer Coconut Lime Cauliflower Rice!
How Long Does Shrimp Ceviche Last?
Shrimp ceviche really is a dish best served fresh, so I don't recommend storing it for more than a day or two. Drain some of the extra liquid, before serving.
To store it properly, make sure to keep it in an airtight container in your fridge.
Can I Freeze This?
Freezing shrimp ceviche is technically safe to do, but the results won't be nearly as good after thawing. The ingredients here are delicate and don't really like to be frozen and thawed again, so try to serve it fresh. If you're concerned that the recipe will make too much, feel free to cut it in half, or even by two-thirds.
ENJOY!
1

pound

small or medium raw shrimp,

peeled and deveined, and tails removed

4

limes,

juiced

3

lemons,

juiced

2

roma tomatoes,

diced

1

jalapeno pepper,

ribs and seeds removed, then finely diced

½

cup

chopped red onion

⅓

cup

chopped fresh cilantro

salt and fresh ground black pepper,

to taste

½

English cucumber,

diced

1

avocado,

diced

tortilla chips,

for serving
Bring about 6 cups of salted water to a boil.

Fill a separate mixing bowl with ice water and set aside.

Add the shrimp to the boiling water and cook for 1 to 2 minutes, or until shrimp are pink and opaque.

Using a slotted spoon, remove shrimp from the water and transfer to the ice water to stop the cooking.

Drain and chop the shrimp into about ½-inch pieces, then transfer them to a ceramic bowl or glass bowl.

To the shrimp, add in the lime juice and lemon juice; cover and refrigerate for 30 minutes.

Remove from the fridge and stir in the tomatoes, jalapeno pepper, red onions, cilantro, salt, and pepper.

Cover and refrigerate for 20 to 30 minutes.

Add in the cucumber and avocado; toss to combine.

Taste for salt and pepper, and adjust accordingly.

Serve with tortilla chips.
Calories: 113 kcal | Carbohydrates: 12 g | Protein: 9 g | Fat: 5 g | Saturated Fat: 1 g | Polyunsaturated Fat: 1 g | Monounsaturated Fat: 3 g | Trans Fat: 0.01 g | Cholesterol: 71 mg | Sodium: 326 mg | Potassium: 363 mg | Fiber: 4 g | Sugar: 3 g | Vitamin A: 377 IU | Vitamin C: 39 mg | Calcium: 63 mg | Iron: 1 mg | Net Carbs: 8 g
Nutritional info is an estimate and provided as courtesy. Values may vary according to the ingredients and tools used. Please use your preferred nutritional calculator for more detailed info.
More Flavorful Shrimp Dishes