This is one of the best hidden secrets on how to prepare frozen bananas for one amazing dessert. This is a simple recipe that kids could make on their own, too. It's amazing and the frozen bananas taste like a delicious frozen ice cream treat. Make a double batch today because they'll be gone in a hurry!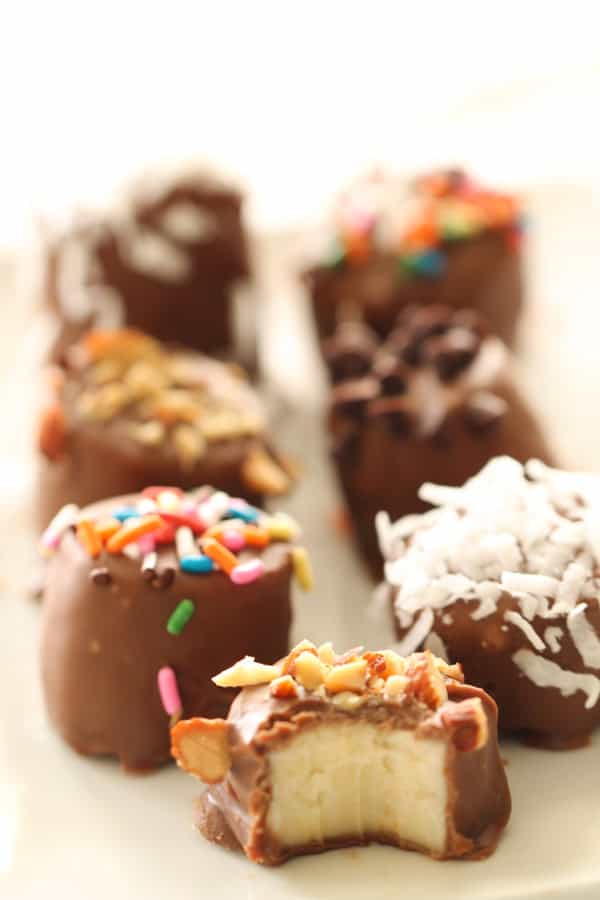 We are the biggest chocolate fans. We basically eat it in any form. But these banana bites remove any guilt because bananas are good for you….RIGHT? And if they are dipped in a chocolate/peanut butter mixture, then that adds a whole new twist!
Peanut butter is a good source of protein, so these have got to be considered as a healthy snack? At least we'll keep telling ourselves that they are.
The kids will love helping you make these. The only cooking involved is melting the peanut butter and chocolate chips in the microwave. And if they are too young to do that, they can choose their own toppings for the banana bites.
Are milk chocolate chips better than semi sweet for this recipe?
This recipe was originally made with semi sweet chocolate chips. But the last time we made them, we only had milk chocolate chips on hand. Both are delicious.
So, it's really up to you. If you are a milk chocolate chip lover, then you will want to use milk chocolate chips. If dark semi sweet chocolate chips are your jam, then use the semi sweet.
Even though we used milk chocolate chips, we still sprinkled the tops of some banana bites with mini semi sweet chocolate chips, and they tasted so yummy.
WHAT INGREDIENTS ARE NEEDED FOR FROZEN CHOCOLATE PEANUT BUTTER BANANA BITES?
To make these amazing Frozen Chocolate and Peanut Butter Banana Bites, you need 3 main ingredients. Those main ingredients include:
Bananas
Chocolate Chips (milk or semi-sweet)
Creamy Peanut Butter
Then you can add on sorts of optional toppings. Here are a few of the optional toppings we used for our banana bites:
Miniature Semi-Sweet Chocolate Chips
Shredded Coconut
Sprinkles
These are optional, and you can easily add any other toppings of your own liking.