Roasted garlic is the secret ingredient that makes these Garlic Mashed Potatoes a favorite side dish for Thanksgiving, Christmas, Easter and for any meal.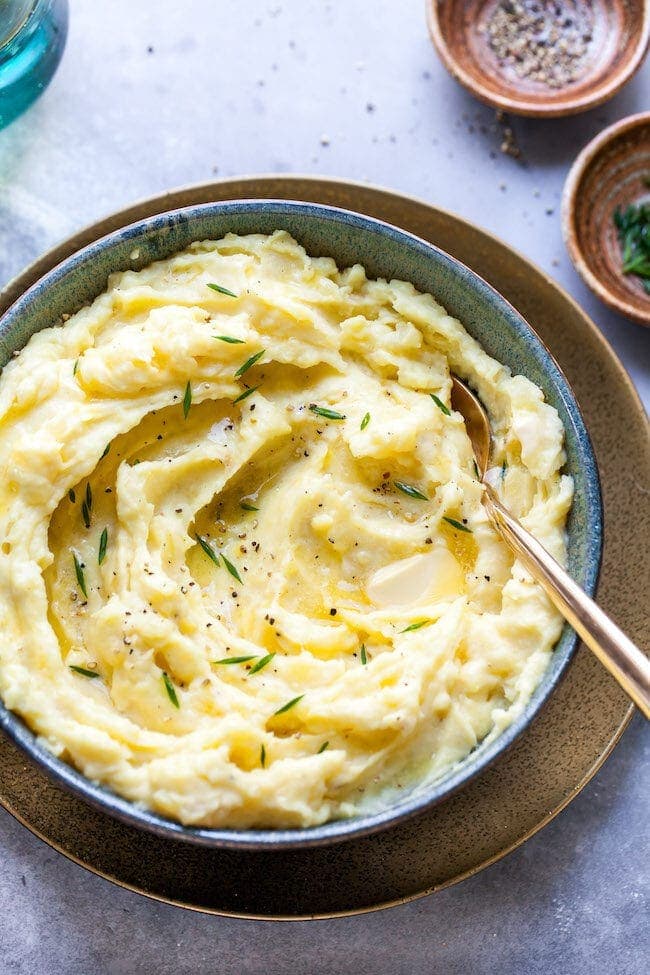 Roasted Garlic Mashed Potatoes
Mashed potatoes are not only a Thanksgiving staple but a year-round favorite! They have a nostalgic quality that turns any meal into something delicious and special. My version of the perfect mashed potatoes recipe: roasted garlic, half and half, plenty of butter, and a sprinkling of chives. YUM! These mashed potatoes are rich, fluffy, and a family favorite side dish.
How to Roast Garlic
If you've never roasted garlic before, you're in for a real treat. Plain minced garlic is tasty, but roasted garlic has such a delicious flavor and really makes these Garlic Mashed Potatoes a special side.
Remove the flaky, papery outer layer from the garlic skin. Be careful to not remove all of the garlic skin! This helps the head of garlic to keep its shape.
Start by slicing off the very tippy-top of the garlic head.
Drizzle it with olive oil and wrap it in foil.
Place the garlic on a baking sheet and bake at 400 degrees until everything is tender and fragrant. This should take around 35 minutes and, heads up, it smells incredible. This is when your family starts wandering into the kitchen to ask what's cooking!
Pull it out of the oven and let it cool to room temp.
What Potatoes to Use
Higher starch potatoes will make for the fluffiest and smoothest Garlic Mashed Potatoes! Yukon Gold potatoes are my favorite, but Russet will work well too. Red potatoes are waxier and need more mashing to become smooth. I've found they aren't as fluffy that way!
Do you Peel the Potatoes?
This is totally a preference. If you like a chunkier, more rustic mashed potato, you could leave the skins on or do a partial peel. A smoother, more classic side dish of mashed potatoes is made from peeling the potatoes before boiling. I always peel the potatoes for smooth and creamy mashed potatoes!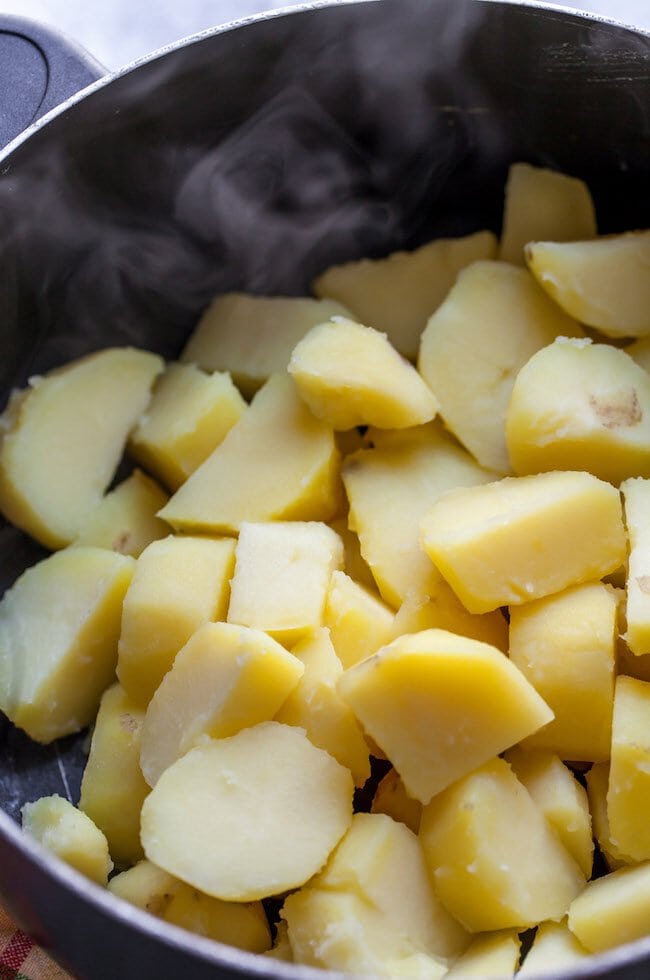 How to Make Garlic Mashed Potatoes
While the garlic is roasting, peel the potatoes and cut into 1-inch pieces. Make sure you cut them into pieces that are the same size so they cook evenly.
Place potatoes in a large pot and cover with cold water. Add ½ teaspoon salt and bring to a boil. Continue to simmer until potatoes are fork tender, but not falling apart. Check at 15 minutes to be safe, it might take a little longer. Don't overcook the potatoes or the end result will be potato paste and nobody wants that:)
Drain the potatoes, shaking to make sure all of the water is removed.
Place the drained potatoes back in the pot. 
Remove the outer layer of each roasted garlic clove and add the roasted garlic cloves to the pot with the potatoes. Place the potatoes and roasted garlic through a potato ricer until potatoes are smooth. Using a potato ricer is the KEY to perfectly smooth mashed potatoes! If you don't have a ricer, you can mash the potatoes and garlic together with a potato masher. I don't like to use a mixer because it's too easy to over mix the potatoes.
In a small pan, warm the half and half and butter together. Stir the mixture into the potatoes until combined. Don't over mix or your potatoes will get stiff and gummy.
Season with salt and black pepper, to taste. Garnish with fresh chives and serve warm.
Mashed Potato Flavor Options
Here are a couple flavors and seasonings you might consider adding into your mashed potatoes! All go well with the buttery, garlic flavor!
Fresh herbs
Smoked paprika
Shredded Parmesan cheese
Shredded cheddar cheese and crumbled bacon
A dash of hot sauce
Make Mashed Potatoes in Advance
You can do almost everything in advance here. Roast the garlic, peel, slice, boil, and mash. Right before you're ready to eat, warm the half and half and butter together. Stir the mixture into the mashed potatoes until combined. Season with salt and pepper, garnish with green onion, and serve warm!
What Goes Well with Mashed Potatoes
Mashed potatoes are everyone's favorite side dish! They're delicious with any savory meals and my whole family gets excited when I mention I'm making mashed potatoes as a side. You can serve mashed potatoes with anything, but here are a few favorites:
How to Reheat Mashed Potatoes
Mashed potatoes are a superstar of the leftover game because they reheat so easily and well! You can reheat mashed potatoes in the microwave, on the stove top in a nonstick pan, in a double broiler, or in the oven!
Don't over stir when reheating or the mashed potatoes will end up like glue. If they are dry, you can add a splash of half and half. And you can always top with gravy!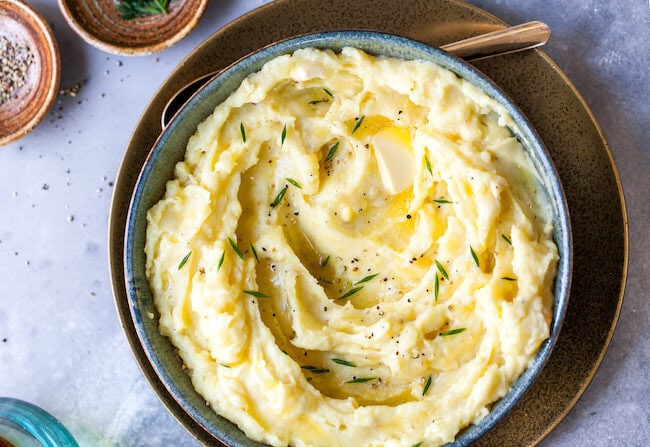 More Side Dish Recipes:
1

small head garlic

1

tablespoon

olive oil

2 ½

lbs

Yukon gold potatoes

½

teaspoon

kosher salt

½

cup

half and half

(or whole milk or heavy cream)

4

tablespoons

unsalted butter

Kosher salt and freshly ground black pepper,

to taste

1

tablespoon

chopped fresh chives,

for garnish, optional
Nutrition Facts
Garlic Mashed Potatoes
Amount Per Serving
Calories 168.09 Calories from Fat 84
% Daily Value*
Fat 9.31g14%
Saturated Fat 4.96g25%
Cholesterol 20.65mg7%
Sodium 166.59mg7%
Potassium 605.08mg17%
Carbohydrates 18.41g6%
Fiber 3.54g14%
Sugar 0.03g0%
Protein 4.17g8%
Vitamin A 228.47IU5%
Vitamin C 16.41mg20%
Calcium 60.09mg6%
Iron 4.59mg26%
* Percent Daily Values are based on a 2000 calorie diet.