All the details on how to blind bake a pie crust (and why you even need to do so in the first place)! Plus, a bonus recipe for the most deliciously amazing chocolate ganache cream pie!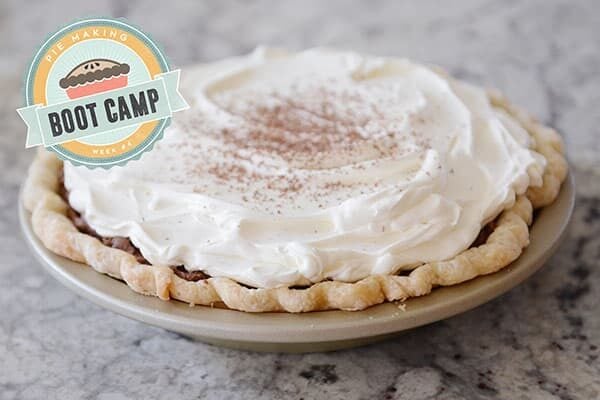 Hey there, pie making friends!
It's time for week #3 in our Pie Making Boot Camp!
If you've missed the previous "episodes" – here they are:
Week #1: All About Pie Making Essential Supplies
Week #2: How to Make Perfect Homemade Pie Crust + Video Tutorial + No-Fail NEW Pie Crust Recipe
Continuing the natural evolution of pie making tips, today is all about blind baking!
If that term has you blinking in confusion, never fear! I'm here to answer all of your questions and show you just how easy it is!
Blind baking a pie crust simply means baking a pie crust (in a pie tin) without any filling.
It's usually needed when you are going to fill the pie with a no-bake filling.
Like banana cream pie. Or coconut cream pie.
Or chocolate ganache cream pie (brand new recipe below!).
One of the most common questions I get about pie making is "why the heck do my pie crusts shrink when baking??"
If the images below fill you with familiar fright, you aren't alone.
There are many reasons pie crusts can shrink while baking. I touch on a few examples in this post.
Overmixing the pie dough or stretching/pulling it while rolling or placing in the pie plate are common culprits.
But another reason the pie crust can shrink often happens during blind baking – and it is because the crust isn't properly weighed down while it bakes in the oven (and can be compounded by the aforementioned issues).
Let's talk about how to blind bake a pie crust so it turns out golden and lovely and perfect every time!
First, make the pie dough, chill it, roll it out, and place it in the pie tin (crimp those edges!). All the details of how to do those steps can be found here.
Then, take a fork and prick the bottom of the crust. This helps the crust not puff on the bottom while baking.
Cover the pie crust/plate with plastic wrap and refrigerate until the pie crust is well chilled.
This is important! A warm or room temperature pie crust will not bake as well as a chilled crust (it won't be as flaky and it will have a tendency to slide and shrink).
Plus, it is easy to mash the crust into a misshapen mess with the foil if the pie crust isn't well chilled.
And we really, really want to avoid mashed misshapen messes. Now and forever.
Once chilled, remove the plastic wrap and gently press regular (not heavy duty) aluminum foil into the unbaked pie shell so it is well formed to the shape of the pie crust.
Make sure the foil completely covers the edges of the pie crust.
There are many philosophies about what is best to use for filling the pie crust, but the only thing I've ever used is dry beans.
They are inexpensive, do the job well, and can be reused time and time again.
Fill the pie crust all the way to the brim with dry beans.
Then pop the filled pie crust onto a foil-lined baking sheet (this catches any butter splatters AND helps insulate the cold glass pie plate against cracking as it goes into the hot oven vs. going directly onto a piping hot oven rack). Bake in a preheated 350 degree oven for 45-50 minutes.
Rotate the pan about halfway through baking, especially if your oven has hot areas (and the pie crust is overly browning in certain spots).
Let it bake until the bottom of the pie crust is golden but not overly browned and the edges of the pie crust are set (not raw).
Using a glass pie plate is best here so you can see the color of the crust while it bakes (my pie making equipment recommendations are here).
Once baked, let the pie crust cool for 3-4 minutes.
Carefully peel back the foil and use the overhanging edges of foil to lift the packet of (very hot so be careful) beans out of the pie.
Place the foil and beans on a paper towel to let cool completely (the paper towel will absorb the grease from the bottom of the foil).
Behold! The blind baked pie crust.
You'll see that my pie crust has a bit of a darker crust on that upper left edge. I'm blaming that on my oven.
I didn't rotate the crust halfway (I know, I know, I disobeyed my own orders), and that part of the crust browned too quickly, thanks to an oven that bakes slightly hot in the back.
But honestly, it's fine if that happens. Put away your perfectionist tendencies (totally speaking to myself right now).
Don't stress small imperfections and make life miserable.
Once the beans are cooled, I pop them into a ziploc bag and store them in my pantry.
They can be reused again and again (but probably aren't the best choice for your next batch of chili; save them for the pies!).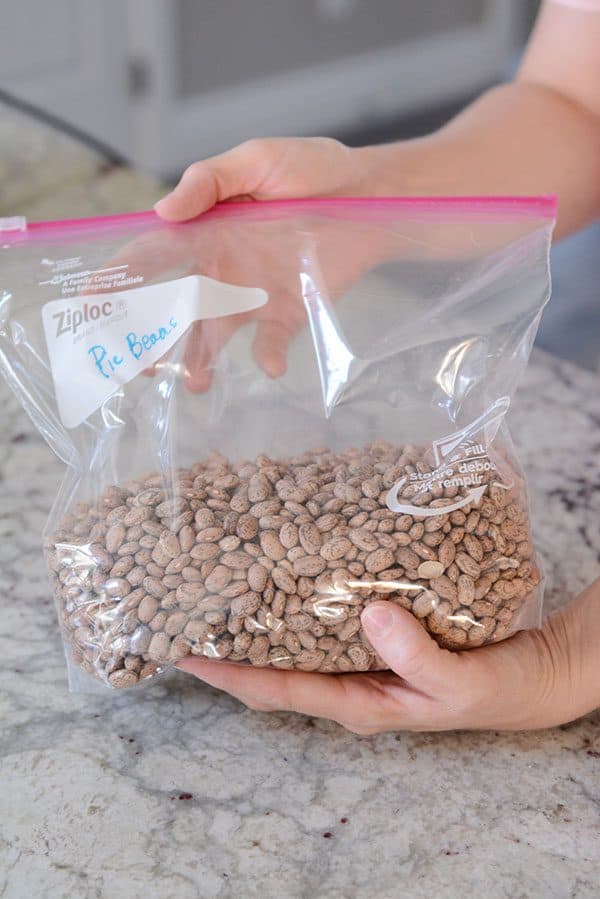 Learning how to blind bake a pie crust can totally up your pie making game.
I have tried MANY methods of blind baking over the years.
Lots of recipes have you bake the pie crust at a higher temperature (400 or so) and remove the foil and beans/weights halfway through baking so the pie crust can finish baking by itself.
This obviously works for some people, but I have found that when I try to remove the foil from a partially baked crust halfway through baking, I inevitably peel up the bottom of the crust, burn my poor fingertips, and say bad words.
So I've taken to blind baking the pie at a lower temperature for a longer amount of time and leaving the foil and beans in the crust the whole time.
Perfect pie crust!
Again, blind baking a pie crust is perfect for those pies that are going to get loaded with (usually) a creamy, delicious filling.
Today, in honor of all the extras I'm sharing during the pie boot camp, I'm giving you a favorite chocolate ganache cream pie recipe.
I started making this pie years ago, long before I was married or had kids.
My mom asked me to make a chocolate cream pie for Thanksgiving, and an early variation of this pie was born (although quite honestly, I have to admit there was not a homemade pie crust in sight – my pie making skills have definitely evolved over the years).
It's easy, it's simple, it's ridiculously decadent and delicious.
The filling is a whipped chocolate ganache, which is a rather fancy term that basically just means chocolate and cream that has been heated and cooled and then whipped.
Yes, I know there is cream cheese in the filling. And I also know this is not a traditional, classic chocolate cream pie ingredient.
But it's ok, because I never said this was a traditional, classic chocolate cream pie.
The cream cheese adds a subtle creaminess but does not make this a cheesecake in any way.
The filling is thick and luscious and rich and decadent and very, very chocolatey.
And while I shouldn't admit this out loud – it being pie making boot camp and all – while a blind baked pie crust is ideal here, I will not unfriend you if you somehow find yourself using a graham cracker crust for this pie.
It's also delicious (says the girl who has made it that way many a time).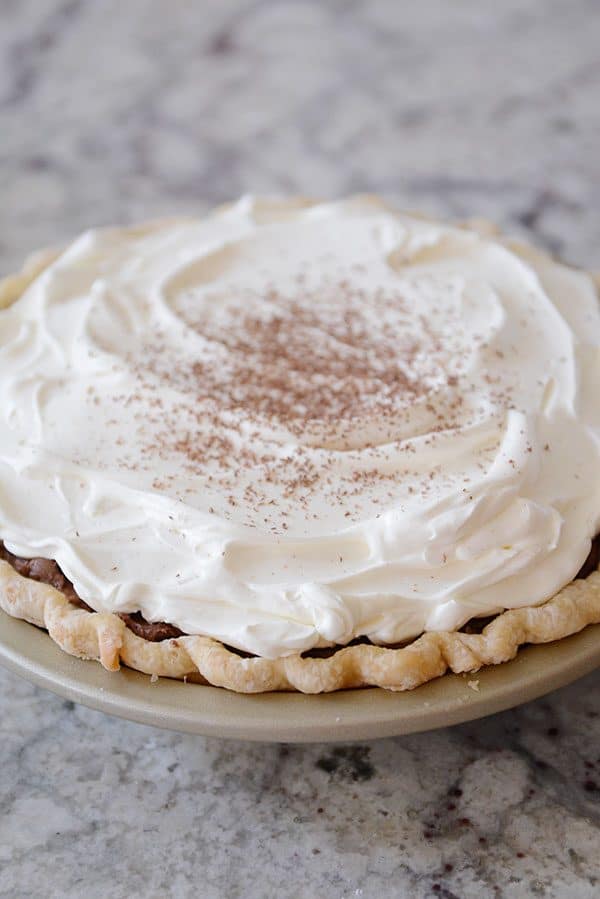 If you are out to conquer pie making in all its forms, learning how to blind bake a pie crust is essential!
And pretty darn easy, huh?
As always, leave any comments or questions you have below!
Next week is our final week in this year's Pie Making Boot Camp!
We'll be talking about all things double crust pies, lattice tops, perfect apple pie.
Plus, I'll have the cutest, handiest printable you've ever seen to sum up all our pie making skillz.
Yield: 9-inch pie
Chocolate Ganache Cream Pie
Ingredients:
9-inch pie crust, baked and cooled (see note)
Ganache Filling:
12 ounces semisweet or bittersweet chocolate, chopped (see note)
3 cups heavy cream, divided (meaning you'll use 2 1/2 cups first and then 1/2 cup later)
2 teaspoons vanilla extract
4 ounces cream cheese, softened to room temperature
Whipped Cream Topping:
3/4 cup heavy whipping cream
1/3 cup powdered sugar
1/2 teaspoon vanilla extract
Directions:
For the ganache filling, add the chocolate to a heatproof bowl. Bring 2 1/2 cups cream to a simmer in a medium saucepan. Pour the cream over the chocolate and let the mixture sit for 1-2 minutes. Add the vanilla and whisk to combine until the mixture is glossy and smooth. Cover with plastic wrap and refrigerate until completely chilled, 2-3 hours.
When thoroughly chilled, scrape the mixture into an electric stand mixer fitted with the paddle or whisk attachment (or use a handheld electric mixer) and whip until the ganache is fluffy and lighter in color, about 1-2 minutes, scraping down the sides of the bowl as needed.
In a small bowl or in a blender, combine the softened cream cheese and remaining 1/2 cup cream and whip or process until smooth and thick.
Add the cream cheese mixture to the ganache filling and whip on low speed until combined and no white streaks remain.
Spread the chocolate filling in the baked and cooled pie crust.
For the whipped cream topping, combine the whipping cream, powdered sugar and vanilla in a blender (or in a bowl using a handheld electric mixer or an electric stand mixer) and mix until thick and fluffy.
Spread the whipped cream topping over the pie.
If desired, grate chocolate over the top of the pie using a rasp grater or the small/poky holes of a box grater (or garnish with chocolate curls). Serve immediately or refrigerate for 2-3 hours before serving.
Notes:
My go-to pie crusts for any pie, including ones that call for a blind baked pie crust, are this sour cream pie crust or this slightly easier no-fail pie crust. 
For chocolate, quality is important here! Most chocolate chips won't fare well here (both in texture and taste); the exception I've found is Ghirardelli or Guittard bittersweet or semisweet chocolate chips. Baking bar chocolate (like the Baker's brand, usually found above the chocolate chips) will work well – I've also used Trader Joe's pounds plus bars.

My preferred brand of heavy whipping cream is the Darigold brand (I buy it at Costco) – it is 40% cream and whips up thick and fluffy better than other brands I've tried.
All images and text ©Mel's Kitchen Cafe.
Follow @melskitchencafe on Instagram and show me the recipes you are making from my blog using the hashtag #melskitchencafe. I love seeing all the goodness you are whipping up in your kitchens!
Recipe Source: from Mel's Kitchen Cafe
shop this postFeatured Products
(may include affiliate links)