Easy32 minsGluten-Free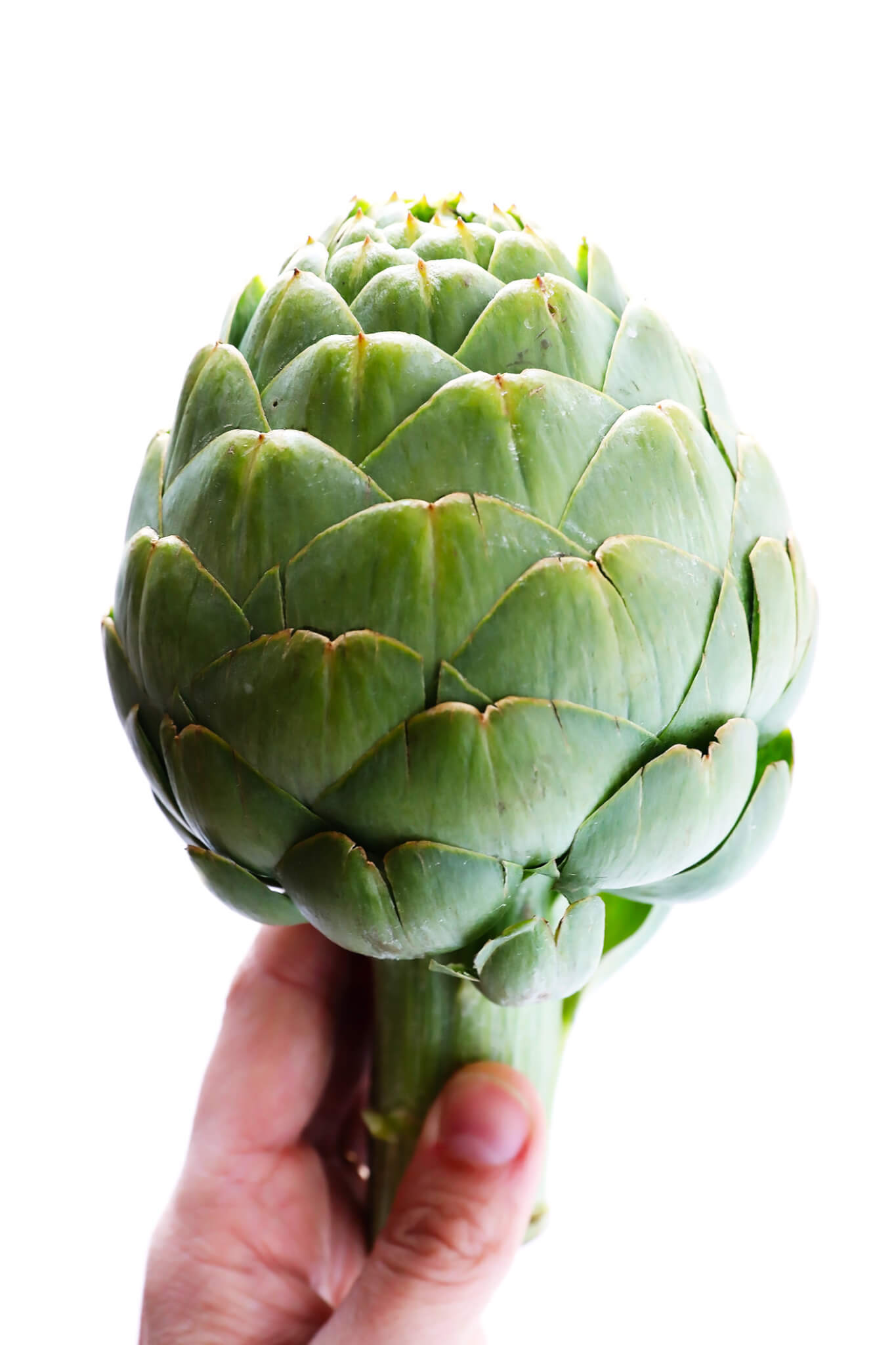 Time to steam up the kitchen. ?
We're talking all about how to steam fresh artichokes today!
Interestingly, we have had more requests for this tutorial than any other in our series so far. But it totally makes sense. Fresh artichokes are such a treat to eat…but you've gotta know how on earth to tackle them first!
I only just recently learned how to prepare and eat them myself about 6 or 7 years ago, when my friend Marlies took it upon herself to invite me over for an Artichoke 101 happy hour. I was a complete novice to fresh artichokes, having only ever eaten the hearts from a jar. So she was excited to show her food blogger friend how it's done, and taught me how to select and steam a batch of fresh artichokes to tender perfection. And then we went out on her sunny back patio, and she showed me how to eat them step by step until we found our way to those yummy hearts in the middle. Of course — a fresh artichoke tutorial wouldn't be complete without a decadent lemony melted butter sauce, which we made together and I've been hooked on ever since (recipe included below).
So today, I thought I'd pay Marlies' tutorial forward, and create a step-by-step video tutorial for all of you who might be new to them as well. They are one of the absolute best parts of Spring. You're going to love 'em!
---
How To Select Fresh Artichokes:
Fresh artichokes are in generally at their peak each March – May. When selecting them at the store, look for artichokes that:
have tightly-packed leaves (vs. loose and splayed leaves)
feel dense and heavy
are a healthy green color, with not too much browning (although a little browning around the edges of the leaves is ok)
optional: are "frost bitten" — if you see artichokes at the store that have leaves that look like they have been slightly brushed with white, don't shy away from them, they are often more sweet and tender
Pro tip: I always use the "squeak test" to choose my artichokes. If you hold one close to your ears, and squeeze the leaves around with your fingers, they will squeak if they're nice and fresh. ?
How To Store Fresh Artichokes:
Sprinkle the artichoke stems with a bit of water (don't wash the whole artichoke), then store it in a loosely-sealed bag in the crisper drawer in your refrigerator.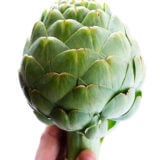 Yield: 1 serving
How To Steam and Eat an Artichoke
Learn how to cook (steam) and eat a fresh artichoke with this simple recipe, including a decadent lemon butter dipping sauce.
Ingredients:
1 fresh artichoke
1 fresh lemon wedge
water
1-3 cloves garlic
1 bay leaf
dipping sauce (see options below)
Directions:
Use a knife to slice off the bottom 1/2-inch of the artichoke stem, and the top 1 inch of the artichoke globe (the leaves on top). Remove any small leaves toward the bottom of the stem. Rinse the artichoke with water.
Use kitchen shears to trim about 1/4/-inch off the pointy tips of each of the artichoke leaves (so that they don't poke you when you eat them). Then rub the lemon wedge all over the leaves.
Drop the lemon wedge in a large stockpot, and fill the pot with a few inches of water. Add garlic and bay leaf, place a steaming basket in the pot, then place the artichoke in the steaming basket stem-side-up. Cover the pot with a lid.
Heat the water over medium-high heat until it comes to a simmer. Then reduce heat to medium-low and continue steaming the artichokes for 30 minutes, or until a knife can be very easily inserted in the stem of the artichoke and a leaf pulls off easily.
Remove from heat, and transfer the artichoke to your serving plate.
To eat the artichoke, remove the outer leaves, dip them in your sauce if desired, then use your teeth to scrape off the soft fleshy part of the leaves. (See video for a visual.) Repeat until all of the leaves are removed.
Then you will be left with the fuzzy "choke". Use a spoon to scrape off all of the fuzzies (they're inedible). Then use a knife and fork to cut the remaining artichoke heart and stem into bite-sized pieces. Dip in the sauce, and enjoy.
Dipping Sauce Ideas:
Lemony Melted Butter Dipping Sauce: This is my favorite way to eat steamed artichokes! Just melt some salted butter in a small saucepan or in the microwave, add a squeeze of fresh lemon juice, a pinch of salt and pepper, and serve. And if you really feel like going the extra mile, sauté a clove of minced fresh garlic in the butter for 1 minute before serving. Delish.
Blender Hollandaise Sauce: This version is super easy.
Tzaziki Sauce: For a Mediterranean twist.
Any kind of mayo or aioli
…or whatever sounds good to you!
Difficulty: EasyCategory: Gluten-Free


All images and text ©Gimme Some Oven
If you make this recipe, be sure to snap a photo and hashtag it #gimmesomeoven. I'd love to see what you cook!