This fabulous Kale + SunGold Kiwifruit Salad Board is such a great meal to serve during the summer months to satisfy everyone's craving for something fresh and flavorful. Let everyone build their own salads with this amazing selection of toppings and a light honey lemon vinaigrette to drizzle over it.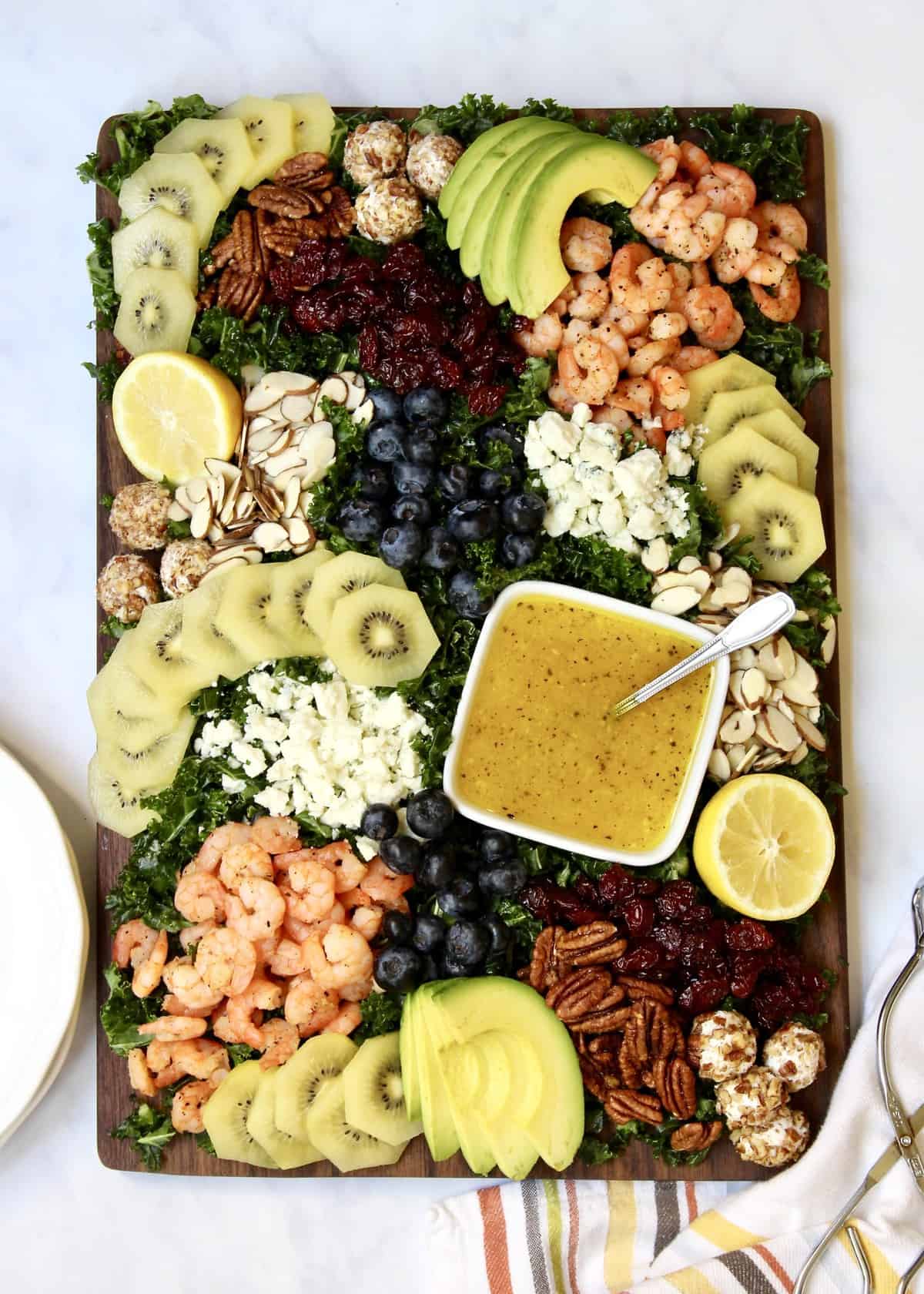 We love salads, especially in the summer when it's just too hot to be eating warm meals. A build-your-own salad board is our favorite way to serve salads so everyone can plate their own salad just the way they like it. This Kale + SunGold Kiwifruit Salad Board offers an amazing selection of toppings for salad building yet everyone wants all the topping choices because they're just too good, especially together!
We're talking perfectly crisp massaged kale with sweet and juicy Zespri™ SunGold™ Kiwifruit, salt and peppery shrimp, crunchy pecans and almonds, chewy dried cherries, savory blue cheese crumbles, sweet and savory pecan-crusted goat cheese balls, slightly tart blueberries, creamy avocado and a light honey lemon vinaigrette. The combination of textures and flavors is incredibly satisfying and out of this world delicious!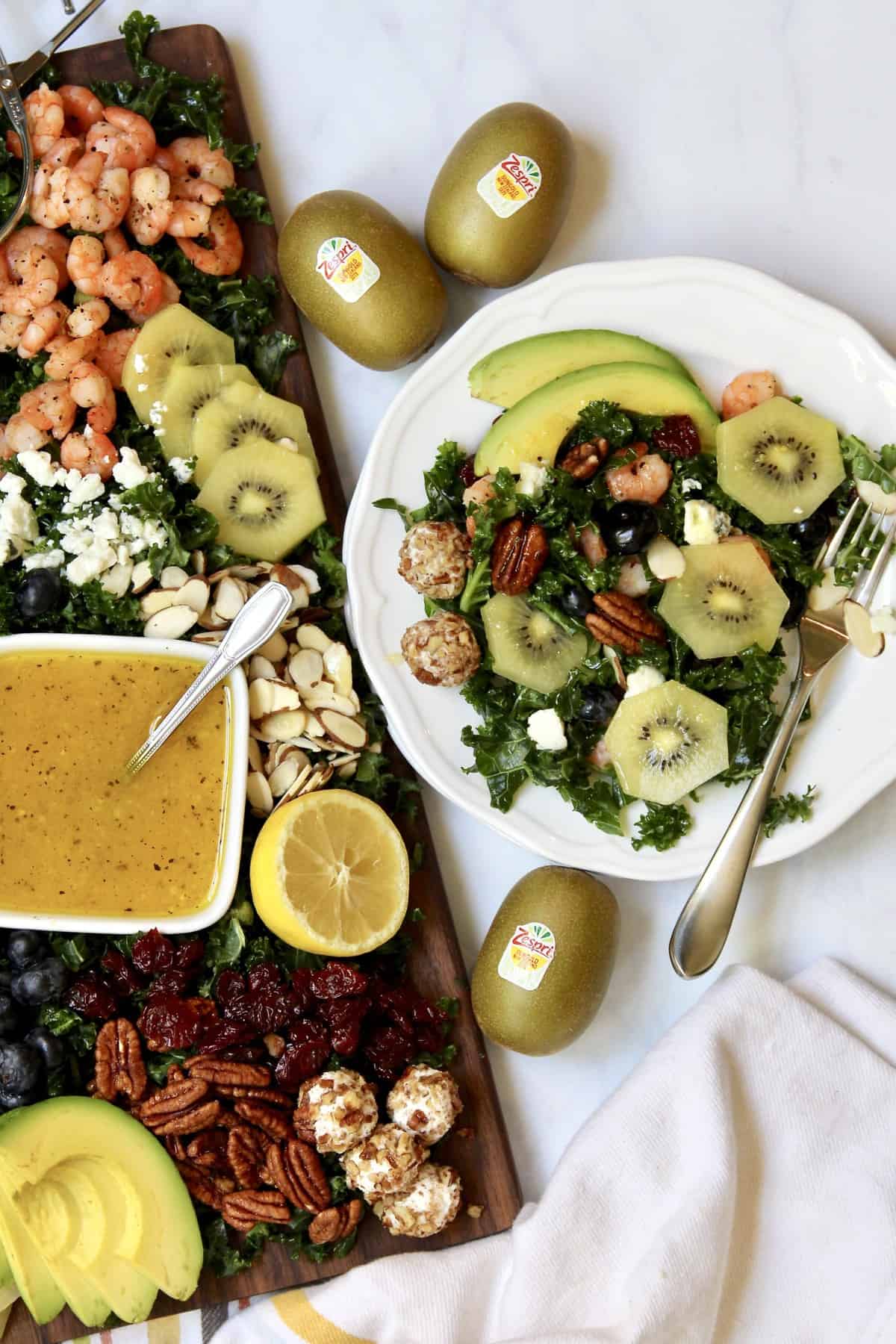 This salad board would not be complete without the Zespri SunGold Kiwifruit. It's what brings it all together and makes the salad so flavorful and refreshing. If you've never tried SunGold kiwifruit, it's a must try! It's golden in color and gloriously sweet. We're talking sweeter than green kiwi, but not as acidic. It has a flavor that's more of a cross between a mango and a strawberry. It's incredibly juicy yet still has a beautifully smooth texture. It has hairless skin so you can bite into it like an apple, for double the fiber than eating the flesh alone and it's an excellent source of Vitamin C.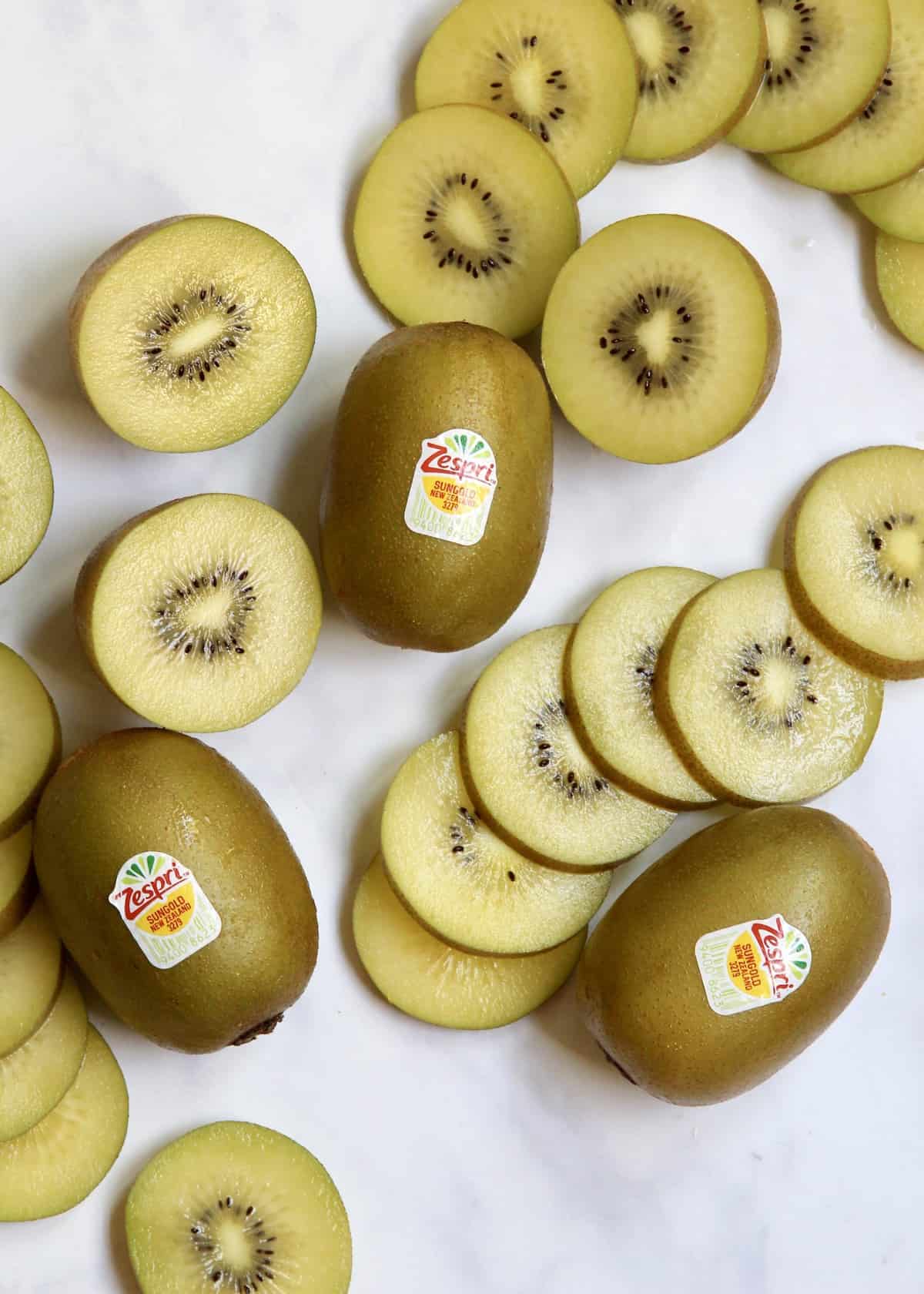 I can't believe we've just been introduced to this amazing SunGold Kiwifruit! It's our new favorite summer fruit. We snack on it, add it to our smoothies, put it over our oatmeal, make cocktails with it and, as you can see here, we make awesome salads with it! The enjoyment possibilities are endless.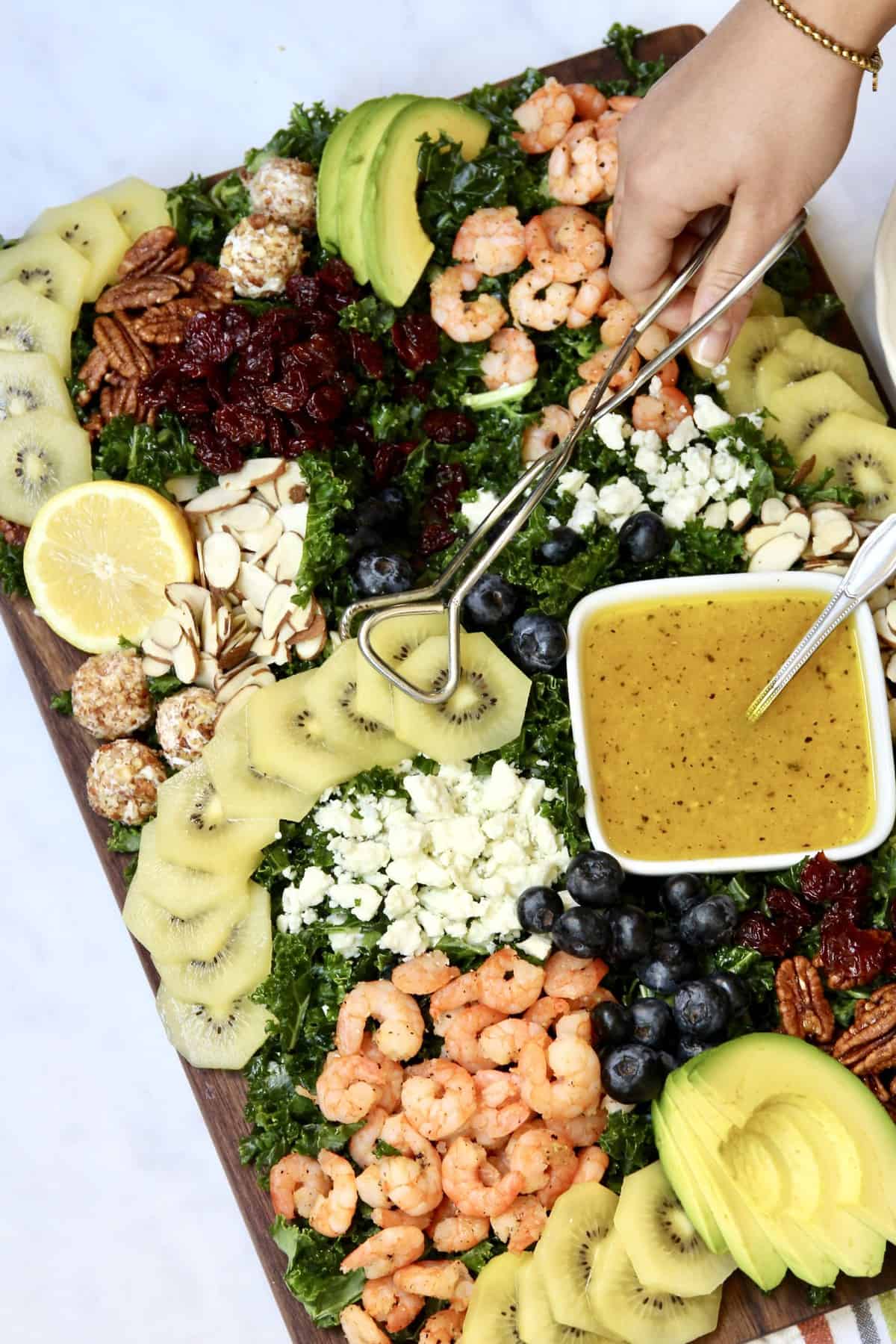 This salad board comes together beautifully in less than 30 minutes and is sure to be enjoyed by all. Let me show you how to build it so that you can recreate it for your loved ones this summer.
To prep the ingredients, sauté the shrimp, massage the kale with olive oil, make the simple honey lemon vinaigrette, prep the mini pecan-crusted goat cheese balls and slice the SunGold Kiwifruit and avocado.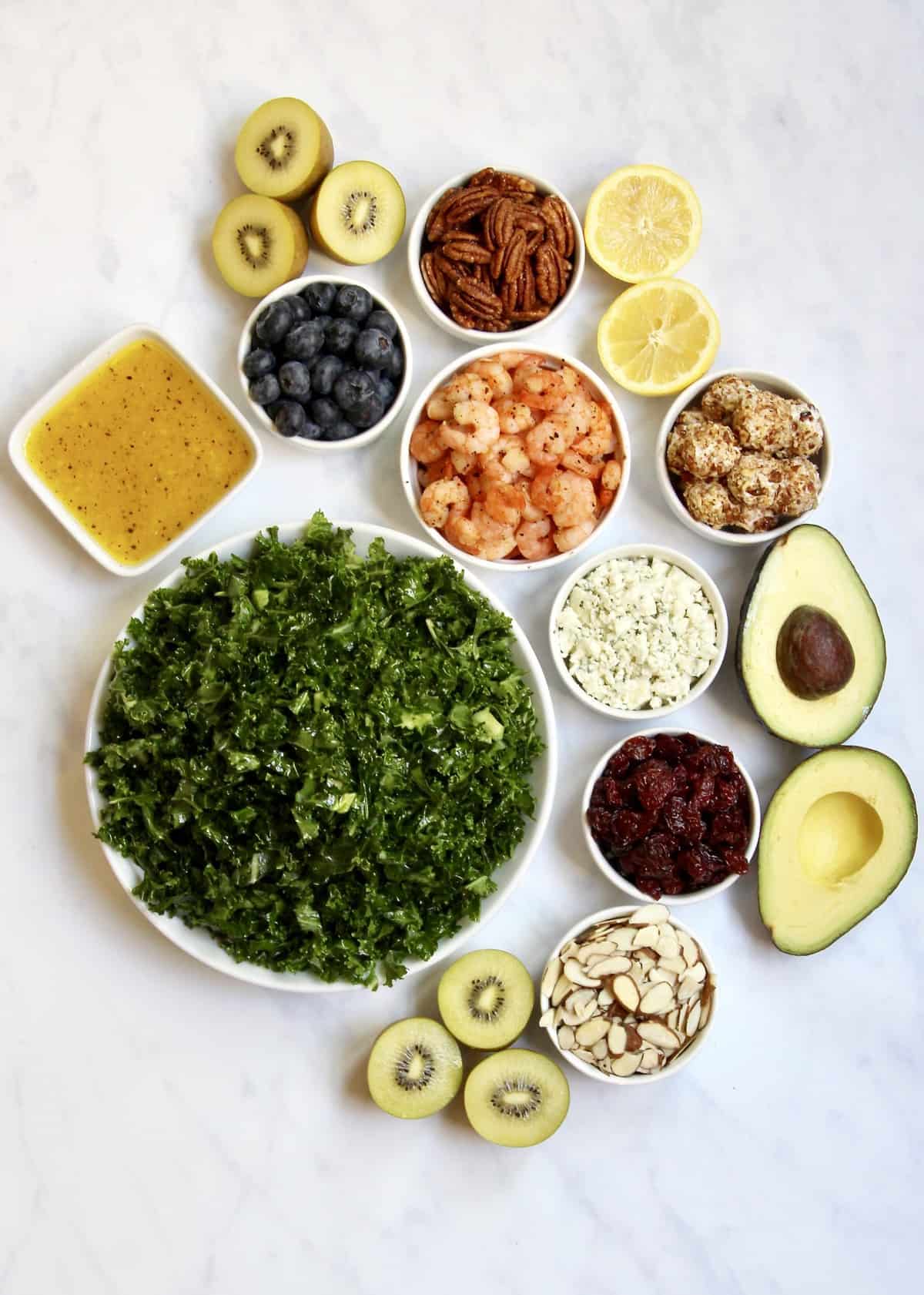 On a wood serving board, about 18" x 12" in size, add the bowl of honey lemon vinaigrette. Arrange the massaged kale across the board and around the vinaigrette bowl.
Place the sliced SunGold Kiwifruit in various places on the kale across the board. Pile the shrimp, blueberries, remaining ½ cup candied pecans, sliced almonds, dried cherries, and blue cheese crumbles in a few different spots on the kale. Put the pecan-coated goat cheese balls in several places on the board. Arrange some avocado slices at the top and bottom of the kale on the board.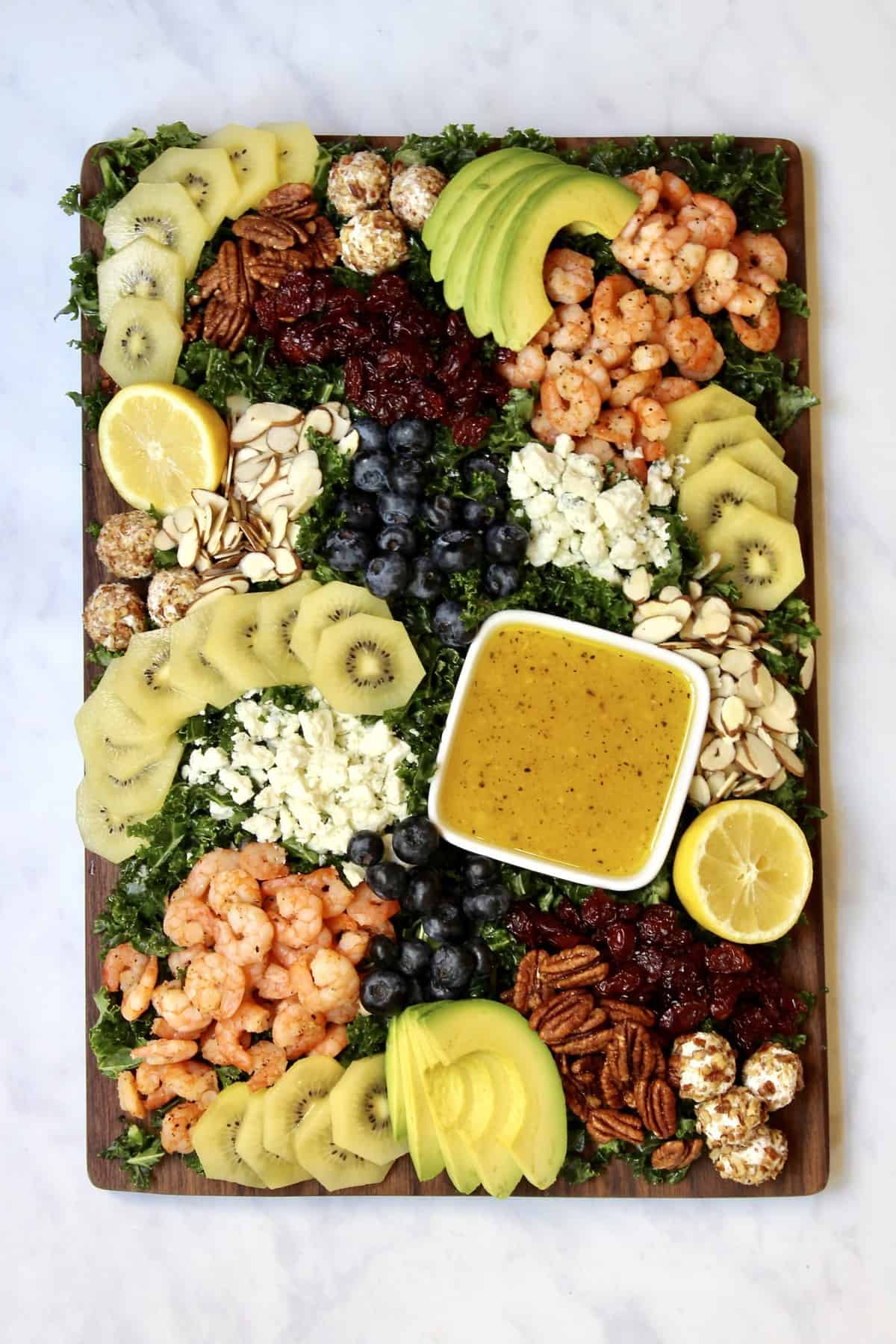 Place some serving tongs near the board so each person can build their own salad on their own plates. Place a spoon in the dressing for drizzling over the salads.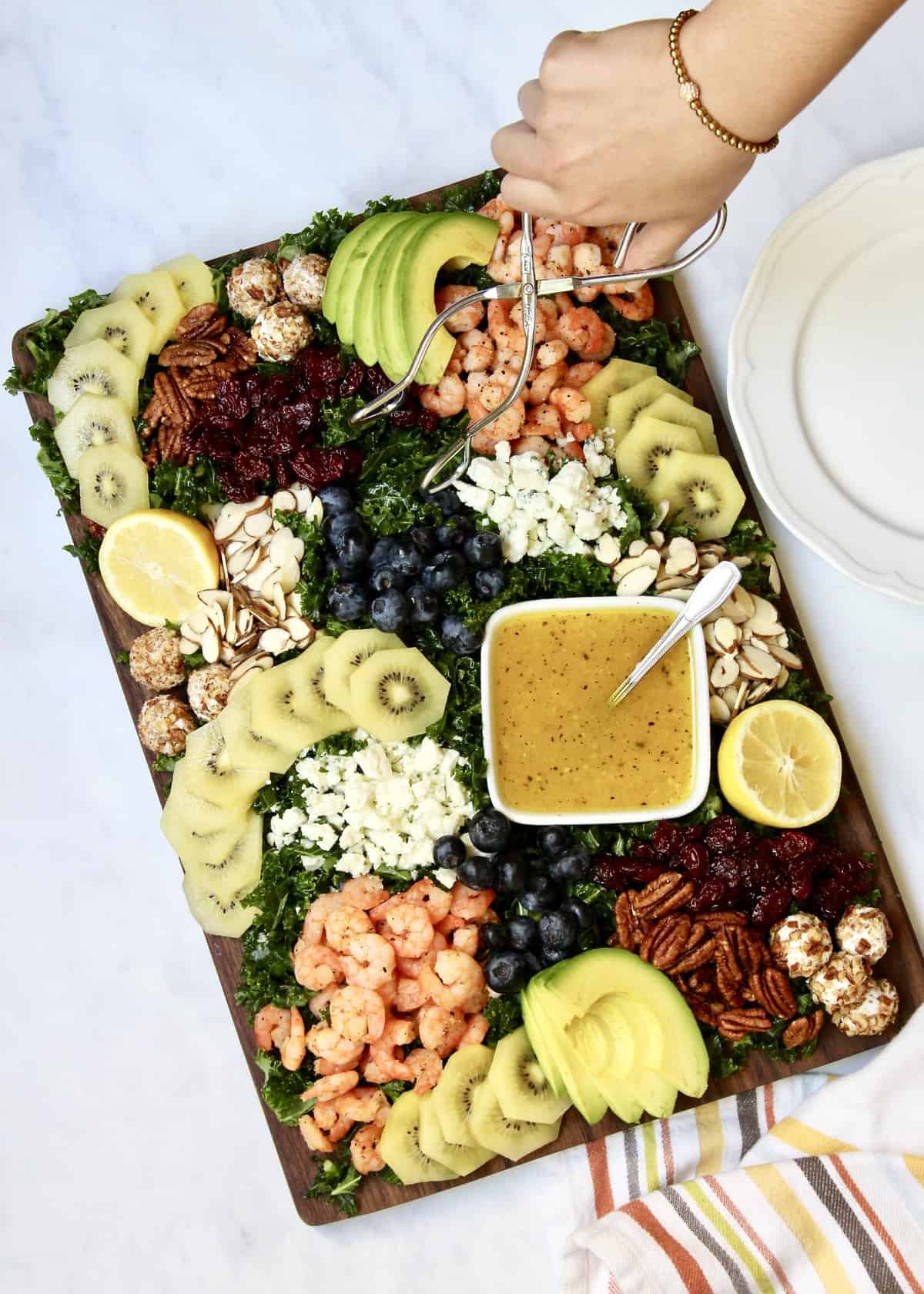 And that's all there is to it, my friends! A stunning salad board that screams summer and is sure to satisfy.
Give each person a plate and let them build their own beautiful salad…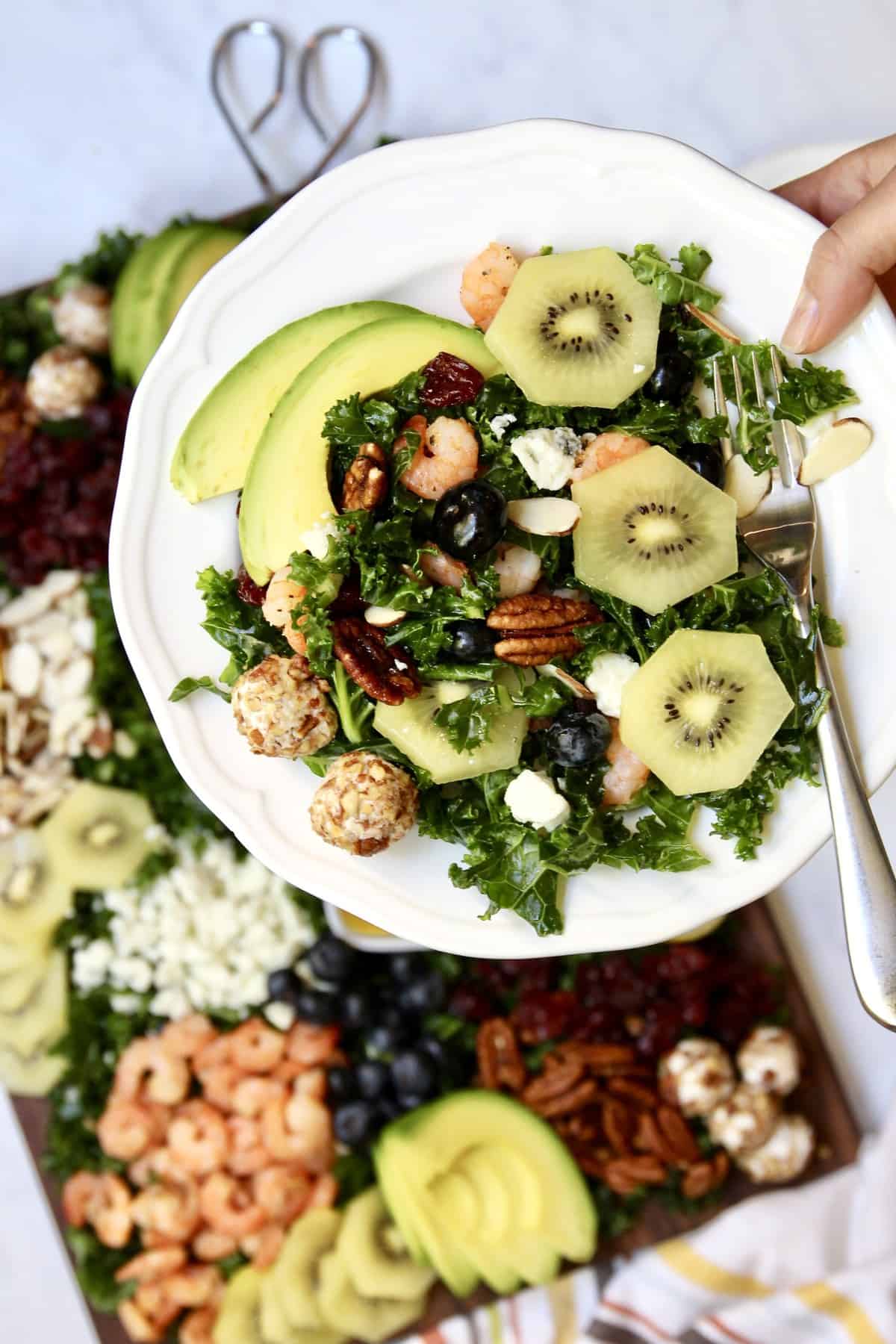 I hope you enjoy this kale + SunGold Kiwifruit salad board as much and as often as we plan to do this summer! It's perfect for enjoying out on your patio, at the beach, at the lake or at your dining table with your loved ones. My crew can't get over how delicious and satisfying it is, so I'm sure you and yours will love it too!
If you do make it and post to social, be sure to tag me @thebakermama and @zesprikiwifruit so we can see!
I love seeing how inspired and creative y'all get with the ideas I share. Enjoy!
xoxo,