Take advantage of all that ripe, delicious summer fruit with a mouthwatering summer fruit salad with your choice of either a creamy yogurt dressing or a honey citrus dressing!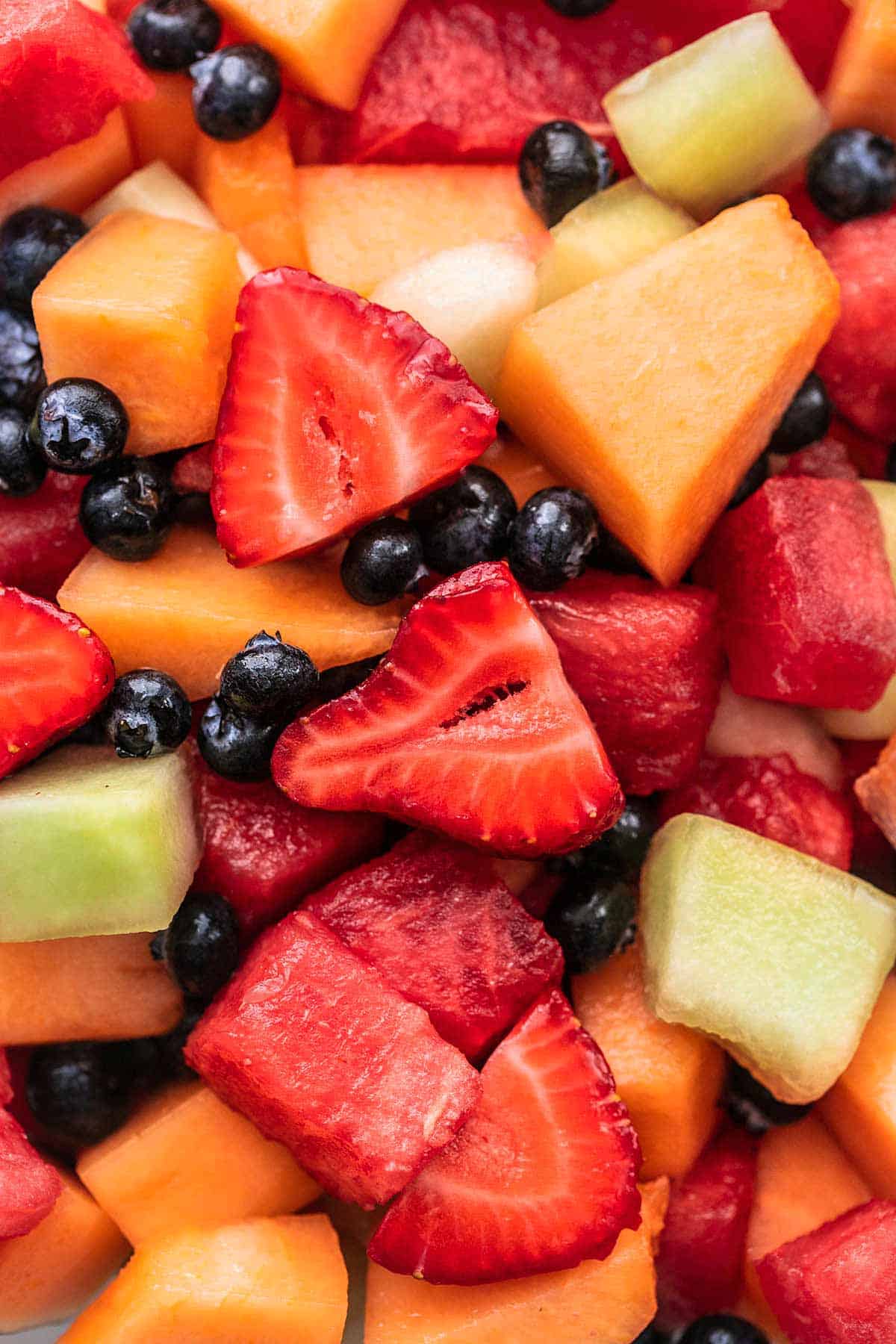 For more ways to use up all the fruit, try my recipes for 
Strawberries and Cream French Toast, Patriotic Fruit Salad, and Blueberry Crepes!
Greens are great, but fruit is better! So says me in the summer anyway. I just can't resist buying all those juicy, bright melons, the shiny red strawberries, the bursting-with flavor citruses and crunchy grapes, sweet peaches and nectarines…my mouth is watering just typing these words. 
One of my favorite ways to serve up all these fruits together is in this healthy fruit salad recipe with a light, citrusy or yogurt dressing for a little extra somethin', somethin' that really just ties all the fruit together. If you don't like the idea of a light, sweet dressing mixed into your fruit salad, then you can always leave it on the side as a dip!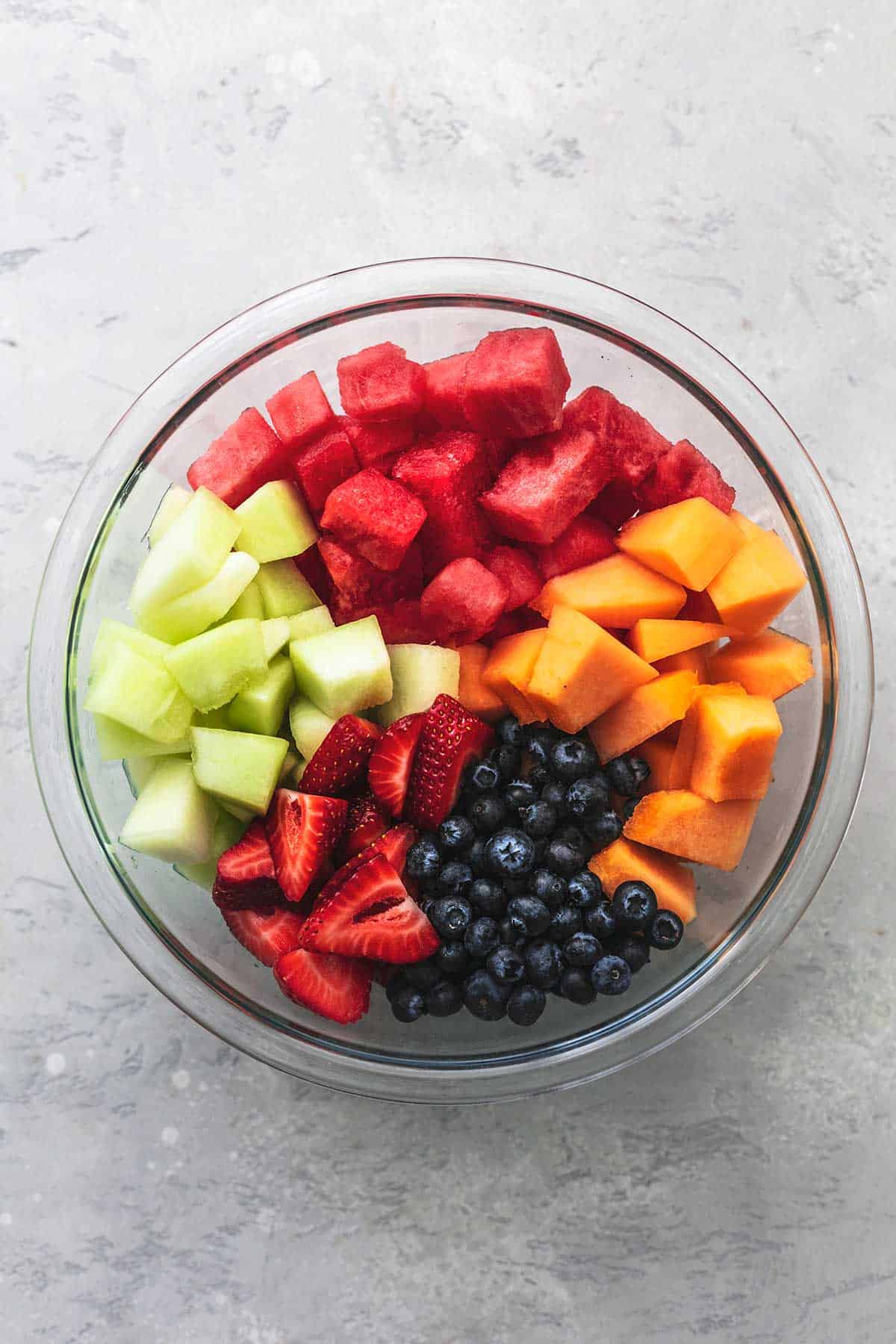 Why This Recipe Works?
Easy ingredients

— Use my fruit suggestions as just that: suggestions. You can use whatever fruits you like, or keep it simple and just use berries or melons or whatever you feel like! 

Versatile

— Top this fruit salad with cool whip for an additional creamy sweetness, make the fruit salad with yogurt dressing, or make it with the honey citrus dressing, or serve all on the side for people to make their own choices. 

Minimal prep work

— Just cut some fruit, rinse some berries, pat dry and put them all together. Whip up a dressing of your choice to pour over and mix. That's it!  

Great for all ages

— This creamy fruit salad is always a healthy, welcome treat by adults and kids alike at dinner, a cookout, a potluck, or even as a dessert. 
Here's How You Make It
Cut and prep all your fruit and put it all together in a large bowl and combine. 
Stir together the ingredients for whichever dressing you choose (honey citrus OR creamy yogurt). 
Add whichever dressing you chose over the top of the fruit (see ingredients for each, below) and toss to coat, or put it in a container in the fridge to either toss over the salad when you're ready to eat or serve it on the side.
You can also cover the dressed fruit salad with a lid or plastic wrap and chill for up to 12 hours to let the flavors combine.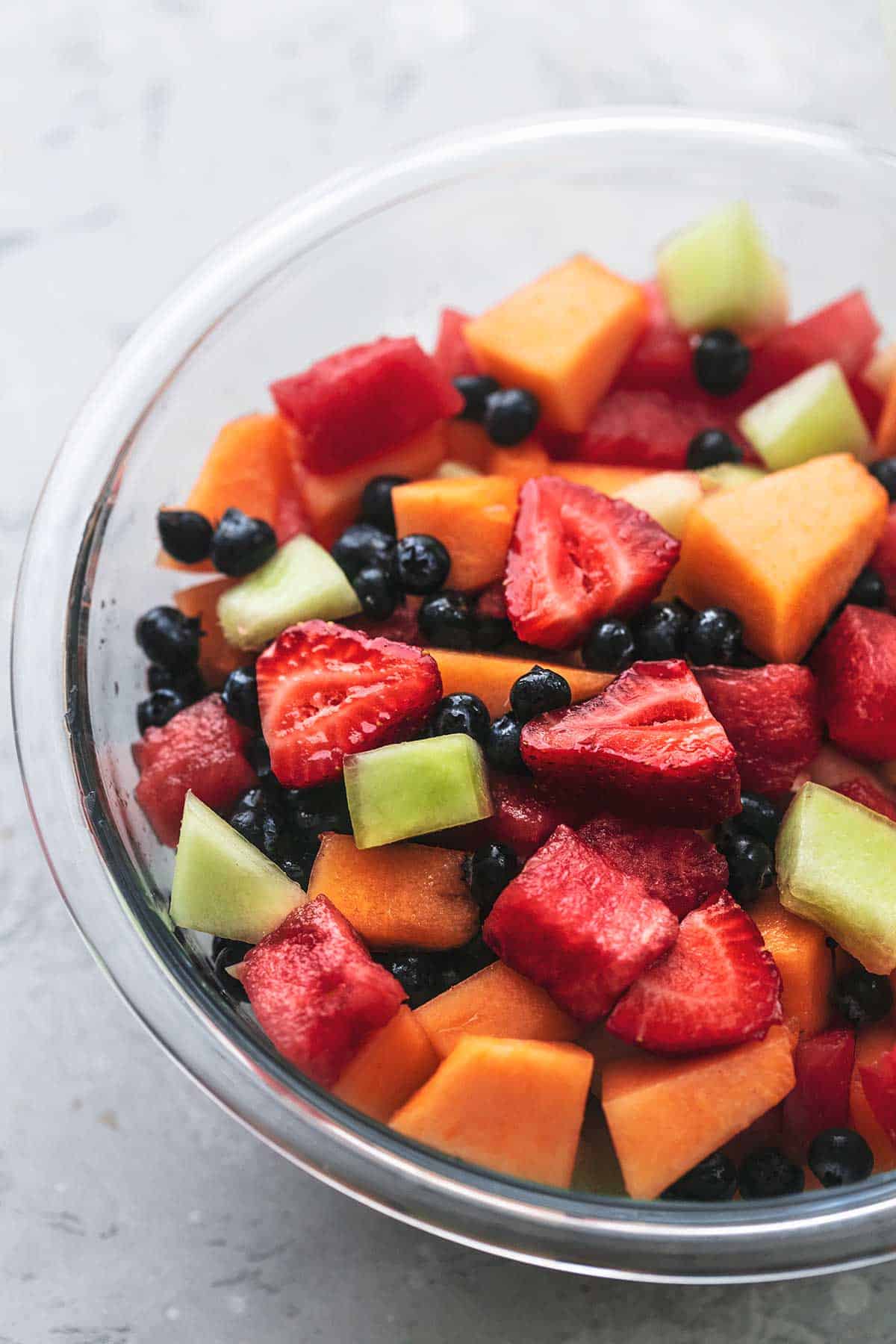 How Do You Keep Fruit Salad From Turning Brown?
The fruits I chose to add to this summer fruit salad do not brown. However, if you choose to use fruits such as apples, bananas, pears, or peaches, they will start to brown as soon as the air hits them. To keep this from happening, toss them in some acidic juice such as lemon, orange, or pineapple before adding to the salad. 
One note on bananas: If you are adding them to your fruit salad, I recommend not cutting and adding them till the last possible minute to keep them as fresh as possible. 
What is The Healthiest Fruit?
All fruits are good for you, in my opinion, but some have more nutrients than others. At the top of the list are olives believe it or not (yes, they are a fruit!). Followed closely by blackberries, oranges, grapes, bananas, papaya, guava, and cherries, to name a few. 
Can I Eat Pineapple and Banana Together?
Listen, you can eat whatever fruits you like together. But, some go better than others together. The reason you don't want to keep pineapples and bananas together too long is that the acid from pineapple will break down the bananas and make them mushy ahead of time. 
This is why I always wait till the last possible moment to add sliced bananas to any fruit salad. 
Expert Tips
This recipe is extremely versatile and

both dressings go

with any fruit so feel free to swap out or add any fruit you prefer or have on hand! 

If you choose to use the yogurt dressing and make it ahead of time, I recommend

preparing the dressing and storing it covered

in the fridge (a lidded jar works great!), then tossing with the fruit just before serving. 

To make your fruit salad uniform, try to cut the melon pieces all about the same size. Or,

use a melon baller

to make cute little uniform balls of melon. 

Add a container of

cool whip topping

to make your fruit salad extra creamylicious!

For some

creative ways to serve fruit

salad, consider adding it all back into a hollowed-out watermelon "basket," skewer the fruit for fruit kabobs, add it stylishly to bamboo sticks to create a fruit bouquet, or make a

fruit pizza

.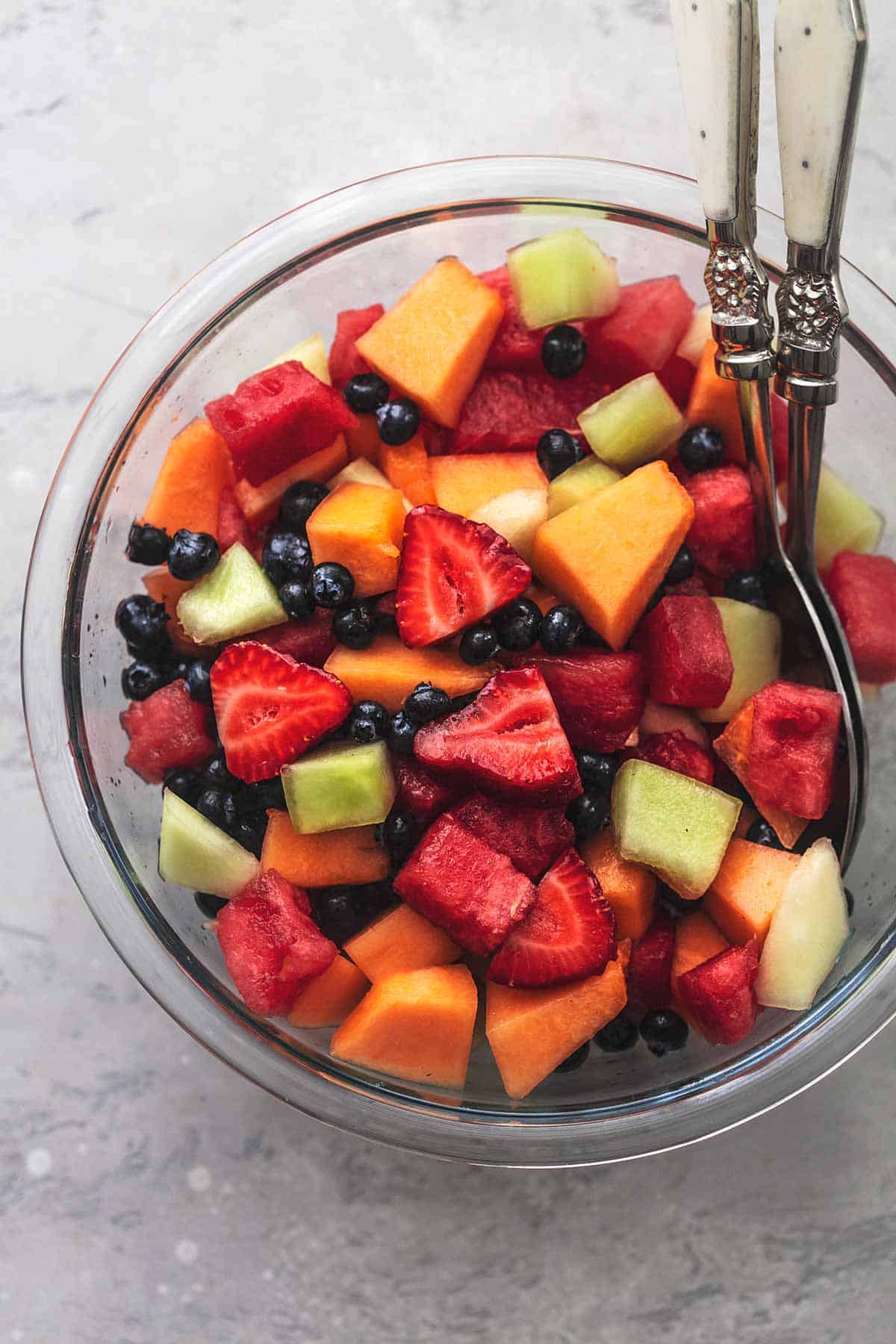 Most Popular Side Dish Recipes
Did you make this recipe? Please give it a rating!
Combine all fruit in a large bowl.

Stir together ingredients for chosen dressing (honey citrus OR creamy yogurt).

Add dressing to fruit bowl. Toss to coat.

Cover and chill up to 12 hours or serve immediately.
This recipe is extremely versatile and both dressings go with any fruit so feel free to swap out or add any fruit you prefer or have on hand! 
If using the yogurt dressing and making ahead, I recommend preparing the dressing and storing covered in the fridge (a lidded jar works great!), then tossing with the fruit just before serving. 
Add a container of cool whip topping to make your fruit salad extra creamylicious!