When Fall finally comes along, pumpkin everything is part of the magic! But, one of my very favorite pumpkin recipes isn't a cookie, bread, muffin, or soup – it's velvety, airy, Low Carb Pumpkin Mousse! There's nothing quite like this deliciously light, perfectly decadent whipped dessert with all the flavors of Fall!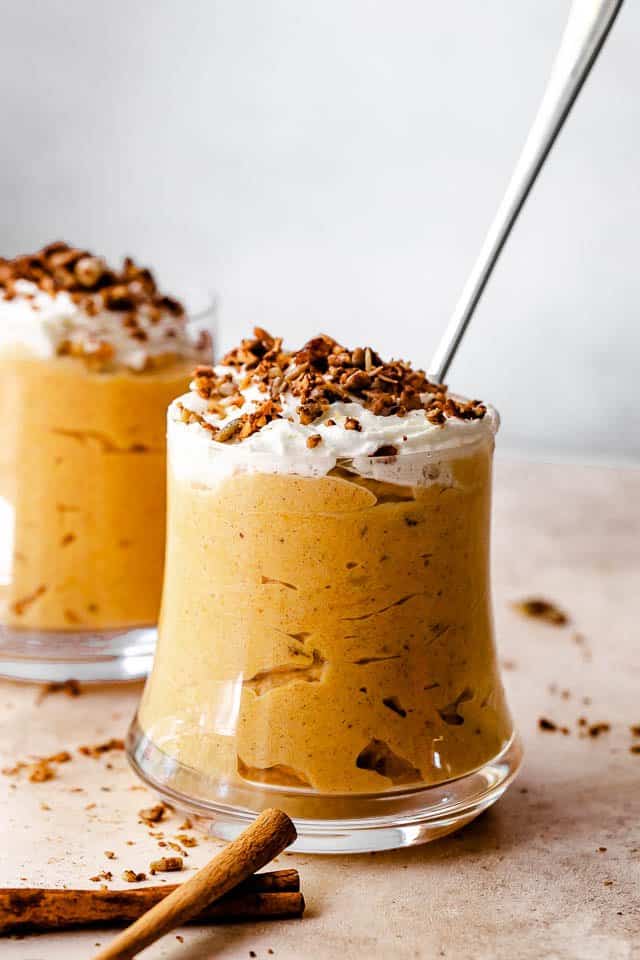 THIS PUMPKIN MOUSSE RECIPE IS PERFECT FOR AUTUMN
I'm definitely not shy about crafting a complex dessert now and then, but I have to admit that often I'm short on time. So this recipe really speaks to me. With just a handful of ingredients, and hardly any prep time at all, you can serve up a truly special dessert that's fluffy and yet rich, with the delicate and spicy flavor of pumpkin pie! Serious yum factor, people!
WHAT IS MOUSSE?
Mousse is a whipped dessert. It's sort of a cross between chilled pudding and whipped cream – so, think light, airy, and sweet. You can serve it on its own, or layer it in a parfait or trifle! This pumpkin mousse is a lovely seasonal alternative to the more common Chocolate Mousse – and one you'll turn to again and again.
RECIPE INGREDIENTS
Pumpkin Puree: Make sure it's 100% pumpkin, not pumpkin pie filling.
Vanilla: Pure vanilla extract is what I prefer, but you can also use regular vanilla flavoring.
Cinnamon, Nutmeg, and Pumpkin Pie Spice
Heavy Cream: Avoid half and half and milk in this recipe — you need to be able to whip the cream.
Sweetener: I use monk fruit, but you can substitute your preferred powdered sweetener.
HOW TO MAKE THIS LOW-CARB PUMPKIN MOUSSE
Combine the Pumpkin Ingredients: Mix the pumpkin puree, vanilla, and spices together in a large mixing bowl
Whip the Cream with the Sweetener: In a separate bowl (or using a stand mixer), whip the cream together with the sweetener until soft peaks form.
Fold the Whipped Cream into the Pumpkin: Fold the whipped cream gently into the pumpkin mixture, working slowly and in batches, until they are combined.
Chill and Serve: Spoon the mousse into serving cups, glasses, or bowls. Chill for an hour before serving. 
TIPS FOR THE BEST PUMPKIN MOUSSE
Follow these tips for the best results!
Master the Fold: It's important to fold the whipped cream into the pumpkin mixture, rather than stirring or mixing. By folding, you maintain the lightness of the whipped cream, resulting in a true mousse. Need a quick tutorial? Watch here!
The One Time You DON'T Want Butter: Keep in mind that if you keep whipping heavy cream, it will turn from liquid to soft peaks to grainy specks of butter! So whip just until you can pull the beaters from the whipped cream and leave behind soft, creamy "hills."
Sweeten to Taste: My recipe calls for ¼ cup of monk fruit sweetener, but you can substitute pure maple syrup, stevia, honey, and even cane sugar! Whatever sweetener you use, measure accordingly, since not all sweeteners affect a recipe the same way.
SERVING SUGGESTIONS
With coffee or espresso: I love serving this delicious Pumpkin Mousse as it is, with small dessert spoons in ice cream cups. A double espresso or demitasse of strong coffee goes really nicely. ☕️ 
In Trifle: You can make a lovely, easy trifle with Pumpkin Mousse by layering thin slices of pound cake with alternating layers of vanilla ice cream and pumpkin mousse, and topping it with crushed pizelles.
As a Parfait: Another delicious option is to create a pumpkin parfait. In champagne flutes or milkshake glasses, alternate dulce de leche ice cream, Pumpkin Mousse, and your favorite toppings. Top with whipped cream and a drizzle of chocolate syrup! ?
In an Ice Box Cake: This pumpkin mousse recipe was actually inspired by my Pumpkin Mousse Ice Box Cake, which is another great way to serve mousse!
HOW TO STORE LEFTOVERS
To store Pumpkin Mousse in the refrigerator, cover tightly and keep for up to one week.
To store in the freezer, place (or pipe) individual servings onto a parchment-paper lined tray.
Place in the freezer until frozen solid. Then place the servings into individual freezer bags and store for up to 2 months.
To serve leftovers, thaw in the refrigerator (if frozen). Serve as usual.
ENJOY!
Tools Used in this Recipe
Low Carb Pumpkin Mousse
An airy, light, and delicious whipped dessert of pumpkin and cream, lightly sweetened and spiced with traditional Fall flavors.
Course:

Dessert
Cuisine:

American
Servings: 6
Calories: 132 kcal
Instructions
In a large mixing bowl whisk the pumpkin puree with 1/4 cup sweetener. Add vanilla, cinnamon, pumpkin pie spice, and nutmeg; whisk until well combined. Set aside.

In a separate bowl combine heavy cream with remaining sweetener; using an electric mixer, beat the mixture until soft peaks form.

Add the heavy cream mixture to the pumpkin mixture and, using a rubber spatula, gently fold the mixture until thoroughly incorporated.

Divide mousse evenly among small dessert bowls.

Place in the fridge for 1 hour.

Optionally, top with a dollop of whipped cream and a sprinkle of low carb granola.
Recipe Notes
NET CARBS: 5 g
Nutrition Facts
Low Carb Pumpkin Mousse
Amount Per Serving
Calories 132
Calories from Fat 99
% Daily Value*
Fat 11g17%
Saturated Fat 7g35%
Cholesterol 41mg14%
Sodium 15mg1%
Potassium 168mg5%
Carbohydrates 7g2%
Fiber 2g8%
Sugar 3g3%
Protein 1g2%
Vitamin A 11467IU229%
Vitamin C 3mg4%
Calcium 40mg4%
Iron 1mg6%
* Percent Daily Values are based on a 2000 calorie diet.
Want To Save This Recipe?
More Pumpkin Recipes to Try: