This Mexican Rice Casserole is a family favorite dinner and is perfect for busy weeknights because it is made in the Instant Pot. You will love this one pot meatless meal!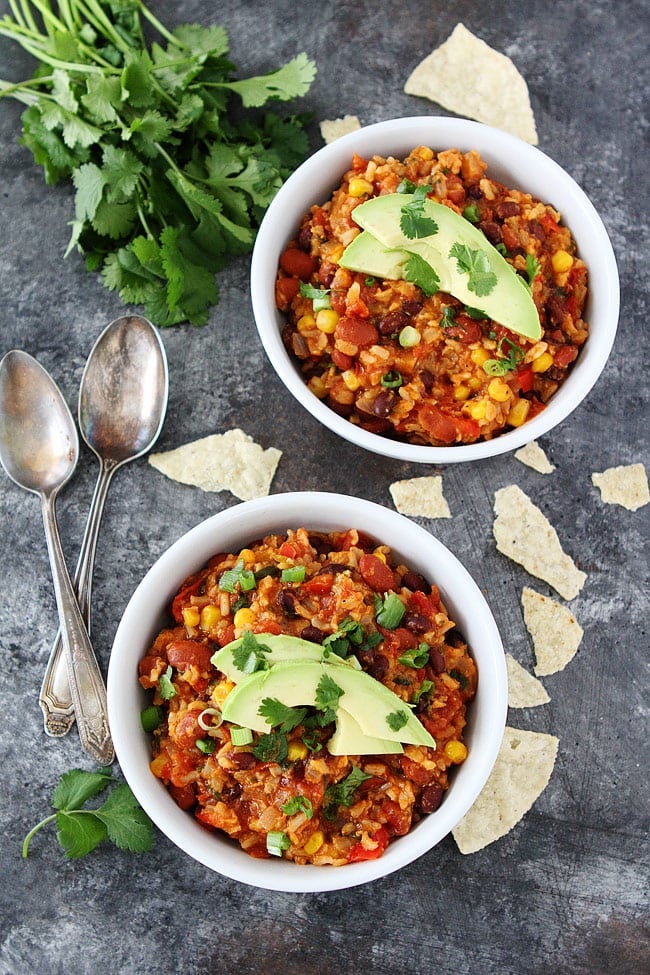 This post is sponsored by USA Pulses & Pulse Canada.
Who got an Instant Pot for Christmas and needs Instant Pot recipes? If your hand is raised, it is your lucky day because we are sharing one of our very favorite Instant Pot meals. You are going to LOVE this Mexican Rice Casserole. It is made in the pressure cooker and is a huge hit with the entire family, including our boys. It is vegetarian, gluten-free and SO good!
And if you don't have an Instant Pot yet, you are going to want one after you see this easy dinner recipe:)

OTHER RECIPES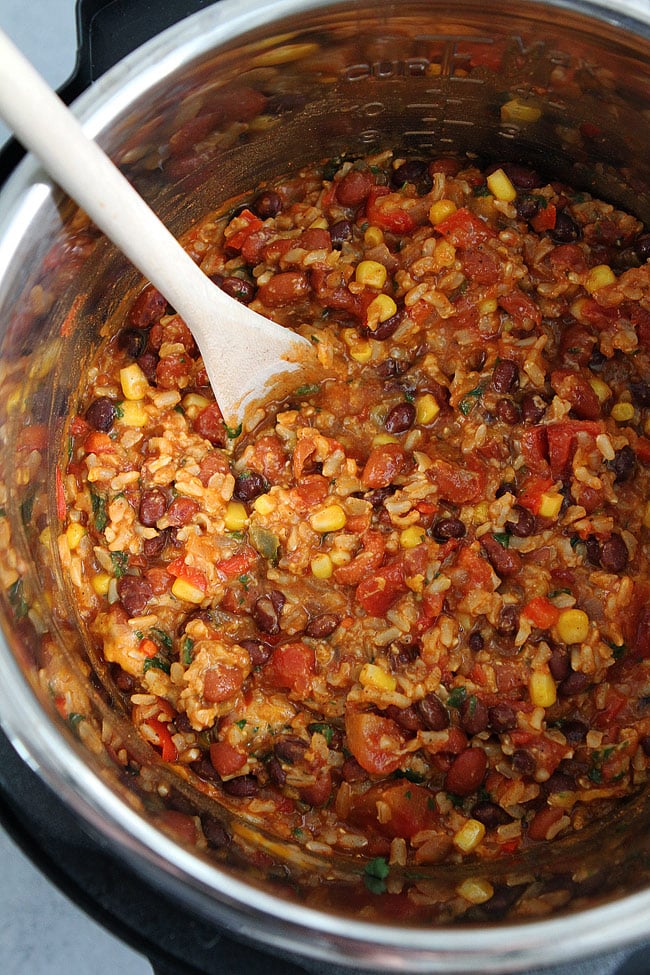 How to Make Instant Pot Mexican Rice Casserole
This Mexican Rice Casserole has all of our favorite ingredients in ONE pot! I love the Instant Pot because you can sauté right in the Instant Pot. This is a great one pot meal!
We combine brown rice, black beans, pinto beans, diced tomatoes, green chiles, red bell pepper, garlic, onion, lime juice, lots of spices, and vegetable broth in the Instant Pot and let it do it's magic.
When the Instant Pot is done, we stir in corn, shredded cheese, cilantro, and green onion. The cheese melts into the rice and black beans creating the perfect cheesy rice and bean casserole!
We serve the casserole in bowls and top with avocado slices. The boys like to eat their casserole with tortilla chips. They are all about dipping!
This easy rice casserole reheats well, making great leftovers for lunch or dinner all week. It also freezes well. I love keeping a container in the freezer for busy weeknights. Defrost and heat up in the microwave!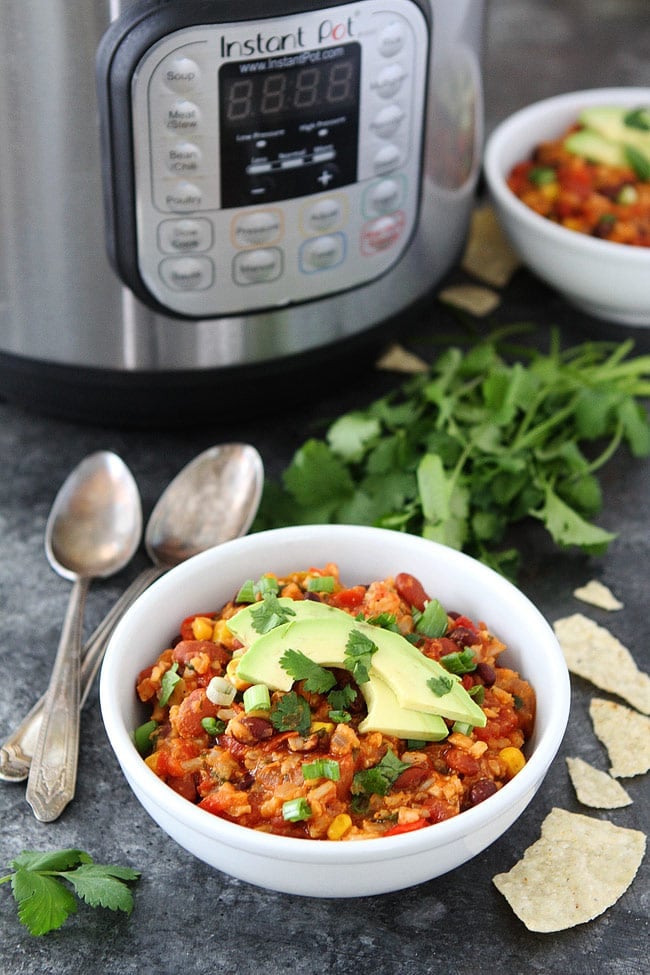 We are always trying to add more pulses (delicious, protein-packed, sustainable foods such as dry peas, chickpeas, lentils and beans) to our recipes and this Mexican Rice Casserole has TWO kinds of beans, black peans and pinto beans. Looking for simple ways to eat healthier in the New Year? Just add pulses! Sign up for the Half-Cup Habit, and see how easy it can be to add ½ cup serving of pulses to your diet just 3x per week for added nutrients.
Get out your Instant Pot and make this Mexican Rice Casserole. It is an easy dinner winner! It is packed with protein and a great easy, kid friendly meal! Our boys ask to have this casserole for dinner almost every single week.
Looking for more Instant Pot recipes? Check out our favorites: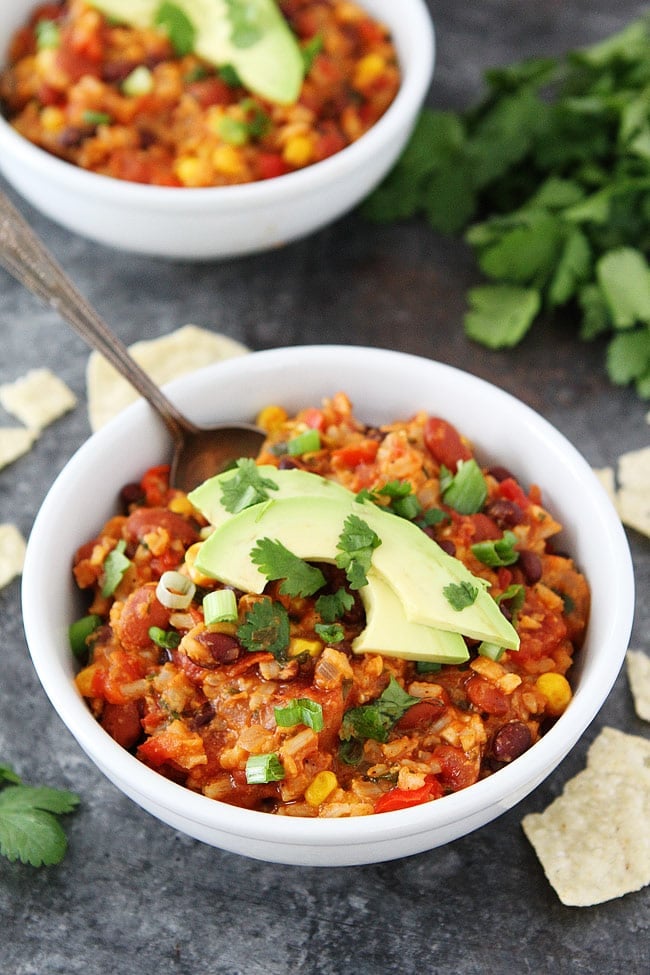 Instant Pot Mexican Rice Casserole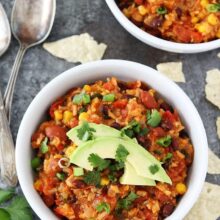 This easy Mexican Casserole is made in the Instant Pot and a family favorite weeknight meal! The leftovers also freeze well.
Yield: Serves 8
Prep Time:10 minutes
Cook Time:37 minutes
Total Time:47 minutes
Ingredients:
1 tablespoon olive oil
1 medium yellow onion, chopped
1 medium red bell pepper, seeds removed and chopped
3 cloves garlic, minced
2 (14.5 oz) cans diced tomatoes
1 (4 oz) can diced green chiles
1 cup vegetable broth
Juice of 1 large lime
1 cup long grain brown rice
1 (15 oz) can black beans, rinsed and drained
1 (15 oz) can pinto beans, rinsed and drained
2 teaspoons chili powder
1 teaspoon ground cumin
1/2 teaspoon paprika
3/4 teaspoon kosher salt
1/2 teaspoon black pepper
1 cup frozen corn
1 cup shredded cheddar or Mexican blend cheese
1/3 cup chopped cilantro
2 green onions, sliced
1 large avocado, sliced
Tortilla chips, for serving, optional
Directions:
Put the olive oil in the Instant Pot and select Browning/Sauté. When the oil is hot, add the onion and red bell pepper. Cook until softened, about 3 minutes. Stir in the garlic and cook for 2 minutes.
Add the diced tomatoes, green chiles, vegetable broth, lime juice, brown rice, black beans, pinto beans, chili powder, cumin, paprika, salt, and pepper. Stir until combined. Lock the lid on the Instant Pot, select high pressure, and set to 22 minutes cook time.
After the 22 minutes, turn off the Instant Pot and let the pressure naturally release for 10 minutes. After the 10 minutes, carefully turn the vent to a quick pressure release.
Stir in the corn, shredded cheese, cilantro, and green onions. Taste and season with additional salt and pepper, if necessary.
Serve with sliced avocados and tortilla chips, if desired.


All images and text ©Two Peas & Their Pod.




Follow twopeasandpod on Instagram and show us what recipes you are making from our blog! Use the hashtag #twopeasandtheirpod! We want to see what you are making in your kitchen!