Pan Seared Garlic Butter Steak & Mushroom Cream Sauce is a perfect dinner for date night week night or any occasion that deserves something charred and extra juicy on the table. 
A little butter adds richness and keeps your steaks juicy, with the added flavours of garlic and your choice of herbs adding something special to your beef! PLUS being smothered in that creamy mushroom sauce with a hint of balsamic and garlic? YES! Pan Seared Garlic Butter Steak & Mushroom Cream Sauce on your table in less than 20 minutes!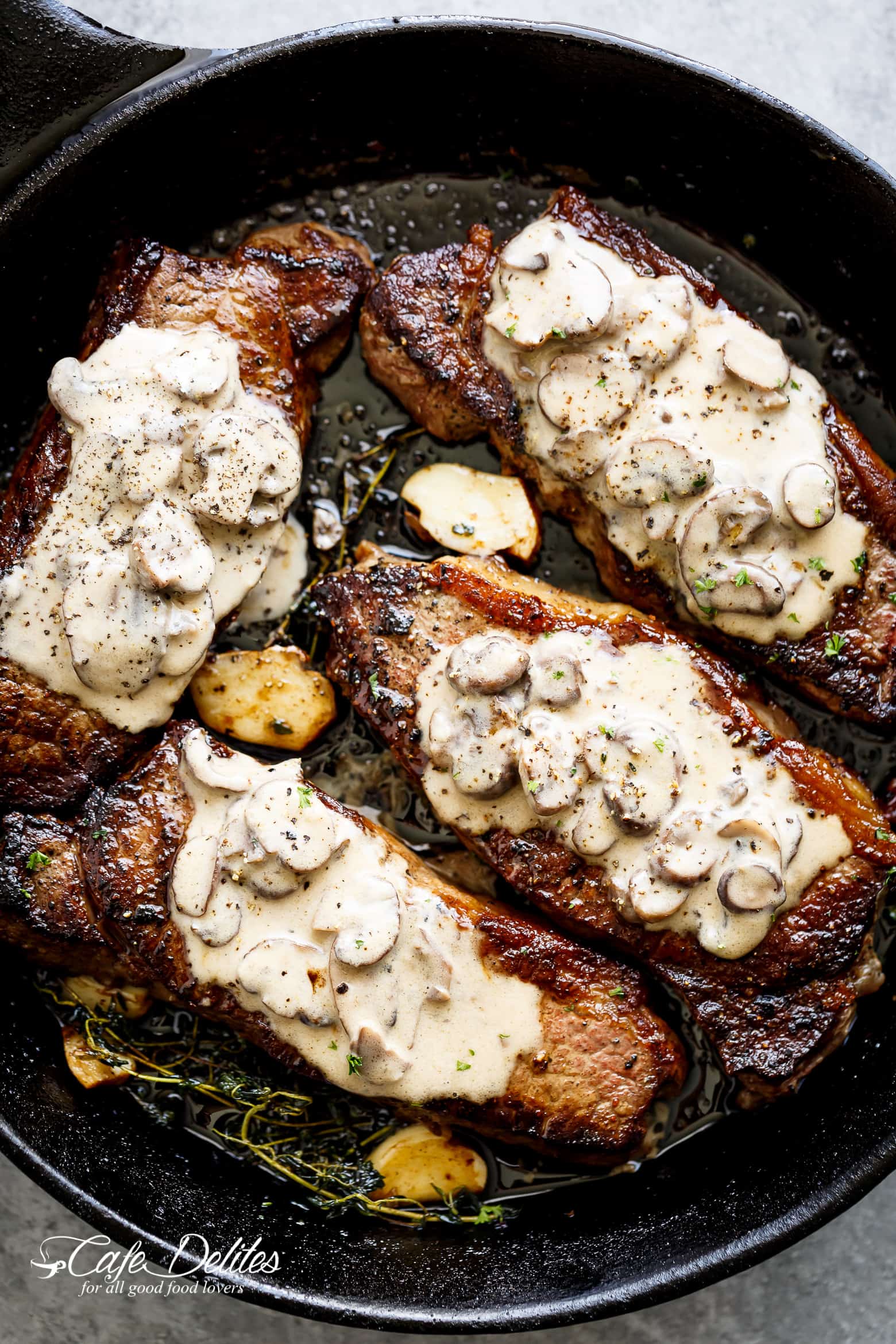 Pan seared steaks are my love language. Being brought up in a carnivore's house, steak was available on our dining table at least once a week. Breakfast or dinner, it didn't matter. I had no hope of even trying to become a vegetarian. When I DID try to refuse meat, my garlic mother would go out of her way to fry up some churrascos (steaks) and just the smell of her steaks charring in the frying pan was enough to push me over the edge. I couldn't do it. I have zero will power. My Uruguayan father's signature dish is a big, fat, juicy churrasco with a good drizzling of Chimichurri AND a fried egg.
These were the days of my life.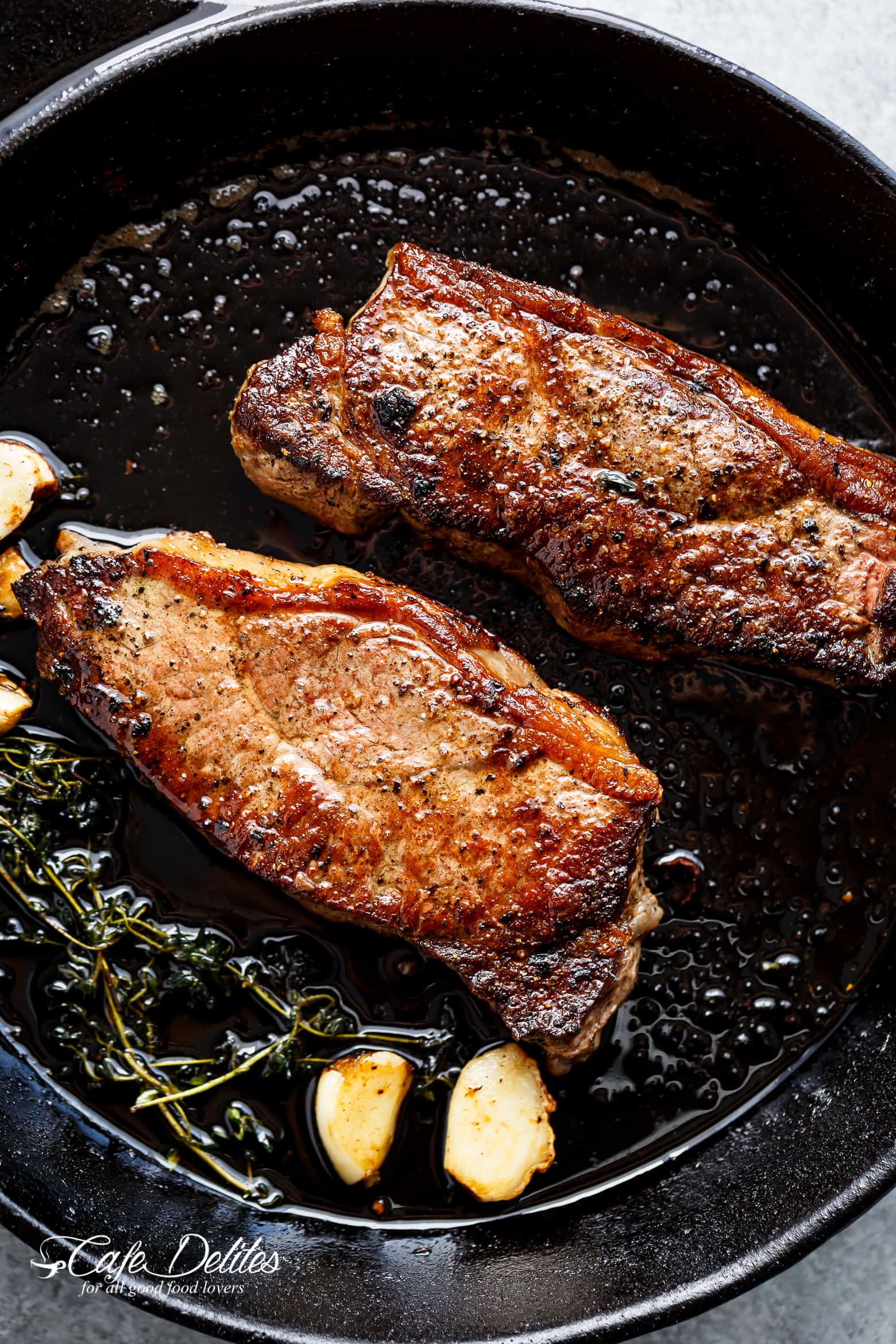 So, when I happened to stumble across a video of Gordon Ramsey pouring melted butter over a hot sizzling steak, I ran into my kitchen full speed ahead to get them done.
I love his method just as much as I love my mother's. And then pouring that creamy mushroom sauce over them just takes them OVER THE TOP!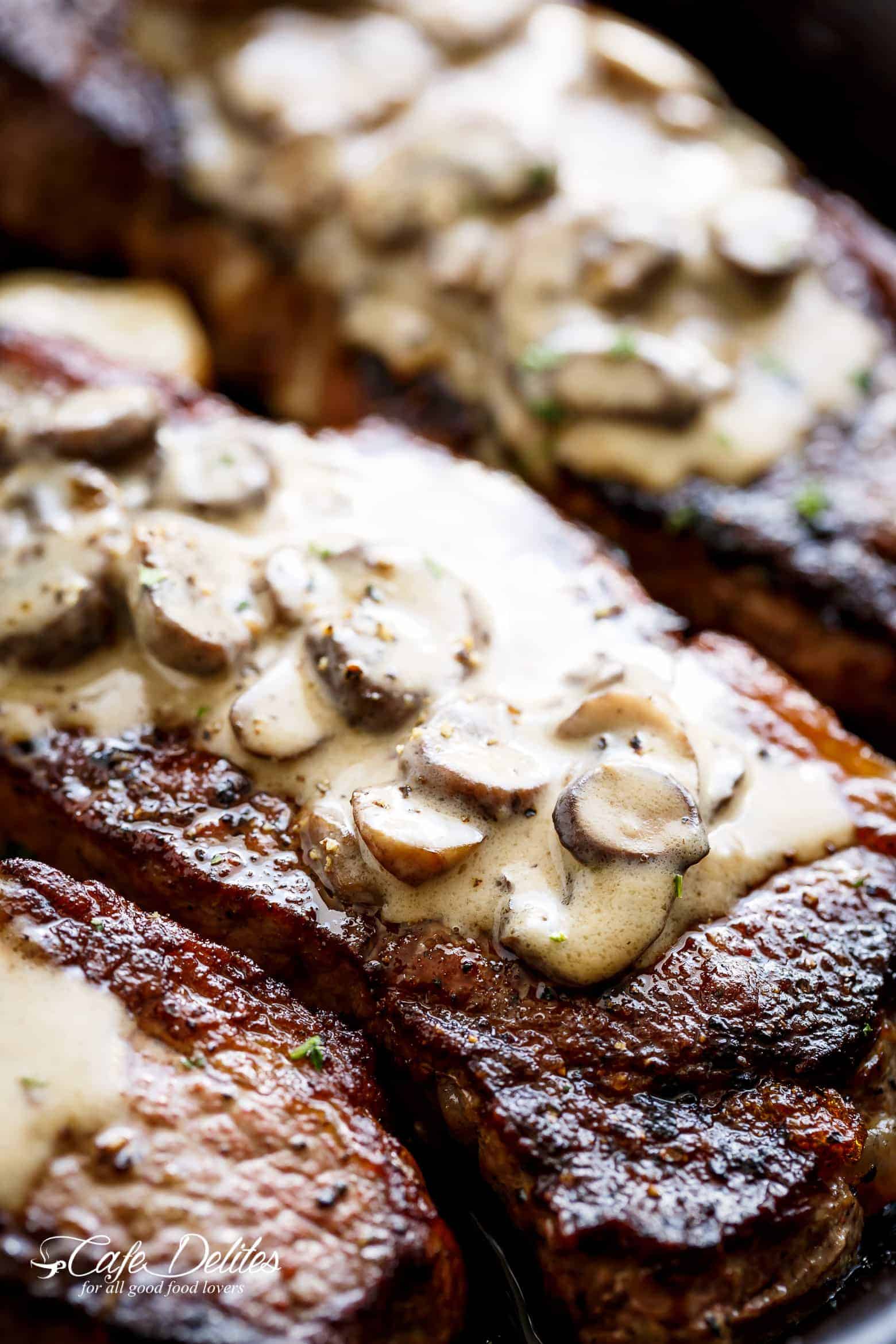 Perfect Pan Seared Garlic Butter Steak & Mushroom Cream Sauce
Preheat your pan until smoking. I use a cast iron skillet, but a frying pan works just as well. Add in a drizzle of canola oil and season steaks with salt and pepper just before they go in to your pan.
Your kitchen will get smokey! Keep your exhaust fan on high or cook in a pan or skillet on a hot outdoor barbecue or grill.
Add only two steaks in at a time, or you won't get a nice sear.
When basting your steaks, tilt your pan carefully towards you. If you're not comfortable with this step, tilt the pan away from you, just enough to pool the butter on the side of the pan. Use an oven mitt to hold the handle of your pan. Make sure your material is away from any open flames on your stove.
Baste your steaks with a largish spoon like a tablespoon.
Once they're done and resting, keep any pan juices in the pan. Don't discard them to make your sauce! That's where all the flavour is!
I use a reduced fat (light) cream, but you can heavy cream.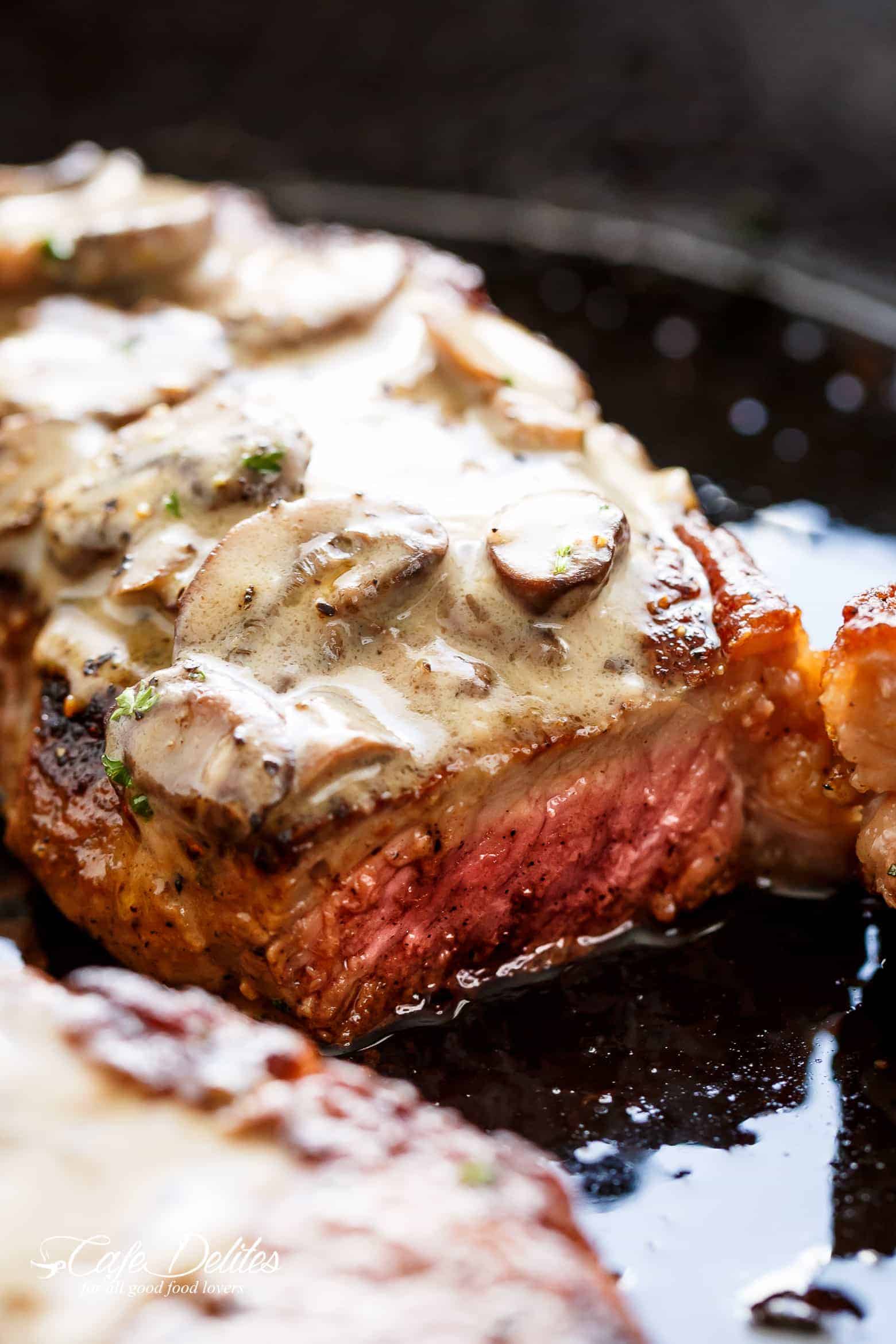 I served our Pan Seared Garlic Butter Steaks with these Crispy Garlic Roasted Potatoes!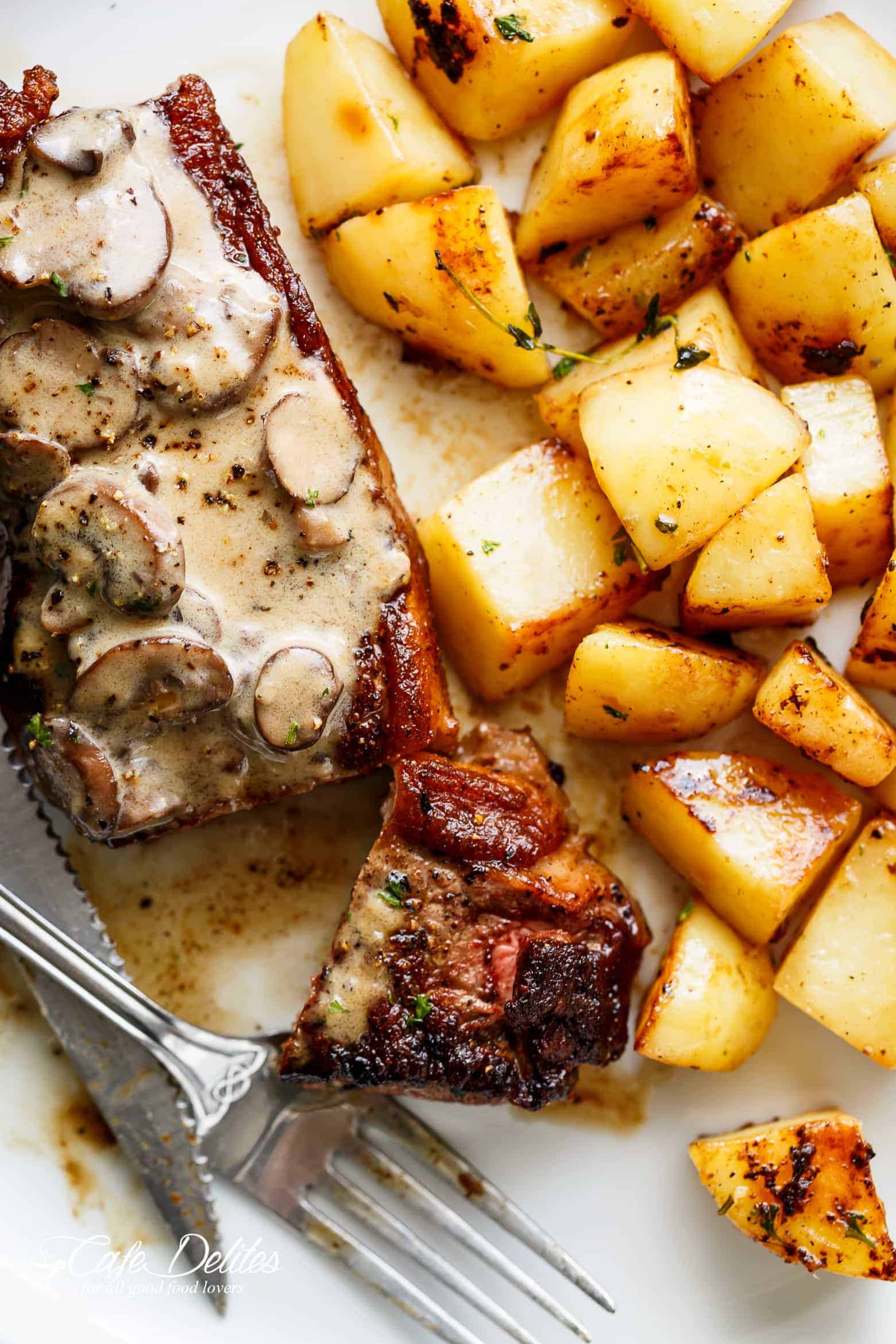 THE STEAK MASTER:
Pan Seared Garlic Butter Steak & Mushroom Cream Sauce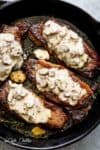 Print
Pan Seared Garlic Butter Steak & Mushroom Cream Sauce
Seared Garlic Butter Steak & Mushroom Cream Sauce is a perfect dinner! A little butter adds something special to your steak in less than 10 minutes!
Course: Dinner
Cuisine: American
Servings: 4 people
Author: Karina
Ingredients
For Steaks:
4

7-ounce

(200 gram) 1-inch thick New York strip steaks

(Australian Porterhouse steaks)

A pinch of salt

A pinch of cracked black pepper

2

tablespoons

olive oil,

divided

4

tablespoons

butter,

divided

6

garlic cloves

lightly crushed with the back of a knife, divided

6-8

thyme sprigs,

divided (or rosemary or parsley)
For Mushroom Sauce:
2

cloves

garlic

crushed

1-2

teaspoons

balsamic vinegar

1

cup

sliced brown mushrooms

1/2

cup

light cream or reduced fat cream,

(or heavy cream)
Instructions
Before cooking, allow steaks stand 30 minutes at room temperature. Then season all sides with salt and pepper.

Heat a large cast-iron skillet or pan over medium-high heat. Add 1 tablespoon of oil in and swirl to coat. When pan begins smoking, lay the steaks into the pan away from you, in batches of two and cook 3 minutes on each side or until browned.

Reduce heat to medium-low; add 2 tablespoons of butter, 3-4 sprigs of thyme, and 3 garlic cloves to the pan. Allow the butter to foam a little and baste the steaks (use an oven mitt, hold pan handle and very carefully tilt pan toward you so butter pools in the pan, and baste steaks with a large spoon). Baste constantly while cooking for a further 1-2 minutes, or until the steaks are done to your liking. (For well done steaks, flip them a couple more times while cooking until done to your preference.)

Discard the thyme and garlic from the pan and transfer steaks to a plate. Pour the pan juices over the steaks and let rest for 5 minutes. Repeat with the remaining steaks, then remove them and let rest. (Discard the thyme and garlic, but leave the second lot of pan juices in the pan.)

While steaks are resting, add the crushed garlic to the buttery juices in the pan. Sauté on medium heat for 30 seconds until fragrant. Add the vinegar and mushrooms and cook until soft, then add the cream. Season with salt and pepper to your taste.
Garlic Steak & Cheesy Bacon Potato Hash Foil Packs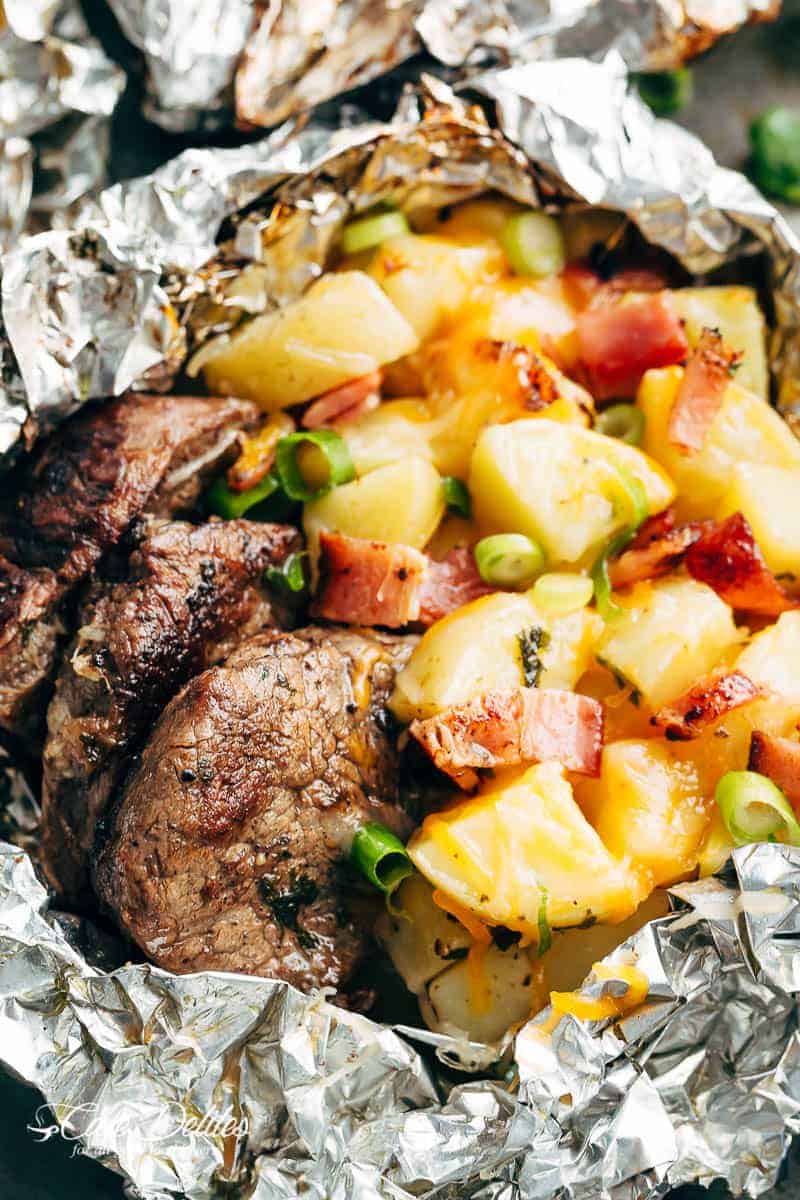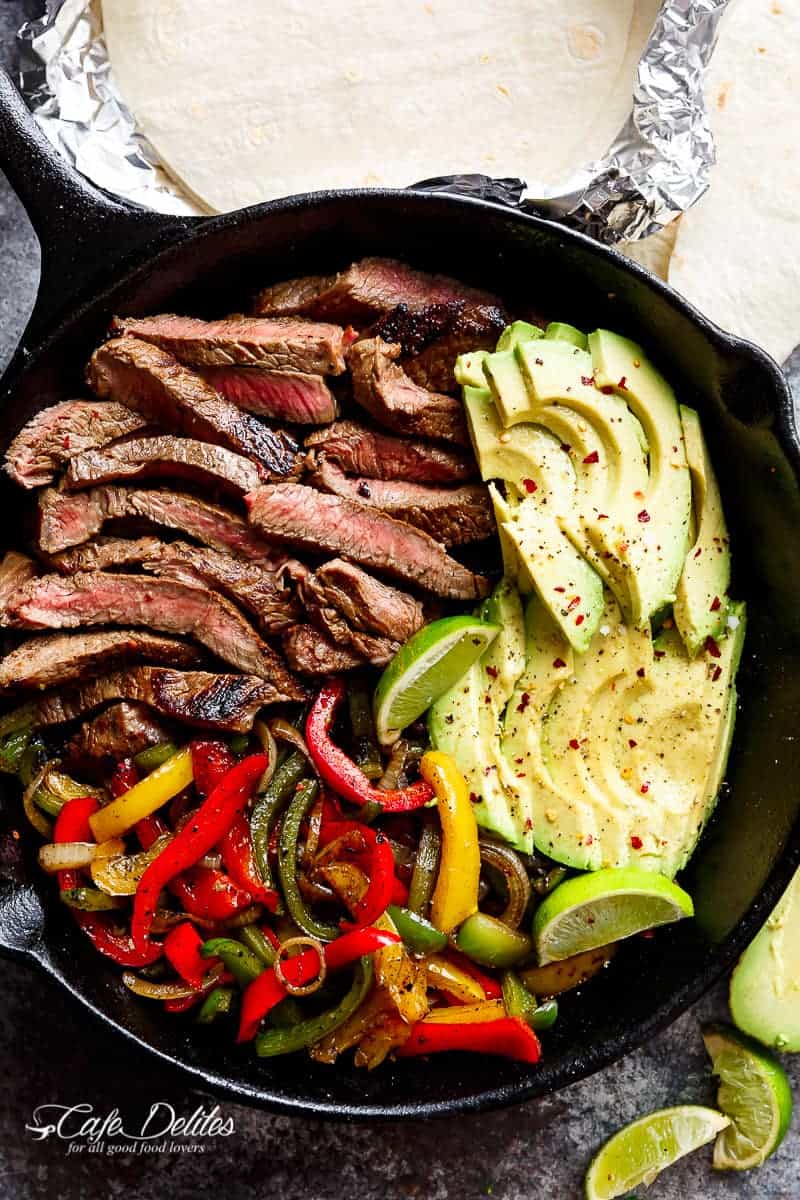 Slow Cooker Steak and Gravy Pies