Pasta Primavera-this classic pasta dish is a wonderful mixture of colorful vegetables and a simple lemon Parmesan cream sauce. It is the perfect pasta recipe for spring and summer!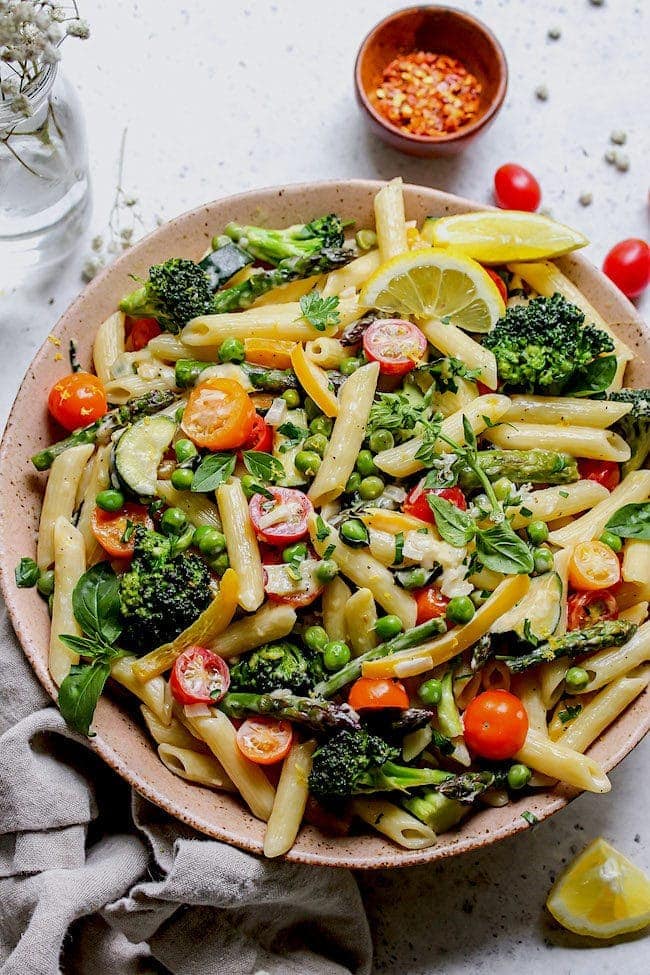 Pasta Primavera
Pasta Primavera is a classic pasta dish that was born in the 70's at Le Cirque, a popular New York City restaurant. It was soon being served at restaurants all over and is still a popular pasta recipe today! Pasta Primavera is a favorite dish during the spring and summer months because it is made with lots of vegetables, a light lemon cream sauce, Parmesan cheese, and fresh herbs. It is light, refreshing, colorful, and so delicious. I am so glad this pasta dish is still popular because it is one of my favorite pasta recipes.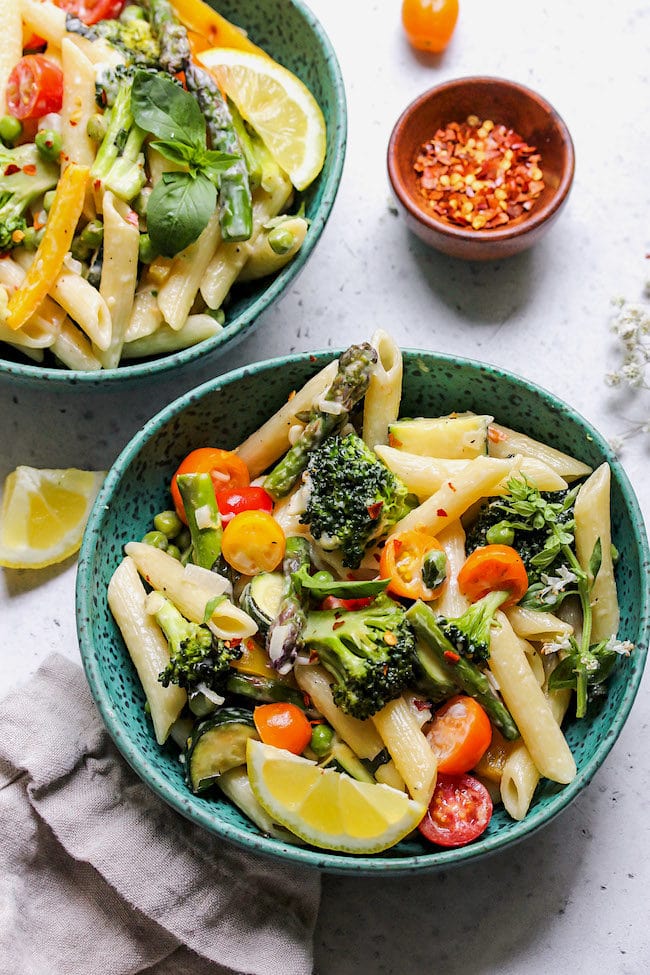 What Pasta Should I Use to Make Pasta Primavera?
Rumor has it the original pasta primavera recipe was made with spaghetti, but I like to use shorter pasta noodles that are about the same size as the vegetables. Easier to eat and I like shaped pasta. Penne pasta is my favorite but farfalle, rigatoni, orecchiette, and fusilli are good options. And of course you can use spaghetti, angel hair, or fettuccine, if you want to do some slurping:) You can use regular pasta, whole wheat pasta, or gluten-free pasta!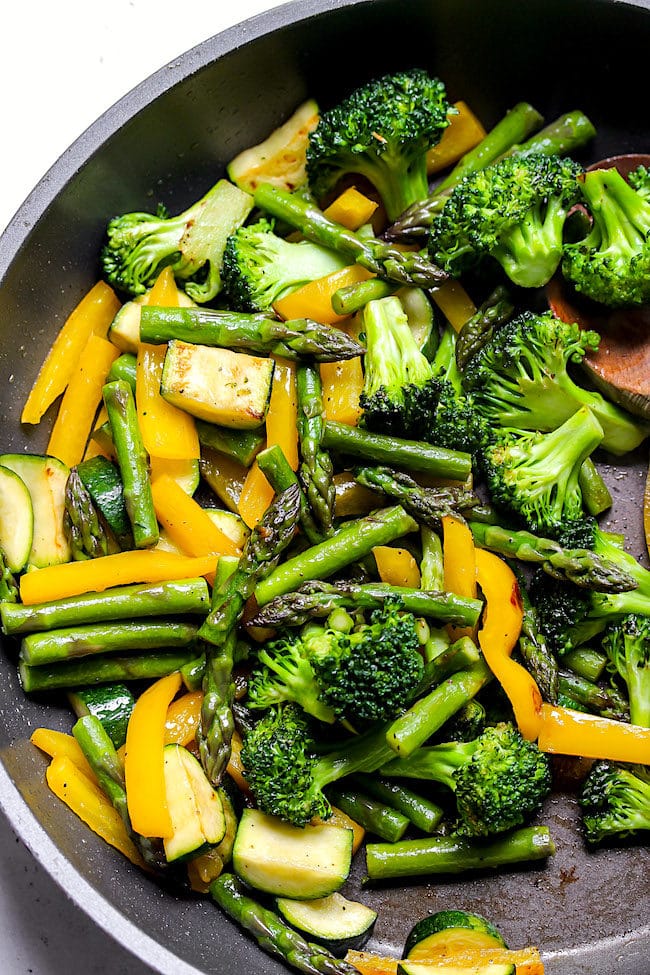 What Vegetables Are In Pasta Primavera?
Primavera means spring, so pasta primavera is usually made with lots of spring vegetables. But feel free to use your favorite vegetables or whatever vegetables you have in your garden or refrigerator. You want to use a mix of colorful, fresh vegetables, but there really are no rules. For this recipe, I used: asparagus, broccoli, bell pepper, zucchini, peas, and tomatoes. Mushrooms, yellow squash, artichoke hearts, carrots, and spinach are also good in pasta primavera. You really can't go wrong, bring on the veggies!
Creamy Pasta Primavera
I make Pasta Primavera with a lemon cream sauce, which is pretty standard, but you can make pasta primavera without cream, but I don't like it as much…ha! I think the lemon cream sauce with fresh Parmesan and all of the veggies is the right way to go. I mean, you are getting LOTS of veggies so the cream sauce is totally ok. Balance, right? And the cream sauce is on the lighter side, it isn't super heavy or thick like fettuccine alfredo.
How to Make Pasta Primavera
Pasta Primavera is a simple pasta dish and makes a great meal for weeknights, entertaining, or even lunch!
The hardest part is cutting up the vegetables and that really isn't hard, it just takes a little time. You can cut the vegetables up a few days in advance and keep them in the refrigerator or you can cut them up the morning you are going to make the recipe so when it's time to make dinner, you are ready to go! This is a great recipe to meal prep in advance.
Get a big pot of water boiling and add SALT! Don't forget, the salt adds flavor to the pasta. I add about a tablespoon of kosher salt. Cook the pasta until al dente, about 11 minutes.
While the pasta is cooking, work on the vegetables and sauce. In a large skillet, heat the olive oil over medium high heat. Add the asparagus, peppers, and broccoli. Sauté for 2 to 3 minutes, stirring occasionally. Add in the zucchini and cook for 1 to 2 minutes or until vegetables are tender, but still crisp. I add the zucchini after the other vegetables because it doesn't take as long to cook. If your vegetables require different cooking times, that is fine, just start with the ones that take longer to cook and add the other veggies in later.
Season vegetables with salt and pepper, to taste. Transfer the vegetables to a large plate or bowl and set aside so you can make the sauce.
Place the skillet back on the stove. Melt the butter over medium heat. Add the shallot and garlic and cook for 2 minutes. Stir in the lemon zest and vegetable broth. Simmer until the broth reduces by half, about 4 to 5 minutes. Stir in the heavy cream and 2 tablespoons of lemon juice.
Stir the peas into the pot with the pasta, you don't have to cook them first. Stir in the cooked vegetables. Pour the lemon cream sauce over the pasta and vegetables and stir until well combined. Stir in the Parmesan cheese, make sure you use GOOD Parmesan cheese, not the stuff in the can:) Add the remaining tablespoon of fresh lemon juice, tomatoes, and basil. Pour the pasta primavera into a large serving bowl or dish. Garnish with parsley, extra Parmesan cheese, and crushed red pepper flakes. ENJOY!
Can I add Chicken or Shrimp?
Yes! If you want to add a protein to the pasta primavera, chicken or shrimp are good options. You can use grilled chicken, shredded rotisserie chicken, or leftover cooked chicken. Shrimp also goes great with the pasta, veggies, and cream sauce. Plus, shrimp only takes a few minutes to cook so you wouldn't be adding a lot of extra work to get dinner on the table!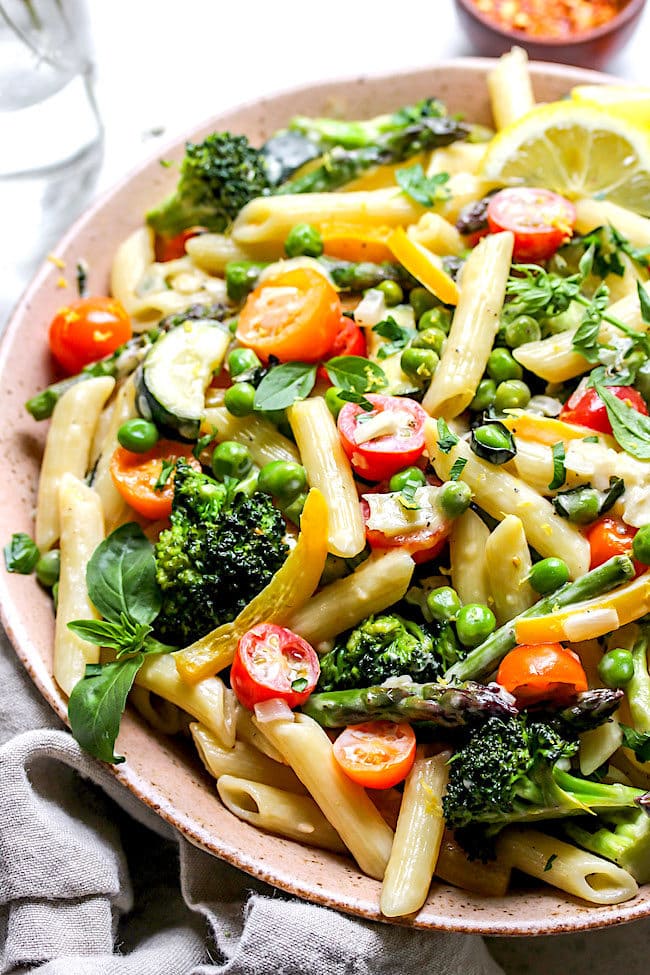 What to Serve with Pasta Primavera
Pasta Primavera is such a pretty pasta dish and is really quite filling. It could be a meal on it's own, but if you want to make a few side dishes to serve on the side, here are a few of our favorites.
More Pasta Recipes: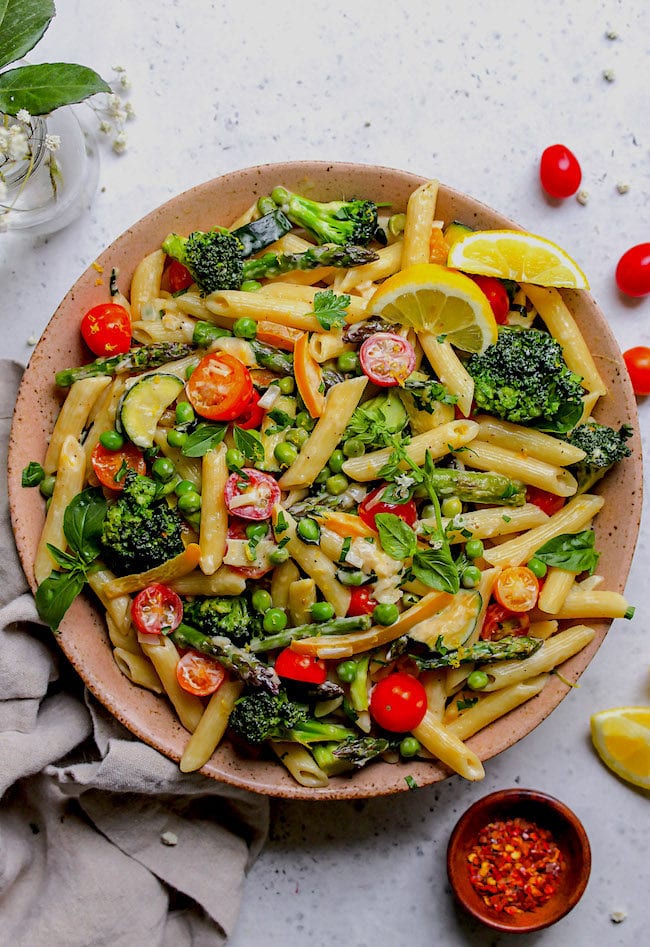 16




oz




penne pasta

1




tablespoon




olive oil

8




oz




asparagus,




cut into 1 ½-inch pieces

1




yellow bell pepper,




cut into 1 ½-inch pieces

2




cups




small broccoli florets

1




small zucchini,




chopped

Salt and black pepper




to taste

2




tablespoons




unsalted butter

1




shallot,




minced

4




garlic cloves,




minced

Zest of 1 lemon

Dash crushed red pepper flakes

1




cup




vegetable broth

½




cup




heavy cream

3




tablespoon




lemon juice,




divided

1




cup




frozen peas

½




cup




shredded Parmesan cheese

1 ½




cups




halved grape tomatoes

¼




cup




chopped basil

2




tablespoons




Italian parsley,




for garnish

Extra parmesan cheese,




for garnish

Crushed red pepper flakes,




for garnish
Nutrition Facts
Pasta Primavera
Amount Per Serving
Calories 375
Calories from Fat 108
% Daily Value*
Total Fat 12g
18%
Saturated Fat 6g
30%
Cholesterol 32mg
11%
Sodium 240mg
10%
Potassium 500mg
14%
Total Carbohydrates 52g
17%
Dietary Fiber 4g
16%
Sugars 5g
Protein 13g
26%
Vitamin A
25.3%
Vitamin C
82%
Calcium
13%
Iron
11.9%
* Percent Daily Values are based on a 2000 calorie diet.
Photos by Dishing Out Health