This post may contain affiliate links. Please read my disclosure policy.
My favorite pear salad recipe, made with avocado, gorgonzola, candied walnuts and a simple vinaigrette.  It's quick and easy to make and always a crowd fave!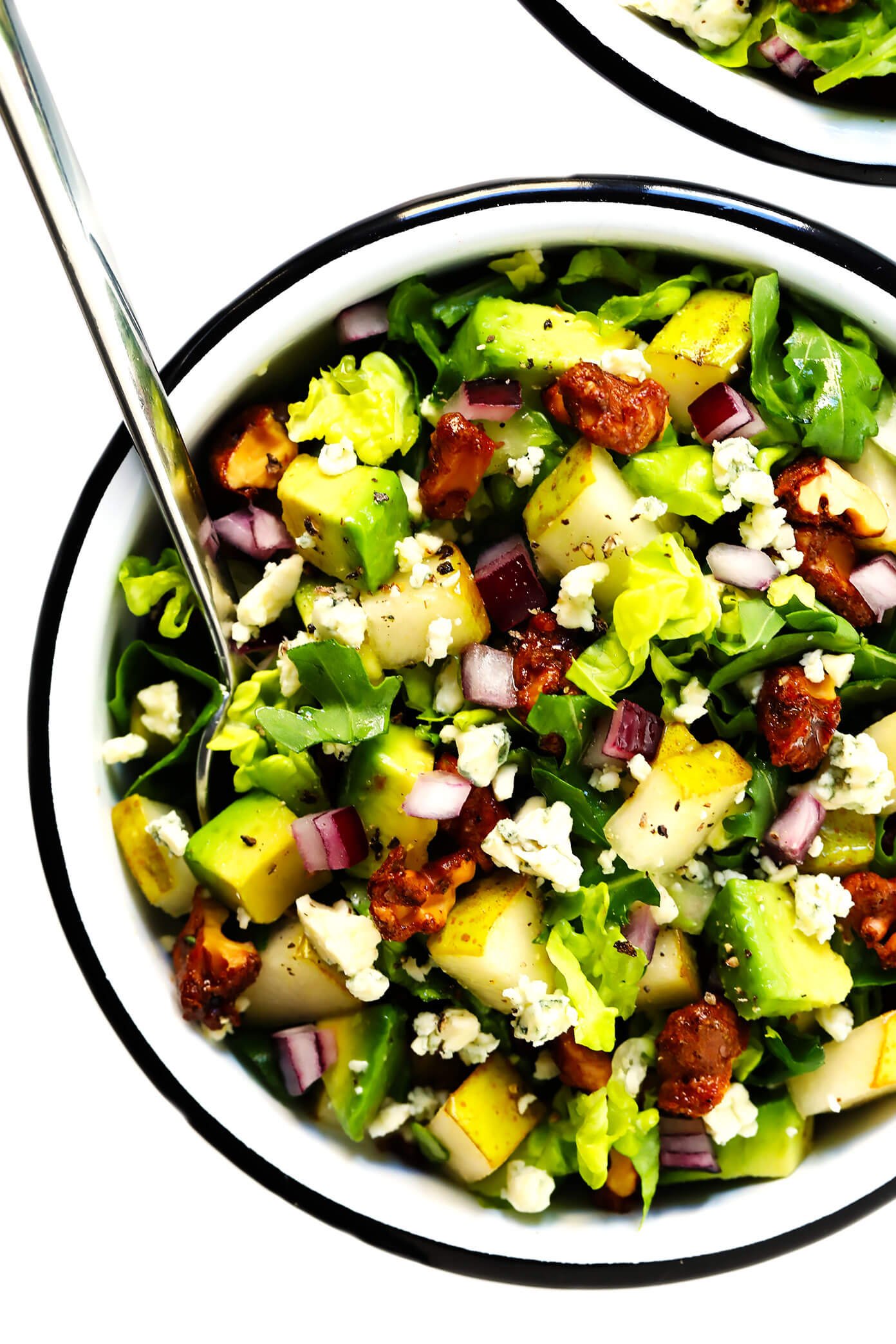 Does anyone else wait all year long for pears to come back in season just so that they can make a million pear salads?!
I certainly do. ♡
Seriously, this time of year, I nonstop crave a good green salad with the season's best soft and juicy fresh pears.  All the better when said pear salad is tossed with my favorite combo of peppery arugula, creamy avocado, bold gorgonzola, crisp red onions, candied walnuts and a simple Dijon vinaigrette.  It's a classic, no-frills, quick-and-easy salad that I've made more times than I can count.  And I'm telling you, it always — always — hits the spot.
That said, of course, pretty much all of the ingredients here are open to modifications if you'd like.  For example, basically any variety of pears and salad greens would work well.  And if you're not a gorgonzola fan, just sub in some crumbled goat cheese or feta.  And hey, if you don't have time to candy the walnuts, no prob — feel free to just toast them for a few minutes to bring out their flavor.  The one ingredient that I would say is non-negotiable is a set of juicy ripe pears.  They don't stay in season for long, so while they're at their prime, let's make the most of them with this delicious pear salad!

Pear Salad Ingredients:
Alright, let's talk ingredients!  I typically chop/dice/crumble mine, to make this more of a chopped salad.  But you're welcome to leave the ingredients in larger pieces if you prefer.  To make this pear salad recipe, you will need…
Salad greens: The greens in this salad are 100% up to you.  I typically use baby arugula for at least half (or often all) of my salad greens, as its peppery flavor pairs so well with the sweet pears.  This time I went with a 50/50 blend of baby arugula and little gem lettuce.  But Romaine lettuce, spring greens or even shaved Brussels sprouts would also be lovely in this recipe.
Pears: I used conference pears in my salad today, but feel free to use whichever kind of pears you love best.  To ensure that your pears are nice and ripe, use your thumb to gently apply pressure near the stem end of the pear.  Then if it gives slightly, the pear is ripe and ready to be eaten.
Avocado: Peeled, pitted and diced.
Red onion: Either finely diced or sliced.  (If you would like the red onion's flavor to be a bit more mild, you can rinse it with water briefly after slicing, before adding the onion to the salad.)
Candied walnuts: I made a half batch of my favorite candied walnuts recipe for this salad, which toasted up in the oven while I prepared the rest of my ingredients.  That said, if you are running short on time, feel free to skip the candied walnuts recipe and just toast plain walnuts for a few minutes in a skillet or in the oven until fragrant.
Gorgonzola: I absolutely love gorgonzola in this salad.  But crumbled goat cheese, feta or even some aged cheddar or Parmesan would be delicious alternatives too.
Dijon vinaigrette: Which is made simply with olive oil, apple cider vinegar, Dijon mustard, salt and pepper.
Detailed ingredient amounts and instructions listed in the full recipe below.
How To Make This Chopped Salad:
To make this pear chopped salad recipe, simply…
Make the vinaigrette: Combine all of the ingredients in a bowl (or mason jar), and whisk (or cover and shake) vigorously until combined.
Toss the salad: Combine all of your salad ingredients a large salad serving bowl.  Drizzle evenly with the vinaigrette, then toss until combined.  Taste and season with extra salt and pepper, if needed.
Serve: Serve it up immediately and enjoy!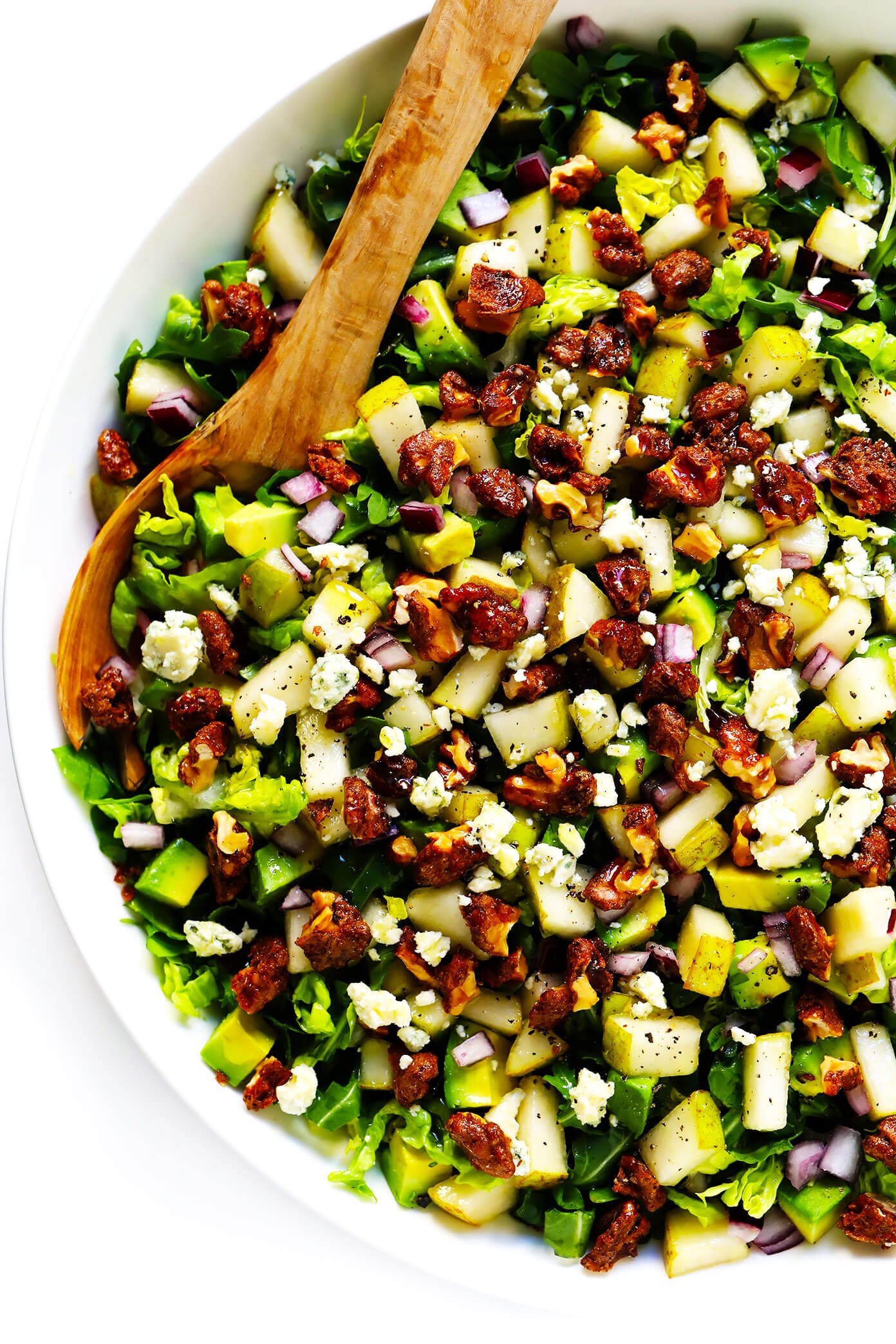 Possible Variations:
There are endless ways that you could customize this pear salad, so feel free to get creative and use whatever ingredients you love best!  For example, feel free to…
Add bacon or chicken: Crumbled bacon or grilled diced chicken would be delicious additions, if you would like to add some protein.
Add pomegranate arils: For an extra pop of color this time of year, feel free to sprinkle some fresh red pomegranate arils (or even dried cranberries) into the salad too.
Use a different kind of cheese: As mentioned above, crumbled goat cheese, feta cheese, aged cheddar or shaved Parmesan would be delicious cheese alternatives.
Use a different kind of nuts: Feel free to candy pecans instead of walnuts.  Or, if you're short on time, you can just toast the nuts instead of baking them with the candy coating.
Use balsamic vinegar: I also love making this salad with a zesty balsamic vinaigrette, subbing in balsamic (or golden balsamic) vinegar in place of the apple cider vinegar.
Make it gluten-free: This salad is already naturally gluten-free!  As always, just be sure to double-check your labels to ensure that all ingredients are certified gluten-free.
Make it vegan: Just omit the gorgonzola or use vegan cheese in its place.
More Favorite Salads:
Looking for more seasonal salad recipes this time of year?  Here are a few of my faves: