Easy35 minsVegan
My go-to roasted cauliflower recipe!  It's super easy to make and totally customizable with your favorite seasonings.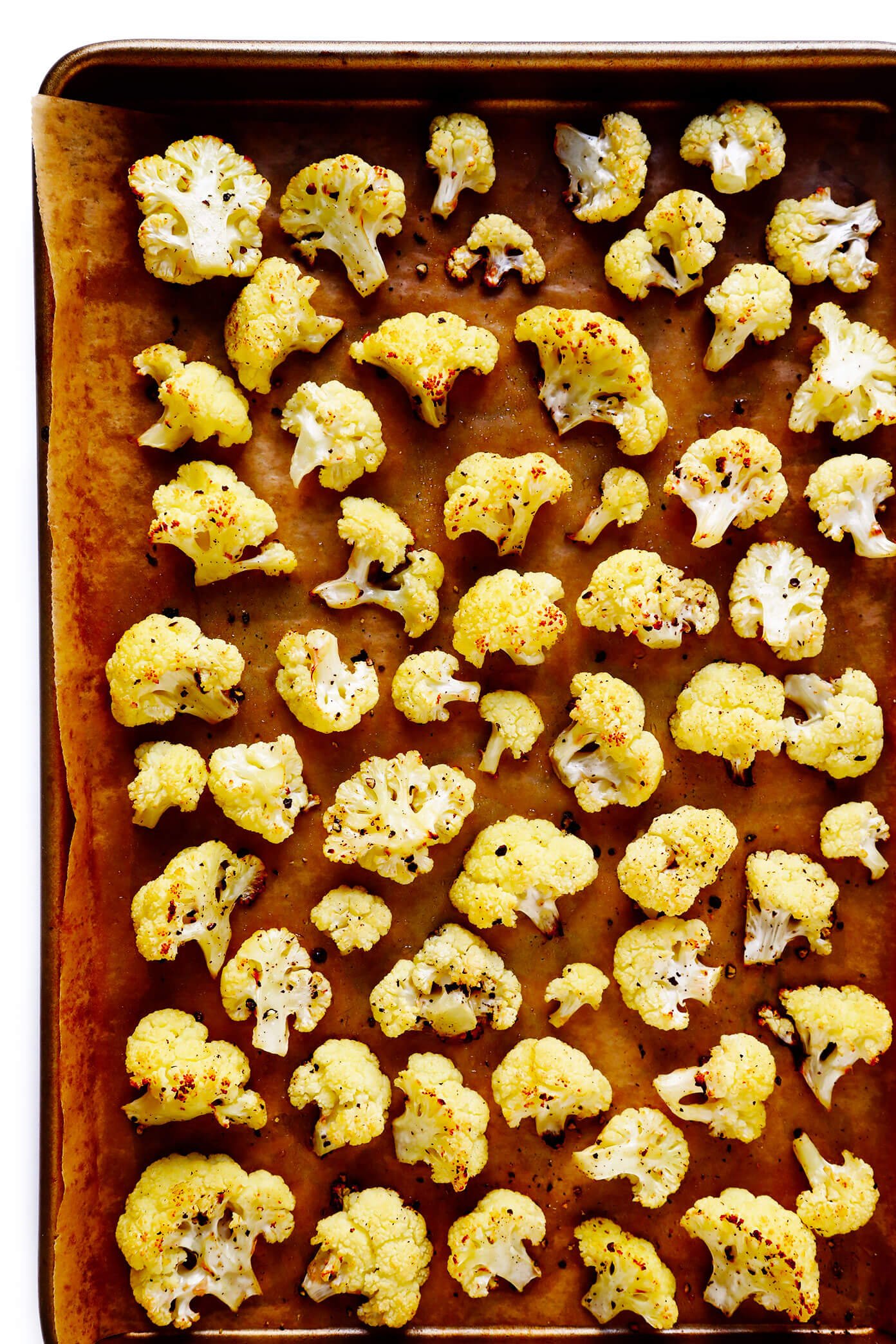 Are you on Team Cauliflower?
Up until about five years ago, I admittedly wasn't.  I had sampled it on one too many boring raw veggie trays, tolerated it in lackluster frozen veggie mixes, and just didn't think it was my thing.  But then a friend introduced me to the magic that is roasted cauliflower.  And, as has been the case with many a veggie, roasting proved to be my gateway into becoming a full-on fan.  I am downright obsessed with it now.
First off, roasted cauliflower is genuinely delicious.  When the oven works its magic, crisp cauliflower caramelizes into sweet and savory and soft bites that I can happily pop nonstop like candy.  It's also an incredibly versatile roasted veggie, easy to customize with your favorite seasonings, or add to your favorite salads, pastas, soups, appetizers and more.  And of course, it's also a nutrient-rich cruciferous veggie, full of lots of fiber, antioxidants, vitamins and minerals that you can feel great about.
And, it happens to be the starring ingredient in a new enchilada recipe that's coming to the blog tomorrow, so stay tuned.
Before we get to the enchiladas, though, I thought I would pop in today with a quick tutorial for my go-to roasted cauliflower recipe.  It's incredibly easy to make.  And even if you've never been on Team Cauliflower up until this point, I'd strongly encourage you to give it a try.  If you're anything like me, it might just turn into your new favorite thing.  😉
How To Cut Cauliflower:
Alright, first things first — here's a quick video below for how to cut a head of cauliflower.  The size of the florets here is up to you.  Just try to make them uniformly sized (more or less) so that they will cook evenly.

Basic Roasted Cauliflower Ingredients:
Once your cauliflower is ready to go, gather all of your ingredients together.  For classic roasted cauliflower, you will need:
Cauliflower florets: Check.
Olive oil: Or whatever your preferred roasting oil may be.
Sea salt and freshly-cracked pepper: And lots of them.
Garlic powder: This one's optional, but I always, always add it to my roasted cauliflower.  (Or you could mince a clove of fresh garlic.)
Optional Seasonings:
Honestly, the above recipe is how I roast my cauliflower 90% of the time, and it's plenty flavorful.  But if you'd like, feel free to add any other favorite seasonings to your roasted cauliflower recipe as well.  Just about any flavor combo will work here, but some of my faves include:
Also, a squeeze of lemon juice just before serving is a great way to brighten up the flavors.  Or I also love sprinkling on some cheese immediately after baking, or tossing the cauliflower with a handful of nuts for extra flavor.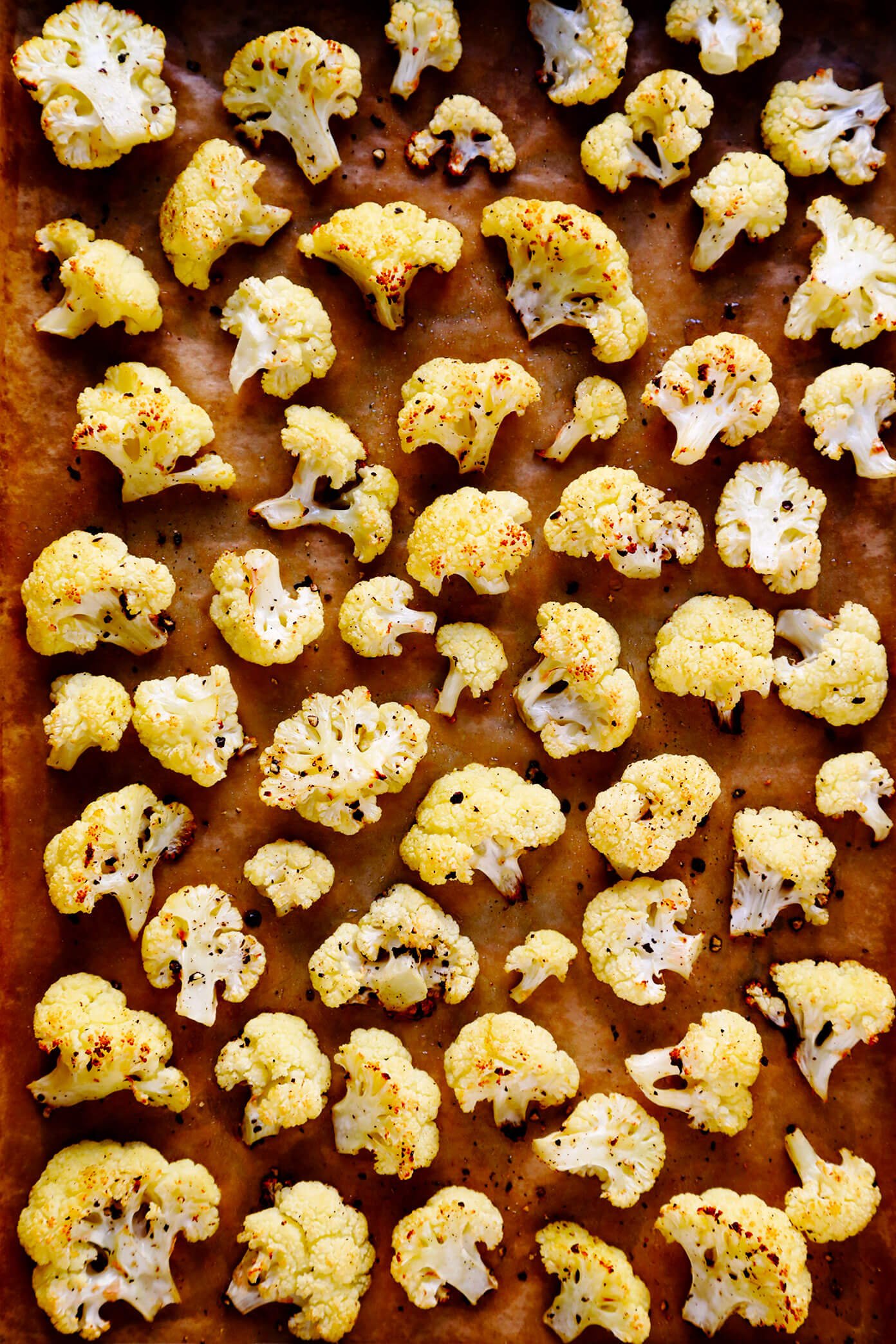 How To Roast Cauliflower:
To make roasted cauliflower, simply:
Prepare your baking sheet.  You can either grease a rimmed baking sheet with cooking spray, or line with parchment paper or foil.  If you would like to use parchment, be sure to use a brand that can tolerate 400°F oven heat.  (Brands vary with their heat tolerances.  Regardless, whenever you are using parchment at higher heat, always be sure to keep a close eye on it so that it does not burn.)
Toss the ingredients together.  Either in a large mixing bowl, or — if you'd like to have one less dish to wash — directly on the baking sheet itself, toss the cauliflower, olive oil, salt, pepper and any additional seasonings together until evenly combined.  Spread the cauliflower florets out in an even layer on the baking sheet.
Roast until lightly golden.  Then roast for 25-30 minutes or until the baked cauliflower is tender and slightly golden around the edges.  Remove from the oven, give it a quick taste to see if it needs to be seasoned with any extra salt and pepper, then…
Serve!  I love roasted cauliflower best when it's hot and fresh out of the oven.  But it's also delicious when served chilled, like in a pasta salad.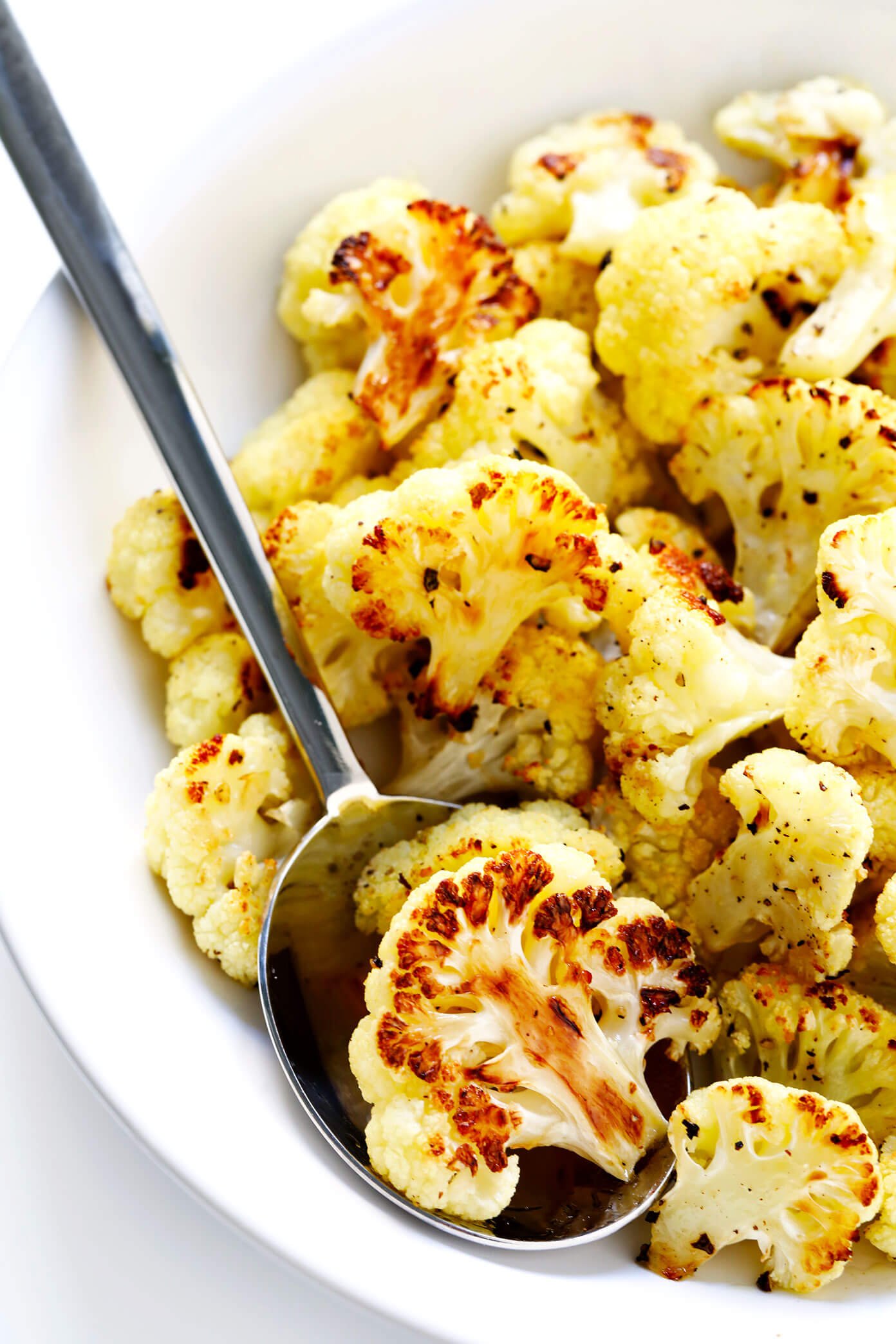 Roasted Cauliflower Recipes:
If you ask me, roasted cauliflower can go in just about everything — salad, pasta, soup, pizzas, frittata, dip, tacos, curry, enchiladas (coming soon!), and more.  Here are a few of my favorite recipes on the blog!
Enjoy, everyone!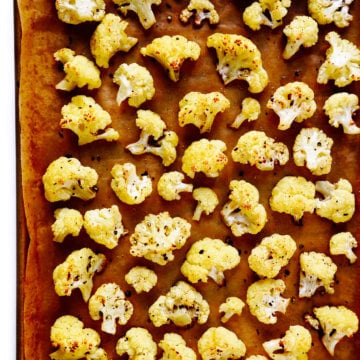 Yield: 4 servings
Roasted Cauliflower
My go-to roasted cauliflower recipe!  It's super easy to make and totally customizable with your favorite seasonings.
Ingredients:
1 medium head of cauliflower, cut into florets
2 tablespoons olive oil
1 teaspoon fine sea salt
1/2 teaspoon freshly-cracked black pepper
1/4 teaspoon garlic powder
Directions:
Heat oven to 400°F.  Line a rimmed baking sheet with parchment paper* or grease with cooking spray.
Spread the cauliflower out evenly on the baking sheet.  Then drizzle with the olive oil, and sprinkle evenly with the salt, pepper and garlic powder.  Toss gently to evenly coat the cauliflower.
Bake for 25-30 minutes, until soft and lightly golden.
Serve immediately.
*If using parchment paper, be sure to use a brand that is safe for baking up to 400°F.  And as always, keep a close eye on the parchment paper when baking at high heat to be sure that it does not burn.
Difficulty: EasyCategory: Vegan


All images and text ©Gimme Some Oven
If you make this recipe, be sure to snap a photo and hashtag it #gimmesomeoven. I'd love to see what you cook!